Branded Concept Space
_ SodaStream
Layering visual and interactive elements
Earlier this year the renowned sparkling water maker company, SodaStream, secured a semi-permanent space at the Lakeland store in Windermere - a busy homeware store rooted in the heart of the perceivably stunning Lake District in the North West of England.
Concept Creation
2D Design
Spatial Design
Artwork
Project Management
Site Survey
Dry Build
Manufacture & Install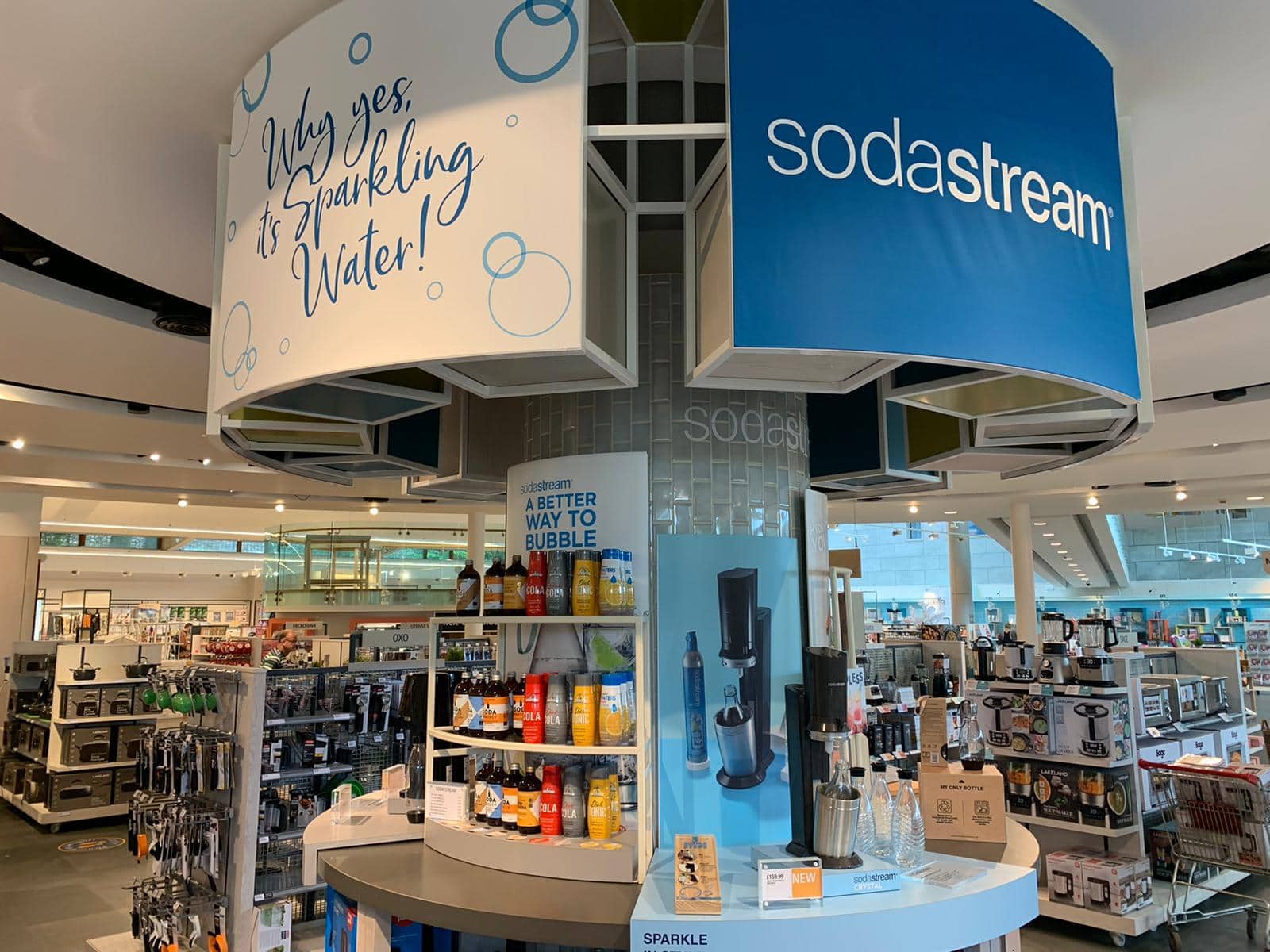 _Idea_
Design4Retail were tasked by SodaStream to transform the space into an impressionable setting that would provoke a long-lasting awareness of the brand and understanding of its unique product offering among shoppers of the Lakeland Flagship.
Putting the products centre stage and embracing the opportunity to not only educate shoppers about the benefits of SodaStream but also to create an engaging shopper experience filled with moments of interaction and immersion, we went on to design and implement a concept space which would truly reinvigorate the brand. This brand and product marketing strategy would take on something of an empirical storytelling approach, layering an assortment of considered visual and interactive elements to inform and entertain passing customers.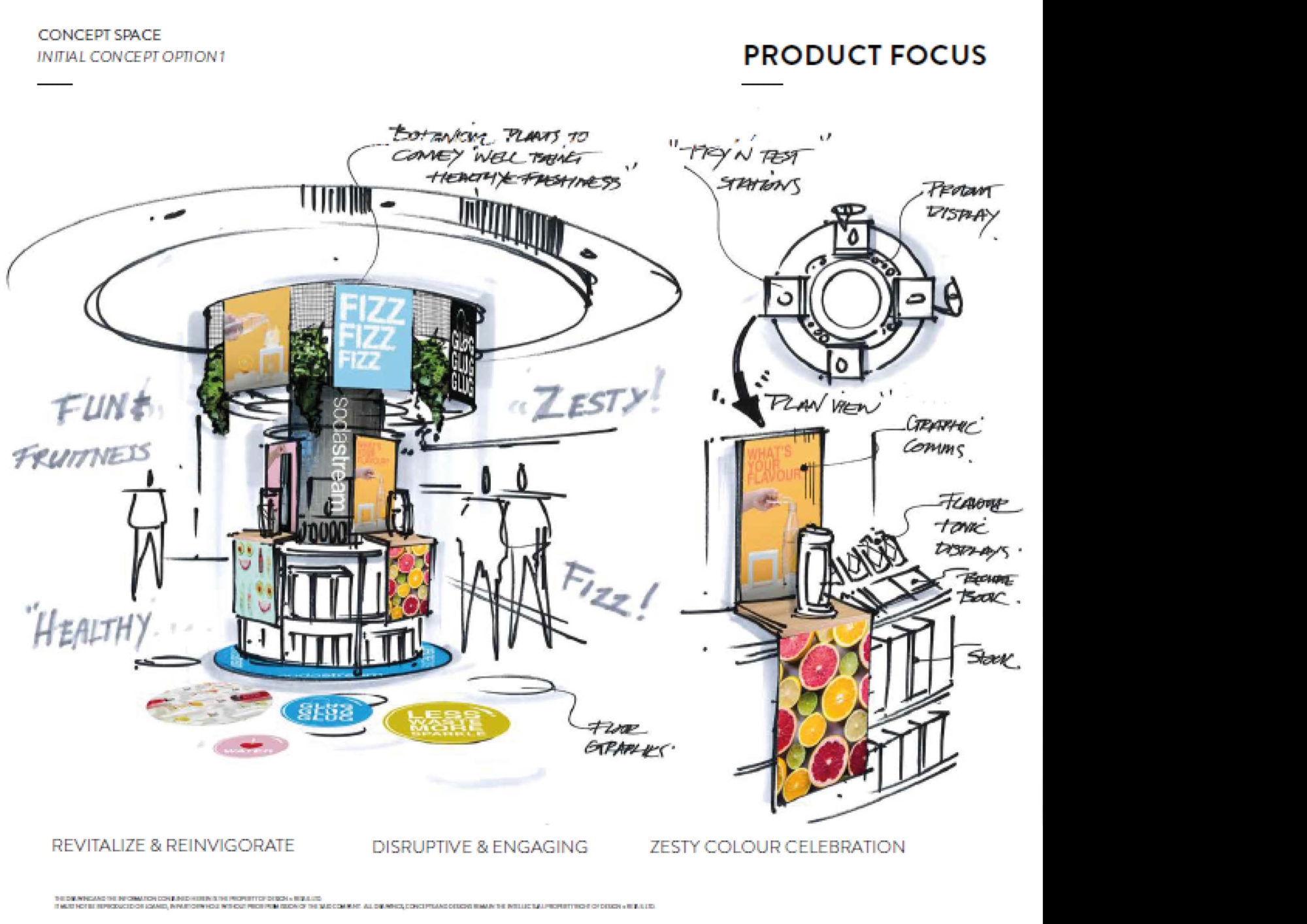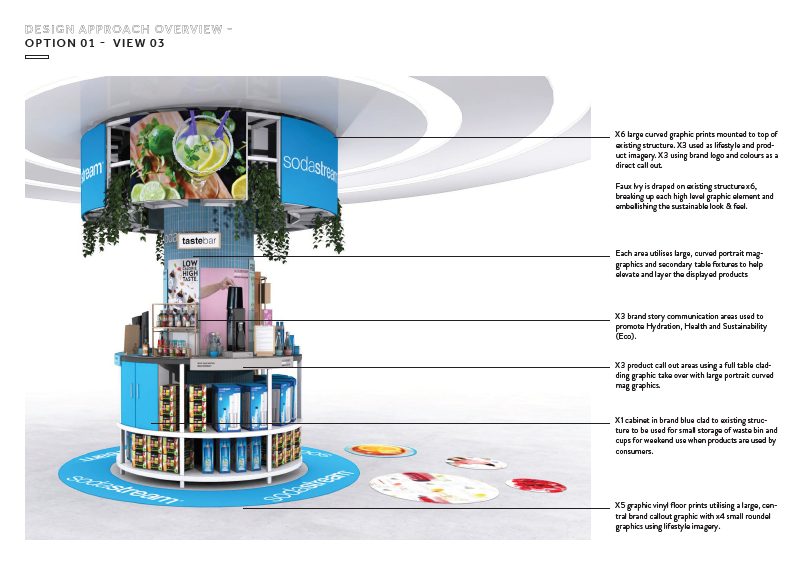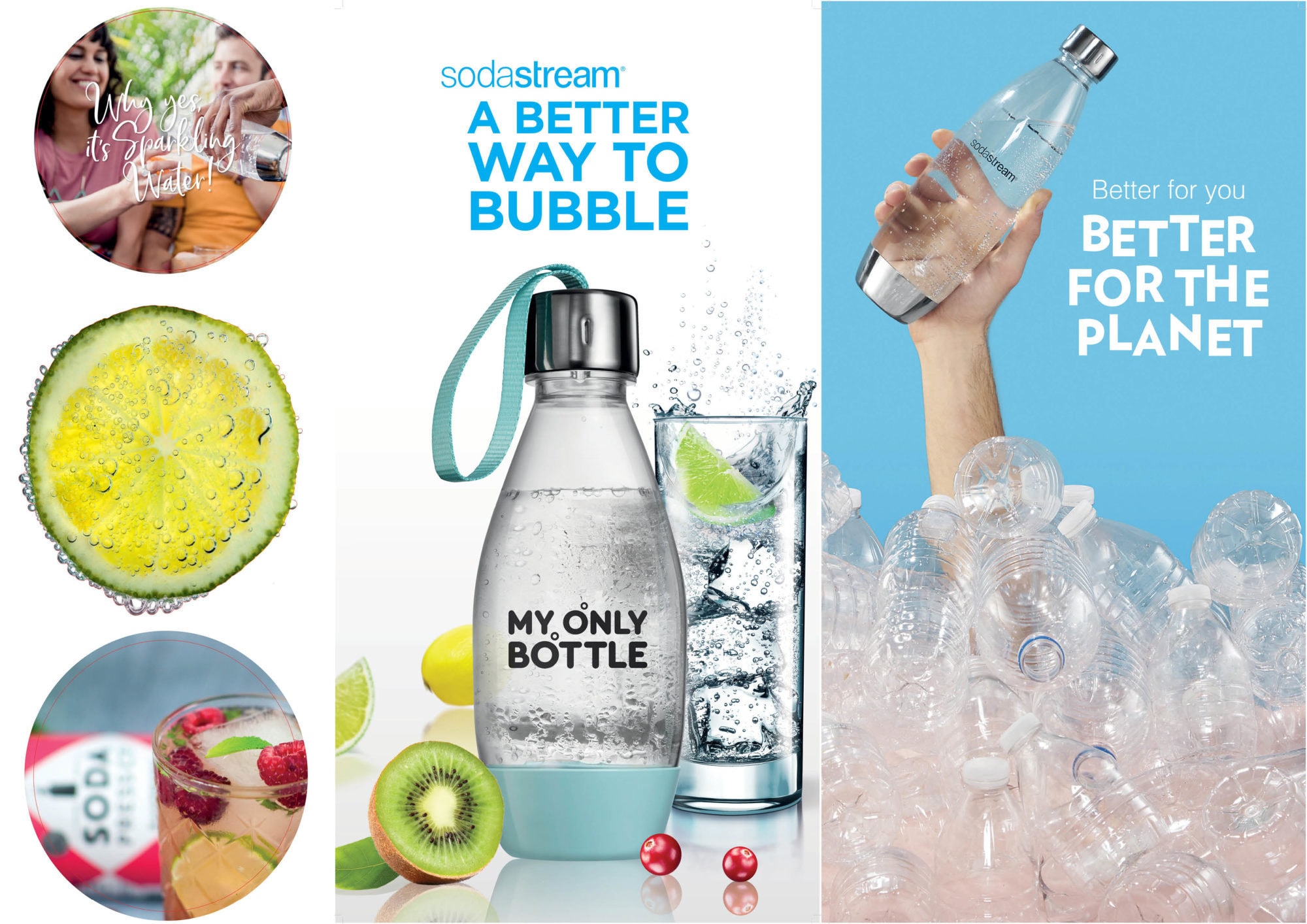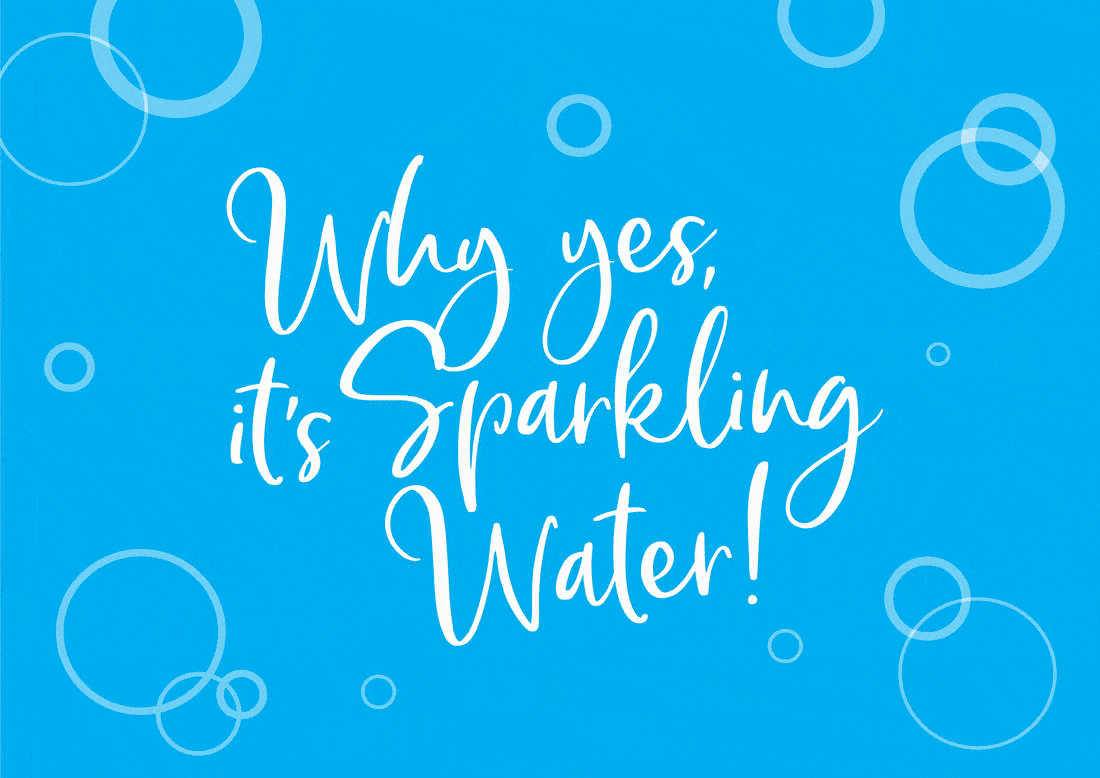 _Insight_
Like many of our retail strategy and design endeavours, the creative process started with a series of hand-drawn sketches by one of our Senior Creatives, guided by the client's brief and our insight into, and knowledge of, the rise and fall of design and strategy trends across the retail landscape.
Highlighting the brand's hero products, which include a line-up of Sparkling Water Makers, gas cylinders (that can be exchanged in store), flavours, and a 'My Only Bottle', we identified three key areas which encompass the spirit of the brand and expose its benefits for both the consumer and for the planet: "Hydration", "Flavour", and "Sustainability".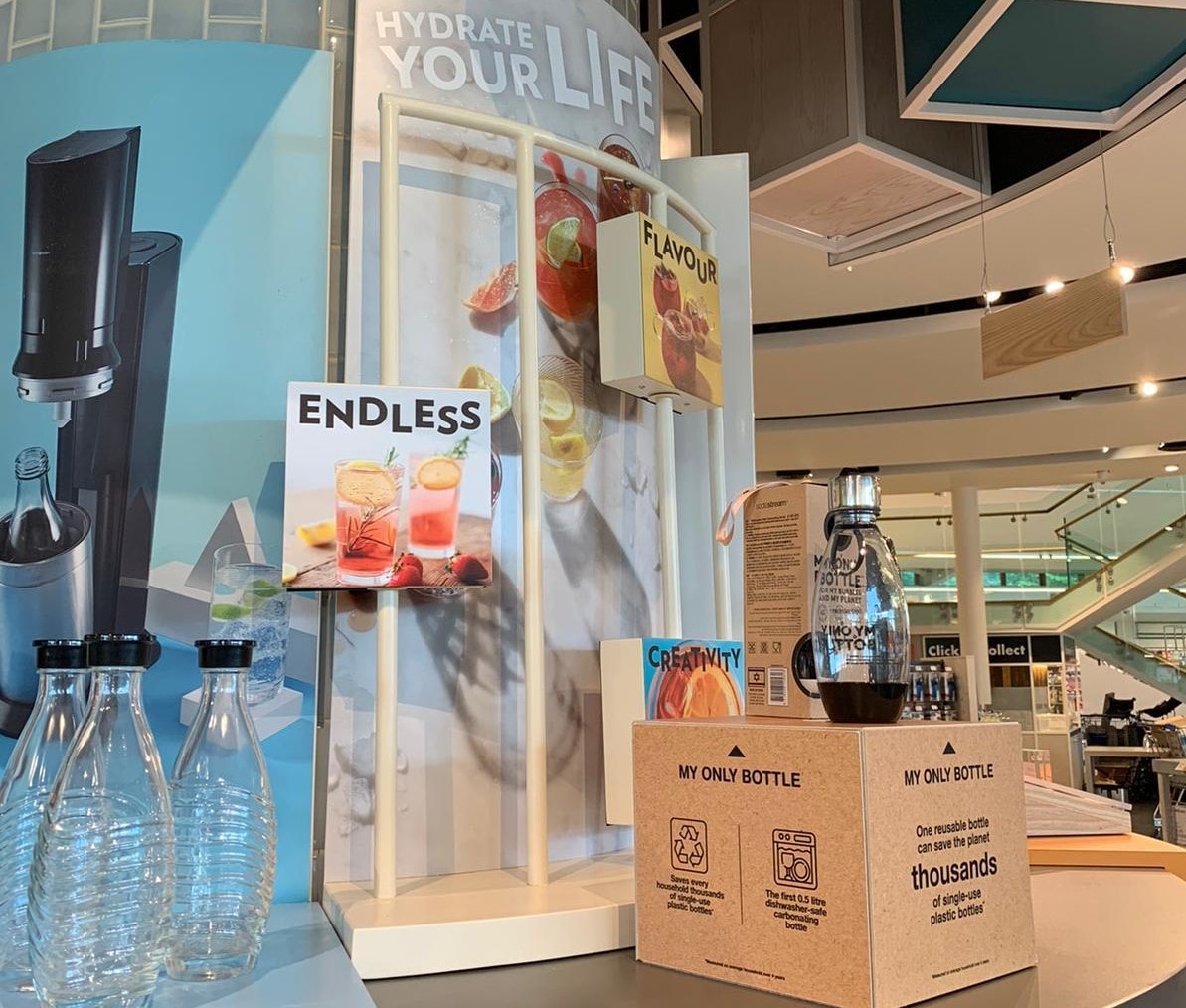 _Realisation_
Acquainted with the product benefits via powerful messaging and bold callout graphics, shoppers will also eventually be able to interact with the Sparkling Water Makers to learn of their operation (when it is safe to do so). Further enhancing shoppers' brand experience is the addition of smart info blocks and a digital screen playing the latest SodaStream content. Built with flexibility in mind, brand messaging graphics and screen content can be effortlessly updated throughout the year if SodaStream so wishes to change the campaign and push an alternative directive.
Going forward, the 360 SodaStream zone, which can be approached and explored from all angles due to its considered construction around a permanent pillar within the store, will allow for periodic demonstrations of the products. These product demonstrations will be exclusively led by SodaStream agents when it is deemed safe to do so for both customers and staff, and will include the activation of a Tester Station inviting visitors to sample the flavoured sparkling water, thereupon.
With the closure of all non-essential stores amid the nation-wide lockdown coinciding with the Production Stage of the project, the implementation of this dynamic branded concept space was well anticipated and we are delighted to hear that it has been equally as well received.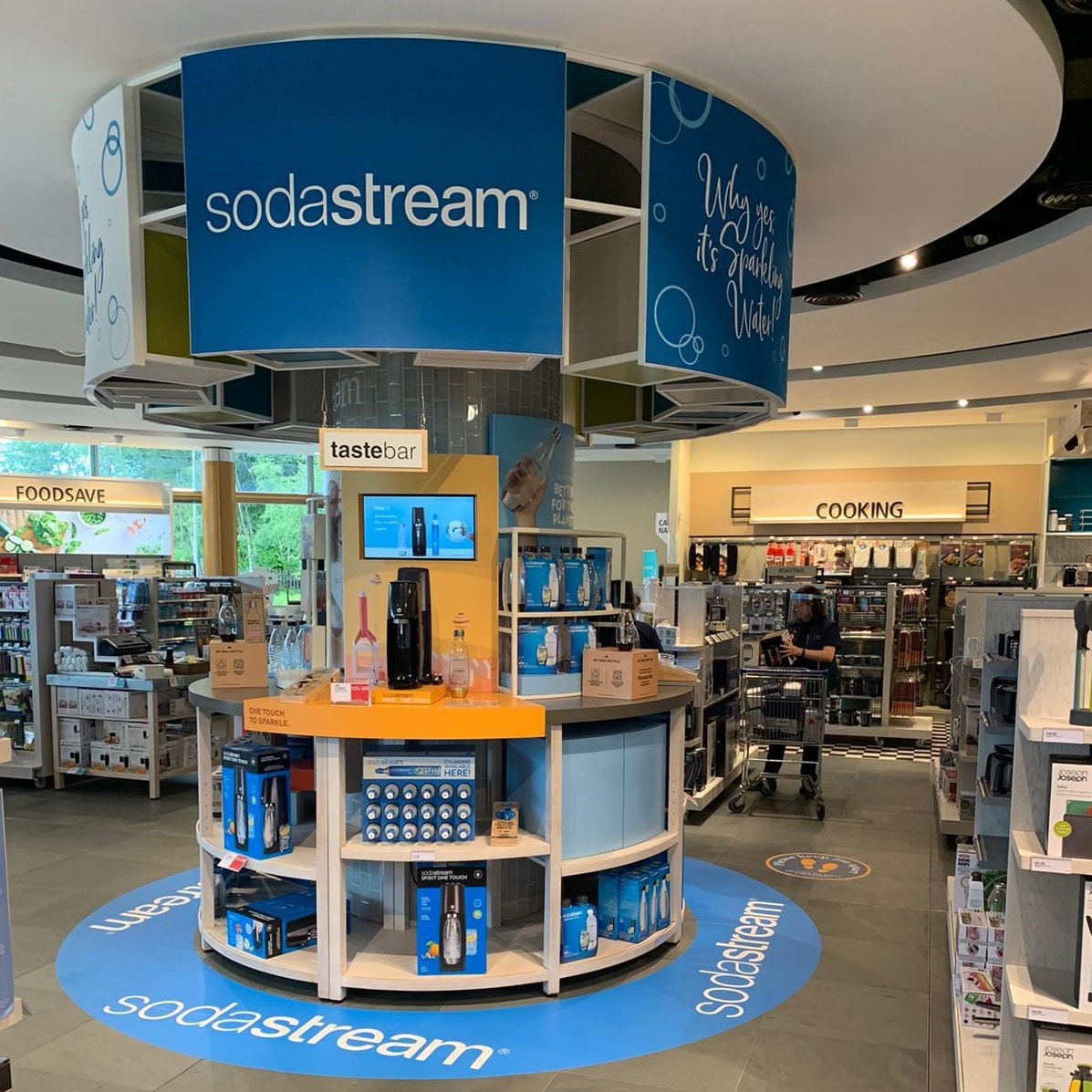 Testimonial
"It was great to work with Design4Retail on this exciting project. From planning, design and then to build, the turnaround was really fast paced. We were well on course to meet the targeted deadline before Covid happened and the retail landscape changed. Thankfully, as soon as stores reopened, D4R was on the case and ready to install the components. The end result is really pleasing."