Sephora Pop-Up, Italy
_ Charlotte Tilbury
Delivering a stand-out Charlotte Tilbury moment
From metropolitans with distinctive art scenes and rich histories, to cityscapes displaying elegant boulevards as home to a vibrant café culture, Charlotte Tilbury continues its tour around western Europe, more recently making an impression in the country of expression as it popped-up in Sephora Rome and Sephora Milan toward the tail end of last month. The high-end cosmetic brand's loyal collaboration with this multinational beauty retailer has been central to Charlotte Tilbury's entry into the Spanish, German, French, and now Italian market.
Technical Development
Production
Project Management
Installation
Removal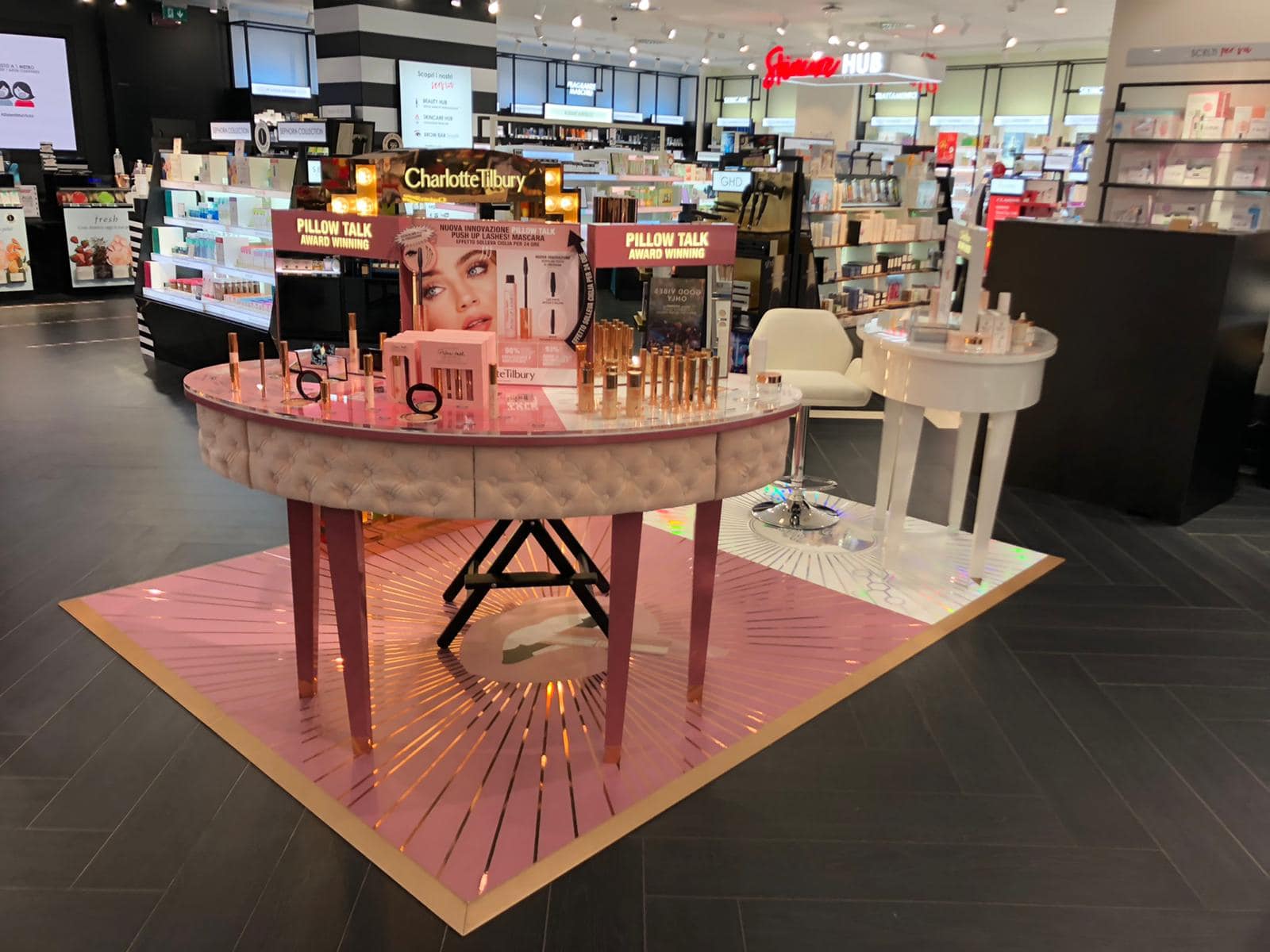 _Idea_
D4R were once again appointed by Charlotte Tilbury to technically develop, produce, project manage and install a dazzling pop-up that would raise awareness of the Charlotte Tilbury brand and create a determinative first impression among the cosmetic buffs of Italy. Adding another layer of creativity and strategy to the project was Charlotte Tilbury's desire to use this momentous occasion to launch a handful of new products across its prestigious make up and skincare ranges which would become the concept of the pop-up, with "Pillow Talk" and "Supercharged Skincare" campaigns engendering its design.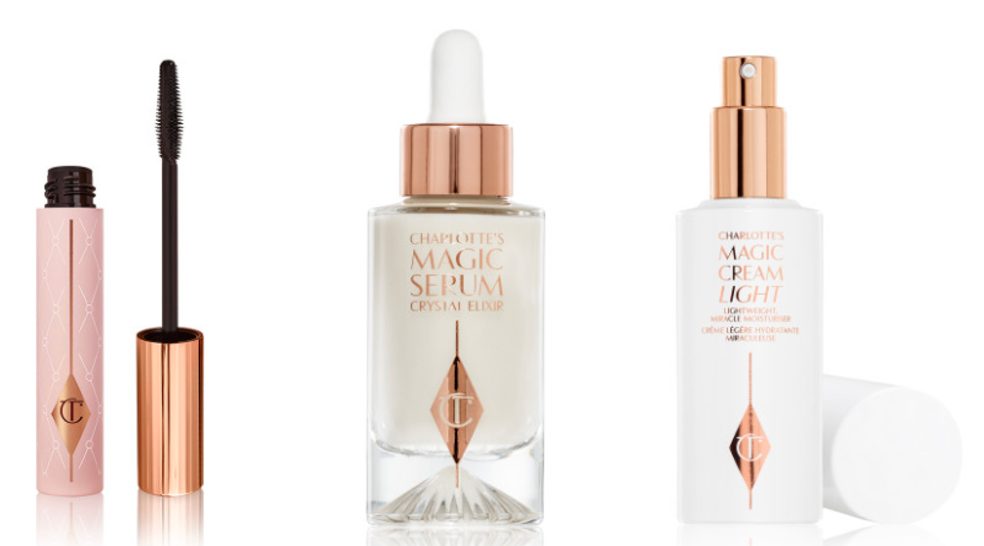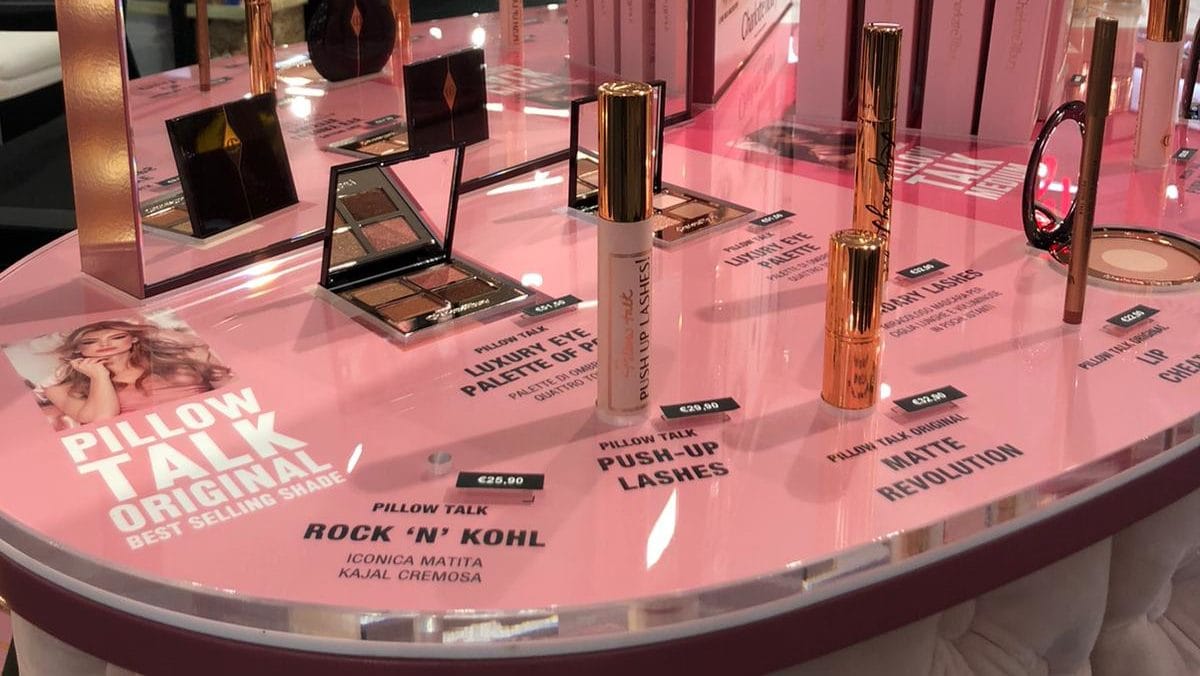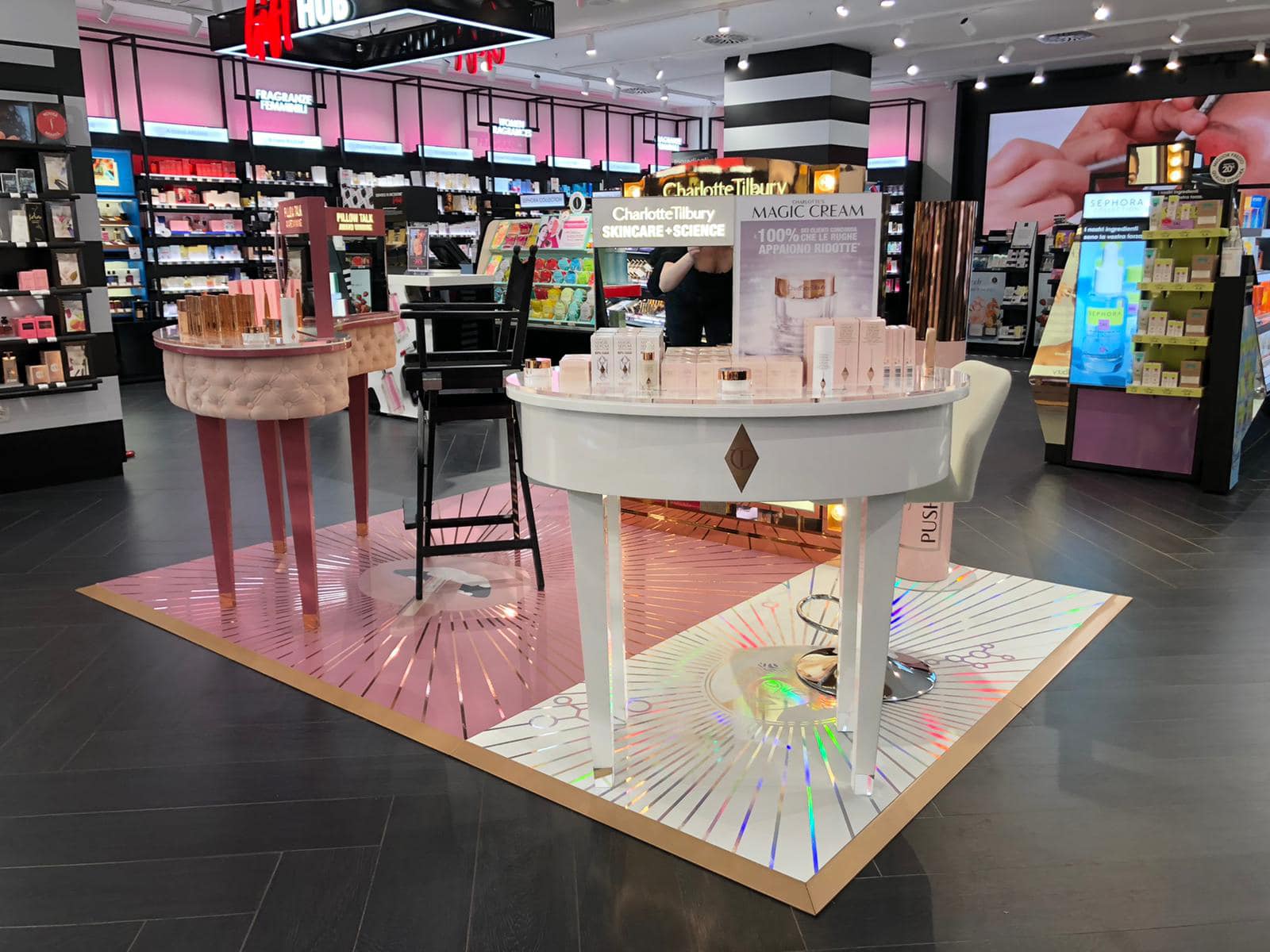 _Insight_
With Sephora Rome in the Euroma2 Shopping Centre as our landmark playground for the pop-up, we installed a Pillow Talk Table with beautiful upholstered panelling which took on all aesthetics of the Original, Medium and Intense Pillow Talk range – a set up which made it possible for shoppers with different skin tones to seamlessly shop the range and find the perfect product for them.
In contrast to the rose gold, nude pink and dazzling illuminations, we also installed a Skincare Table with accompanying seating so that customers of Sephora can take a moment out of their shopping trips to learn more about Charlotte Tilbury's iconic skincare products via "Supercharged Skincare" campaign assets. Alongside this eclectic mix of beauty tables is a Diva Arch sporting the glamourous Charlotte Tilbury bulbs and acrylic stand offs, not to mention the oversized 'Push Up Lashes' product-inspired factice.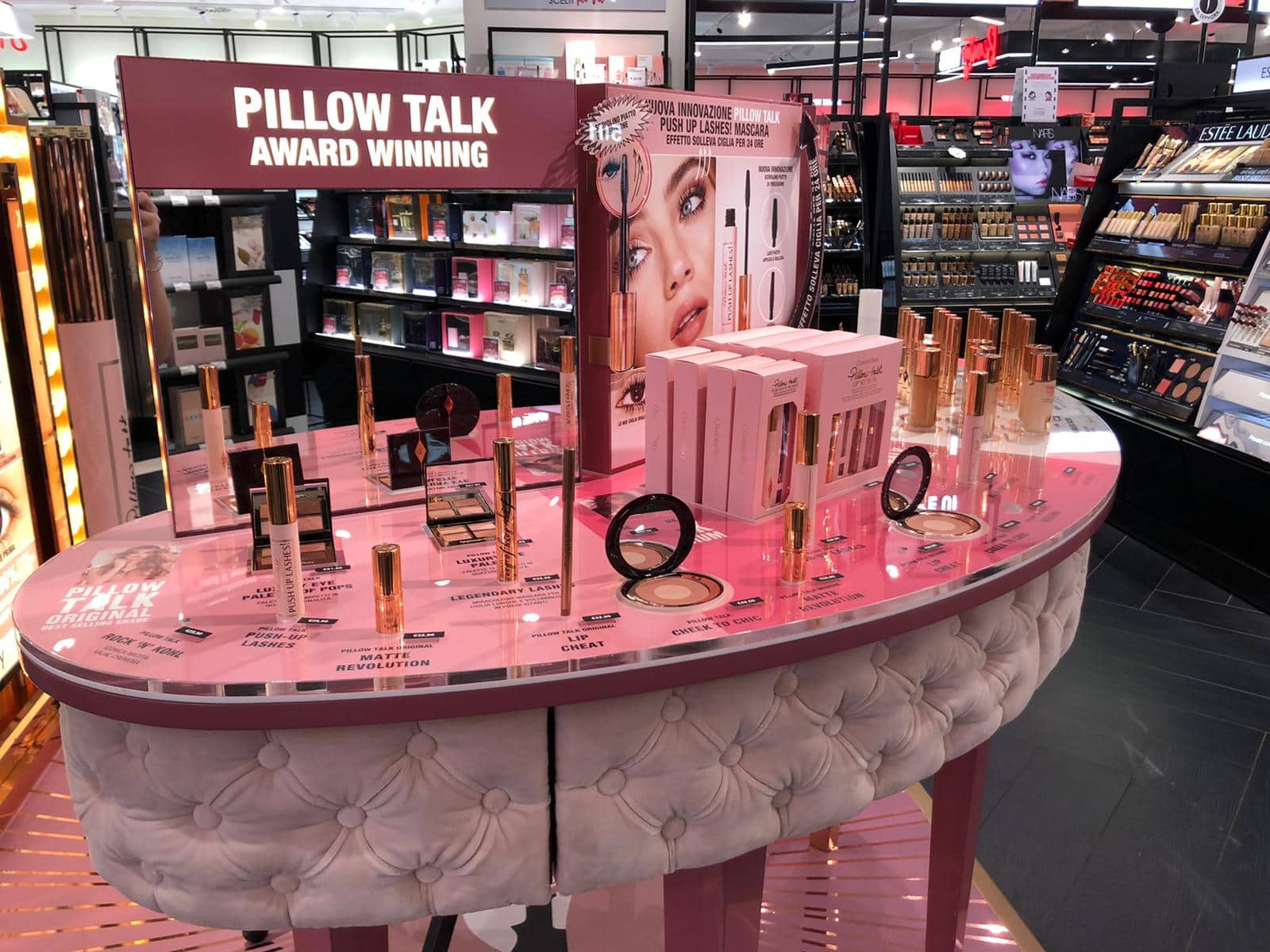 _Realisation_
We delivered a stand-out moment for Charlotte Tilbury by means of beauty concessions demonstrating the brand's iconic product offering in a considered and elegant manner, allowing shoppers to navigate the ranges with ease. Accustomed to all-things-luxury, the Italians embraced Charlotte Tilbury's visit to Rome and Milan, resulting in the sales revenue of featured Charlotte Tilbury products already exceeding expectations.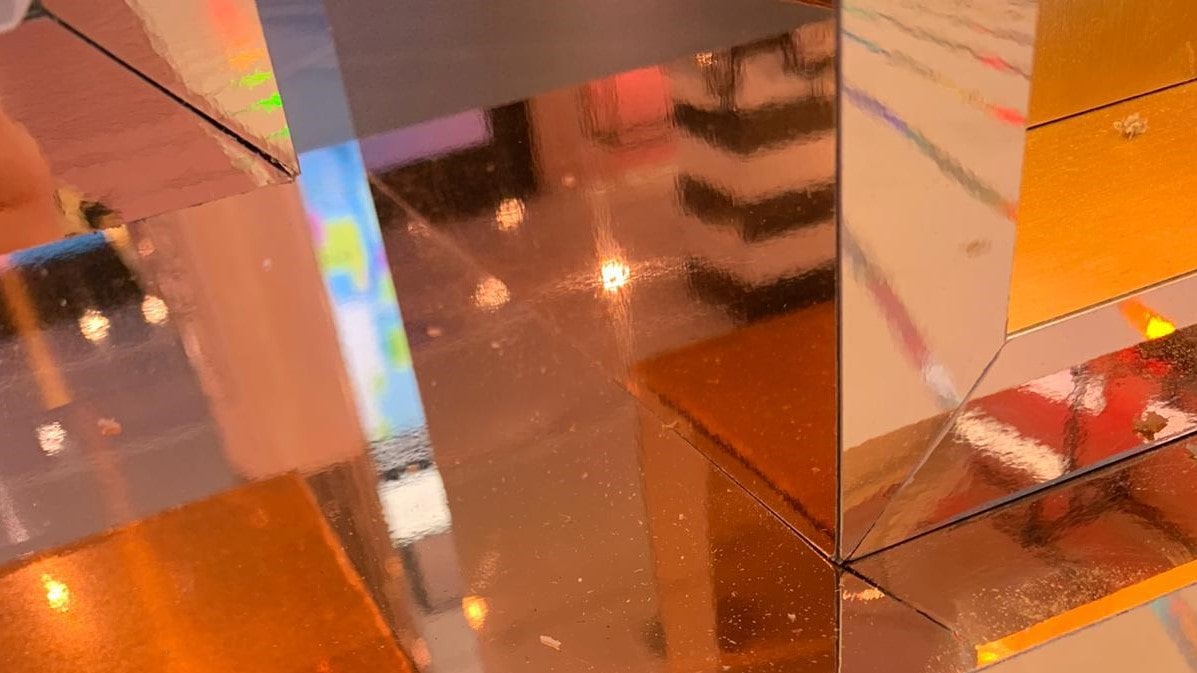 Testimonial
At Charlotte Tilbury we have collaborated with D4R for all of our new market launches as we trust they are able to execute our brand DNA in a consistent and professional way. Given the circumstances that this project was briefed and managed under, the team were amazingly proactive in ensuring we were up-to-date at all stages of the build when we were unable to meet in person. We are really pleased with the attention to detail throughout all stages of the management, build and execution of this project and look forward to the next show stopping launch!
CT @ Sephora Duomo, Milan