DEVELOPING THE FLAGSHIP CONCEPT
_ adidas x SDi
adidas puts sustainability at the forefront of design
The launch of Sports Direct's new-and-improved flagship concept in its Oxford Street store flooded LinkedIn, but what you may not know is that there is more to this exciting flagship transformation than just good looks…
_Concept Design
_3D Design
_2D Design
_Technical Development
_Prototyping/Dry Builds
_Production
_Project Management
_Installation

_Idea_
Design plays a pivotal role in shaping the future of physical retail, and at d4r we envision a future where the only design for retail is sustainable design. Based on our in-depth insight, we set out to curate a design strategy for adidas which contributed to ensuring that over 95% of the materials used in its retail fixtures were sustainable.
Chosen materials included only those which had a low environmental impact and the ability to be repurposed, whilst also conforming to environmentally-friendly production methods. It was also vital that the materials were fit for purpose and, of course, met the safety standards of the popular sports' retailer.
We set out to incorporate materials such as cork, eco-board, and sustainable inks, among others, into the design rationale, as well as recycled ocean plastics as per adidas' commitment to ensuring that none of its products contain virgin plastics from 2024 onwards. This initiative is part of the brand's wider End Plastic Waste campaign which aims to raise awareness of the damage that we are doing to our oceans via our single-use plastic deposits.
New & improved flagship concept
_Insight_
As we embarked on this exciting project, the d4r team embraced its sustainable direction throughout the stages – from curating branding and digital content in the design studio, through to technically developing full engineering packs for accurate production, and managing the assembly collation and execution of all hardware articles within the Sports Direct re-fit programme.
Alongside ensuring that sustainability was at the forefront of design, d4r were briefed by adidas to curate a strong visual presence via introducing bold touchpoints consisting of product callouts and digital interactive tools throughout adidas' product categories.
Embracing a more sustainable direction
_Realisation_
Sampling, analysis, and pre-assembly was key to ensuring that adidas' Sports Direct retail fixtures and displays were implemented to the highest possible quality and executed as per the sustainable design specifications approved in creative principle. Collaborating with the adidas Global market, d4r delivered several creative design solutions that perfectly align with the ambitions of adidas' local sales and marketing teams for product sales and brand messaging, respectively. Working in line with the retailer's 3.0 concept guidelines and new retail direction, we ensured that adidas' overarching values stood-out via designs that both envelop and promote the brand's powerful sustainability message.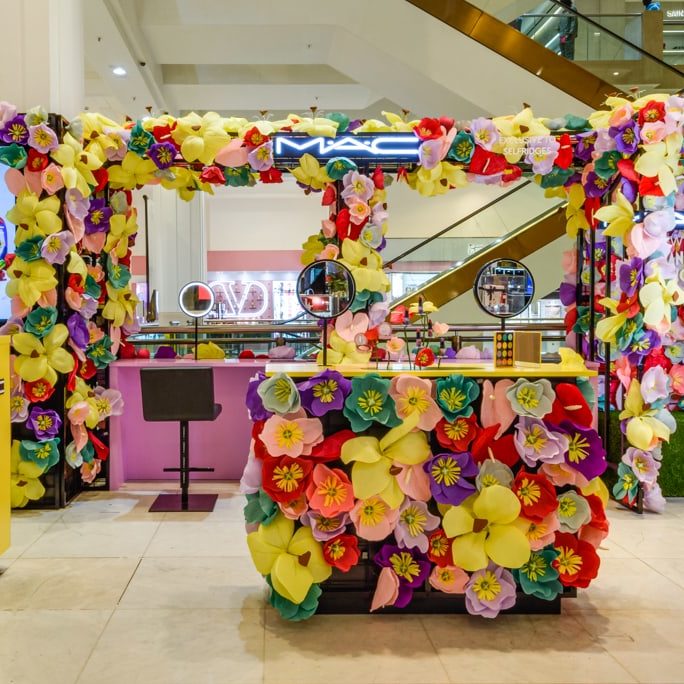 Discover more sustainable designs...
MAC COSMETICS' IMMERSIVE BEAUTY POP-UP
d4r incite a Botanic Panic in Selfridges this summer
This summer Mac Cosmetics launched a conspicuous campaign in Selfridges' trio of revered department stores: Selfridges Birmingham, Selfridges Trafford Centre, and Selfridges London. Upon launching its Botanic Panic make-up collection – "a labyrinthine garden of hyper-vibrant hues and on-trend topiary tones" - it was vital that MAC's instore marketing campaigns were as vivid and vivacious as the products themselves. Read more.