TRANSFORMATIVE STORE DESIGN
_ Cannabotech
Re-introducing CBD-based products to the UK market
Cannabotech approached us to re-introduce CBD-based products to the UK market in a way like never before; to create a physical retail presence that would propel the brand to be a trusted voice in the world of personal well-being and elevate their CBD-based products to new heights - infusing integrative care, high-end tech and natures wonders to improve the health of consumers.
Concept Design
3D Design
Technical Development
Graphic Retail Identity
Production
Project Management
Client Service Support
Installation

_Idea_
d4r were invited by Cannabotech to design a concept store that presents its CBD-based products to consumers in an innovative way by developing a retail identity that supports product education and promotes Cannabotech as the market leader in CBD-based products in the UK. On top of this we were briefed to elevate CBD's image through a brand strategy, tone of voice and customer journey that is unique and pioneering to create the most premium CBD offer in the industry. The space would require a
transformative interior design scheme to remove traces of its former occupation as a fashion store so that the space felt new and exclusive to the brand. We sought to do this by reshaping the space, whilst also evolving existing store architecture to meet the needs of the brand. This would involve reintegrating the old changing rooms into the space to create room for a more private consultation experience, as well as enabling staff spaces, storage and services to be hidden from view.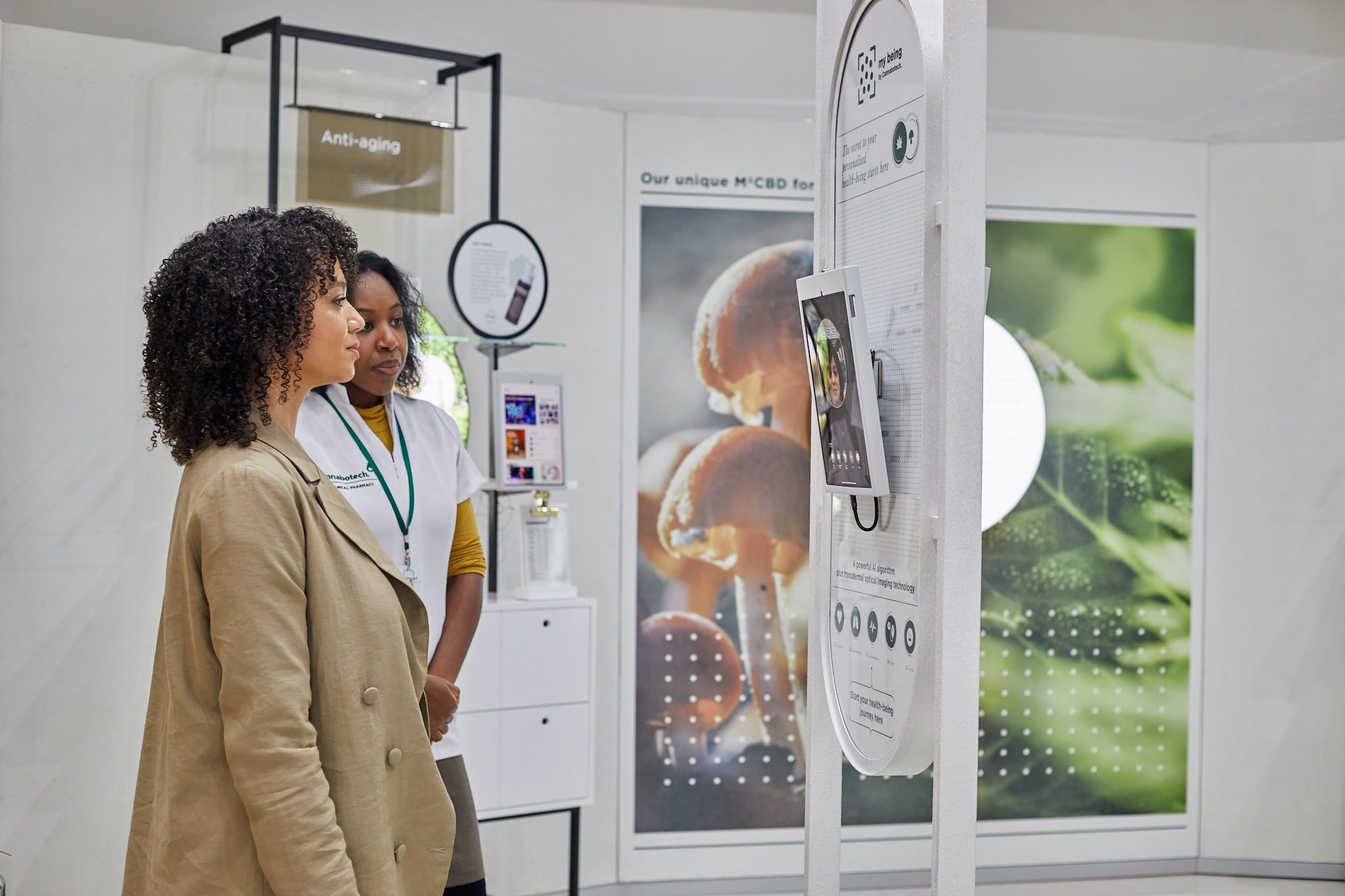 Infusing integrative care, high-end tech & nature's wonders...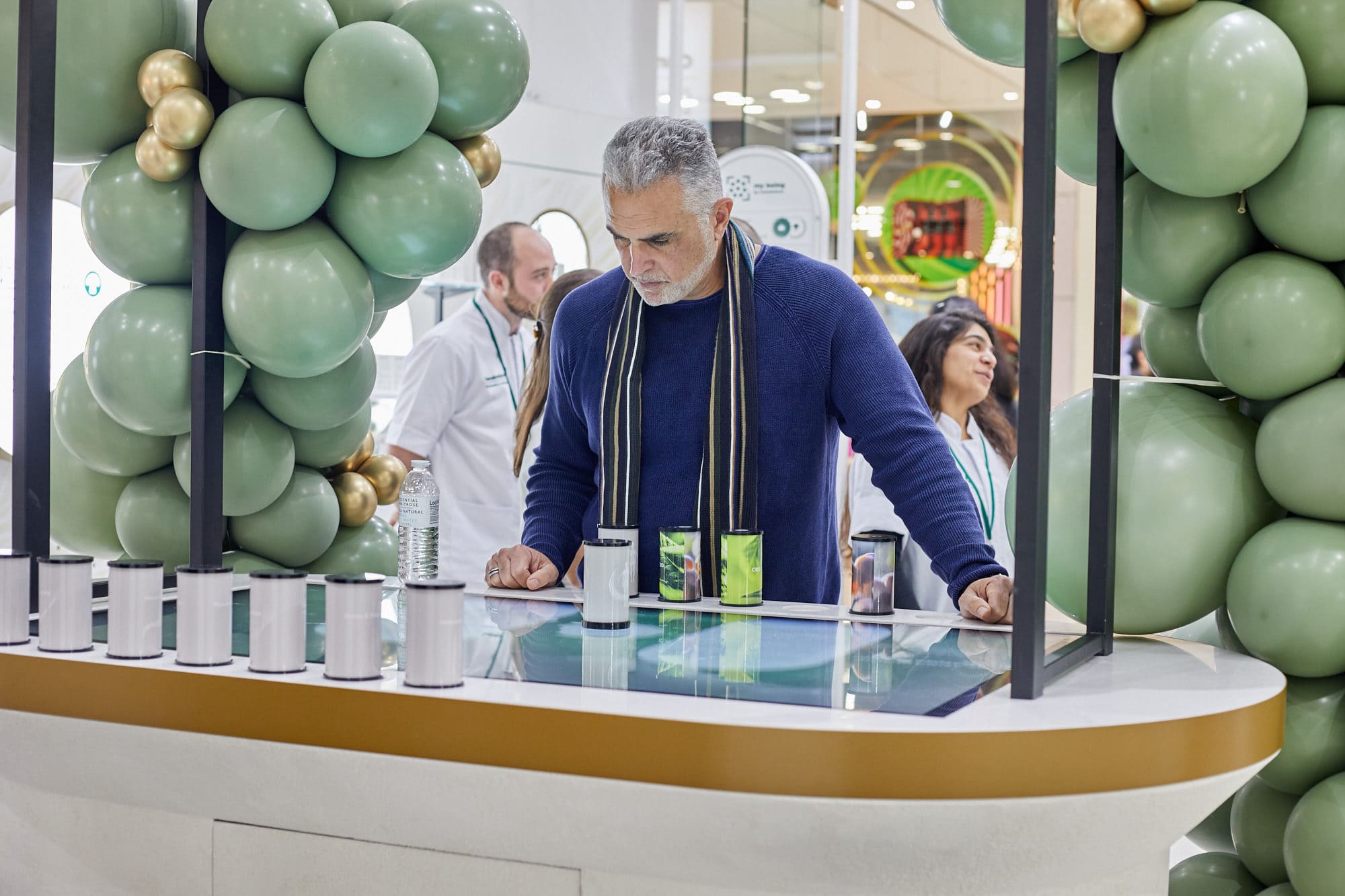 _Insight_
The store's customer journey was designed with the brand's seven key solutions - Immune System, Stress & Sleep, Muscles & Joints, Skin Health, Mood Support, Health Maintenance, and Anti-Aging - as a methodology for exploration and product category navigation.
An intuitive pathway for customers was defined starting with a window display that prefaces the brand, building intrigue, to a welcoming interactive moment via the 'My Being - skin scanner'. This interactive touchpoint introduces shoppers to the brand, diagnosing and identifying products relevant to their needs. Staff stylised as 'Botanacists' offer expert instore advice and consultations, as well as epigenetic testing for in depth well-being regimens.
Within the core of the space is an interactive touch sensitive table allowing customers to learn about the blend of ingredients that make up Cannabotech's products, and enlighten themselves to the body's endocannabinoid system, delving into the efficacy of the unique M2CBD formula. This educational and exploratory element within the store seeks to engage customers, leveraging RFID-based lift and learn technology to activate immersive content. The system also activates large overhead screens, channelling digital media and educational content into the store environment to take over the space.
At the visual merchandising and product display level, product density is deliberately lighter to give an elevated and premium feel, with storage below for easy stock replenishment. This made ample space for the inclusion of interactive touchscreens within the display to allow for further customer engagement, and promotion of the Cannabotech "My Being" app for onward support and aftercare.
Using RFID-based 'Lift & Learn' Tech
_Realisation_
The store was designed to encompass a clinical yet welcoming and trustworthy atmosphere that would appeal to all shoppers regardless of their gender. Using mushroom-inspired tone on tone, hints of green to represent the origins of CBD extract and seams of gold, a premium space is formed. Luxurious textures add a sense of tactility to the space and translucent materials interact with the light in the store to envelop customers in a calm environment evoking precision and harmony. The punctuation of scientific digital elements alongside the use decorative materials and forms that soften the space, helped to achieve a sense of equilibrium between the scientific and natural aspects of the brand, focussing on consumer well-being.
It was imperative that we worked collaboratively with the brand owners and CEO on every element of the store (as we do with all our clients). Pooling our expertise in our respective fields, we ensured that the final result achieved everything identified within the brief and responded to our strategically positioned assertions drawn from the extensive research we undertook at the beginning of the project.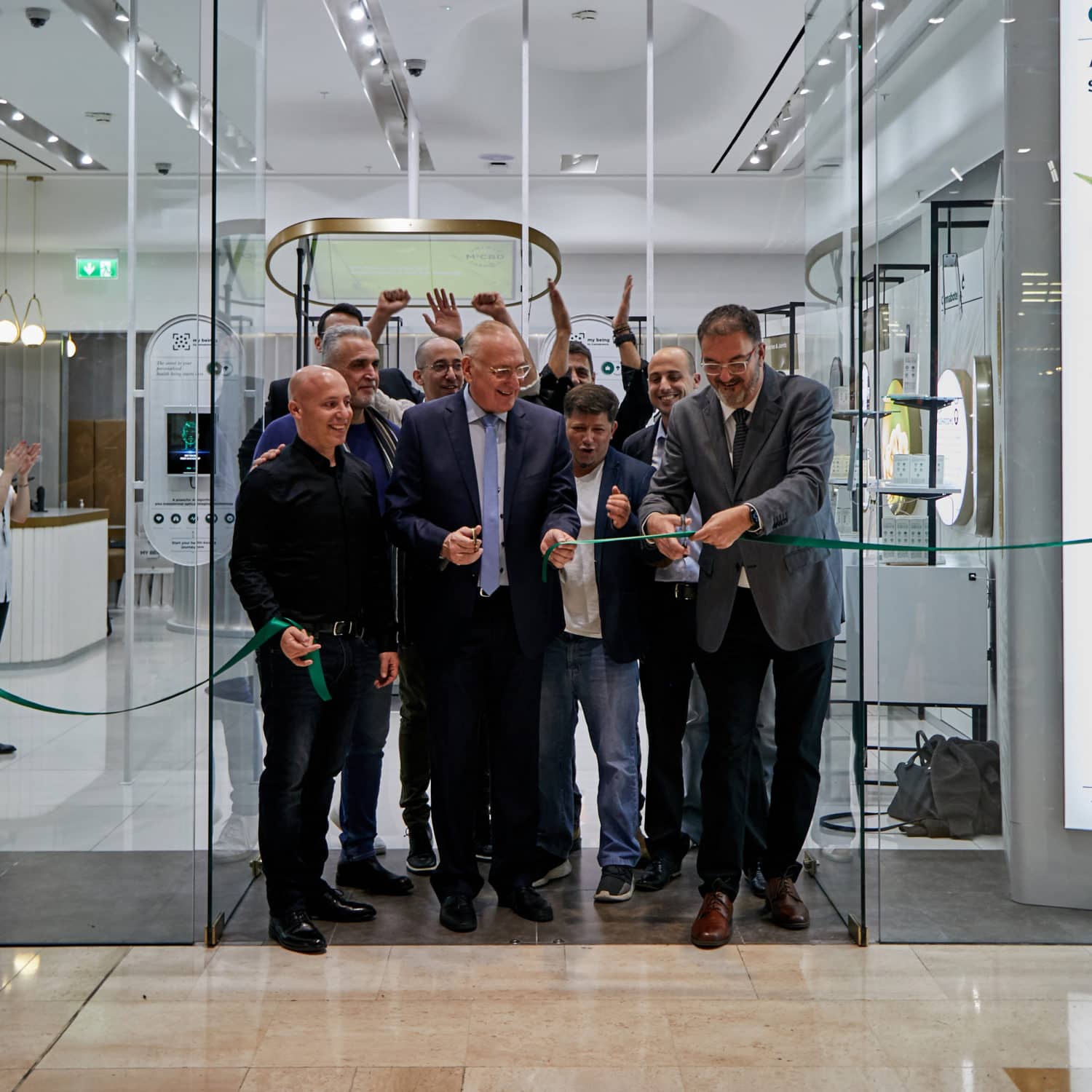 Testimonial
Opening a one-of-a-kind concept store for the first time in the world is an extraordinary challenge. We turned to D4R, knowing that the vast experience they had would lead to the desired result. The result was above all expectations. In my decades of experience in opening retail outlets worldwide, I must point out that I have never encountered such a high level of professionalism, service, and care.
Chris and the team took an abstract idea and turned it into a fantastic reality. We witnessed the designs come to life over a difficult period of a global pandemic, working from home in remote video sessions. The store was finished on schedule and within budget and looked incredible. The team interpreted our requirements perfectly, and any changes we asked for were made very quickly. We look forward to working together on many more projects in the future.