Launch Zones _
A subconscious transition
Customers now have an appreciation of and for a retail experience with a differentiated concept, and their expectations are high. No longer satisfied with an array of mannequins to define the 'launch' of a retail experience or story, consumers expect amplified sonic, visual, and virtually immersive environments; all responsive to their affinity with changing their own micro-environments.
The concept of guided entry sequences and transitional spaces can be used to provide a safe distinction between zones as well as creating a cohesive connection through storytelling. This often-subconscious signposting of transition and creation of decompression and orientation zones is even more important in physical retail now as the amount of information given to, and the requirements of behaviour placed upon, customers as they enter physical spaces has exponentially increased.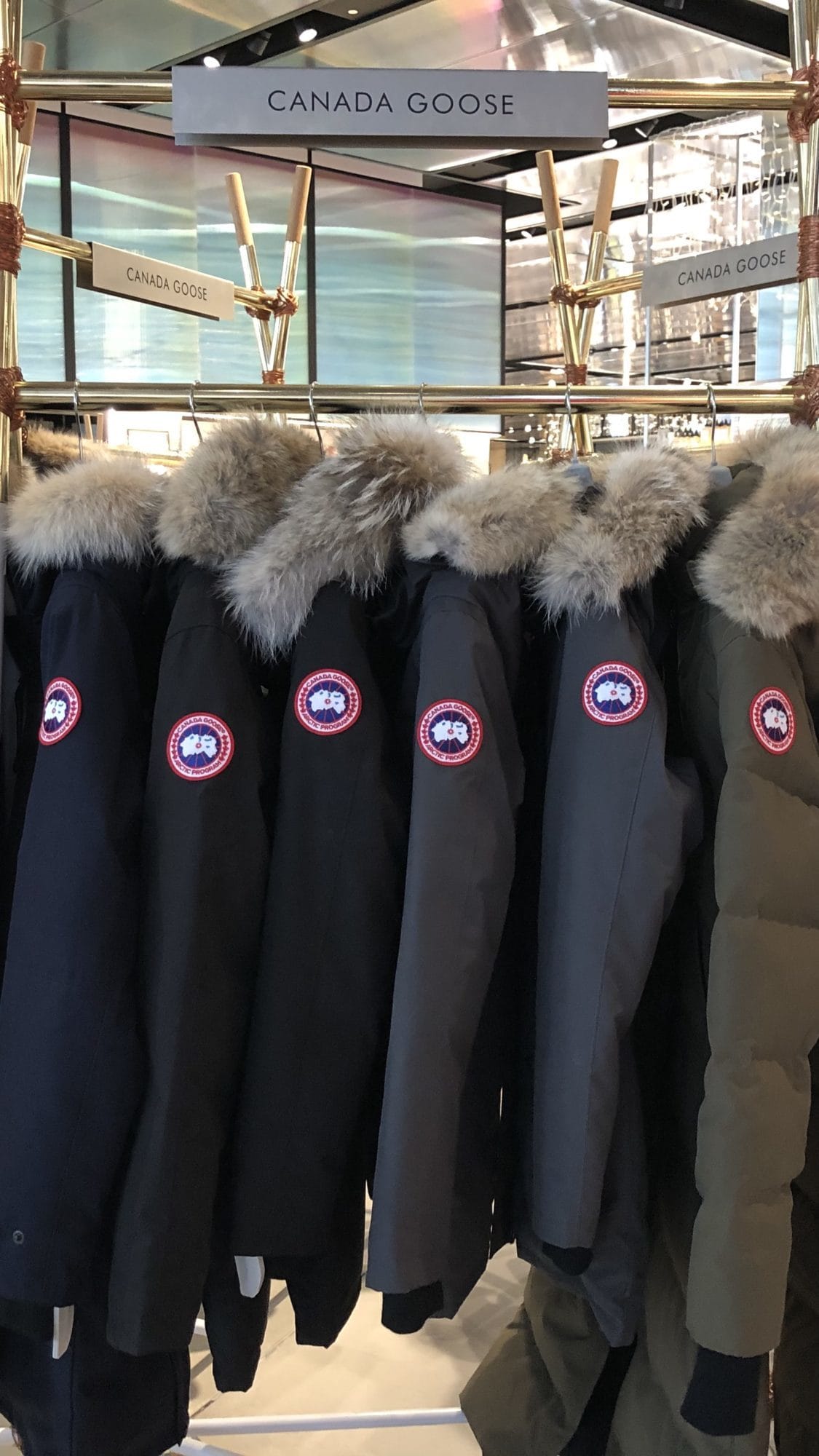 Back to basics
Historically a launch zone was simply the space where a brand delivered a visual lure into the main store environment, offering orientation and a clear statement of brand identity. This strategy still has value, but if brands are not working harder to offer customers something individual or special, these launch zones need to be perfect in their execution, message, and level of impact.
Missguided, Westfield
The retailer removes the windows that divide the store from the mall and have installed a giant pink monster truck. A huge footfall and engagement driver offering an irresistible Insta-moment', it instantly establishes customer connection. The installation reflects brand identity by perfectly aligning with the digitally-native, teen vernacular infused messaging through the store, boldly communicating purpose with the irreverent mannequins and props, and influencing both the in-store and online journey, through social media.
Canada Goose, Toronto
The entrance to the store and launch zone here is known as 'The Crevasse': a narrow, enclosed glass walkway that simulates cracking ice as you walk over it whilst sounds of the arctic echo around you. Customers can enter the 'gear room' to select a coat of their choice before entering 'The Cold Room' where arctic conditions are replicated, including real snow. The multisensory experience is a physical transition zone whereby customers leave the outside world behind and are bought into the Canada Goose brand through all their senses.
Burberry, London
While Burberry's flagship store has been around for many years, its new art installation is a new direction for the heritage brand. Artist Graham Hudson has created a three-storey scaffolding design featuring 80 cameras that take 360-degree photos that are then displayed on the installation's screens. At the centre of the construction is a robot that creates sculptures of the human body that are then added to the structure. This is a bold move to transform experiential retail for the brand, and it challenges the idea of what a store can be by giving over a large footprint to esoteric non-inventory, or even brand-related, content.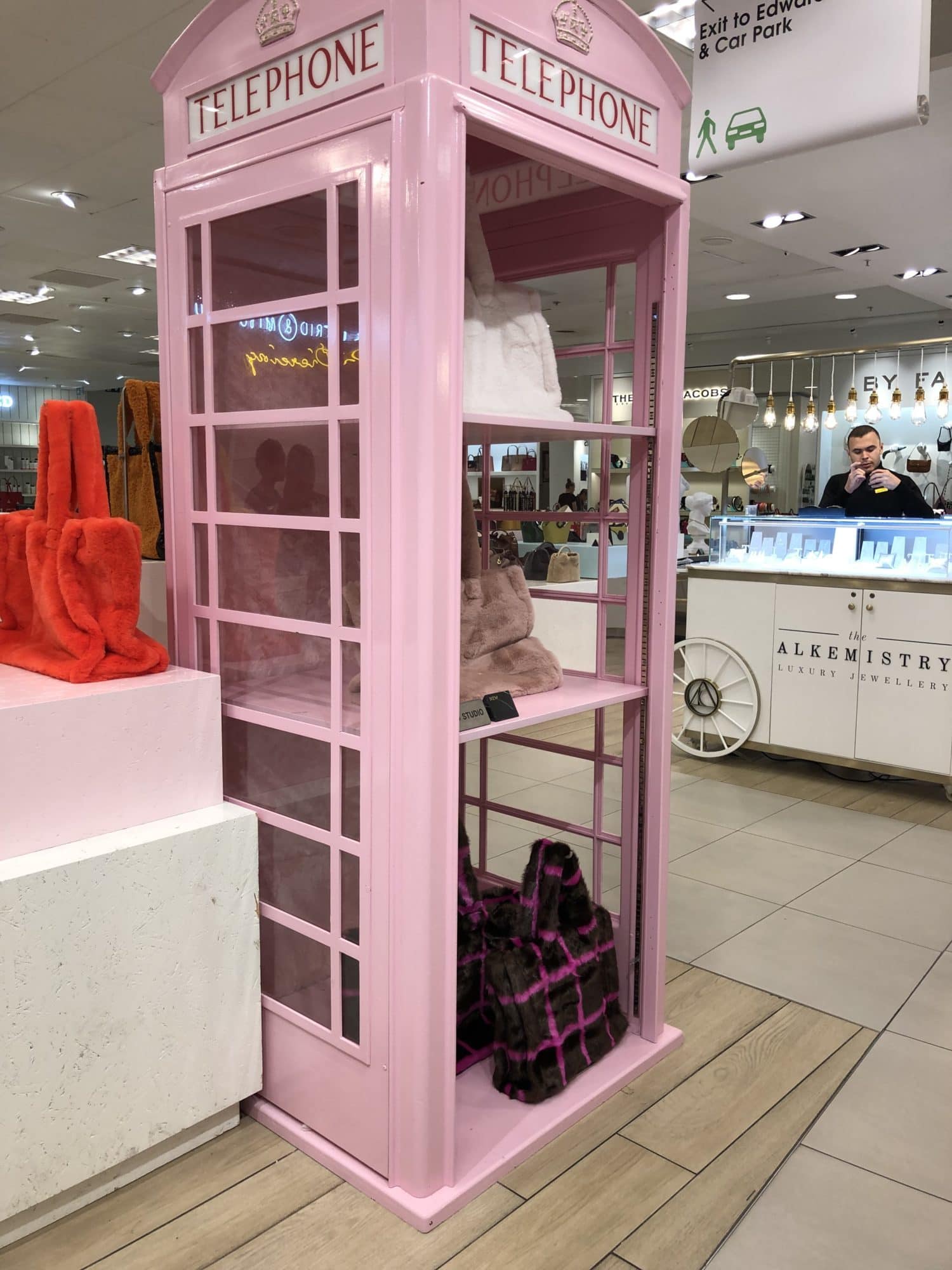 Dynamic spaces, agile inventory
Dynamic spaces that align contemporary commerce methods/platforms with context-specific cultural nous are now key to a retail landscape that engages modern consumers. Temporary thematic concepts offer more engaging and agile cultural relevance, and collaborative projects between brand, store, and creators backed up with responsive inventories are becoming a new-normal. Modularity, moving façades, and locale-tailored store spaces more akin to theatrical designs deliver on this required versatility.
Dreams on Air
NY-based Dreams on Air is an experimental retail concept/incubator for young start-ups combining PR and marketing assistance and retail space in one. Designers and small brands keep all sales revenue, instead paying a flat monthly rental/service-charge fee. In the same vein, Russian department store, Trend Island Moscow, offers free retail space to new talent in exchange for commission on sales. Opening in September 2016, the store had hundreds of brands on its waiting list almost immediately, and so can quickly swap products and labels that do not gain traction. Retailers need to know when and how to change. These kinds of curated spaces can constantly react in real-time and thus respond to the purchase power of consumers constantly on the hunt for newness. In both these cases, launch zones are used throughout the store to delineate between brands, and both generic fixturing and a joyful abundance of different brand-created designs are used.
Gentle Monster
The ground floor of Gentle Monster's Seoul flagship is conceived as an ongoing VM 'exhibition' which takes inspiration from Dover Street Market's Tachiagari concept where installations change bi-annually. Here the model is taken to the extreme – Gentle Monster's 'exhibition' underwent makeovers every 25 days in the year of launch, with installations including a floral post office, a scent lab, a palatial hall of crystal mirrors, and an inner-city hotel offering napping spaces. The message here being that the brand is better able to express itself, not by using a singular brand aesthetic or directive, but through its DNA of creativity, responsiveness, and a desire to fulfil modern consumer desire for newness.
Lulu Lemon
Lulu Lemon's retail concept includes a 'concierge' moment at the entrances to their store. Here store ambassadors are ready to give customers information and recommendations such as where to locate product in-store, directions to find the best fitness studios nearby, or sharing details of their favourite nearby running routes or smoothie bars. An event board showing the timetable for in-store classes also sets the tone for the curated multi-faceted store experience that is more community than product focused.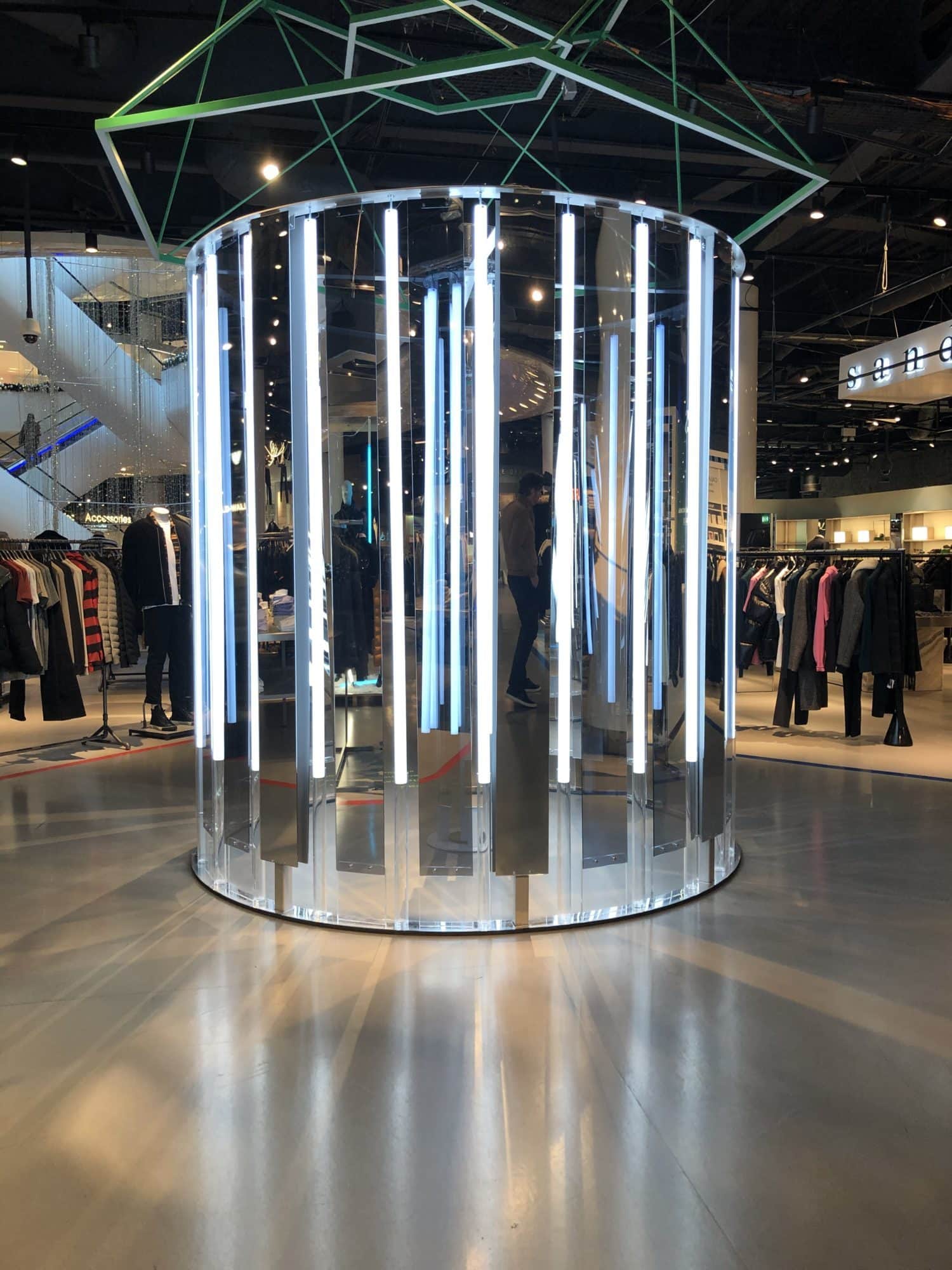 Motion-Sensitive and customer responsive spaces
Bringing the personalised and instantly responsive nature of our online world to life in physically reactive environments means creating spaces which adapt to consumers. A new category of flexible, smart spaces and installations can change in response to customer-generated information. This can offer either product focused content responding to customer preference, or simply an interactive moment to delight.
Nike
Nike's experimental NikeLab destinations in London and NY showcased product performance versatility with three motion-reactive installations that simulated different weather situations (rain, fog, tornado) and were entirely controllable by customers. A mini tornado created by fans and steam was initiated when visitors approached the installation; as customers reached into the vortex the 'tornado' shifted around them, while proximity sensors triggered strobe-light 'lightening' and simulated rain projections. Elsewhere, suspended sheets of motion-activated smart glass change from transparent to opaque to mimic fog as visitors passed. The concept echoes Random International's 'Rain Room' at the Barbican, where visitors navigated cascading rainfall without getting wet.
WithMe
US pop-up concept, WithMe, is a portable, technology-filled store. Responsive moments include fixtures that release audio information such as styling advice when visitors pick up items; and a 35ft-high RFID-equipped wall made of independently mobile 900 mini screens (controlled and activated via beacon tech) providing dynamic, personalised moving content according to the profile info logged within the customer's app. The store launch zones can react to customers' app data to deliver a physically mutable environment tailored to each visitor.
SK-II
Still a benchmark project (from 2018), SK-II's Future X Pop-up in Tokyo is an example of how customers can experience a digital launch zone. Profile creation as the first step to 'onboarding' to a brand experience can lead to a completely personalised shopping experience through the store. As we now are likely to spend more time in stores, having made specifically booked and carefully managed trips when we do engage in physical retail, investing in the most personalised, context-specific, and tailored experience is necessary for brands to fulfil customer demand for a stellar experience. At SK-II, advanced facial recognition is used to create e-profiles for visitors. Once 'onboarded' through facial are provided with personalised content and product recommendations at different in-store zones as they were tracked around the store using the facial recognition technology.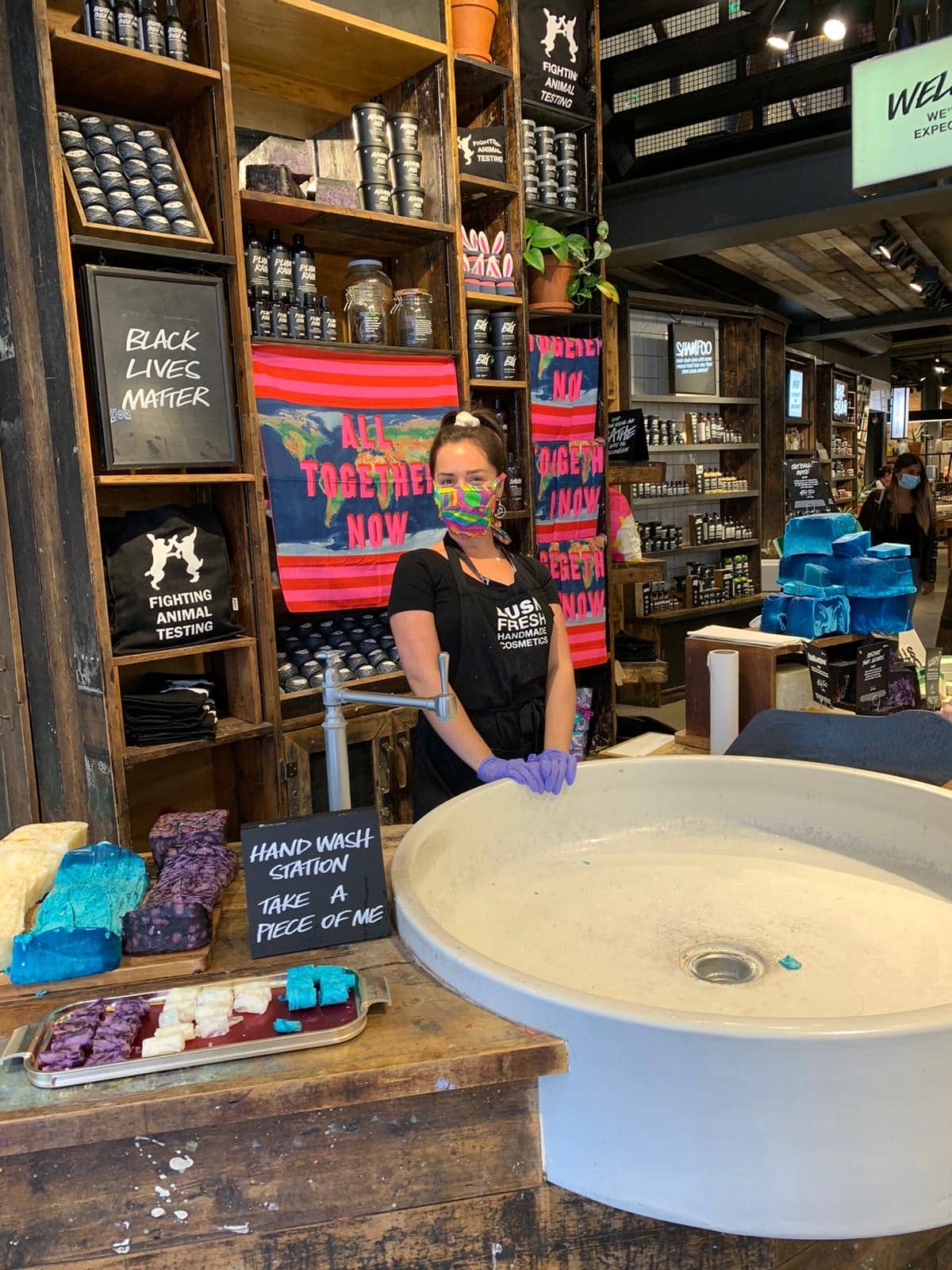 Looking to the future
With the way we shop changing, and our requirements for how we interact with stores and physical spaces constantly in flux (both now and for the foreseeable future), there are a number of new ways customers will need to interact with brand spaces/offers in our new normal retail landscape. The launch zone as we know it may take on a very different form, from signposting how each store operates and requires customers to act, to offering hygiene facilities, to potentially redirecting physical custom to online spaces if necessary.
In a theoretical project reimagining the utilitarian sanitiser station into a format that encourages automatic use, consultancy Echo Design has used Nudge Theory – subtle cues to prompt positive behaviours – to create the 'Purgo'. The concept utilises softly illuminated, humming pods with proximity sensors that disperse a fine cloud of sanitiser when customers are close. The nearer the person, the more they resonate – a magnetic force establishing a new ritual through intrigue and then reward.
Potentially we could see concepts merging kerbside services with connected pre-bookable spaces as launch zones. In this possibility brands can create defined 'holding areas' to control customer levels in physical spaces – allowing consumers to trial products, potentially while enjoying virtual consultations with staff/experts remotely before moving on to the true store experience.
Similarly, click & collect may be a much bigger part of the retail landscape, with pick-up areas becoming more accessible and a larger part of the in-store experience at the 'launch' moment. A good example of how collection-point upselling can be done is UGG's omni-connected, concierge-style click-and-collect at their Ginza store.
What's trending?
You can now sign-up to our mailing list to receive monthly Retail Highlights and Insight Reports by email written by our Trends & Insight Team. Scroll down to subscribe.
Alternatively, if you'd like to discuss a specific retail design project with our team, please do get in touch.