Identifying 6 key themes & their importance at physical retail _
We take a moment to understand the important roles of six key themes at physical retail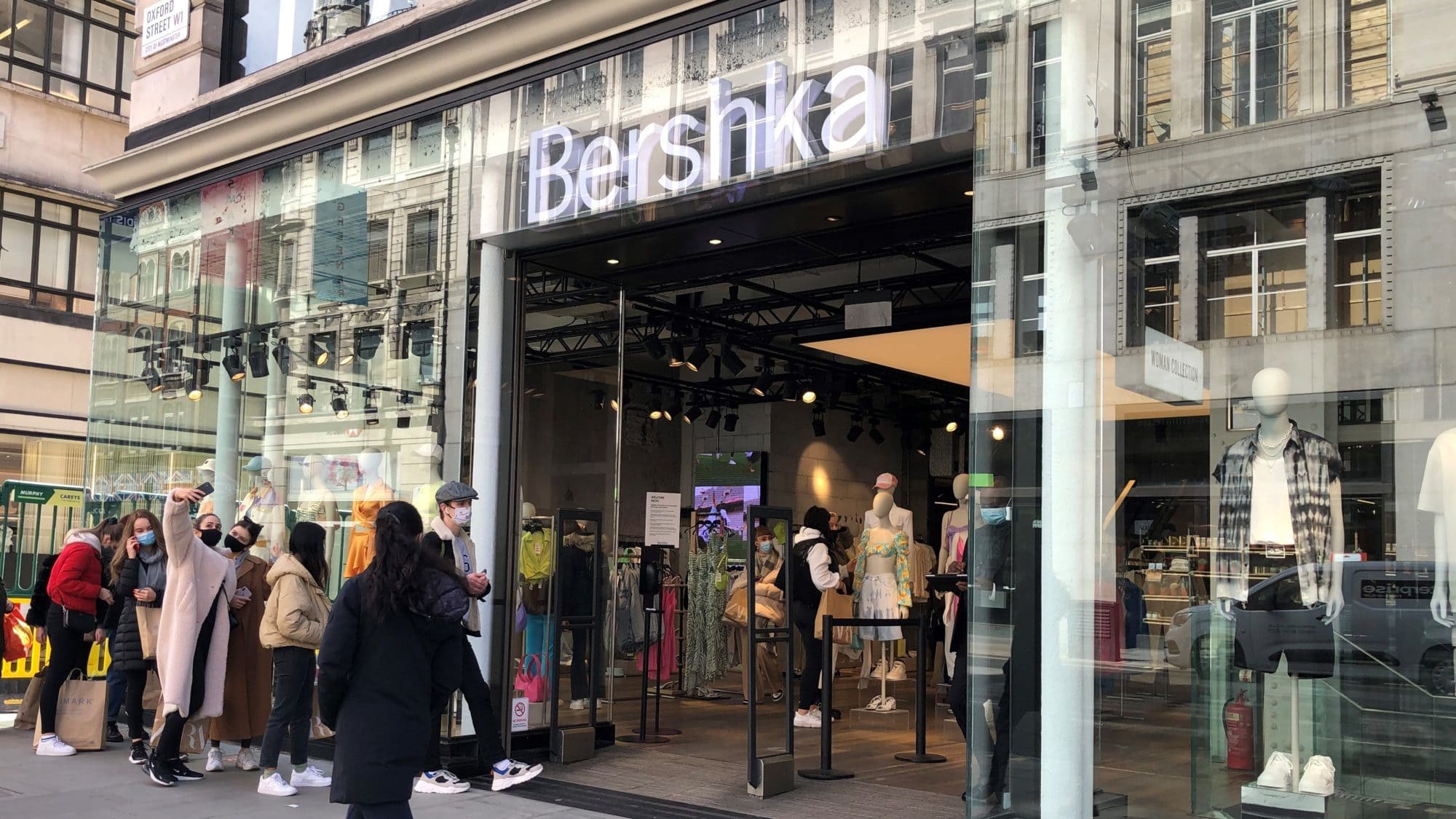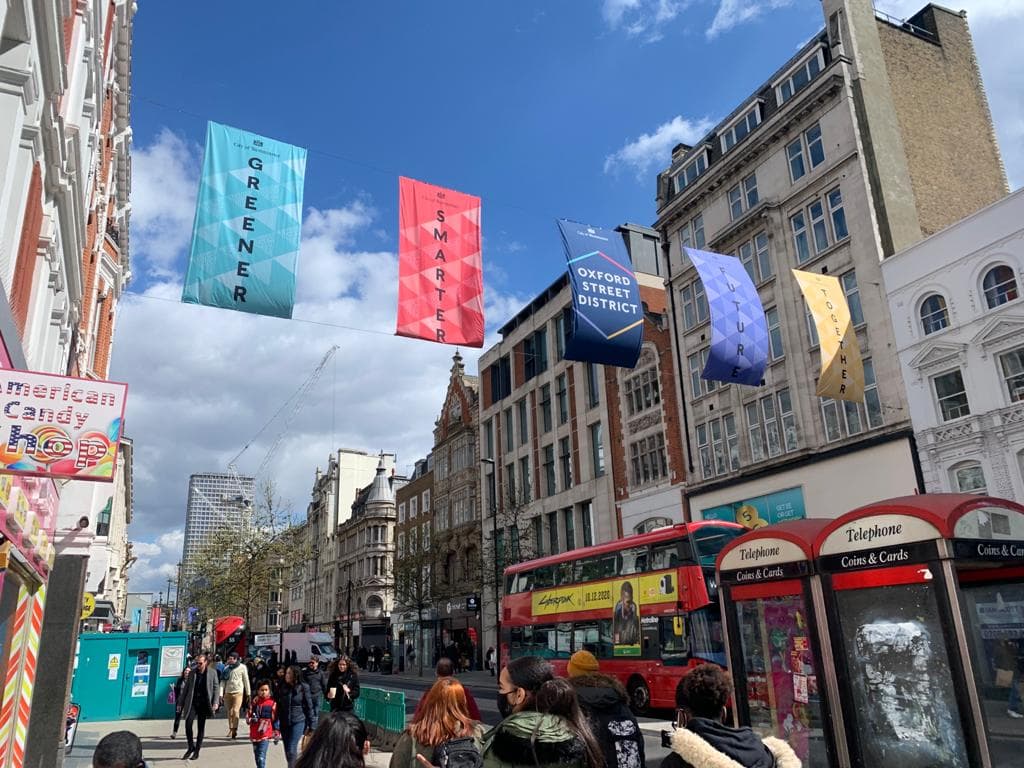 LONDON HIGHSTREET COMES ALIVE #RETAILREOPENS
Two months on and now seems like a better time than any to conduct a review of the UK highstreet following the (dare we say "final"?) return of 'non-essential' retail. And what a return it was!
If you need a reminder, you can find a reactive blog documenting some of the goings-on in London on 12th April, here.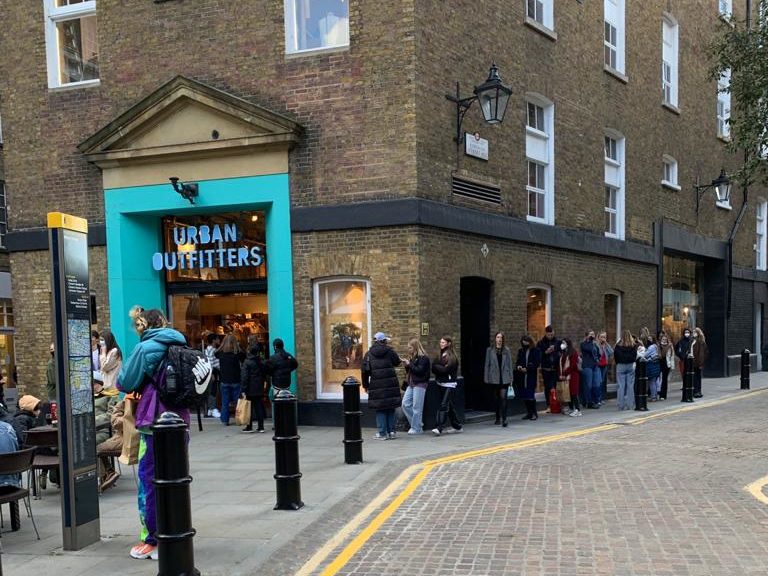 IMMEDIATE OBSERVATIONS
Whilst most strategy and design decisions at physical retail are insight-led – with agencies such as d4r continually conducting market research and analysing customer behaviour to create commercially successful retail environments – it was difficult for brands and retailers to gauge consumer attitudes upon retail's reopening.
This is because consumer attitudes proved ever-changing in the months, weeks and days leading up to 12th April as vaccination rates soared, COVID-19 cases fell, and lockdown eased. Consequently, within the bounds of government guidelines, brands and retailers largely dictated the terms of their return.
The huge queues that our marketing team witnessed when visiting some of London's busiest shopping hubs on reopening day suggested that people were much less worried about the virus than first thought. Therefore, brands and retailers on the whole seemed to be overprepared in relation to their COVID safety measures, at least as far as consumer attitudes were concerned.
However, it was perhaps this overpreparation that allowed the highstreet to process the surprisingly high volume of shoppers that flocked to the highstreet on this momentous day.
In what follows we identify six key themes and take a moment to understand their important roles at physical retail.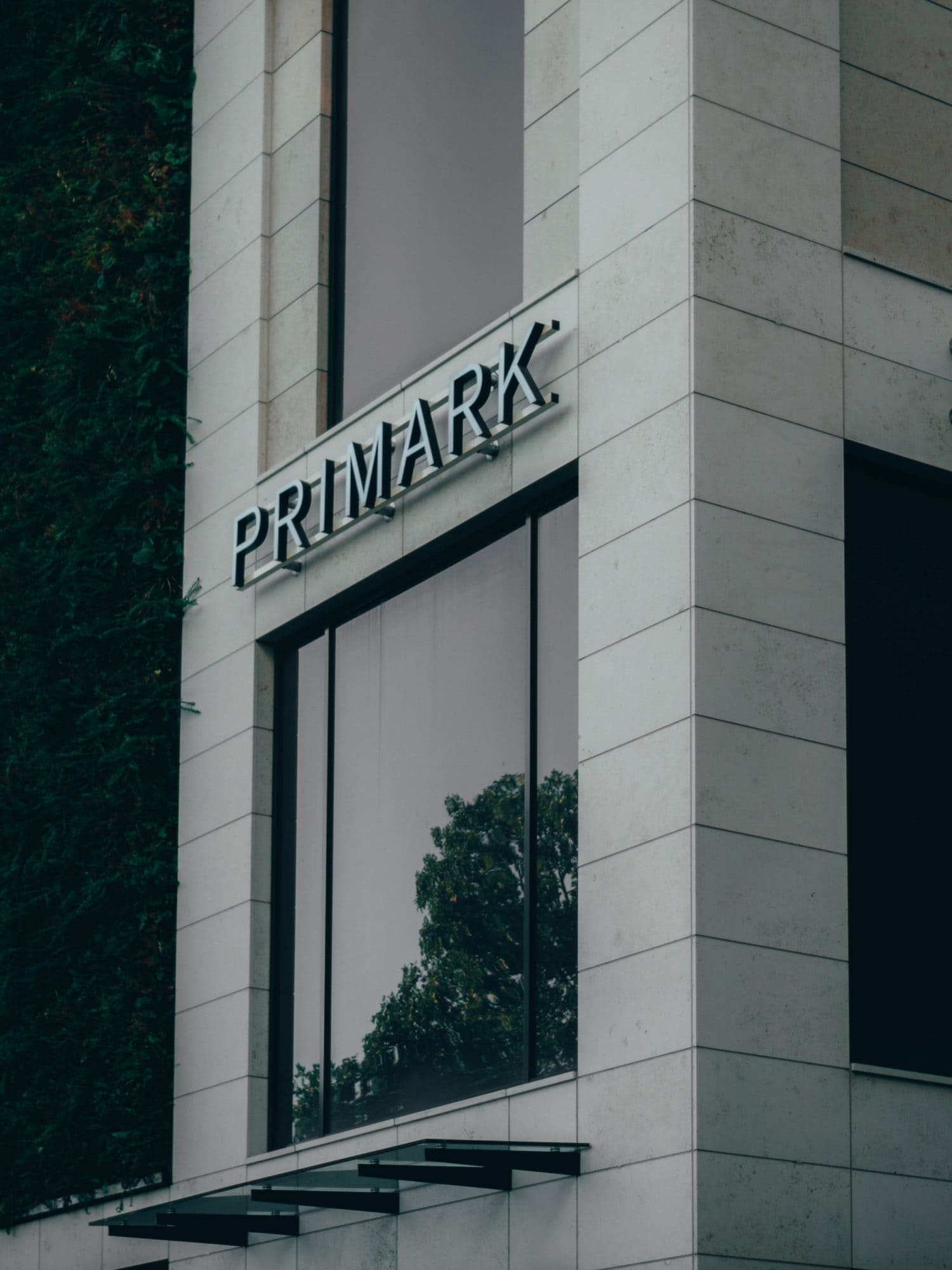 #1 – The (in)convenience of ecommerce
THE HASSLE-FACTOR
We can't help but wonder whether we have all played up the convenience of online shopping in comparison to its offline counterpart.
There is no doubt that online shopping is, on the whole, more convenient than offline shopping, however there are some occasions where visiting a store might actually prove more conducive.
Therefore, we predict that some will momentarily shun online shopping for its occasional hassle-factor, such as when returning items that are not suitable – something that is much less common when viewing and trying items instore, as well as having the option to return purchases instore with nothing more than the item and its receipt.
On top of this, whilst huge volumes of customers migrated to being an online customer of essential retailers, an entire migration to ecommerce did not come to pass, not even close.
Perhaps this was due to the inconvenient delivery slots on offer (or lack thereof!) which would result in customers having to wait weeks for a food delivery, as just one example – again, making physical retail much more convenient in some regards.
THE MOST NOTABLE CONVENIENCE
Another (perhaps most notable) convenience that we cannot ignore is COST – especially when we consider that many people's financial situations are not quite what they were before the pandemic due to furlough and job losses. Lower value items are really difficult to sell online in a cost-effective way so it could be argued that the convenience of cost is driving people to physical-only stores. Poundland, for example, reports a 5.5% rise in sales (thisismoney.co.uk, Jan 2021), despite the absence of an online platform.
In fact, despite pressure from its customer-base, affordable-fashion brand, Primark, refuses to migrate online as the associated costs (packaging, delivery, returns etc.) would simply drive up the price of their items, and absorbing these costs (like other online fashion retailers often do) would make the online operation financially unwise.
It is reported that both Poundland and Primark have plans to open new stores in 2021.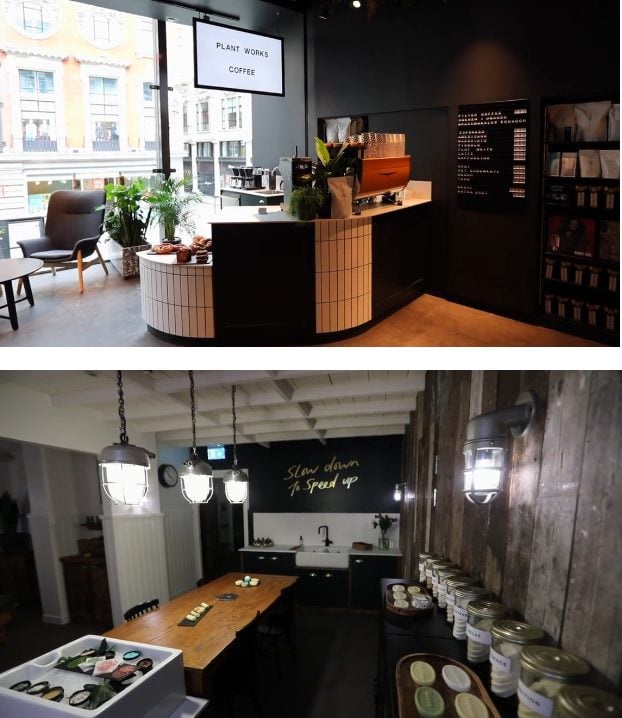 #2 – Experience. Experience. Experience.
Consumer attitudes and behaviours, and the discussion surrounding 'essential' retail and 'non-essential' retail during the pandemic has accelerated an understanding of the two main consumer profiles:
(1) mission shoppers, and (2) those shopping for leisure.
Mission shoppers are more likely to favour online shopping, whilst those shopping for leisure seek experience alongside their purchases. Following the reopening of retail in April, brands and retailers have astutely responded to these calls via featuring interactive digital elements instore, experiential
touchpoints, product experiences, and pop-up events.
EXPERIENCE THE CITY OF LONDON
The Peloton Interactive x Harrods partnership caught our attention on retail's reopening. Why? Because the exercise equipment and media brand invited shoppers of Knightsbridge via its stunning Harrods Window Takeover to join them on Harrods' 5th floor to experience a full suite of fitness-connected equipment, product demonstrations and private trial rooms.
Meanwhile, over on the other side of the City, Lush continues to raise the bar by introducing new experiences and activations to its already fabulous Oxford Street concept store. The cosmetics brand is inviting visitors of its store to "Stop by and get lost in the Lush experience" consisting of over 100 new exclusives, a gorgeous floristry space, a lavish Perfume Library, a transformative Spa, and PlantWorks Coffee – a vegan café overlooking Oxford Street. Packed with meaningful experiences, Lush has created an alluring Third Place for brand-fans to spend their time.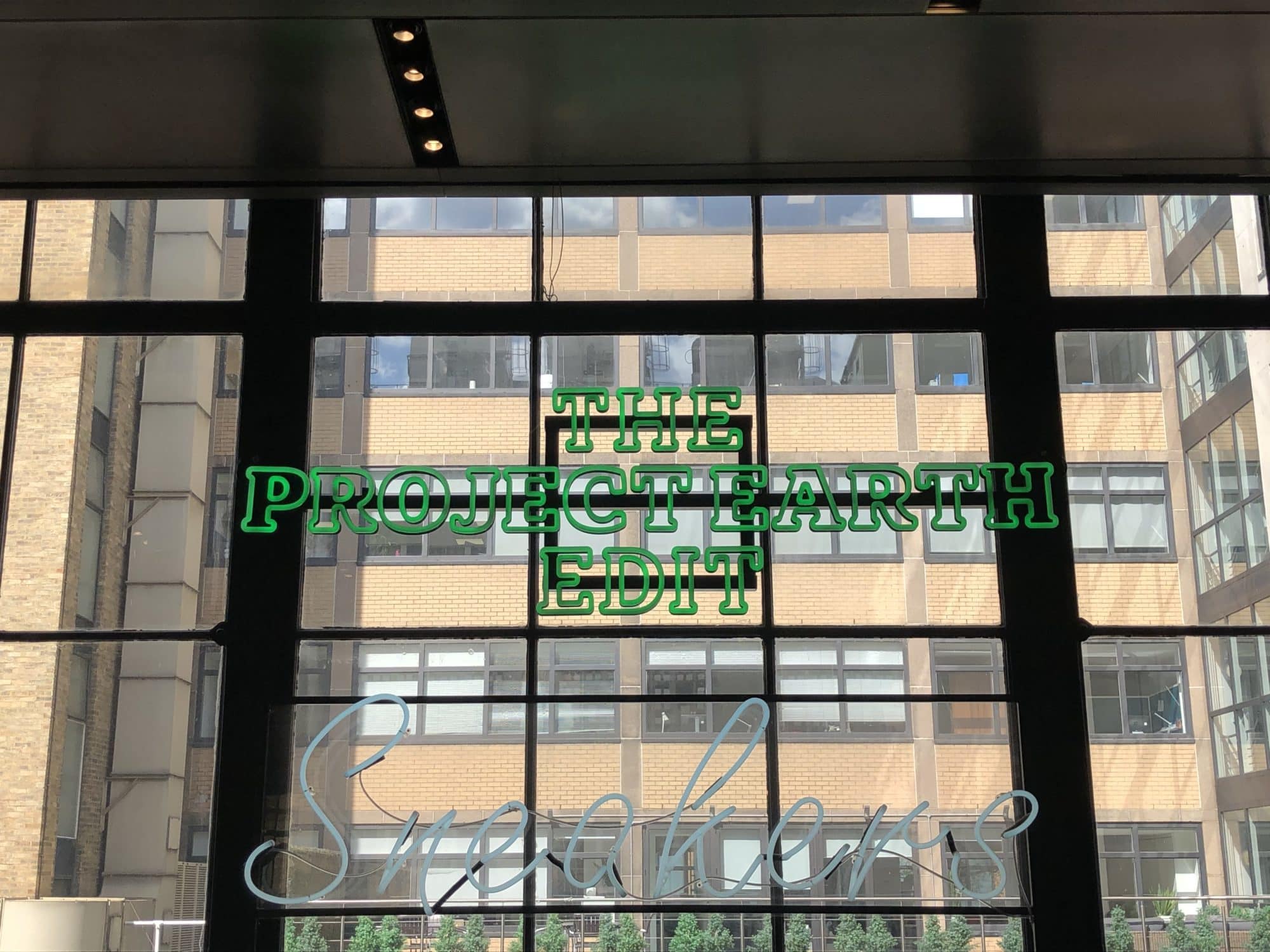 #3 – Brand activism
Not even a deadly virus can stop brands from campaigning, and we wouldn't have it any other way.
Once upon a time, the success of a brand was centred around its product, nowadays it's a brand's social and political stance that can determine its success or failure.
This movement towards consumers holding brands accountable for the impact that they have on our society has encouraged brands to use their platform for a wider purpose than simply selling product.
Whilst this is not a new shift, there was doubt that this brand activism would continue in light of COVID as brands had to use their marketing and communication opportunities to reassure customers about instore safety, and promote social distancing and good hygiene.
Fortunately, several brands have continued their campaigning efforts throughout the pandemic, albeit primarily online.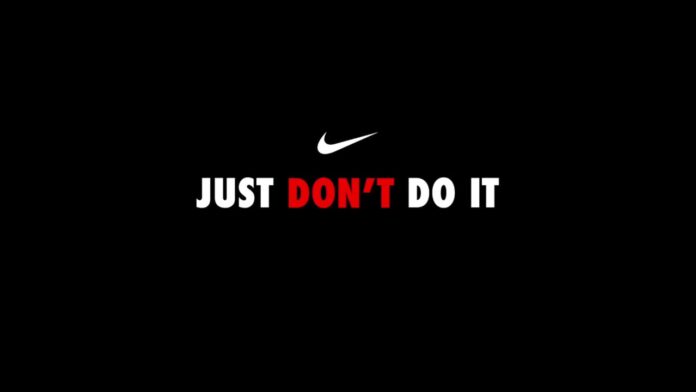 "DON'T DO IT"
To demonstrate its stance in the fight against racism and to support protestors against police brutality, Nike modified its slogan to "Don't do it" and released a powerful video campaign with the message: "For once, don't do it. Don't pretend there's not a problem in America. Don't turn your back on racism.".
Towards the latter end of last year, the brand released another socially and politically charged campaign sporting the hashtag #YouCantStopOurVoice, this time to help Americans exercise what should be their most basic right: to vote.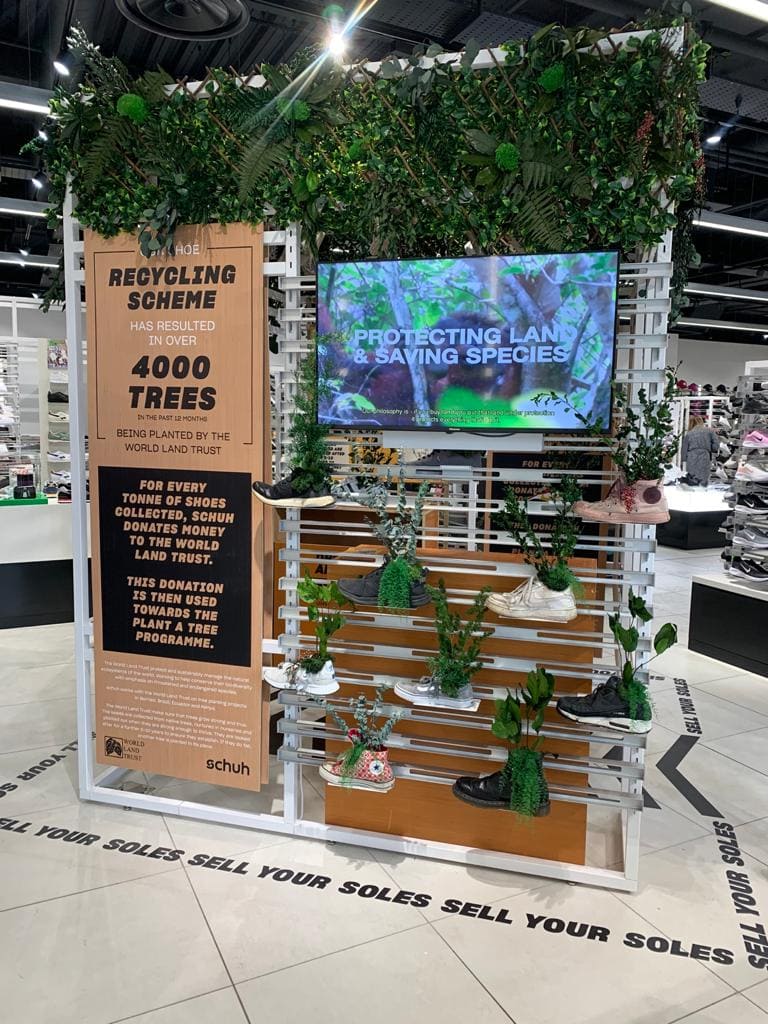 A RETURN TO HIGHSTREET CAMPAIGNING
We look forward to seeing more and more brands demonstrate their campaigns instore and via window activations as we settle back into the highstreet once more.
Upon visiting London, it was great to already see some brands displaying their stance on social and political issues with adidas and Schuh both putting store space aside for their environment-friendly campaigns.
Schuh has provided an area instore for consumers to drop off their unwanted/used shoes so that they can be properly recycled. As part of its Shoe Recycling Scheme, Schuh also promises to donate to the World Land Trust who puts money towards a 'plant a tree' programme for every tonne of shoes that it collects. This is communicated to visitors of the store via clear campaign messaging which can be found upon entering an appropriately designed and decorated 'hut' within its Oxford Street store.
Making us aware of the damage that we are doing to our oceans via our single-use plastic deposits, adidas has dedicated a corner of its London flagship to tell us about its commitment to ensuring that none of its products are to contain virgin plastics from 2024 onwards. In fact, the art installation exhibiting this campaign messaging is itself made out of recycled plastics.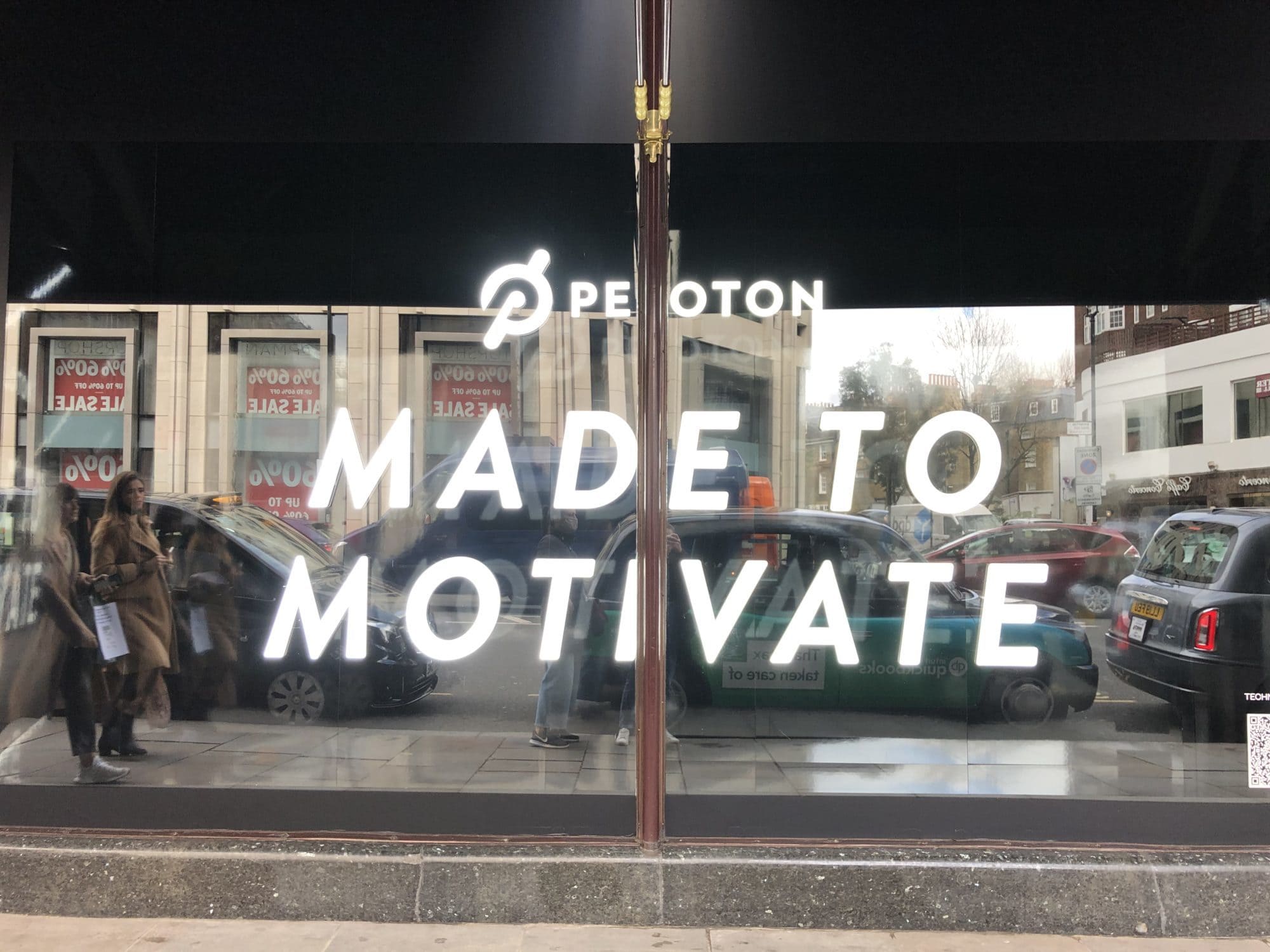 #4 – Window game
A REASON TO ENTER
The highstreet's window game has been really strong as of late, and we think it is playing a huge role in attracting customers instore. At a time when there is still a hesitance to enter enclosed public spaces unless there is good reason, it is vital that brands can encourage passers-by of a good reason to enter their store – something which can of course be achieved via a store's exterior.
Peloton used the facades of Harrods' Grade II listed building to get people to visit the luxury department store's 5th floor where the Peloton Interactive showroom sits. Alongside displaying its hero products, Peloton displayed large-scale moving images of athletes and bright white LED lettering to really capture the attention of passers-by. What's more, we get the impression that the thriving exercise equipment and media company had a point to prove as it took over almost all of Harrods' window space.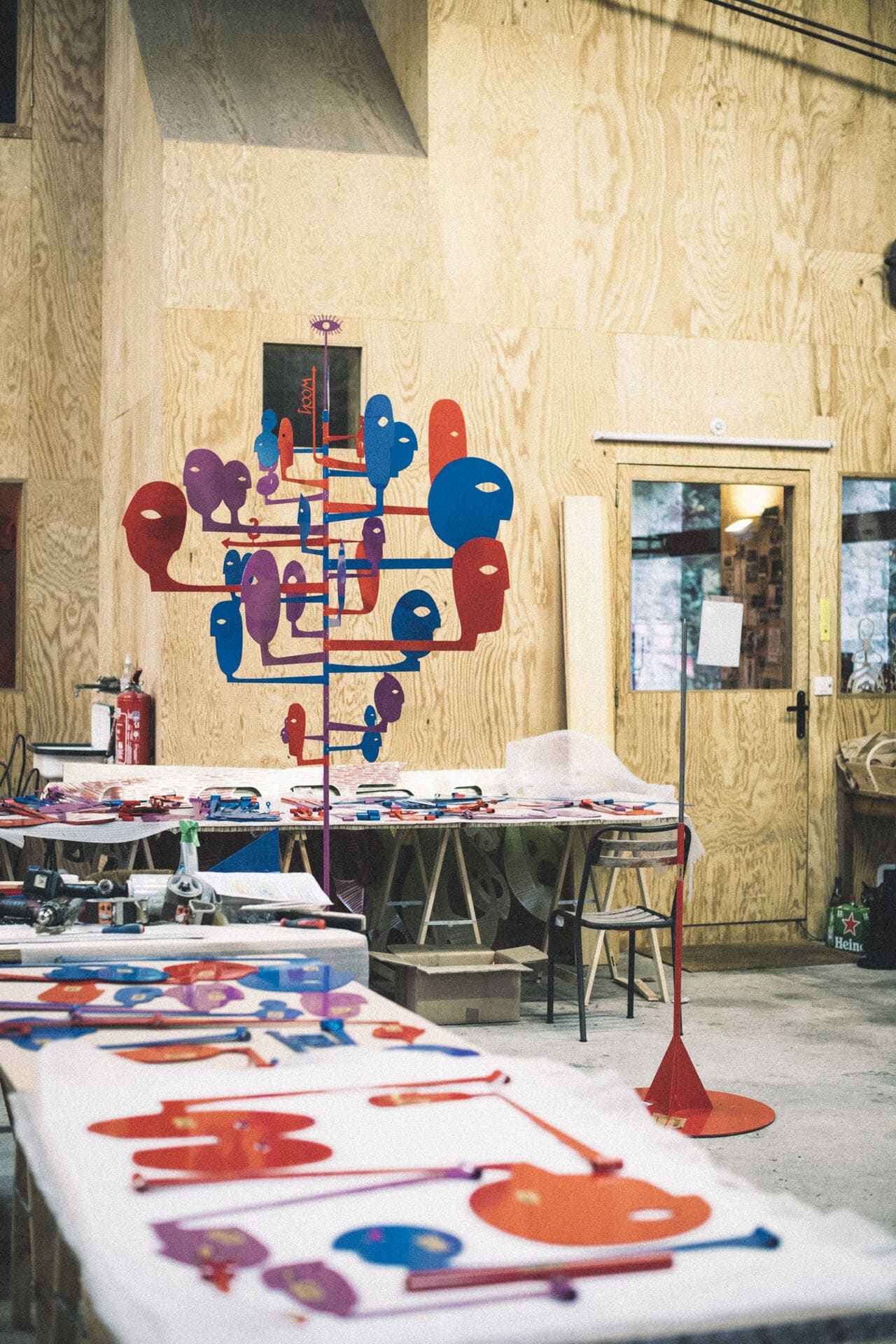 ART INSTALLATIONS
Another way that we have seen brands and retailers capture the attention of passers-by via their store's exterior is by using art installations for their window activations. Turning the highstreet into an art gallery, brands displaying art installations invite shoppers to stop and contemplate the art, giving brands an opportunity to communicate a message to consumers.
Recently, there has also been a move towards brands and retailers using local artists to create art installations in their stores. This comes following consumers demonstrating an increased support for members of their local communities incited by the COVID pandemic.
REI has collaborated with local artists to create installations in some of its stores that examine the intersection of art and nature, and the Nike by Melrose store in Los Angeles displays a mural designed by LA native, Bijou Karman.
Isabel Marrant invited artist Arnold Goron to create "Big Lovers Are Watching You" installations to feature in the store's windows. The project title is a play on the famous line from George Orwell's '1984', "Big Brother is watching you". The artist explains, "We are all wearing a mask during the day. Our faces are very different. We can only see our eyes. The gaze has therefore become very important: it has almost become the only way to communicate emotions".
REACTIVE WINDOWS
Reactive windows are very effective at capturing the attention of passers-by but they are by no means a new phenomenon. In fact, in 2013 a Macy's window display turned passers-by into gold! The interactive window display for Jay Z's 'gold' fragrance used Microsoft Kinect to capture pedestrians in 3D and mimic their movement using imagery of gold fluid, creating custom, reactive artworks.
This year we have seen Benefit use digital technology and AI to elevate the brick-and-mortar  experience, specifically via its enormous interactive window display at Sephora in the Dubai Mall.
Studioxag explains "As customers approach the window, advanced AI tracking technology detects their movements. Suddenly, the customer is controlling the magnetic force emitted from the giant mascara wand. With the swish of an arm, magnetic forces flash across the window towards a giant set of eyelashes, which expand and lengthen in size with every streak of magnetic energy".
Alongside technology becoming readily available to brands and retail designers, brands and retailers are adopting reactive window concepts more and more as they compete with neighbouring stores to make a connection with consumers well before they step foot inside the store.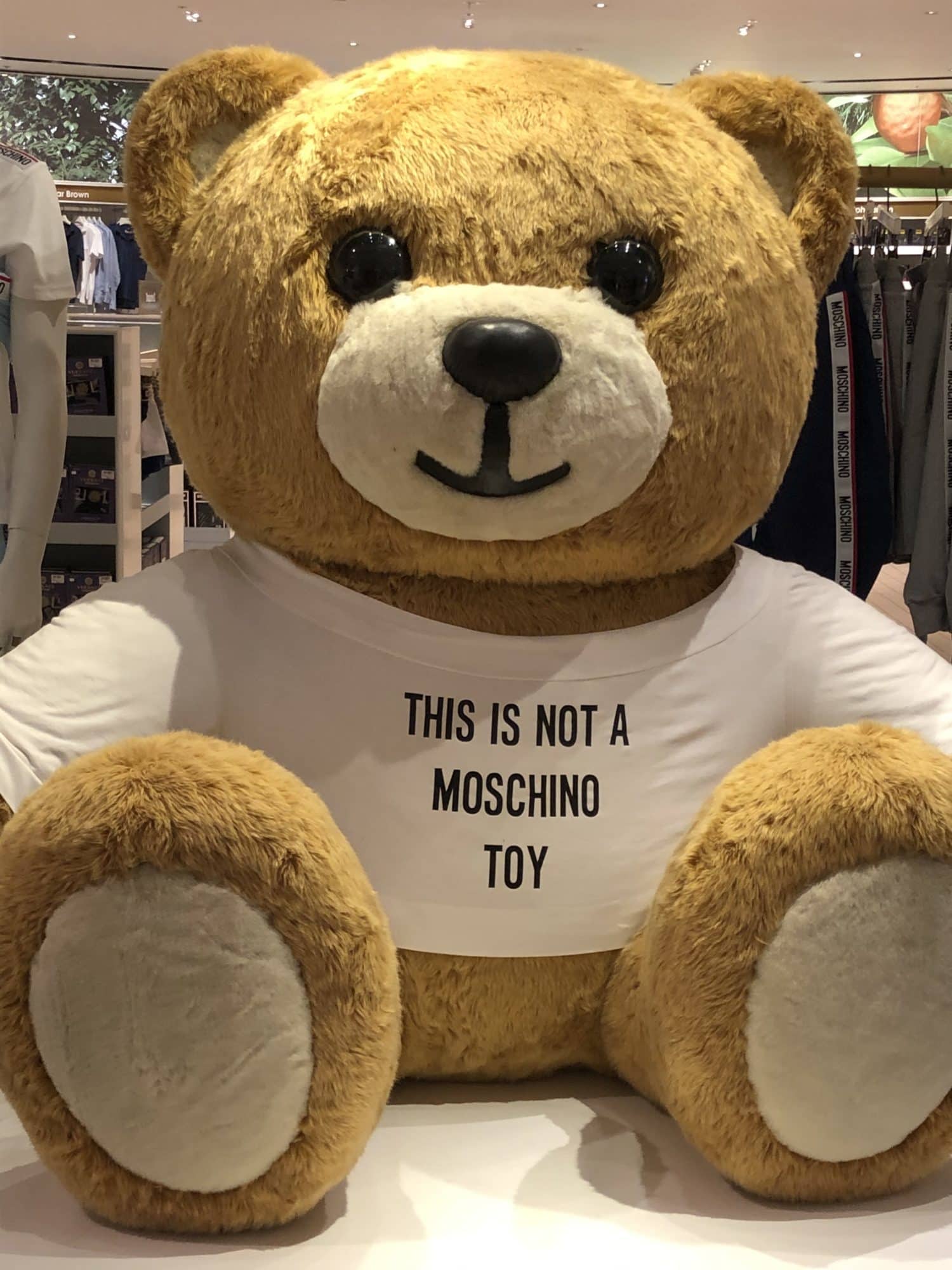 #5 – Always online
FEEDING OUR ALWAYS ONLINE CULTURE
A shift towards people valuing experiences over material items, paired with an ever-increasing desire to share these experiences online, suggests that consumers will increasingly visit stores that together provide experience and feed into our Always Online culture.
Adding value to the highstreet in this way, and demonstrating an understanding that people need real-world experiences to support their online footprint and profiles, might be as simple as displaying a giant bear in Selfridges or designing a store interior that creates a backdrop to provide momentous selfie moments.
GAMIFICATION
Gaming has always been a favourite past-time and continues to be used in creative ways. Brands and retailers are increasingly using gaming alongside their product marketing campaigns to encourage ultimate consumer interaction and immersion.
Accompanying Benefits reactive window activation on the facades of Sephora in the Dubai Mall, an entirely interactive, yet touch-free, instore pop-up experience uses gamification, inspired by classic arcadelike claw machines, to engage shoppers.
Moreover, and more recently, we have seen an interactive game concept used in adidas' London flagship on Oxford Street. A visually striking instore activation promoting two popular football boots, Predator and Copa, invites visitors of the store to "choose their team" by standing on the corresponding floor graphic. Infrared sensors detect which team the shopper has picked and proceeds to play tailored content on the huge digital screen based on their choice.
The gamification of instore touchpoints, like the above examples, responds to consumers' increasing attraction to both digital and physical experiences, arguably creating the perfect blend between both worlds.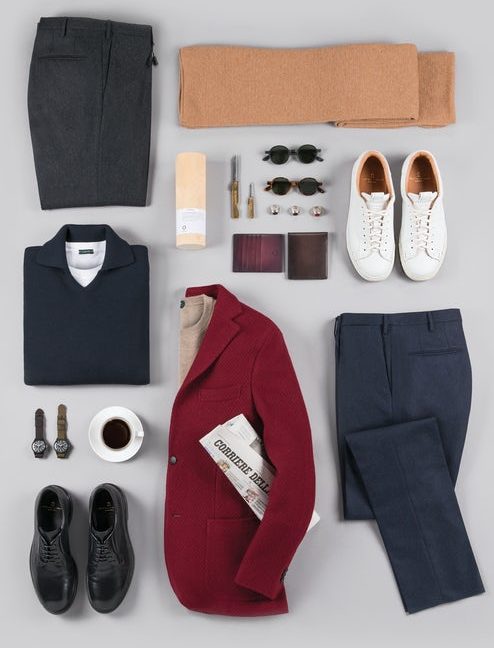 #6 – Unlikely investments
When we consider that 'non-essential' stores were ordered to close for long periods at a time, and the economy is 9.7% smaller than before the pandemic (BBC), you might have expected brands and retailers to dramatically reduce their physical retail budgets for the foreseeable.
But while a handful of well-known brands and retailers (Topshop, Boots, Debenhams) retreated from the highstreet with permanent store closures, others, perhaps rather counterintuitively chose to invest in physical stores.
We are starting to see the results of these unlikely investments as new and/or improved stores come online. Hand-made fashion brand, Slowear, for example, has plans to open 25 new stores globally in the next two years, as reported by Vogue.
Muddling through a period of uncertainty, some opted for something of a middle ground, closing stores across their estate to focus on only those generating a higher ROI. In fact, 27% of 89 brands and retailers surveyed said that they abandoned one or more leases and locations during the course of the pandemic (Modern Retail).
This has allowed brands to focus on quality rather than quantity, elevating customer journeys and shopping experiences in their more competitive stores.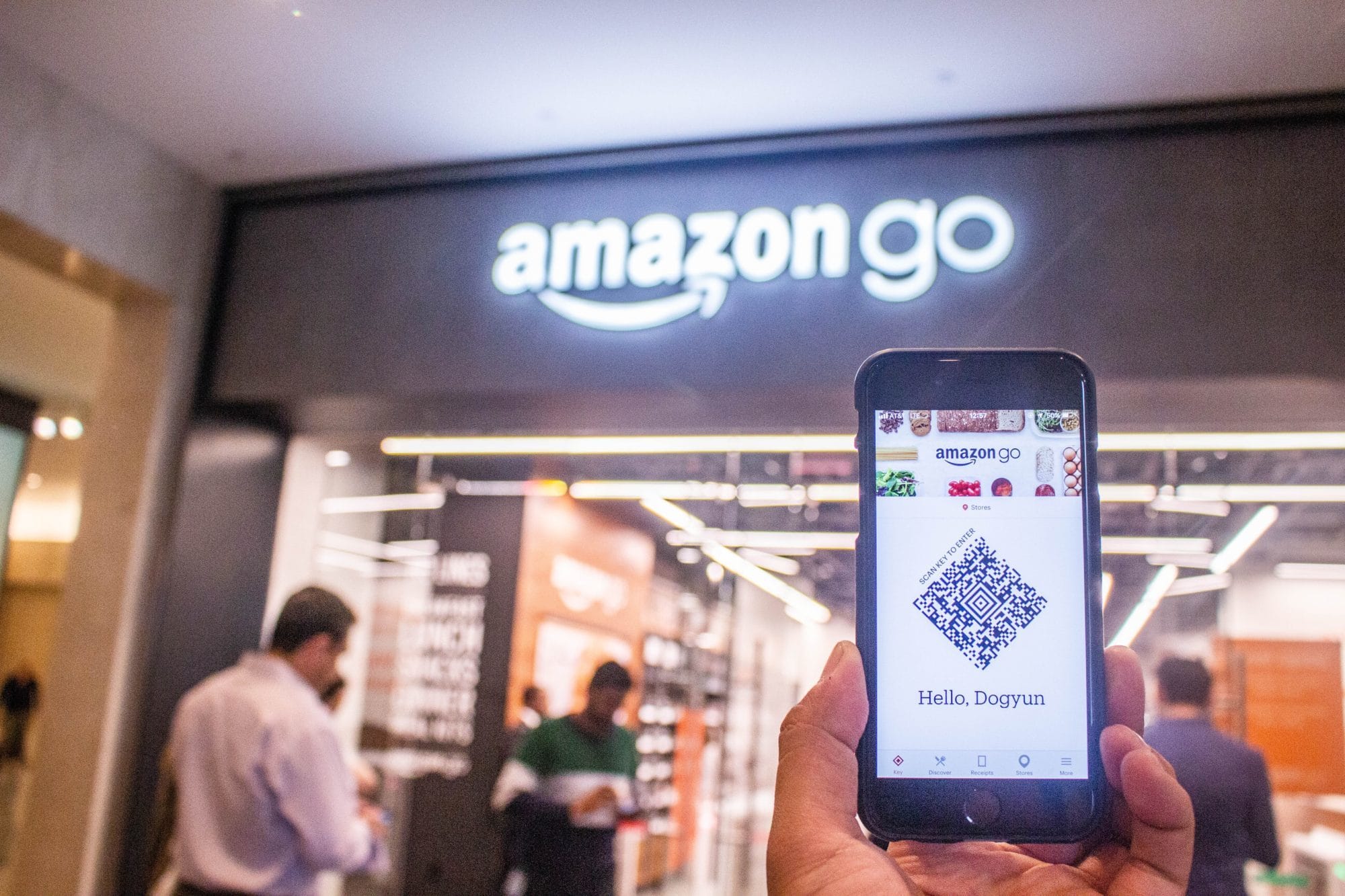 DIGITALLY NATIVE BRANDS
Even Digitally Native Brands (DNBs) are investing in physical retail for the marketing opportunities that it presents, from temporary or travelling pop-ups to permanent stores and concessions.
This is especially true for Digitally-Native Luxury Brands as Warby Parker, for example, now boasts 139 retail locations in the US alone. See Why Luxury Brands Need Brick-And-Mortar Stores.
DNB, Amazon, has also been fiercely opening stores despite the pandemic, opening an additional 2 Amazon Go stores, 2 Amazon Go Grocery stores, 2 Amazon Book stores and 22 Amazon 4-star stores in the first six months of 2020 (Statista). More recently, Amazon has opened its first Europe-based
Amazon Fresh store, gracing Ealing Broadway Shopping Centre in the UK with the presence of this futuristic "contactless" food shopping concept in March this year.
LOWER RENTS & SHORTER LEASES
Some brands merely have seen the COVID pandemic as a bump in the road and made very few plans to stop their physical retail growth. Interestingly, for the first time in years in the US, retailers plan to open more stores than they close, according to CNBC, as retailers like Sephora plan to open 260+ stores in 2021. This comes as brands and retailers benefit from lower rents and shorter lease terms, reducing risk and freeing up budgets for further investment.
Our perspective
FUTURE-PROOFING THE HIGHSTREET
The virus has forced brands to review their physical channels, leaving some retailers to abandon the commerce channel altogether and others to adopt an alternative strategy at physical retail to make it more desirable to consumers (i.e. by designing a store that provides an elevated customer experience).
Whilst it is difficult to find any positives that have come from the past 14 months or so, the pandemic has served as a good (albeit harsh) reminder for brands and retailers to not be complacent and to ensure that their operations allow for retail agility.
The changes that the highstreet has experienced, we believe, has made it more resilient to future hardships, and will continue to evolve in this direction as brands and retailers continue to navigate this current inter-COVID retail state.
At Design4Retail our insight team helps brands across multiple sectors craft strategies that navigate the evolving retail landscape as we begin to discern what comprises our new 'normal'.
LET'S CARRY ON THE CONVERSATION
GET IN TOUCH TODAY TO TALK ABOUT THE FUTURE OF RETAIL