Window Displays _
Going beyond the bounds of display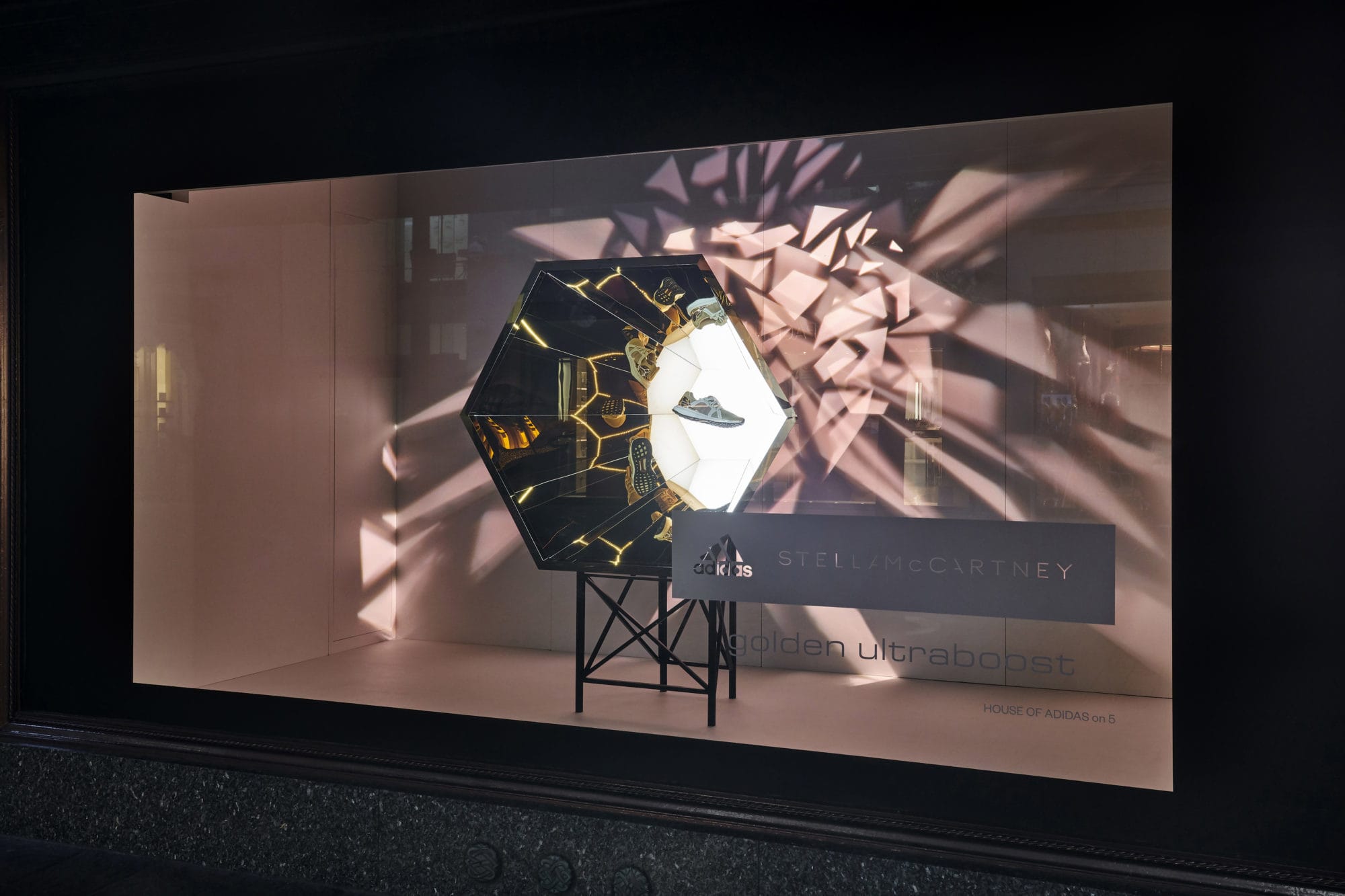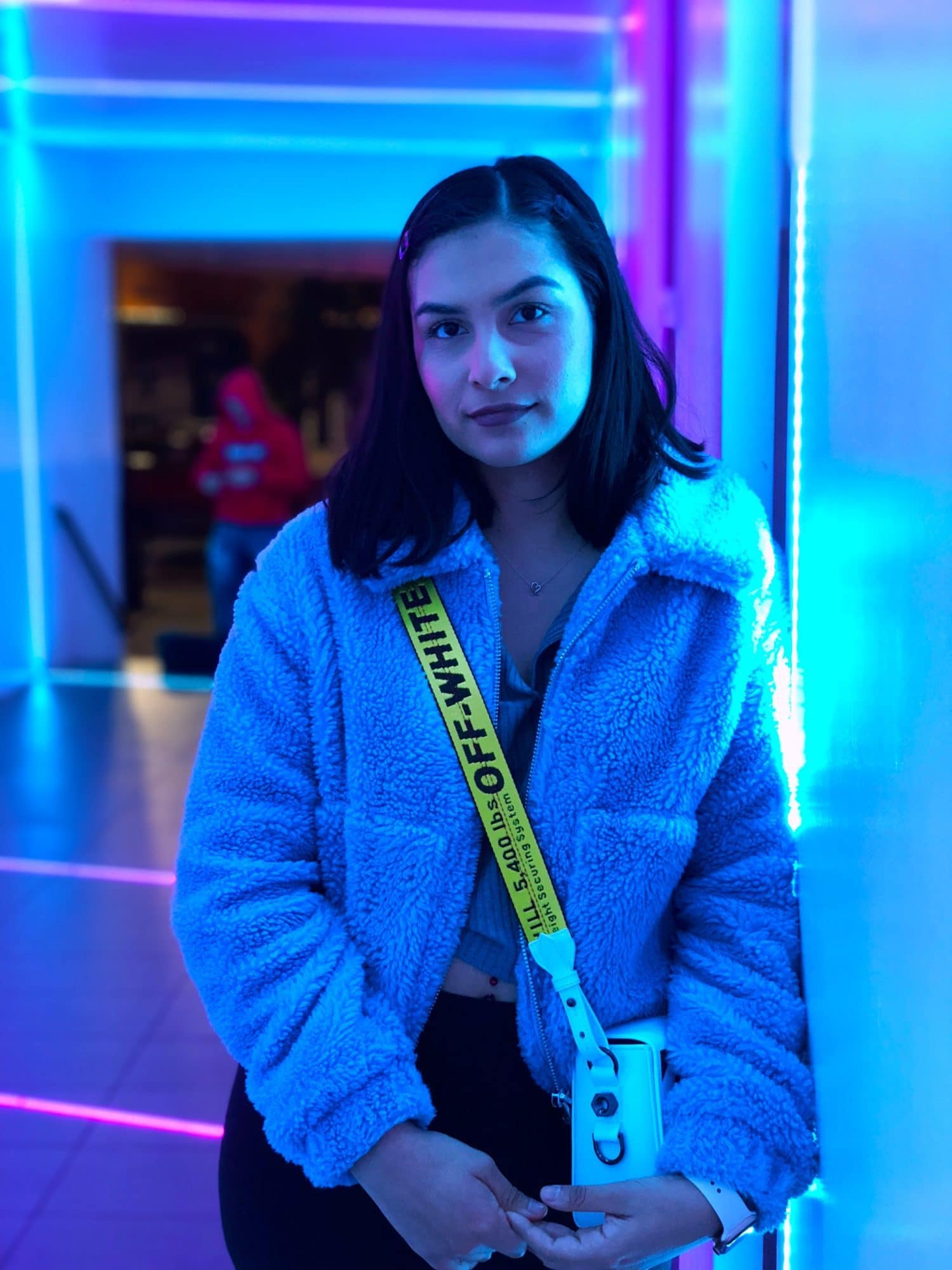 Offering Consumers Control, Interaction, and Creativity.
With the ongoing consumer desire for personalisation, a new generation of store windows is allowing consumers to interact with display content, sometimes with the ability to add their own direction of content or layers of personalisation. To connect with Gen Z, who are creating and directing content online on the daily, brands must now look to offering modern consumers the opportunity to alter and manipulate the content of windows to their liking, via their own devices or  touch-sensitive panels.
Off-White
In 2019, Off-White used AR and green screen backdrops in its windows to promote its 'Odsy' sneaker range. Visitors were invited to create a profile on a microsite of the Off-White website which allowed the brand to activate their smartphone camera – creating a connection between the camera and the window display. Consequently, shoppers were granted access to a selection of video content which could be overlaid onto the window display backdrops – seen uniquely on each users' screen so there was no limit to the number of people who could interact with the window, simultaneously. This individually created content could then be shared directly to social media for seamless connection to the online sphere.
Selfridges
Collaborating with digital artist, Antoni Tudisco, Selfridges launched a Christmas-themed 'Instagram Store Takeover' in 2019 which saw visitors control an interactive iridescent crystal via touch-tech in one of the department store's windows, revealing digitally rendered products as a result of the interaction.
Tissot and Garrard
Watch brand, Tissot, and Jeweller, Garrard, have used AR and digital screens in their windows to give passers-by the opportunity to virtually try on a range of their luxury products. Shoppers simply held their hands up to a screen embedded in the store's façade to see how the brands' watches and other jewellery looked on them.
TM Lewin
TM Lewin launched a 'Touch to make it snow' window campaign for Christmas 2019 which saw the installation of touch-sensitive points on their window. When these touch-sensitive points were activated by passers-by, fake snow blew out over Oxford Street, delighting shoppers with a whimsical moment of interaction.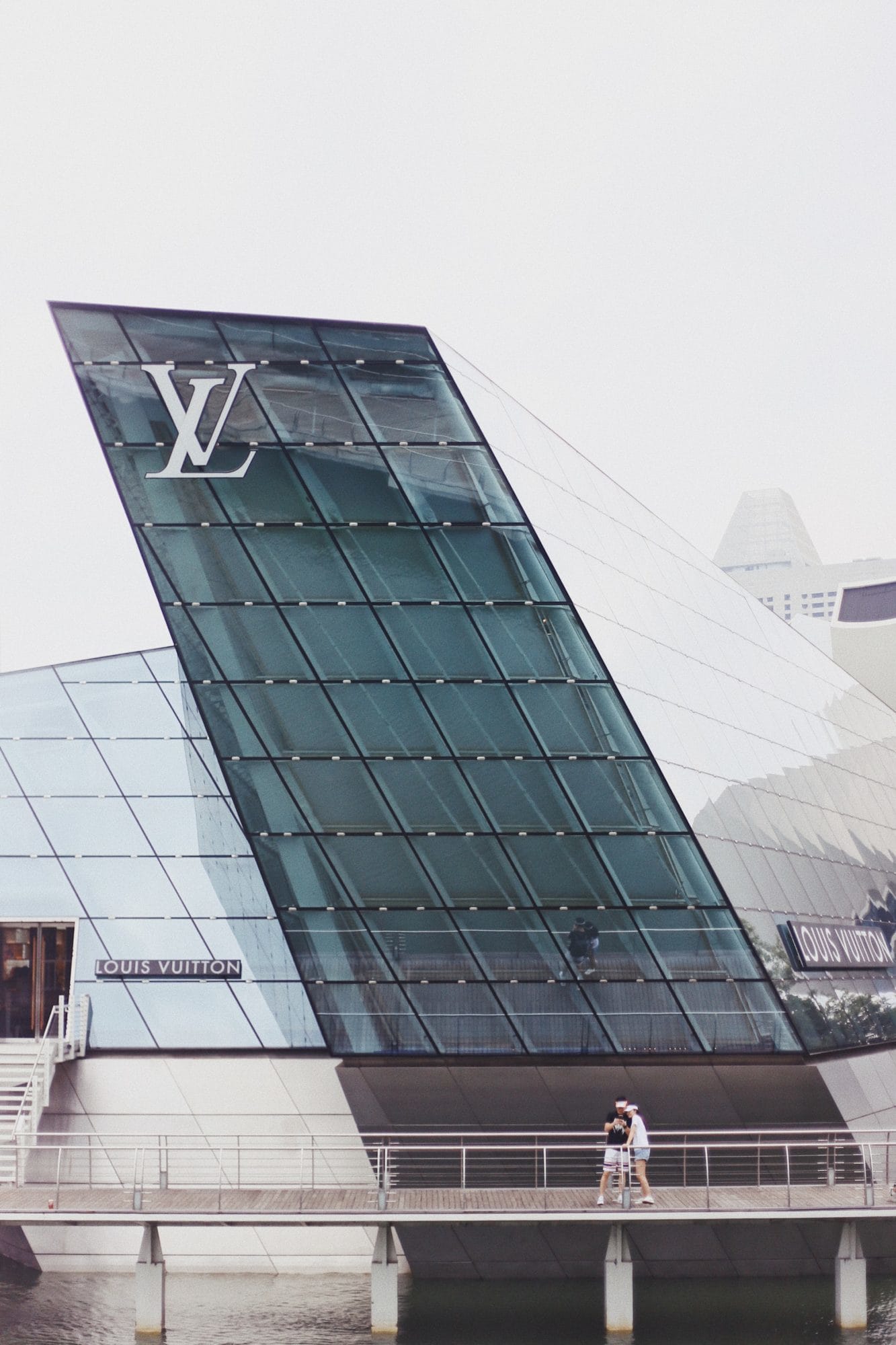 Art and Cultural Commentary
Since Gene Moore pioneered the use of 'conceptual' storytelling window displays for Tiffany & Co in the 1950s, the sector has fed on artistic collaborations. In modern retail landscapes, the role of windows has been amplified by the resurgence of the flagship as a 'concept store' and windows can act as a commentary on contemporary culture.
For the luxury sector there is huge mileage in acknowledging the blurred lines between retail, media, and culture by working directly with practitioners of live art, music, and theatre design.
Louis Vuitton
LV really are leaders in the expressive, windows-as-art arena with their ultra-collaborative display strategy. 'Beam Me Up' (2018) at its Paris flagship featured a series of LED backdrops presenting an intergalactic-style spectacle. Digital specks of colour rained from the ceiling to form glitchy digital models within teleportation-device-inspired cylinders. In 2019 the 'Postcards from the Future' window concept included exclusive digitally created 'art installation' videos of receding environments, shown in real time from day to night. The shrinking landscapes reference the Anthropocene age, commenting on our fragile world, and our effect on it. Also in 2019, in an installation closer to typical VM than art, the brand celebrated the reopening of its London flagship with a bespoke '3D façade painting' cloaking the windows and large portions of the building in vivid coloured rays.
Asics
Bloomingdales 5th Avenue and the London flagship for Asics both deployed robotics to attract customer attention. The robots were used to decorate a Christmas tree, and draw window illustrations, respectively. Both processes were repeated continually, the robots stripping the tree and cleaning the windows before starting again. Both were subtle commentaries on burgeoning AI created content, and the increasing automation of creative services.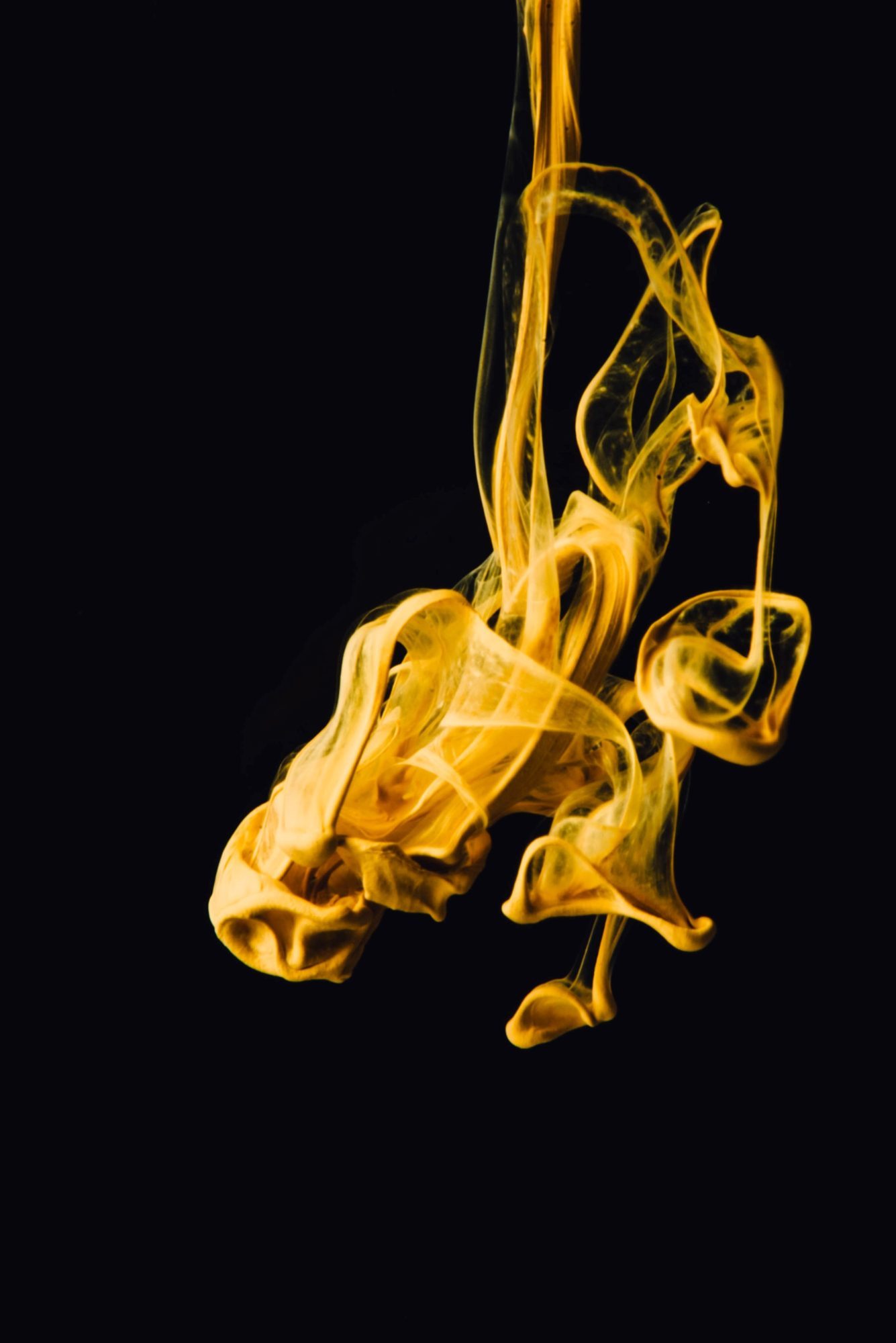 Reacting to consumers
Tracking technology is helping retailers to attract and even maintain deeper consumer connections. Treatments range from movement-reactive display elements, to personalised product recommendations based on age and gender. Smart windows gauging presence and demographic are sparking significant consumer interest. These windows are increasingly designed to draw attention, to amuse and delight, as well as perform consumer segment analysis for better conversion.
Samsung
In 2019, Samsung presented the Galaxy 10 at the Berlin department store, KaDeWe. All 10 interactive shop windows featured demonstrations of phone functions. One shot took a 'selfie' of passers-by which was then distorted and added to the display screens- becoming part of the display itself. Another deployed Samsung's tracking tech, monitoring eyes, lips and even tongues (usually used to create custom emojis) to create a digital avatar mimicking viewers' movement.
Jay Z
The interactive window display for Jay Z's 'gold' fragrance at Macy's used Microsoft Kinect to capture pedestrians in 3D and mimic their movement using imagery of gold fluid, creating custom, reactive artworks.
Hermes
In 2018, Hermes used facial-recognition-powered windows in London stores. Viewers' eyes and lips were transposed onto the surface of a moon displayed inside an astronaut's helmet.
Burberry
In March 2020, Burberry took over the Selfridges Corner Shop, creating a space where inanimate penguins sprung into life through AR when visitors (who had accessed bespoke QR codes) pointed their phone cameras at them. With shareability being a key focus, a screenshot or video of the visitors and their penguins could be instantly shared on social media.
Ted Baker
In 2016/17, Ted Baker launched a shoppable secret agent-themed mini movie, Mission Impeccable, and used geo-fencing location technology and Google App's Voice Search tools to create the physical window experience. Consumers who activate the tool on their smartphones could speak coded phrases displayed in windows of selected stores (ensuring they are in the right spot) to win prizes.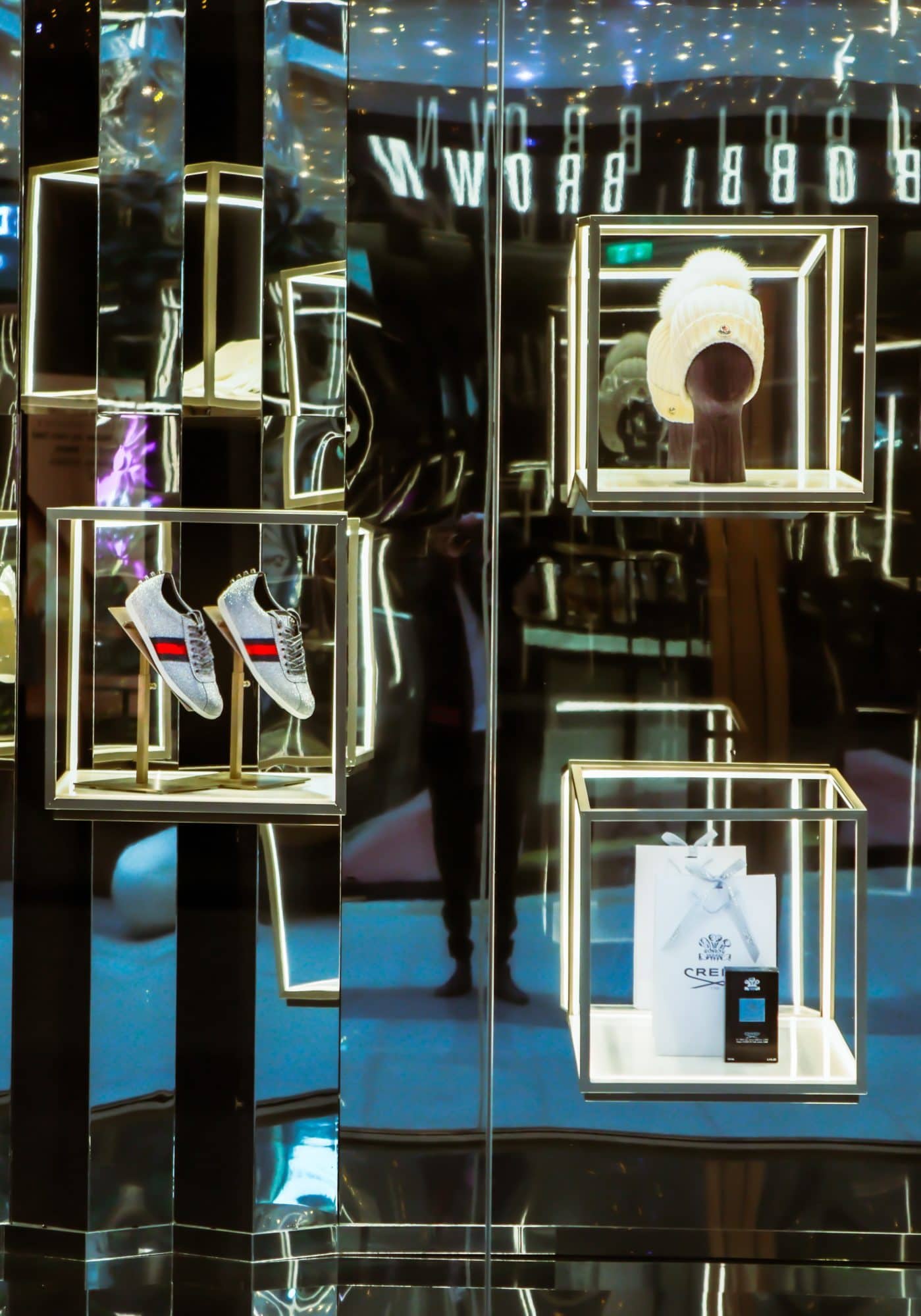 Augmenting Window Shopping
Increasingly advanced technology is delivering both 24/7 shopping and access to alternative digital realities. These experiences continue to champion windows as vital storytelling portals and e-commerce touchpoints as designing for a mobile-connected, omnichannel world is essential strategy for brands ready to use the store as an e-commerce extension. By providing a quick path to purchase from a picture, product or moving image shown on-screen in the window, you can turn passers-by into 24/7 shoppers.
Selfridges
In 2019, Selfridges hosted storewide campaign, 'The New Order', inviting digital artists to reimagine shopping. Creating 3D-animated worlds for its windows, the store allowed all digitally rendered products to be directly shoppable via QR code. Consumers could simultaneously view the same digital experience on their phones.
LUSH
Lush's Tokyo Shinjuku store features a shoppable window. Using its proprietary Lush Labs App, shoppers scanned exhibited products to browse and shop in-app.
Samsung
Samsung have developed Air x Touch – a motion sensor bar that transforms store windows into 24/7 interactive screens, making them shoppable out-of-hours. Using hand gestures such as index finger tapping, consumers can activate videos, zoom into pictures and make purchases by tapping their mobile phone or credit cards on an NFC-enabled sensor.
Ralph Lauren
Ralph Lauren have been applying interactive technology and projection mapping to their windows for a while now. In 2015, passers-by could 'customise' the displayed items (projected onto a mannequin bust) by choosing from a palette of 18 selected colours. Additionally, a mix-and-match feature allowed them to view products in combination through realistic styling animation, such as a tie being tied around the neck of a chosen shirt. A corresponding interactive mobile app allowed users to purchase the products directly.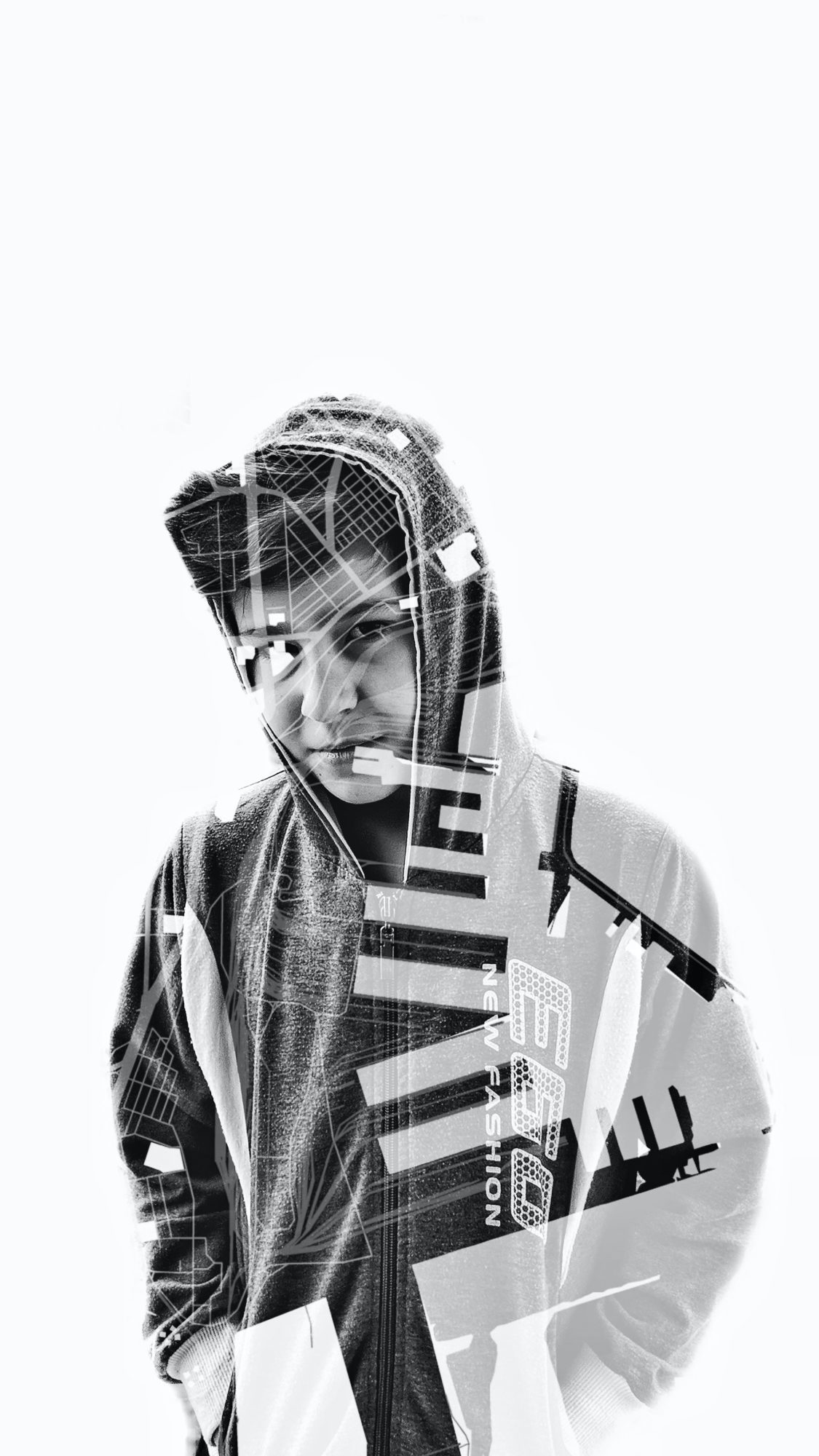 Emerging technologies.
New technologies and window surfaces are enabling windows to switch from traditional transparent display units to a blank canvas for additional layers of overlaid content. In a half-way between full AR and simple digital content, these multi-layered, responsive technologies are opening more textural ways of displaying content and products at more achievable price-points.
SeloyLive
Finnish start-up SeloyLive's Sense product combines a transparent double-glazed window unit with integrated touch technology. One side has a projected-image-capturing surface, the other a consumer touchscreen. Using a connected app, the window can be switched into non-transparency mode, turning it into a canvas for video/photographic content. Capable of portraying the kind of AR overlays only currently seen on smartphones, it is possible for added content/information to cloak or snake around products temporarily. For example, a technology brand could use it to showcase the constituent technical elements of a product, over/around the item itself, while the touch component allows for consumer interaction. I.e.: viewers can move imagery by sliding to the right or left, mimicking mobile phone swiping.
Ralph Lauren
To launch and increase awareness of their tech-enhanced Polo Sport collection, Ralph Lauren created holographic window displays in their NYC flagship. The installation displayed life-sized athletes exercising (boxing or skipping) while wearing the new PoloTech shirt. Passers-by were encouraged to see the clothing up close from many angles and the holographic technology was essential in making the compact display seem bigger- deceiving viewers into thinking the 1m-deep window stretched 5-6m back.
BMW
BMW created a window display that displays the near future; with the use of digital projection and motion detection technology, a live-feed video of passing cars in the street transformed the vehicles into BMW i3 and i8 vehicles in real-time.
What's trending?
You can now sign-up to our mailing list to receive monthly Retail Highlights and Insight Reports by email written by our Trends & Insight Team. Scroll down to subscribe.
Alternatively, if you'd like to discuss a specific retail design project with our team, please do get in touch.
In the second half of this month we will be focusing our attention on Launch Zones, the role they play in bringing a new product or concept to market, and  our vision for the future of this physical marketing platform.