Design4Retail in London _
See Design4Retail's work across the City of London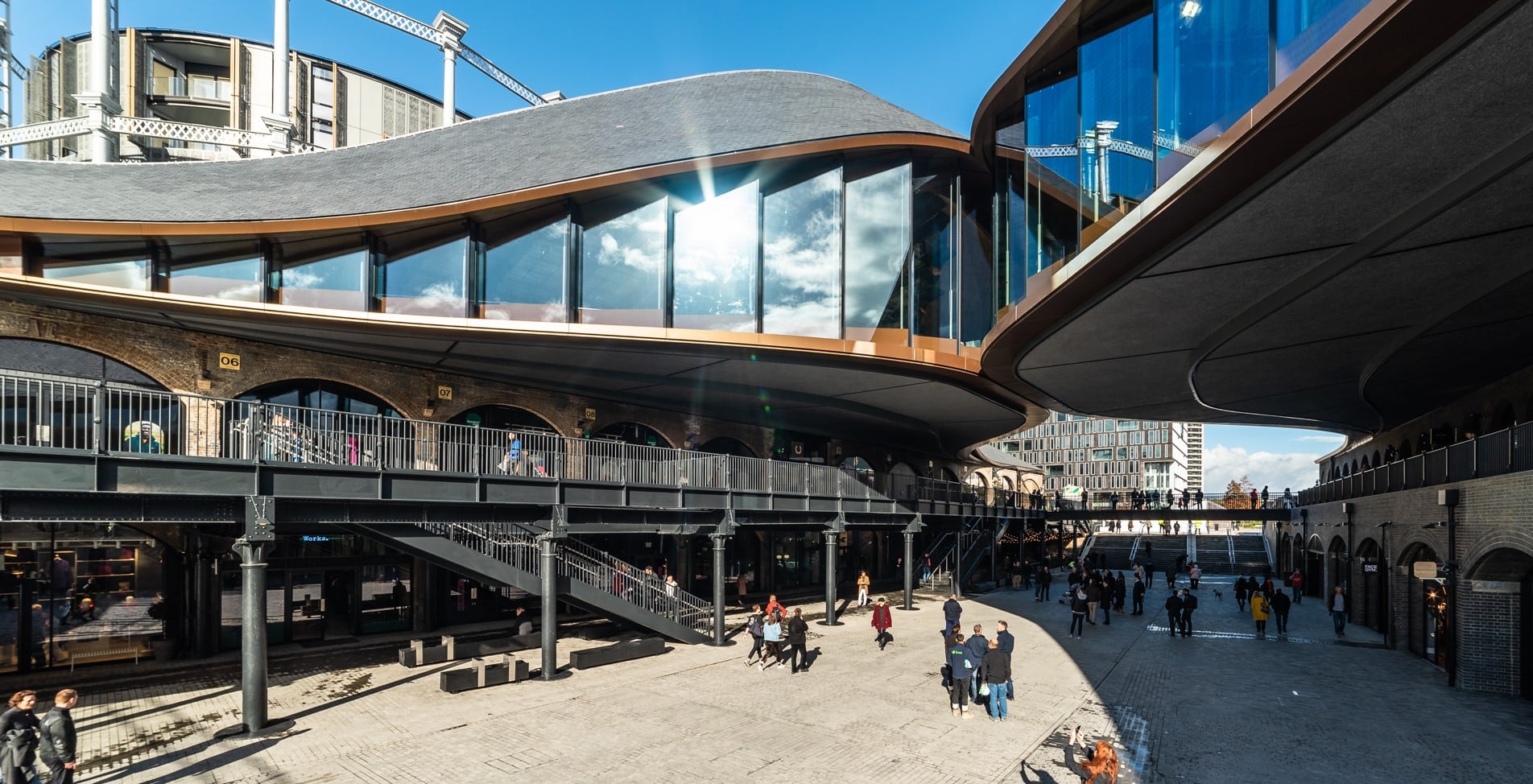 A large proportion of our work is destined for London, from the window displays of Harrods and the pop-ups in Selfridges, to the stores that line Oxford Street and make up the retail development of Coal Drops Yard. Here we have compiled a list of our London retail design projects: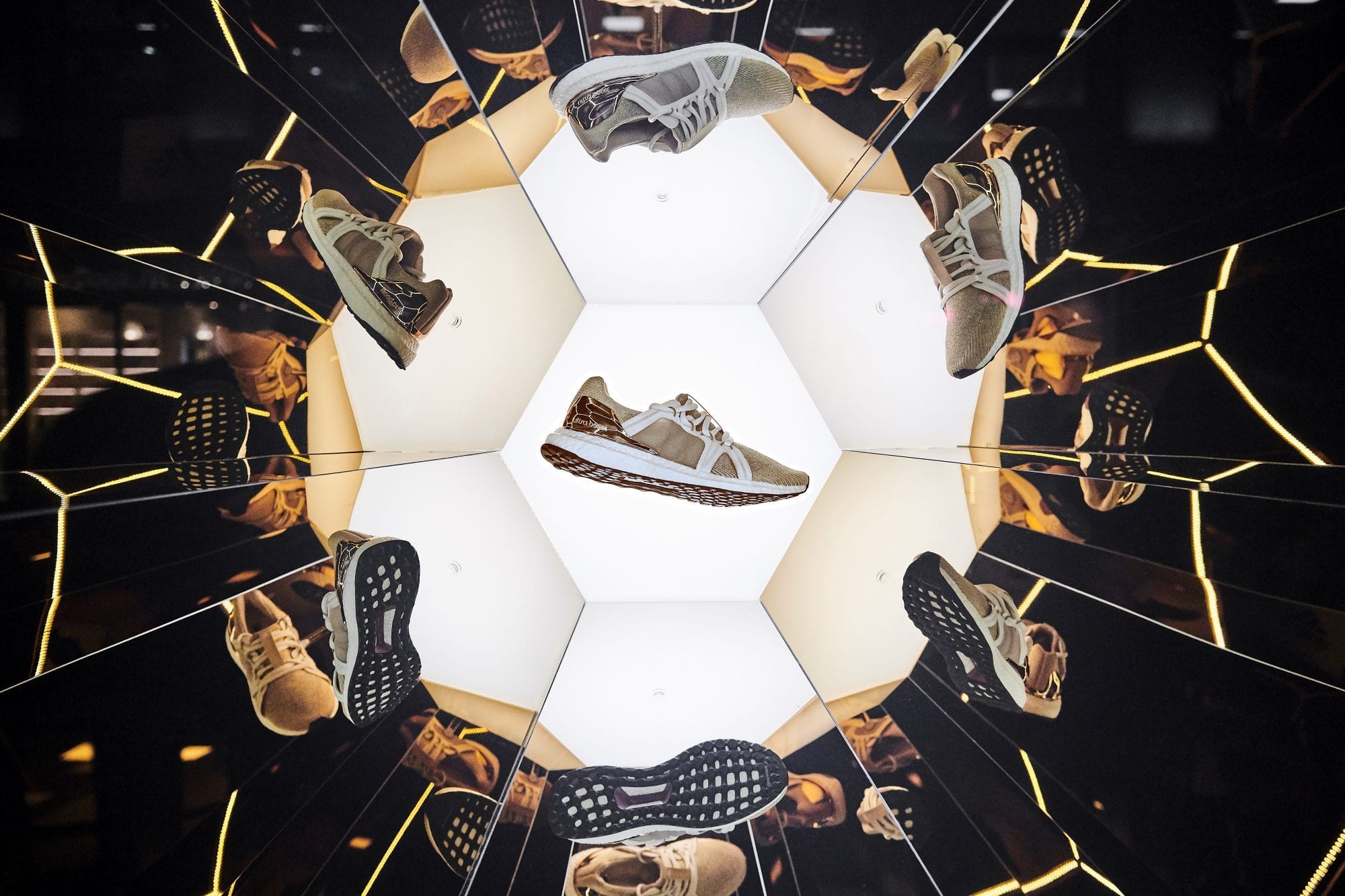 adidas UK, Harrods, London
Design4Retail were commissioned to produce a strong, attention-grabbing window display design that would show-off the new Stella McCartney Golden Ultraboost shoe's undisputed authority and elegance. Visually striking, yet elegant, the Stella Mainline toolkit would aid Adidas in telling a compelling story, using contemporary movement to really bring the story to life.
Fashion focussed, the use of rose gold mirrors and strategically placed lighting created an innovative infinity mirror effect. The 'shard' gobos paired with soft lighting forged an awe-inspiring impression of movement, enabling the golden shoe to demand the attention it truly deserves.
This breath-taking Window Display is breaking all the rules and ultra boosting Europe's largest sportswear manufacturer into a cosmos of its own.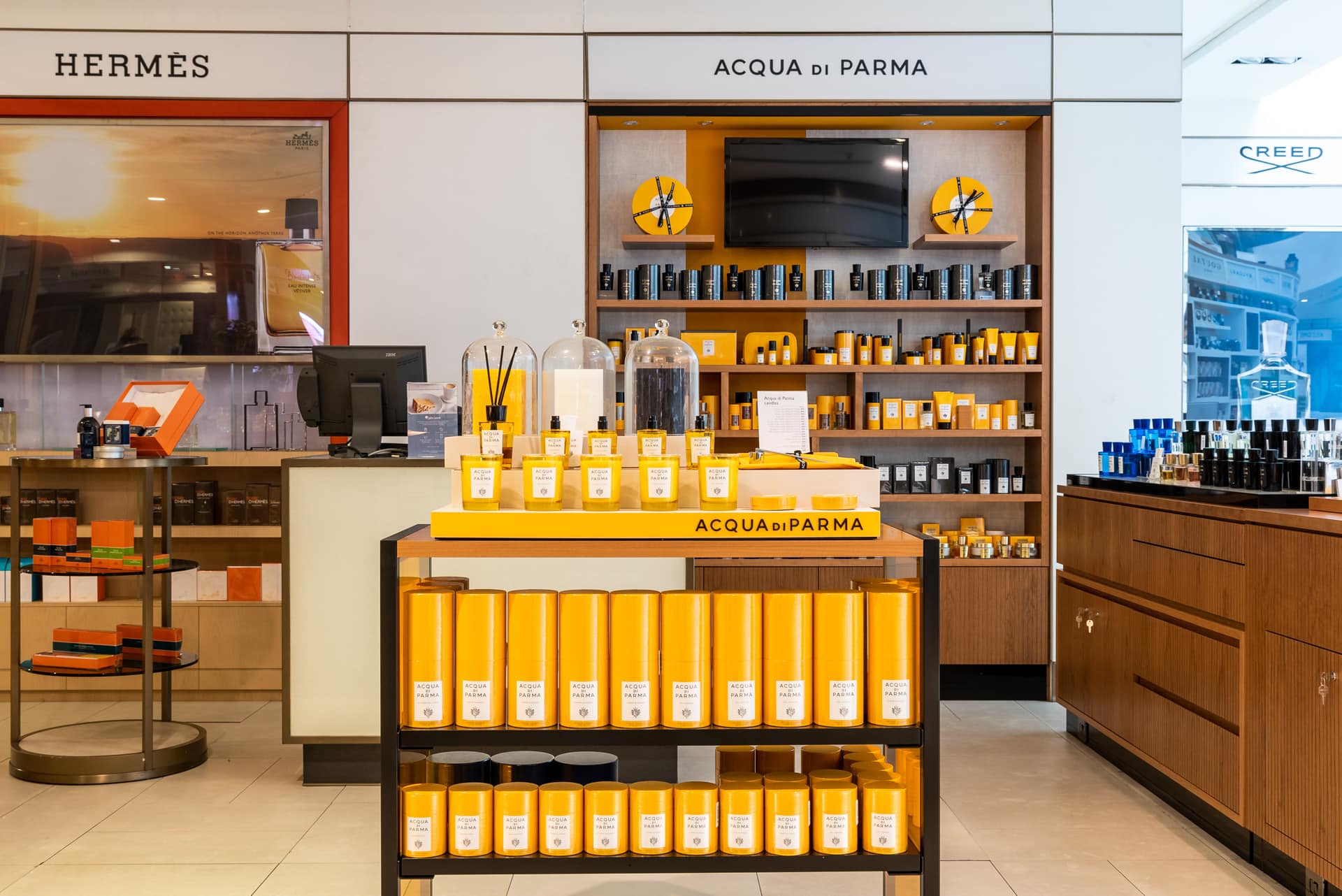 Acqua di Parma, John Lewis, Oxford Street, London
Working in collaboration with Acqua di Parma's London team we helped elevate their new retail guidelines for the UK market. Launching in John Lewis on Oxford Street, the concept is set to roll-out across the UK hitting a range of renowned locations.
Staying true to their roots, all Acqua di Parma's products are made in Italy by traditional craftsmen, from the highest quality materials. Translating this into a retail environment, we created a sleek, minimalist space oozing luxury, achieved by utilising indulgent materials, bespoke finishes and considered design.
Reflecting and respecting the glorious heritage of Acqua di Parma, we have created a modern and sophisticated space bolstering brand presence. A concept elevation fit for a flagship; we bring an undeniably stunning shop-in-shop to one of the most popular retail destinations in London.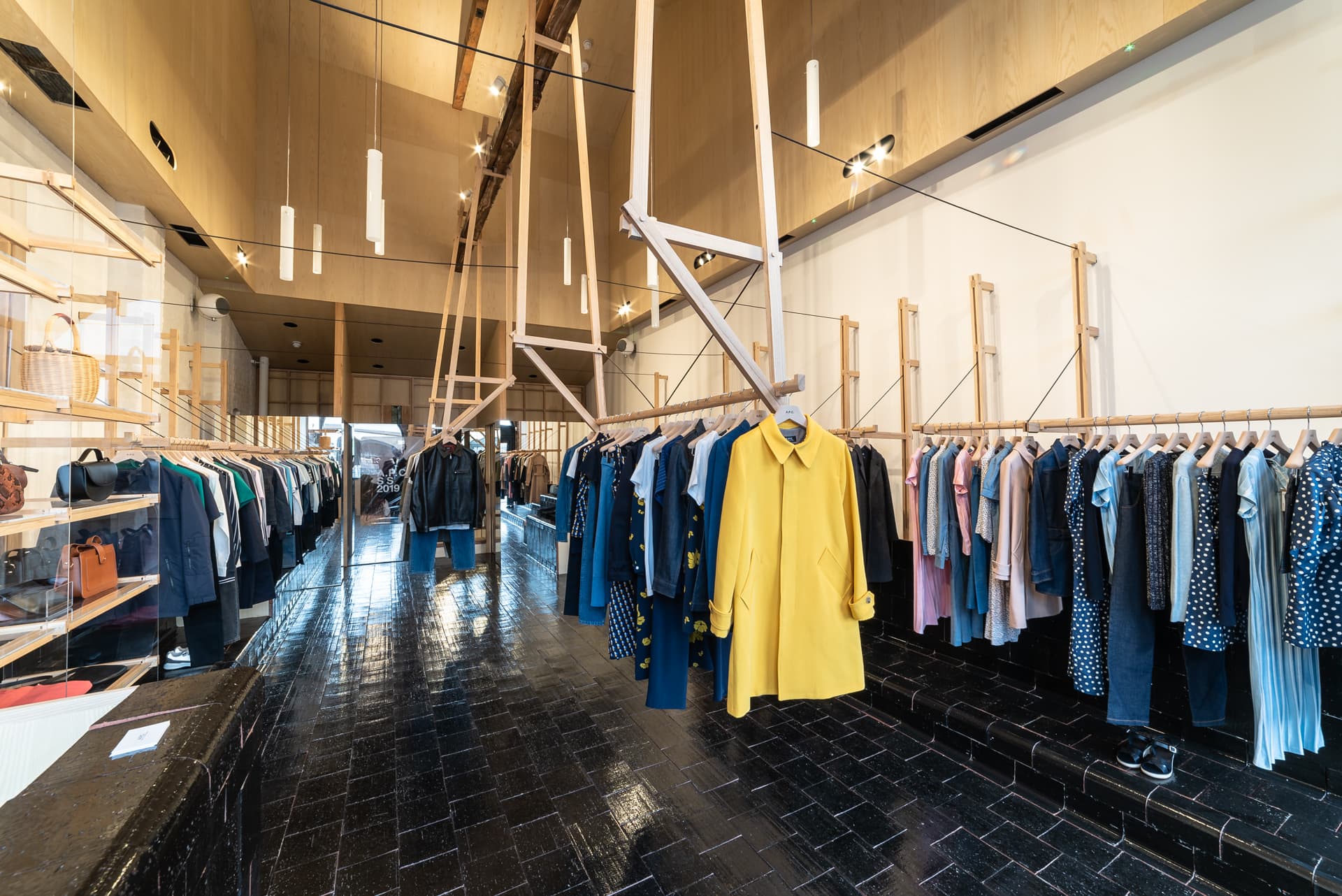 A.P.C, Coal Drops Yard, London
We were commissioned by A.P.C to work with both the brand and the architectural firm to develop the conceptual design which had been expertly designed and managed by LDA. From the supply of design intent and detailed production drawings, our studio became project guardians, responsible for developing the beautiful concept into a fully realised store; in close collaboration with LDA.
Managing full site works and retail design, including contractor management, joinery and flooring, we took great care in respecting the heritage of the listed building; resulting in the delivery of an A.P.C store which met the high standards of the revered French label.
A crafted, beautiful and tastefully minimalist store for A.P.C within Coal Drops Yard, one which not only belies the iconic brand and its founder, but marks the superb collaboration between brand, architect and creative design agency.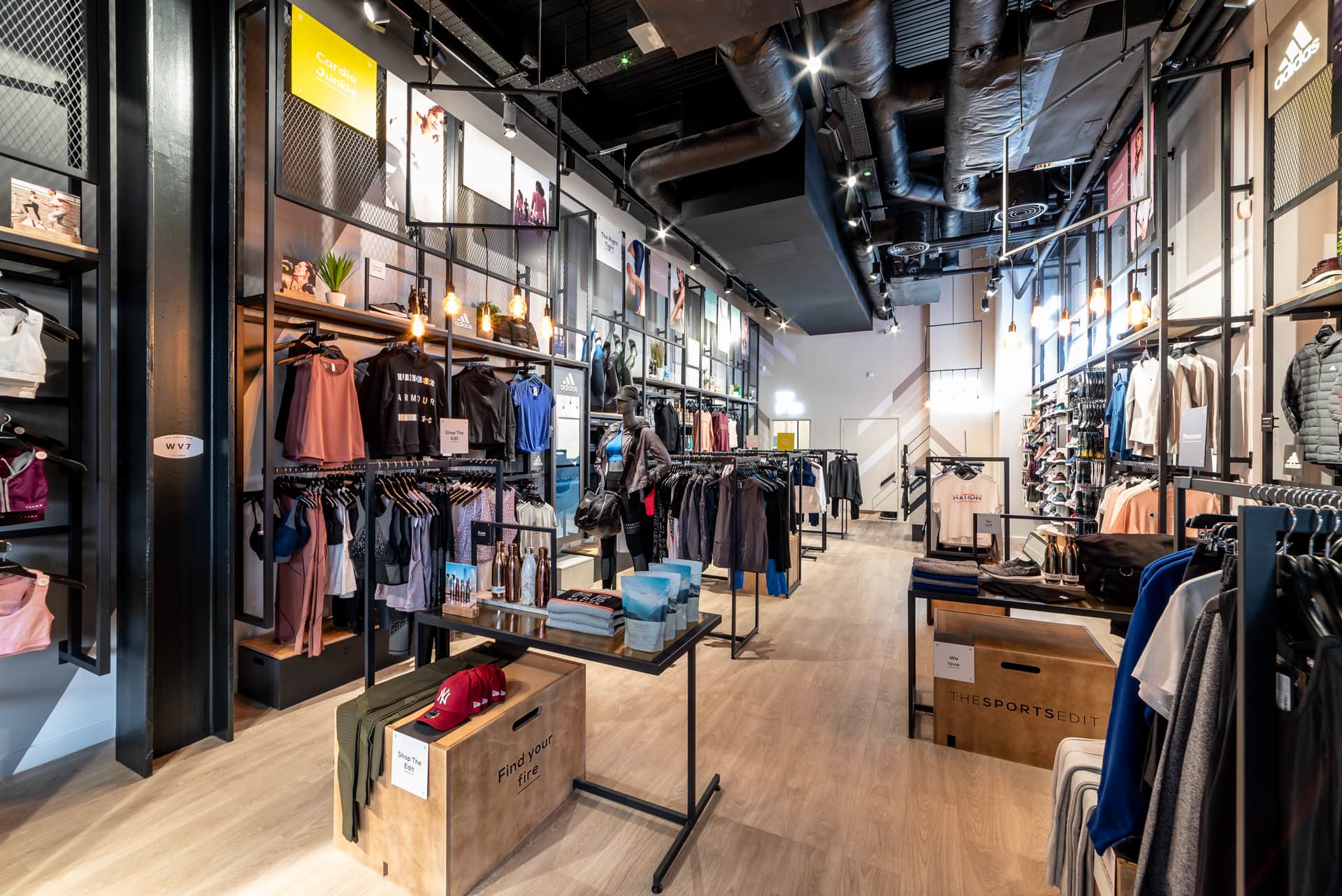 The Sports Edit, Coal Drops Yard, London
With a philosophy centred around careful curation, the brand new boutique needed to reflect the brands particular approach which is focused on athletic empowerment and crafted advice on all aspects of a healthy lifestyle.
'Industrial luxe' quickly became the golden thread inspiring the design for this flagship. We introduced the idea of a premium + industrial aesthetic, akin to the product range, to sit against the backdrop of the reinvented Victorian architecture. Stepping foot into the boutique, TSE-owned customer personas come to life; reflecting the brand's dedication to empowering the athlete through sustainable sportswear and knowledgeable guidance.
The flagship is a modern take on what a flagship should be – a dynamic, physical but evolving expression of brand values and personality which seamlessly connect between online and offline.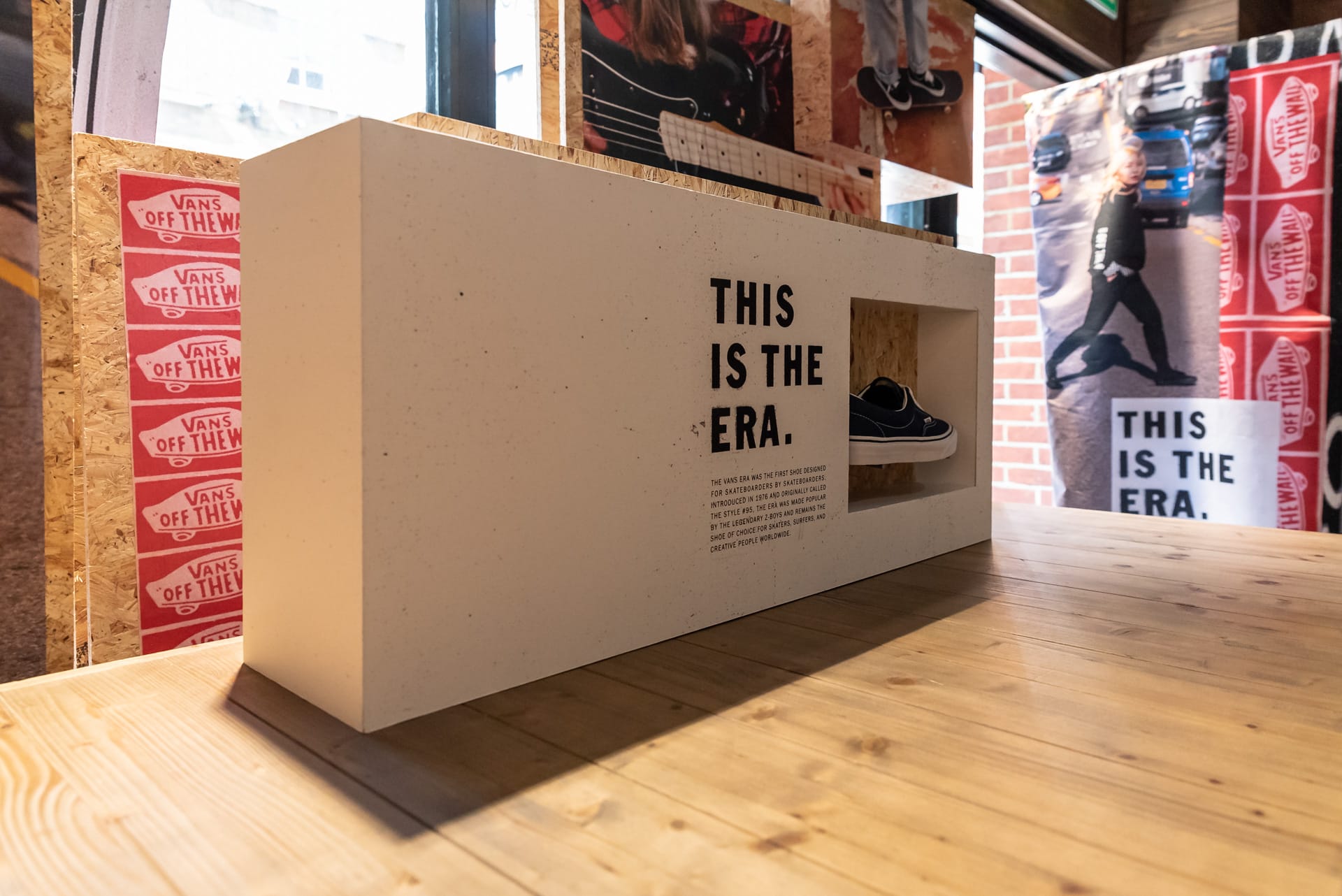 Vans, Carnaby Street, Camden and Covent Garden, London
Working with the toolkit provided by Vans, we created a window concept that can be found this summer in three Vans stores in central London – including Carnaby Street, Camden and Covent Garden.
Inspired by the relaxed and irreverent spirit of the brand, an eclectic mix of large and small graphic imagery of the print campaign sits alongside brand messages, signatures and iconography. Playing with scale, a giant hand appears to dangle a huge pair of Vans Era shoes in front of passers-by and is guaranteed to raise a smile!
Working in close collaboration with Vans, we developed a concept that would maximise impact at minimal expense. Our technical studio crafted picket sign boards out of inexpensive materials to reflect the honesty and authenticity of the brand, and this framing device became core to the concept.
Planning for the future, the concept is flexible enough to work well in different sizes and formats of store, and be re-used and re-purposed for further campaigns.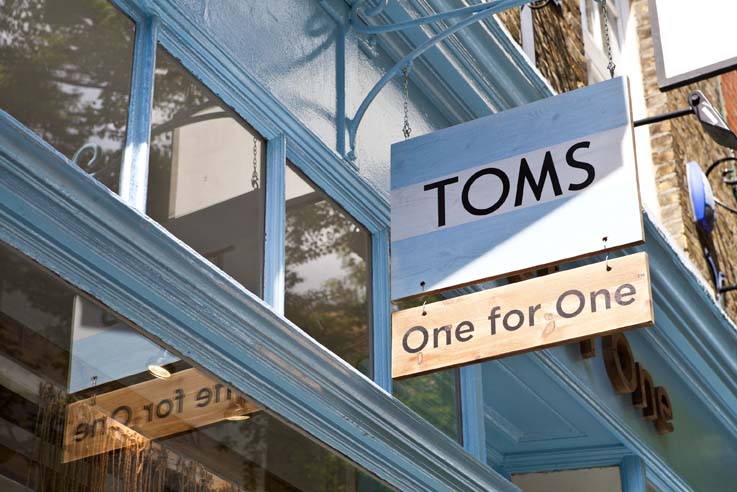 TOMS, Carnaby Street, London
TOMS chose to open their first standalone store amongst the eclectic mix of brands within Carnaby. As an ethical footwear and lifestyle brand, the store would appeal to those accustomed to the mission, whilst creating an educational space for those unaware of the benefits of purchasing from TOMS.
Our design of the space vocalises TOMS' mission and ethos, allowing the brand voice to make its mark prior to the product range. The delicacy of whitewashed walls, timber and canvas materials creates a sense of partnership with the earth, furthering the brand's dedication to bettering people's lives through ethical footwear.
Originally branded as a pop-up store, the success of TOMS' first venture into physical retail transformed the space into a permanent standalone space, dedicated to furthering consumer education around the One for One strategy.
This is not an exhaustive list, so if you want to see more of our London retail design projects, simply get in touch and we will see what we can pull together for you.