Creating Successful Beauty Pop-Ups _
Reviewing London's beauty pop-ups
"As the pop-up continues to revolutionise retail it's becoming clear that a successful event is not as easy as just bringing your product to the customer"
Today's retail landscape is filled with pop-up stores dedicated to short-term, yet extremely exciting, experiences with brand activation and social proof at the heart of their purpose. As the pop-up continues to revolutionise retail, quickly becoming a pivotal element of many brands' strategies it's becoming clear that a successful event is not as easy as just bringing your product to the customer.
Our Creative Designer, Emily, visited two of the most hotly anticipated cosmetics pop-ups of the last six months to give her view on their success, and why this type of activation is so tricky to get right.
Cosmetic Pop-Ups
Glossier is a brand that has been on all our radars for quite some time now. From their fantastic online brand presence and strong cult following, to their inspiring retail interiors, there doesn't seem to be anything stopping this millennial pink brand. What started as an online beauty blog now sells over 30 products, and has a cult following and permanent flagship stores in New York and LA. It's not surprising that when the brand announced that they would be opening up their 2nd pop-up retail store in London the internet went crazy.
For UK customers scrolling through the Glossier website hoping that the colour of the lipstick they are seeing on their screens will be the right shade for them, being able to test before you buy has not been easy. For many consumers being able to try out products before purchasing is a big part of their decision making – especially in the beauty sector. It's not surprising that when Glossier made their UK retail debut back in 2017 with their super-cute Instagrammable townhouse they welcomed over 10,000 customers in just 8 days as fans were finally able to play with the iconic products they had heard so much about.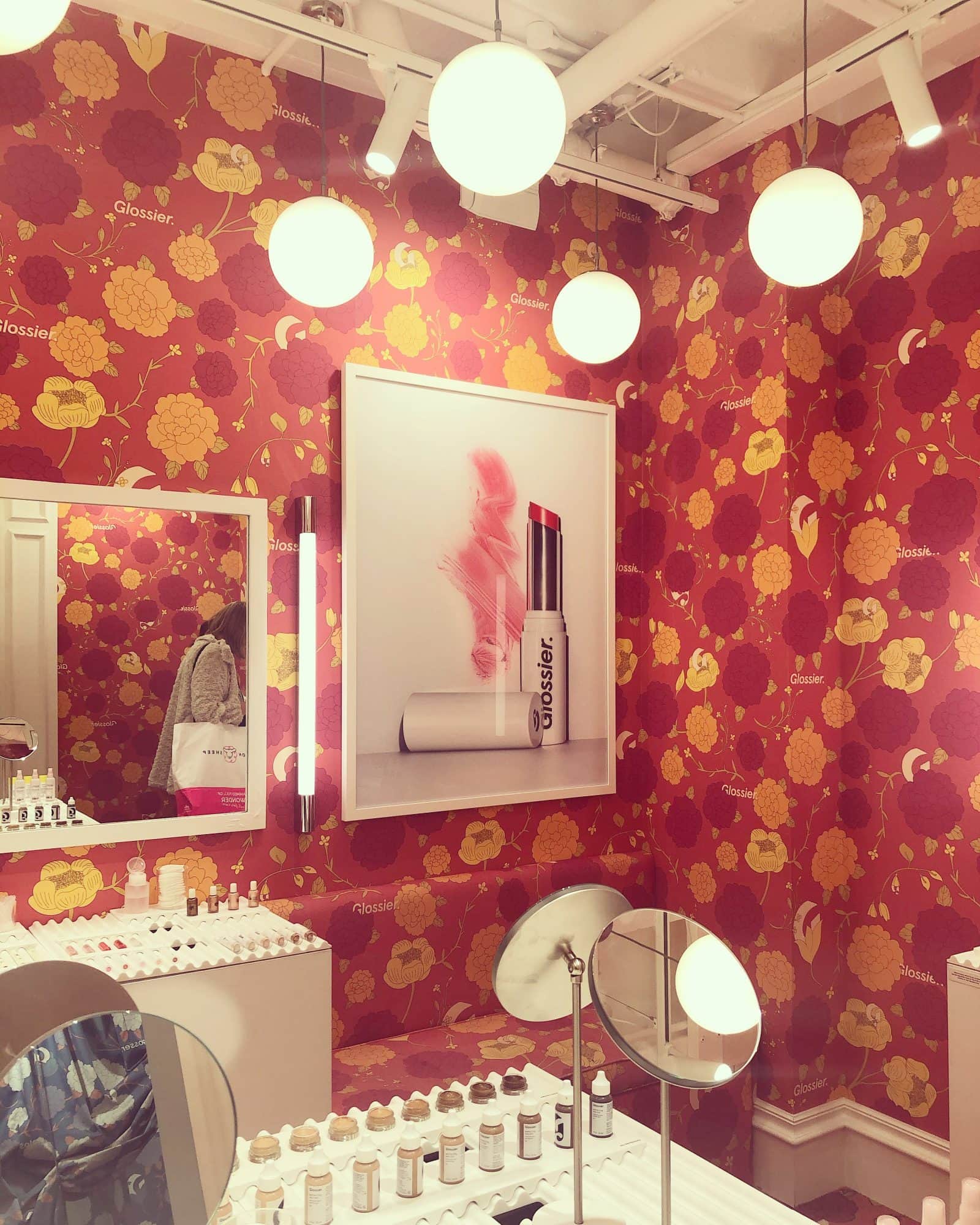 Beautiful beauty products
The latest UK pop up is located on London's Floral Street, an emerging hub of indie retail gems tucked away on a side street in Covent Garden, where you will find Glossier's beauty playground nestled within a row of boutique stores. On entering the store you are transported into beauty heaven where you can access every single Glossier product as well as get your hands on a limited edition, branded umbrella which is exclusive to the store (and perfect for the typical British weather!)
The interior design pays homage to the local community – channelling London's classical architectural details as well as taking cues from traditional British private social clubs, but with a Glossier twist! The entire store is wrapped in bespoke Glossier floral print – walls, floor, and everything in between. Each room changes colour scheme as you make your way through, starting with deep green and dark blue, through to hot pink and bright yellow. These vibrant prints are paired with large scale artwork of their best-selling products that match the room colour scheme for a slightly retro pop art feel.
Within each room, sleek white tables show the entire collection of products, ready for customers to test at leisure and gain advice from staff, who are easily identifiable wearing the iconic baby pink boiler suits. Even the merchandising of the products makes for a great photo op as the simplistic packaging is merchandised in clean sleek lines reminiscent of the website's pared back aesthetic. So satisfying to look at and so very Glossier!
Every part of the customer's journey has been meticulously planned to encourage guests to snap and share with friends as well as offering various seating dotted around the event to entice customers to spend most of their day in store. Easily done in a store like this! Trademark phrases like 'You Look Good' are scattered around the space, while secret doorways blend into the wallpaper offering a fun way to explore the space.
When you have finished testing every product possible and finally chosen your staple pieces you can speak with a staff member who will help you through the seamless cash free purchasing. The process is completed on an iPad within minutes and your products will then be given to you at the pick-up desk, all packed in an exclusive London pop up bag. Yes, even the bag makes for a great Instagram post! This way of servicing sales prevents long queues forming throughout the store that would disrupt the flow of the space and customers still exploring the event.
Before leaving you must discover a tucked away room that features a life-size London rooftop scene in Glossier pink that makes for a perfect selfie moment to share on Instagram and make all your friends envious. The attention to detail shown throughout the store is impressive and here is no exception as even the windows on the rooftop have floral curtains that replicate the bespoke wallpaper.
This is not just a shop for products to be sold, but rather an opportunity for you to feel like you've been transported to a new world seen through Glossier's eyes. Of course, one of the reasons you are there is to get your hands on the new holy grail skin care product, but you gain so much more than just a new product. Glossier wants everyone to feel amazing in their own skin, they want their customers to have fun with beauty no matter where they are in their journey, as well as encourage conversation between consumers. What better way to repay their loyal fans than with an epic experience that fulfils all of these ambitions?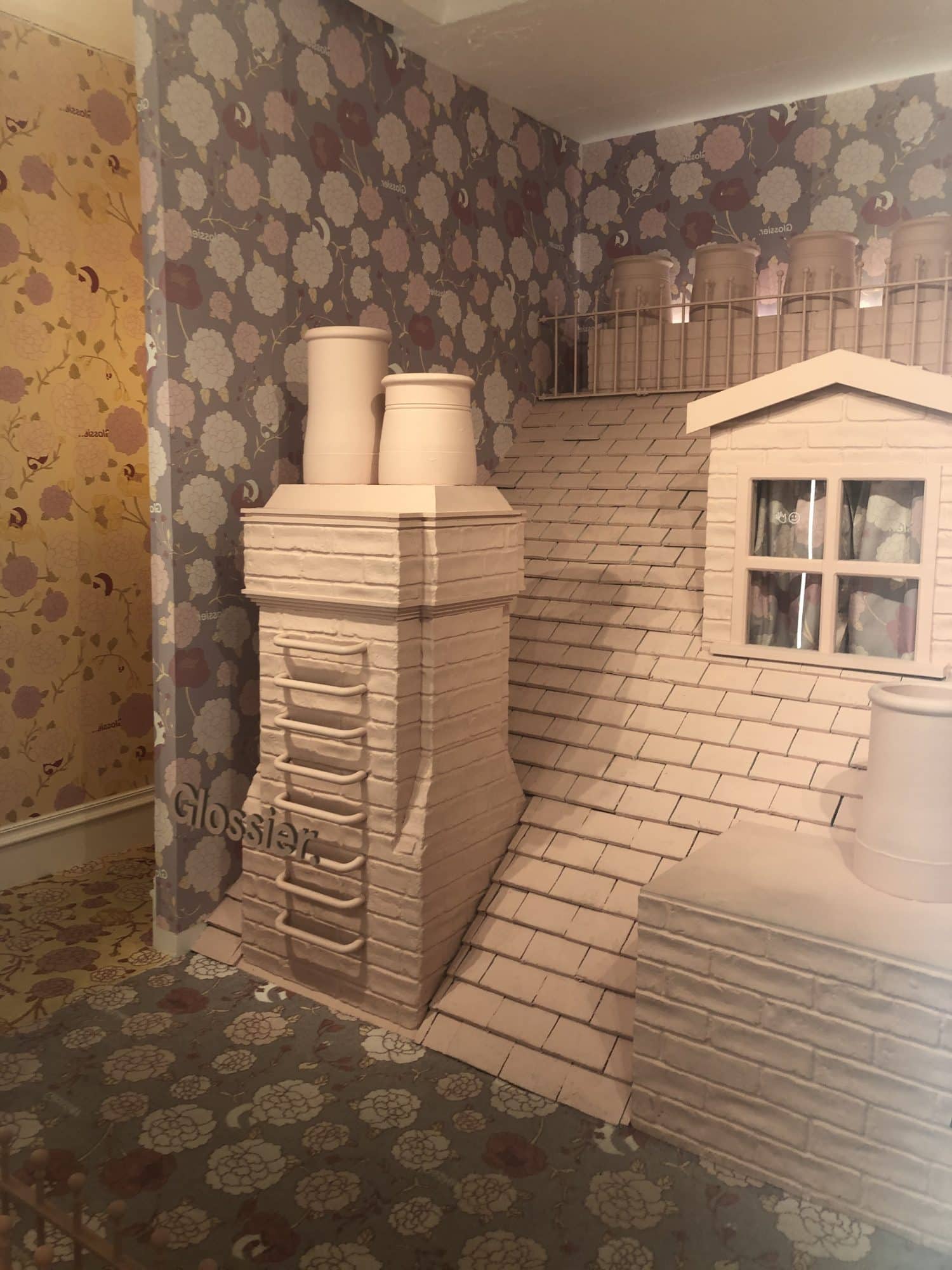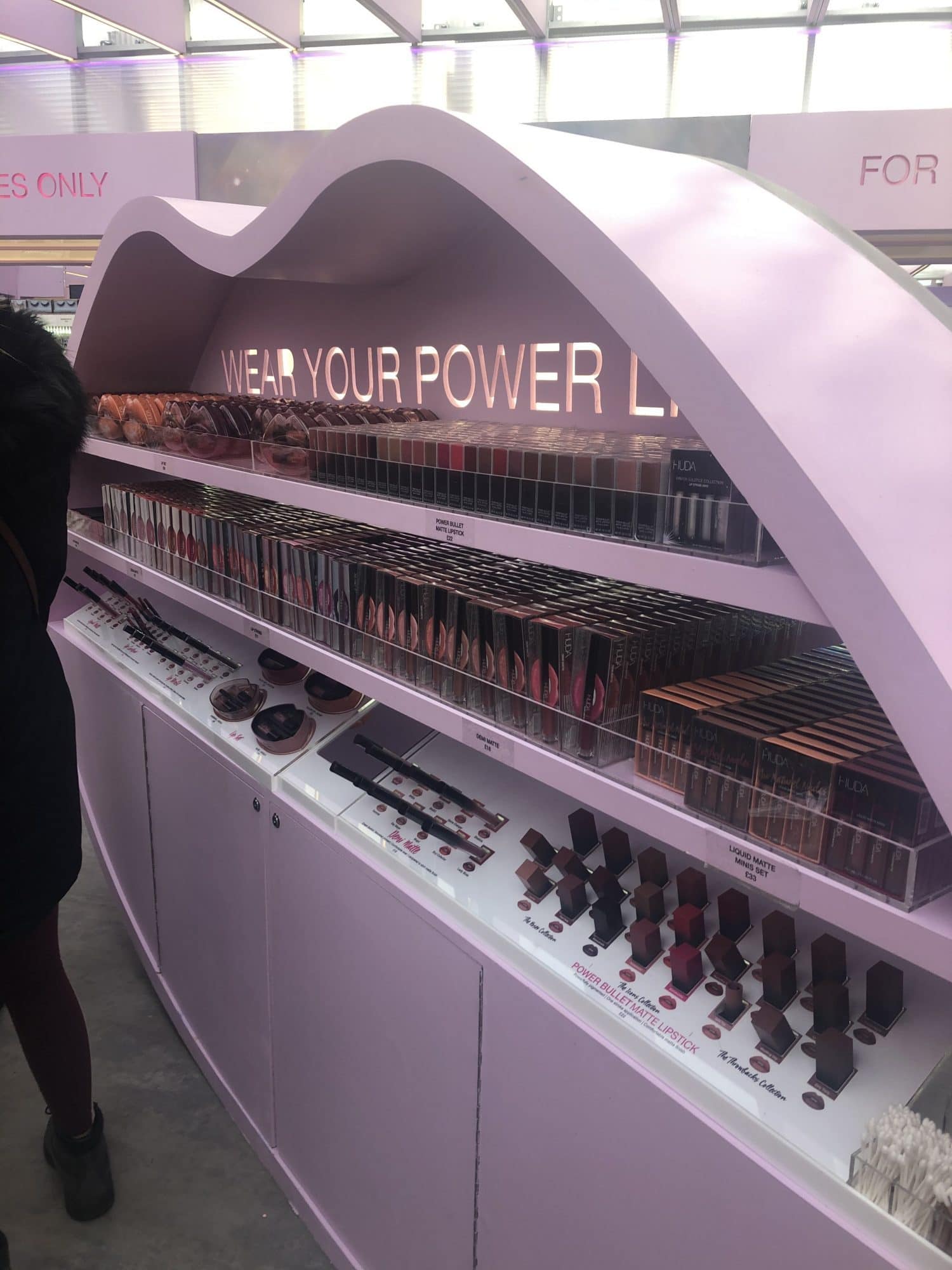 Just a stone's throw away from the Glossier pop-up shop another beauty heavyweight was making its presence felt over the Christmas period. Huda Beauty is a name that is becoming more and more known as she takes over the beauty world with several high-profile retail shop in shop appearances in the likes of Selfridges and Sephora.
The pop-up, also located in Covent Garden, created very high anticipation when it was announced online that she would be visiting the capital. The concept for the pop-up takes inspiration from the brand's latest eye-shadow pallet to hit the market – Mercury Retrograde – offering a galactic, space-age vibe with staff members also taking on this look by wearing holographic jumpsuits.
When walking up to the store it is extremely eye-catching and hard to miss as the outer façade is completely covered in pink and purple holographic shards edged with illuminated neon pink tubes. The entrance to the space is a mirrored tunnel where a member of staff greets you and invites you to enter a vortex to a new world. This gives such a great feeling of excitement and anticipation as to what was going to be found inside.
I was expecting to be transported to a fantasy land of glittering sci-fi goodness but instead was presented with a retail space with lots of product on display but no real test and play opportunity. The lip-shaped centre fixture which housed the best-selling lip products, and a galactic factice display acting as a backdrop for selfies, were great visual touches however the only other key engagement feature was a mirror shard photo booth, discreetly hidden between the fixtures. As opposed to just presenting a simple 'selfie' staging area, I feel a deeper engagement piece could have been used that would have been more rewarding not only for the customer but for the brand too. An opportunity such as being able to drive customers online by sharing a dedicated hashtag, encouraging entry into a competition or simply by provoking a discussion – elevating interaction between customers and the brand.
The sci-fi, inter-galactic theme could have been expanded more, and there could have been more emphasis on the stories behind the product and the brand. I wanted to feel like I had been beamed to another world, a world that is completely Huda Beauty, making me feel like I need to have this product in my life.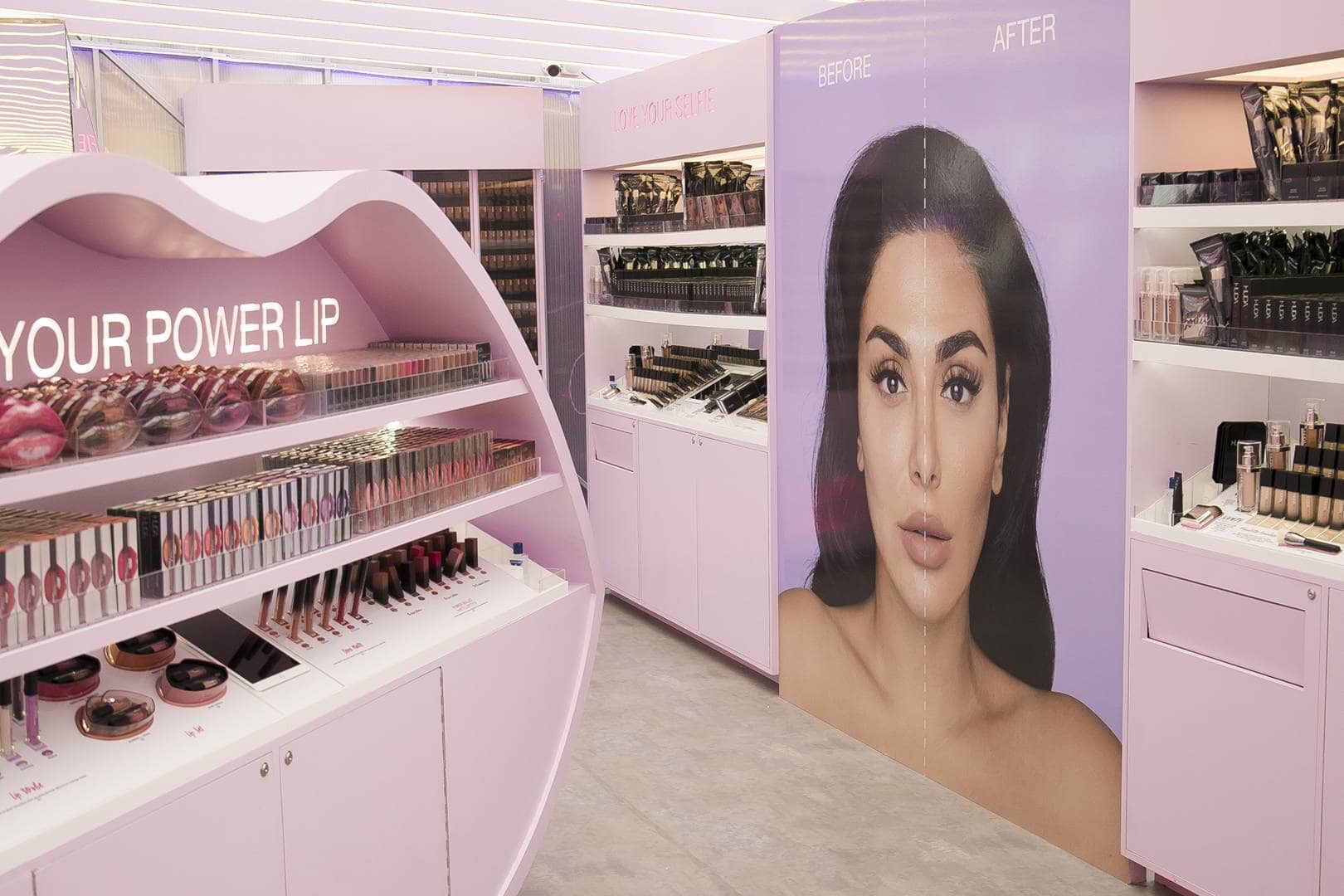 The key difference between the two pop-up retail spaces is that Glossier's event concentrated more on the experience for the consumer rather than on selling. We see all the time that a more meaningful brand experience succeeds in standing out in retail environments, drives footfall, and creates repeat purchasers. Consumers want to gain more than just a product – they can do that online – and there needs to be a good incentive to encourage people to make a journey to experience what that brand has to offer. In this respect the Huda pop up felt like a bit of a missed opportunity.
Pop-up stores are perfect for bringing a product offer to a wider audience, and in unexpected places that a static store cannot, but when created with thought they also deliver a carefully crafted experience with the long-term value of positive brand impression being created. With a core focus on social media outreach, education, and promoting community and conversation the best pop-ups seek more than a transaction, offering the pursuit of thrilling, one-off occasions linked to the brand identity.
We believe that in the future the success of an IRL retail activity will no longer be defined by the sales turnover, but rather the attention it generates through the means of brand activation. As part of this, the pop-up store has highlighted huge potential for blurred lines between product and experience. We predict that event retail will remain at the core of brand strategies, with many choosing to launch pop-ups regularly to bolster their physical presence or even as an alternative to a permanent location.
To discuss our continued investigations and insight into the pop-up sector and how we can assist your brand with exciting temporary retail that satisfies modern consumers' desire for the experiential over the transactional, contact us for further information.
desire for the experiential over the transactional