On The Road: Returning To Retail _
Bringing you the latest on the retail landscape in London and the East Midlands
Our experience of week one of returning to retail
It is so great to see our team getting out and about again – experiencing the retail landscape first- hand, gathering valuable insight and making comparisons between stores and key shopping locations to measure the effectiveness of the social distancing measures at play.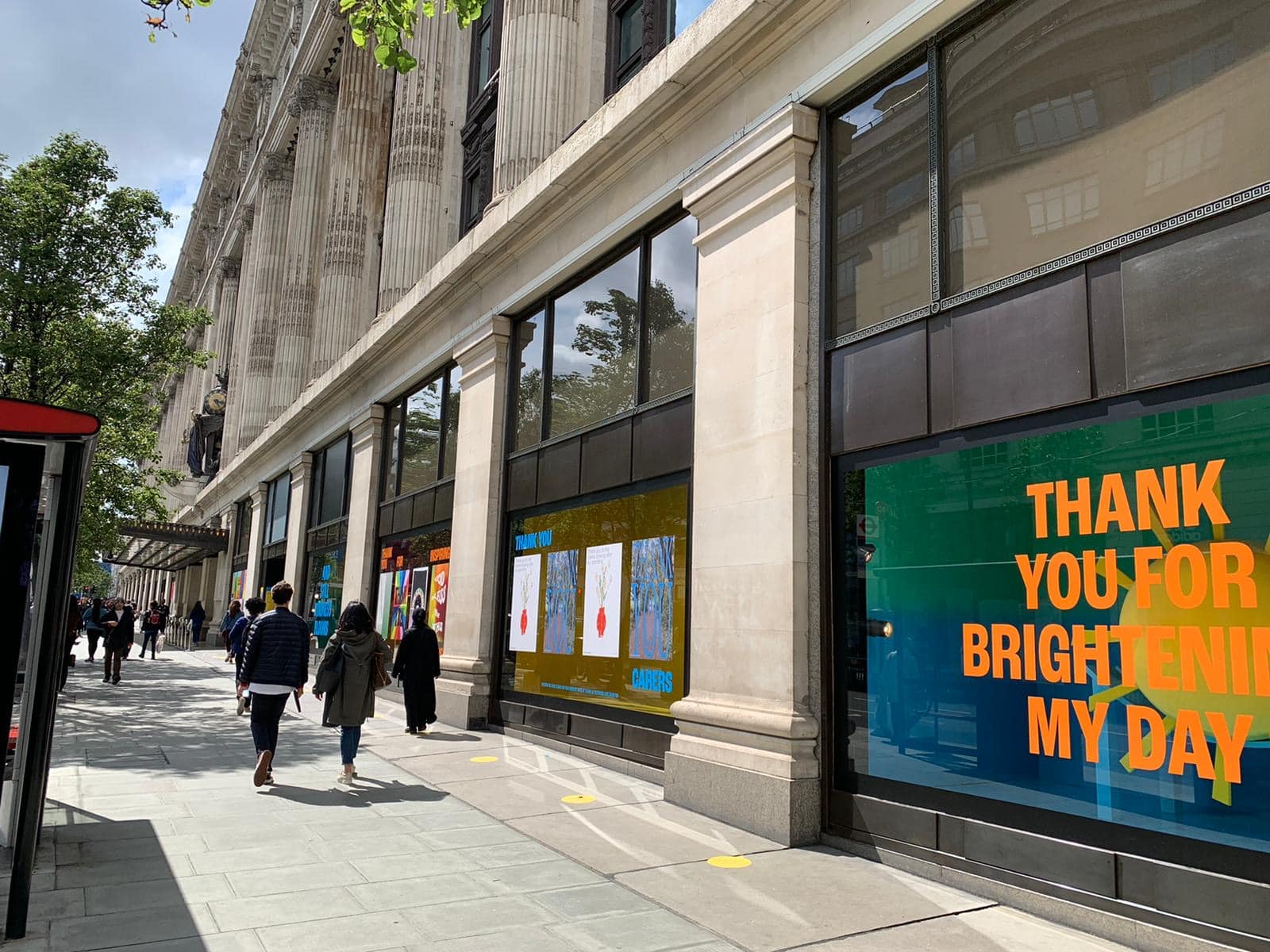 Selfridges & Co., London
On a ordinarily grey day, the UK's second largest department store could easily be missed as its greige exterior blends into the streets of London and its surrounding stores, but on the first week of reopening retail, Selfridges & Co. could not have stood out more – owed to its bright, colourful and welcoming window display exhibiting the rainbow. Equally as inviting are the staff on the door, ready and waiting to personally greet visitors to the store and show them to the hand sanitising facilities.
Full of life inside, an eclectic mix of loud/bold signage and more simple signage welcomes, informs, educates and directs visitors of the store. The extra wayfinding signage makes for seamless navigation, despite the additional safety measure of assigning doors of this Grade II listed building to be exclusively used for entry or egress.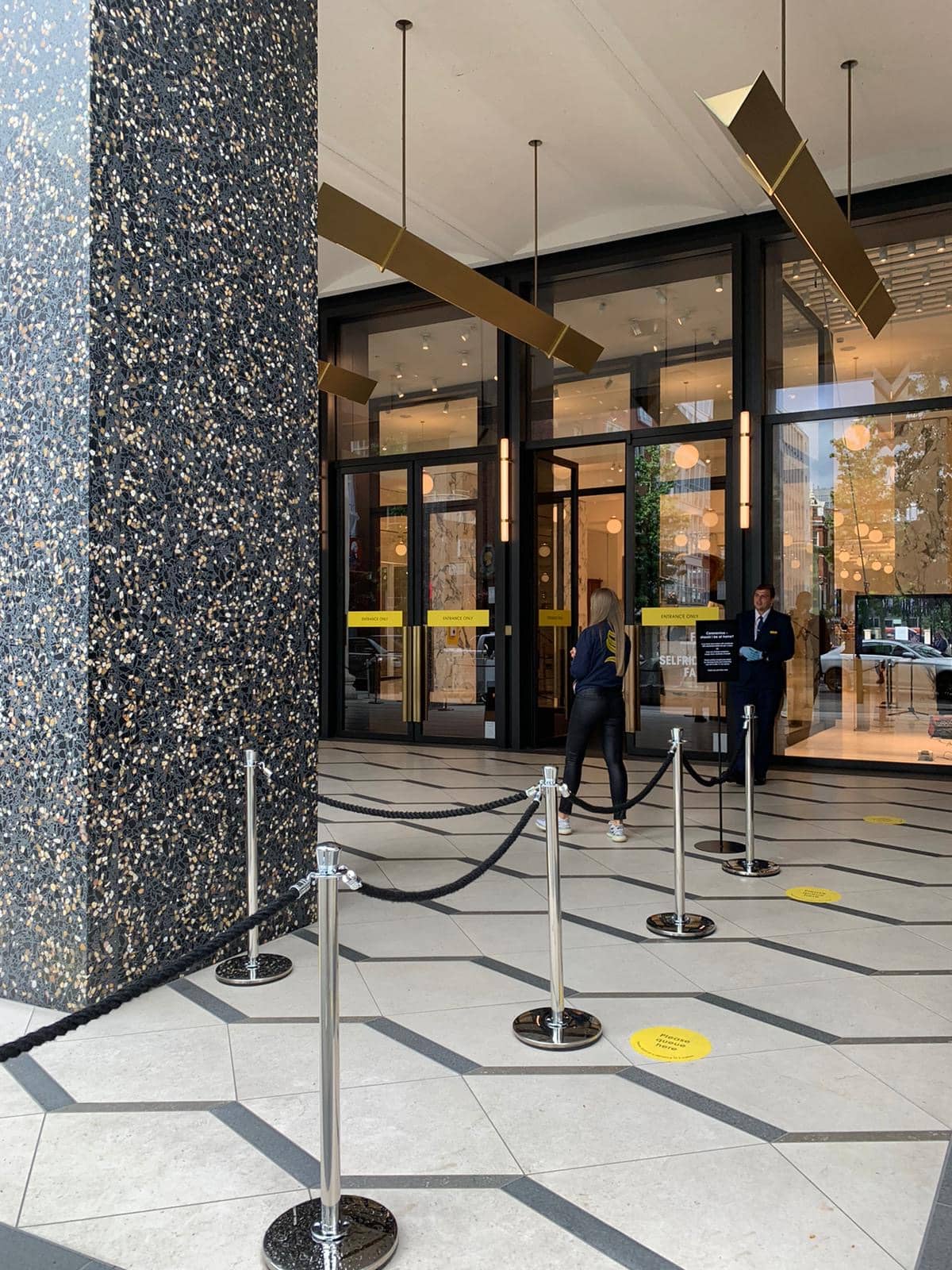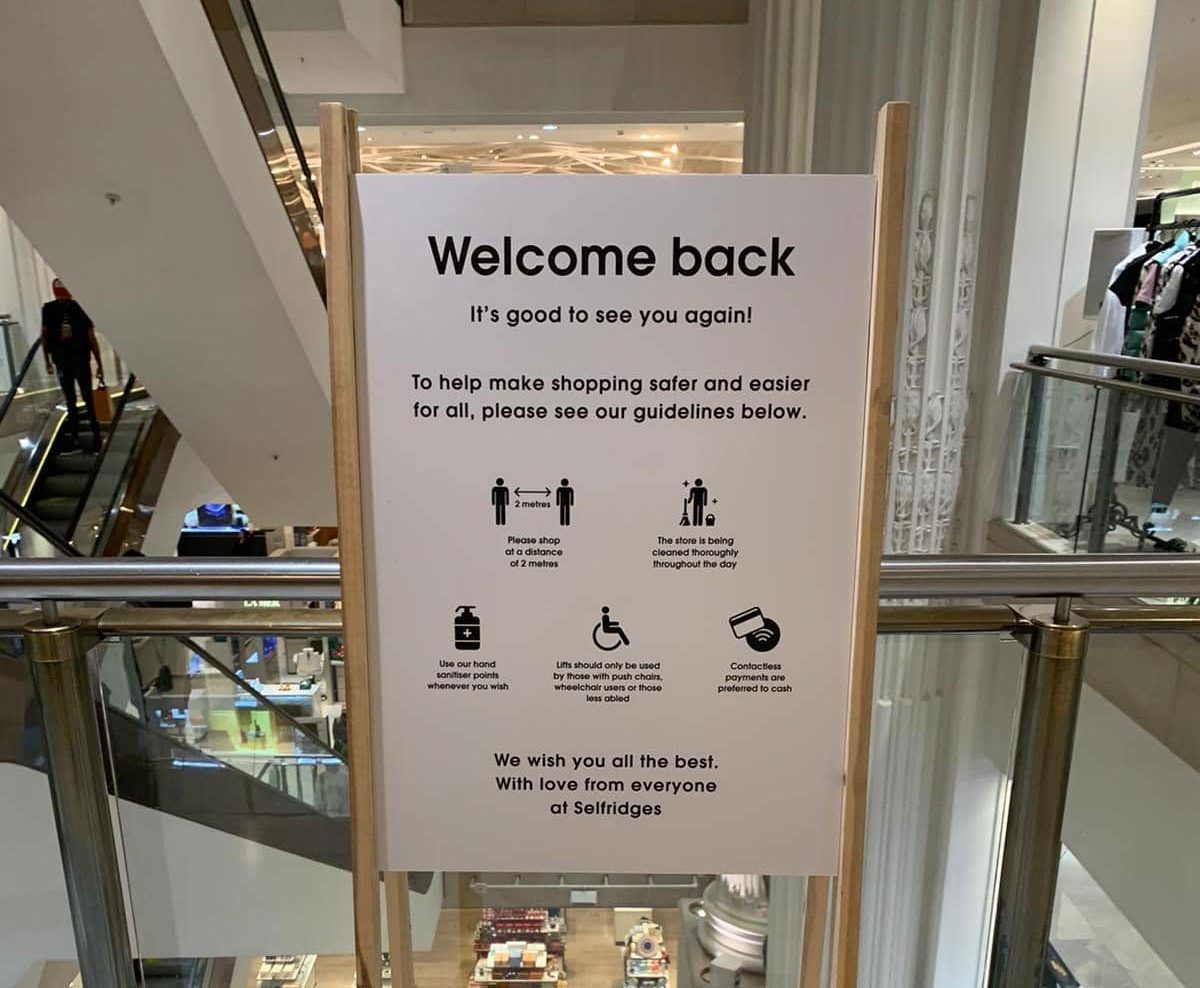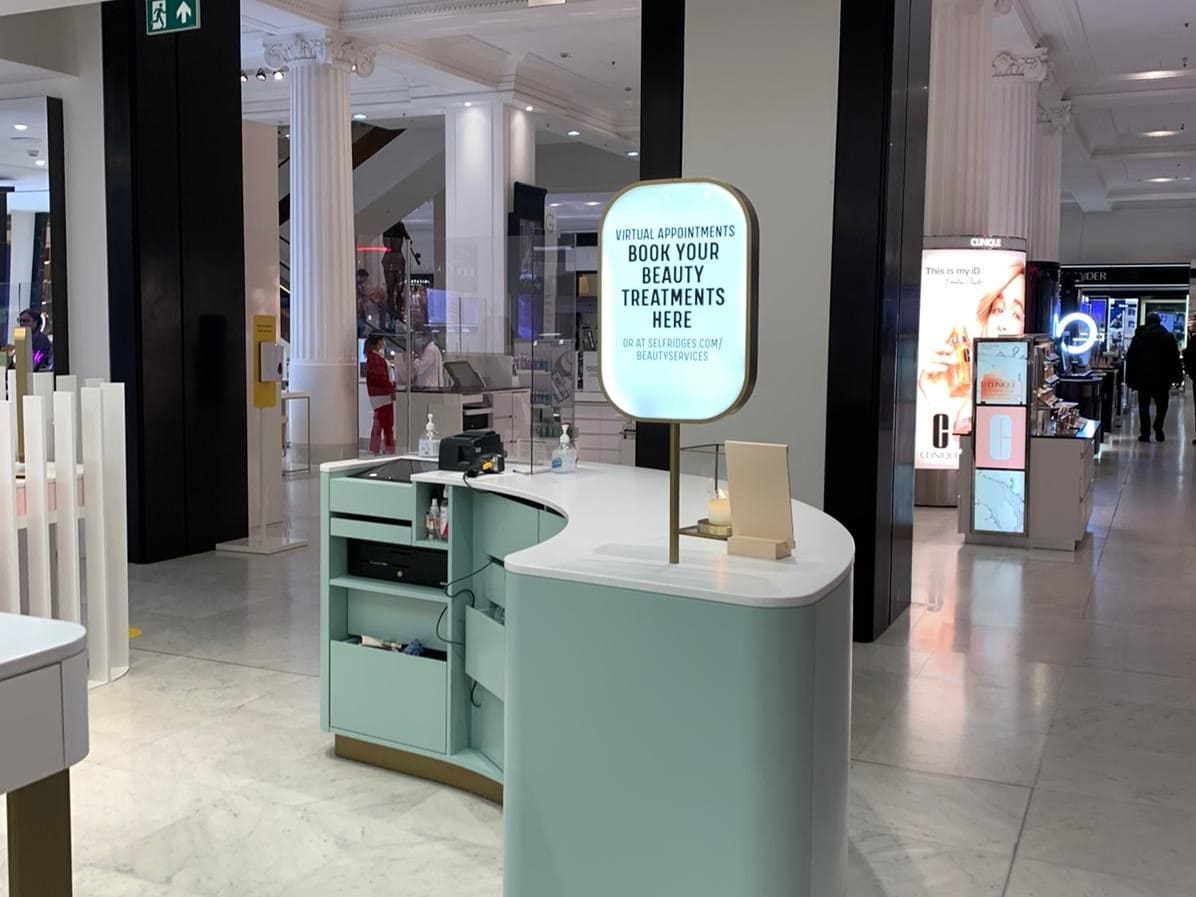 Further safety precautions include; unobtrusive and intelligently placed hand sanitising stations to be used at the discretion of shoppers, rules prohibiting the sampling of products and sitting down at counters in the beauty hall, and the use of PPE among staff.
Beauty agents are very much present at the concession counters in the beauty hall and shoppers are still taking this opportunity to have a chat and gain valuable beauty advice, albeit at the advised social distance of 2 metres. It is evident that maintaining good customer service is a priority for this high-end retailer, with signs placed on counters and on mirrors reminding shoppers to ask for help and inviting them to book a virtual beauty appointment, if they so wish.
Digital solutions are being used by some beauty brands to negate the loss of experience and engagement as a result of the rules prohibiting the sampling of product at the beauty counters. Charlotte Tilbury, for example, are utilising its magic mirrors to invite shoppers to try on a 'look'. These digital AR-enabled mirrors support shoppers with choosing the right product without the need for testing!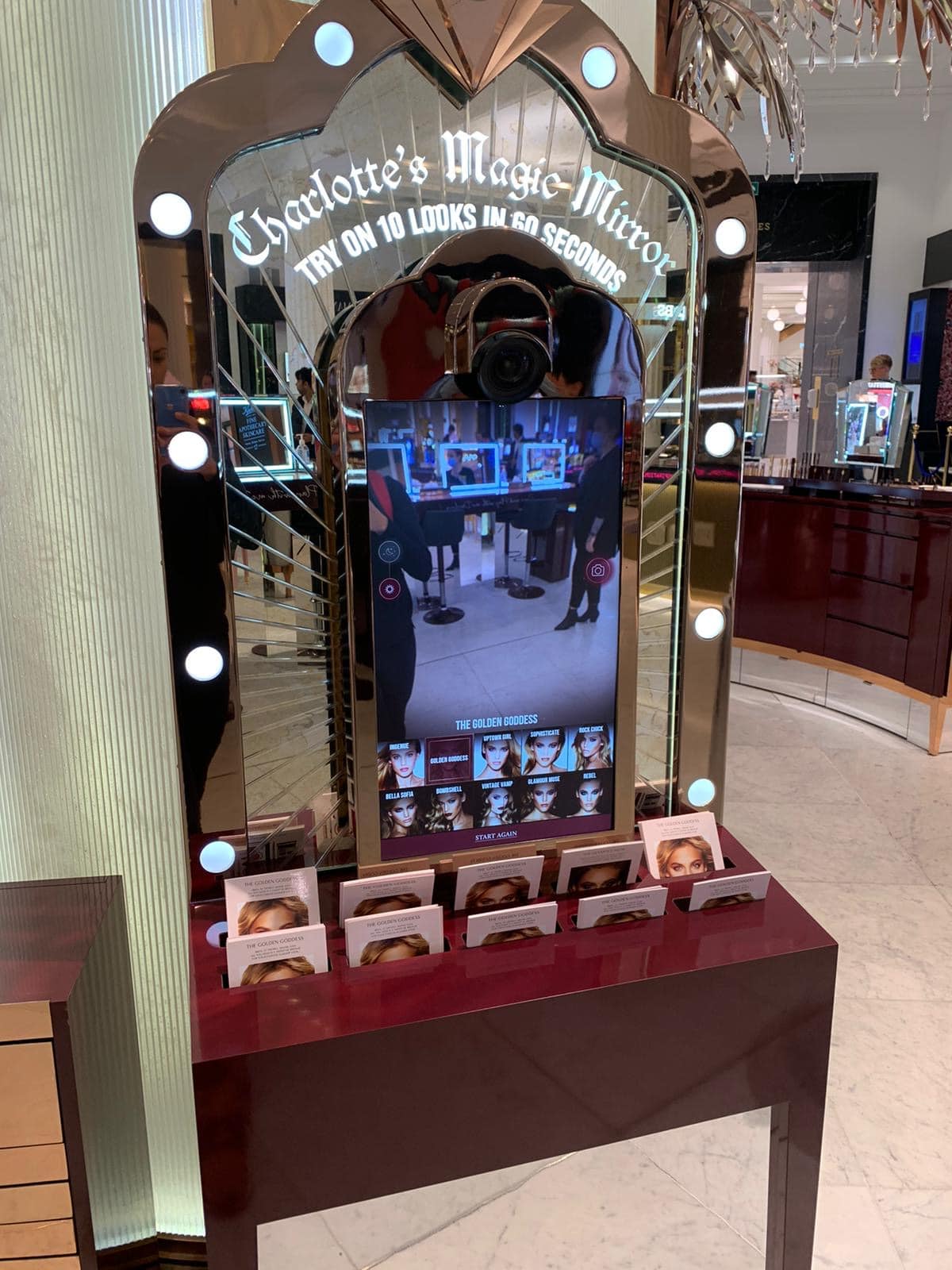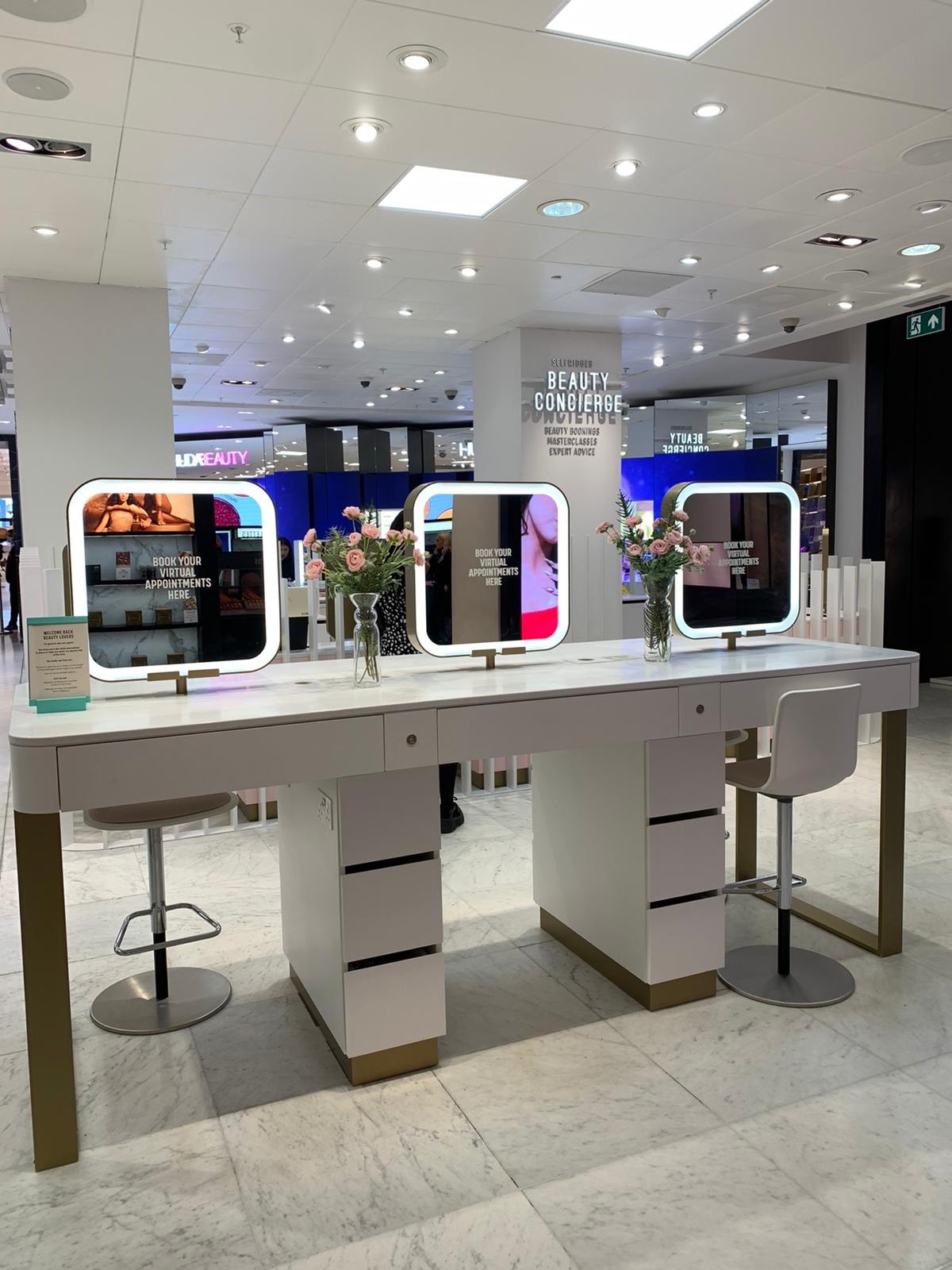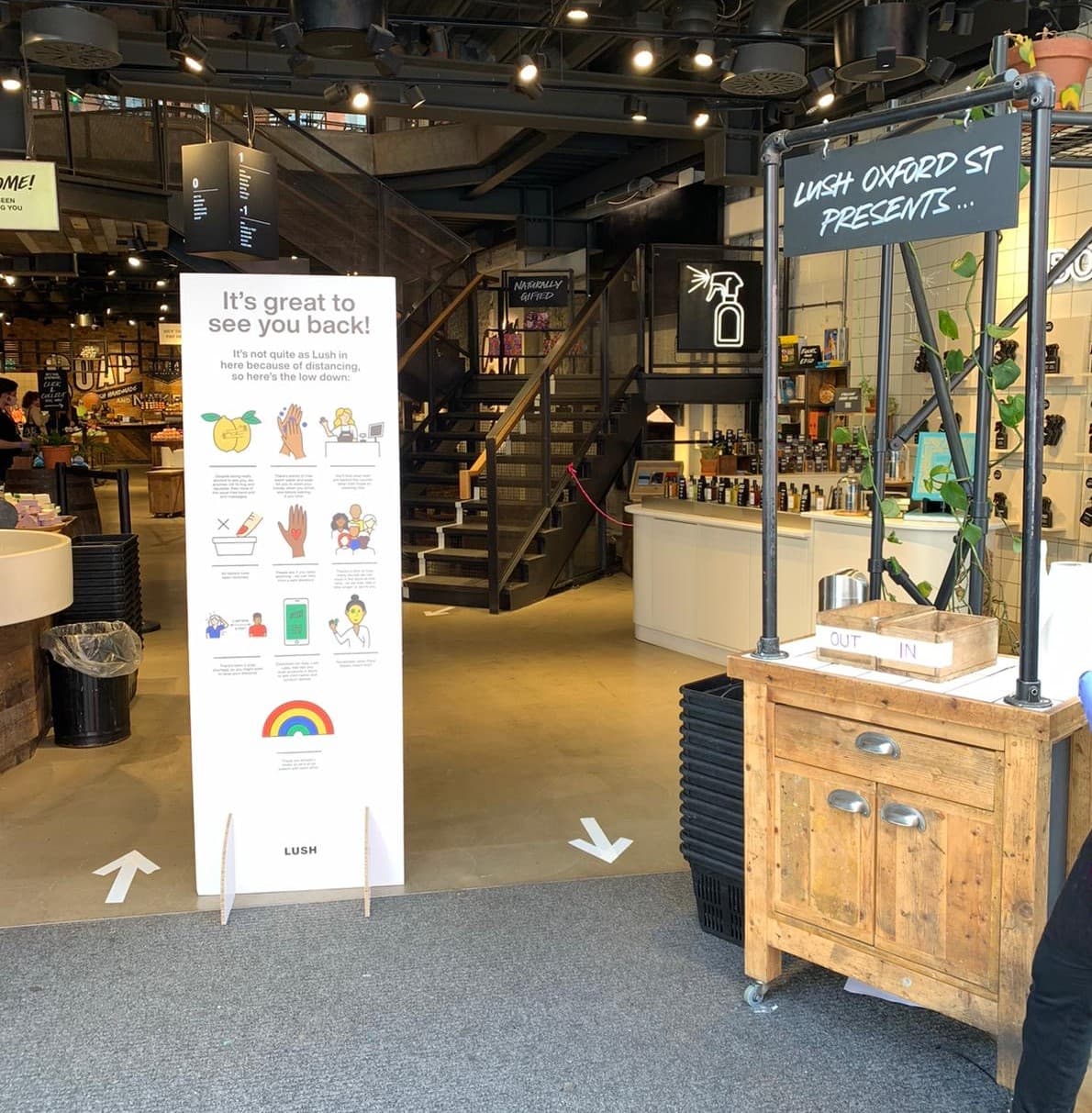 LUSH, London
On entering the LUSH store on Oxford Street, you are immediately welcomed by alluring signage which welcomes shoppers back following the three-month ban on shopping for non-essential items in the physical realm of retail. Alongside these signs are easy-to-follow information boards educating visitors about the instore safety measures that have been put in place to protect the wellbeing of staff and customers, alike.
The configuration of the queue management system is not immediately clear, but this is likely due to the fact that there was no queue at the point in time when our Head of New Business and Marketing visited the store. Arrows on the ground do however suggested that the store is using a clear system for customers entering and exiting the store. While most stores are using a clicker system or digital tallying systems to keep track of the number of shoppers instore at any given time, LUSH exercises a more tactile approach consisting of a member of staff transferring balls between two boxes, labelled "in" and "out" – an approach which is quite refreshing to see.
The star of the show in this London flagship is the invitation to wash your hands with LUSH's very own products in a humongous ceramic sink! Other, not as big but just as well-considered and handsome, hand washing stations can be found in other locations around the store, again, inviting customers to use LUSH products.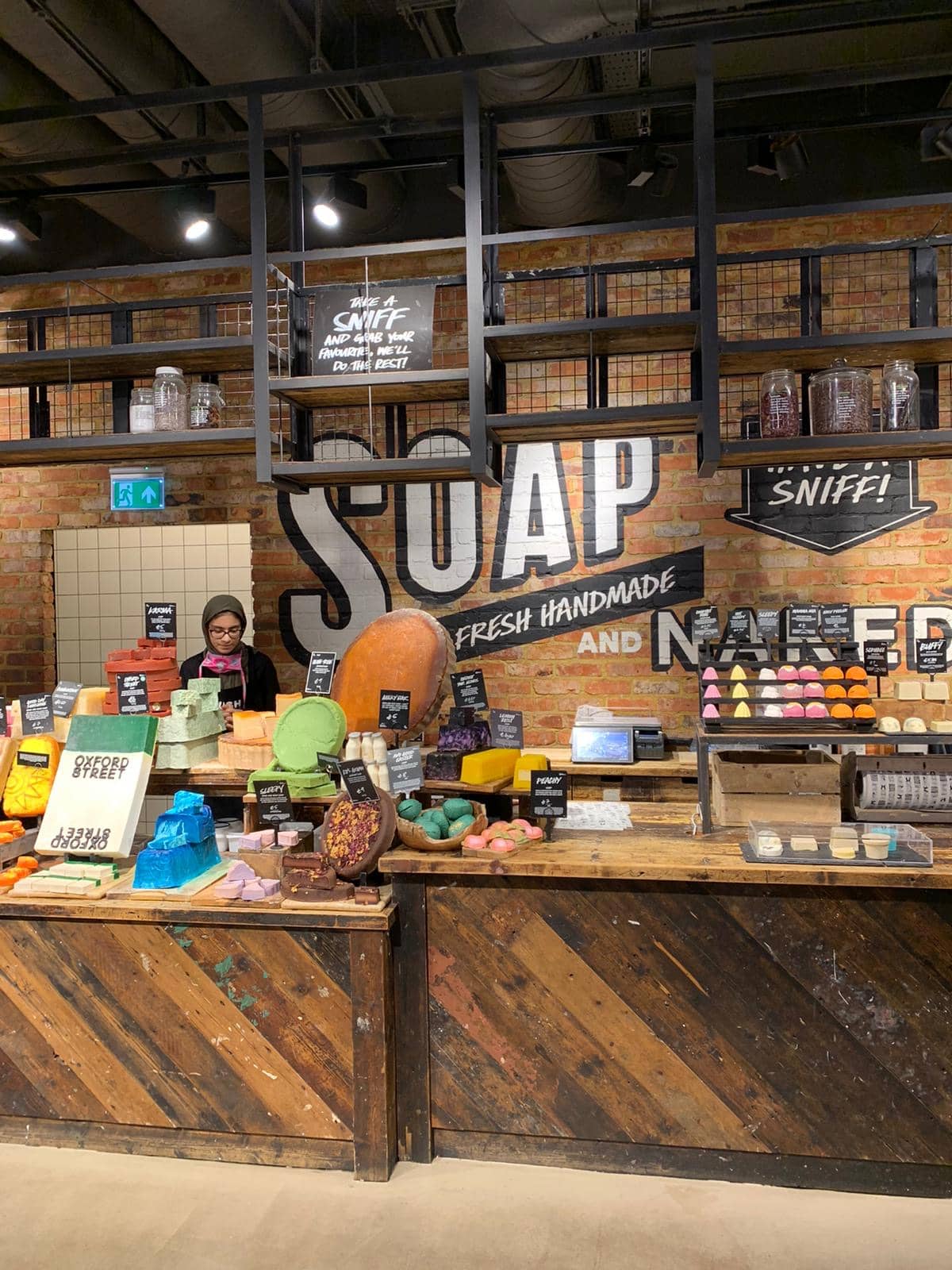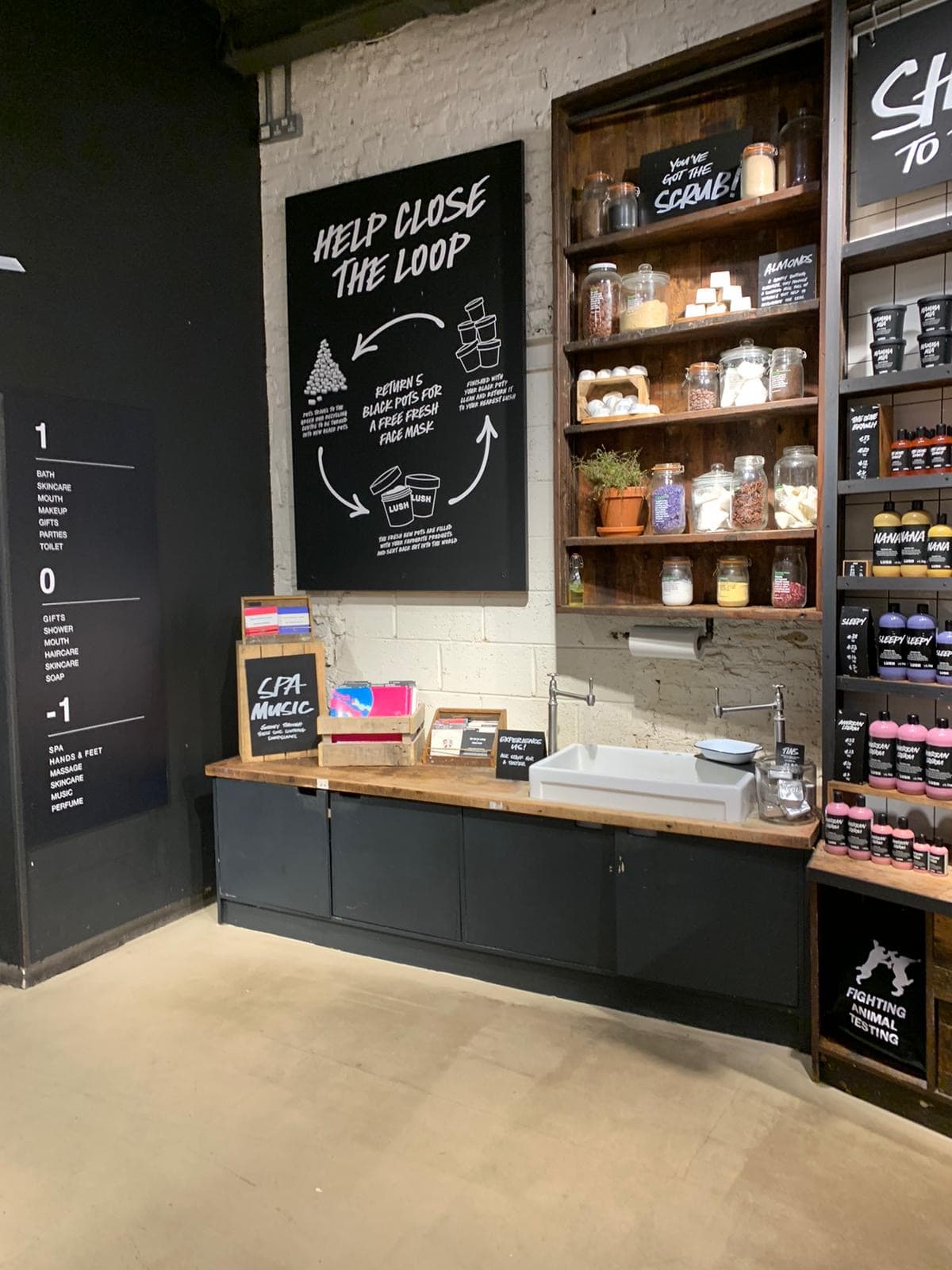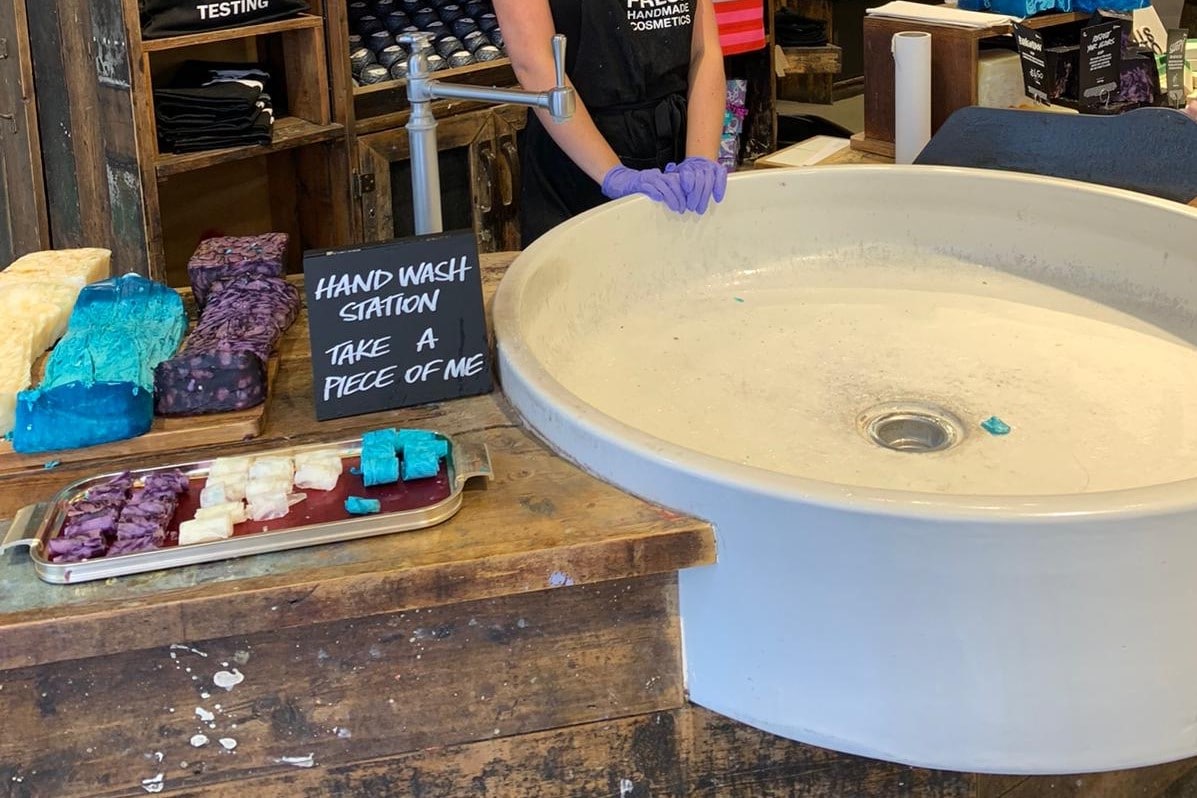 JD, London
Visiting several key shopping locations on week one of the reopening of retail meant that we were not only able to compare how different brands and retailers have configured their stores but also how brands and retailers have configured their stores in different locations throughout their estates. JD, for example, demonstrates meticulous consistency throughout the stores of its estate, with its London store echoing the same signage, graphics, safety measures (such as no trying on clothes), set up, services, touch-points and queue management systems as its store in Rushden Lakes (more on this later).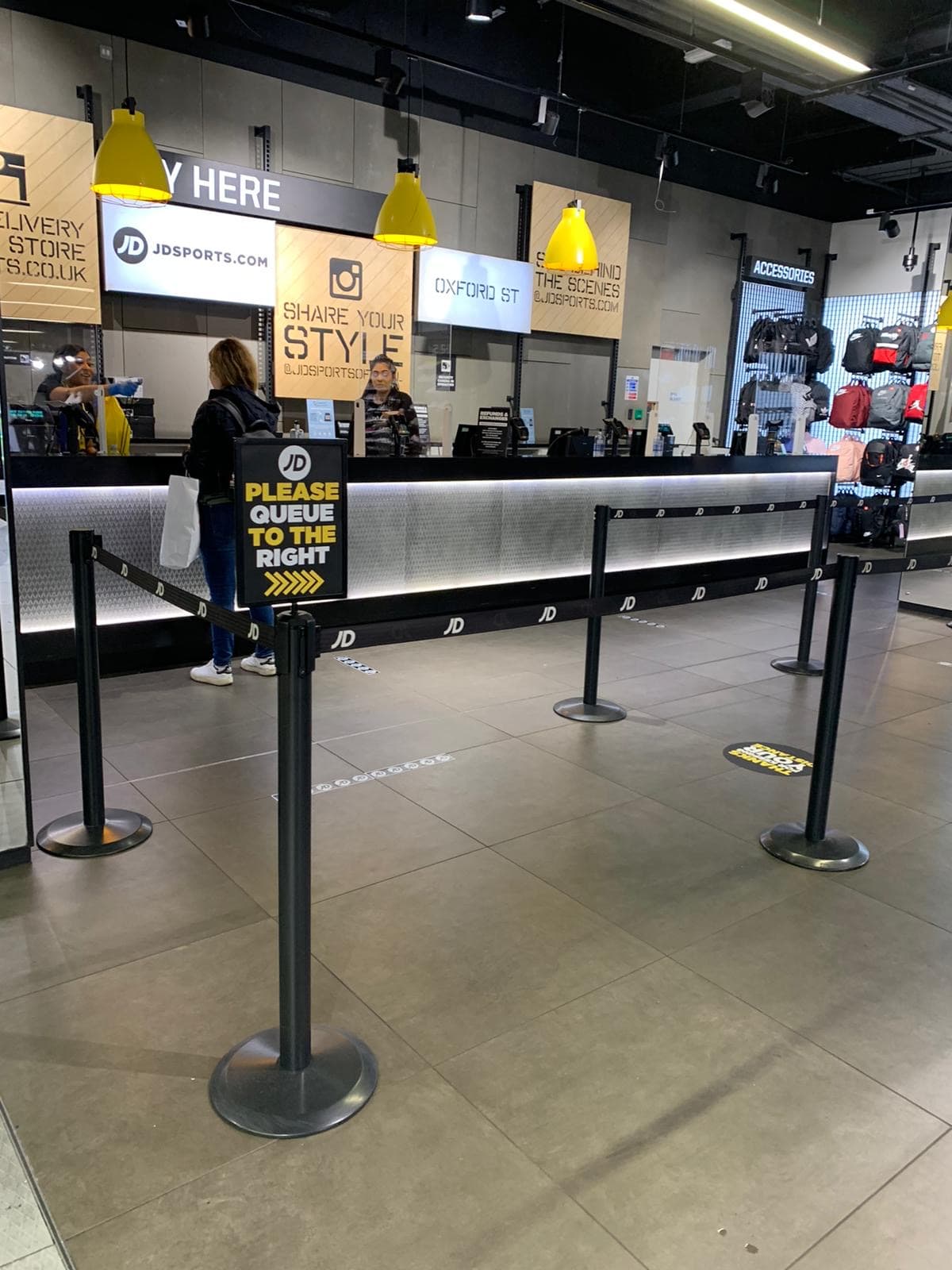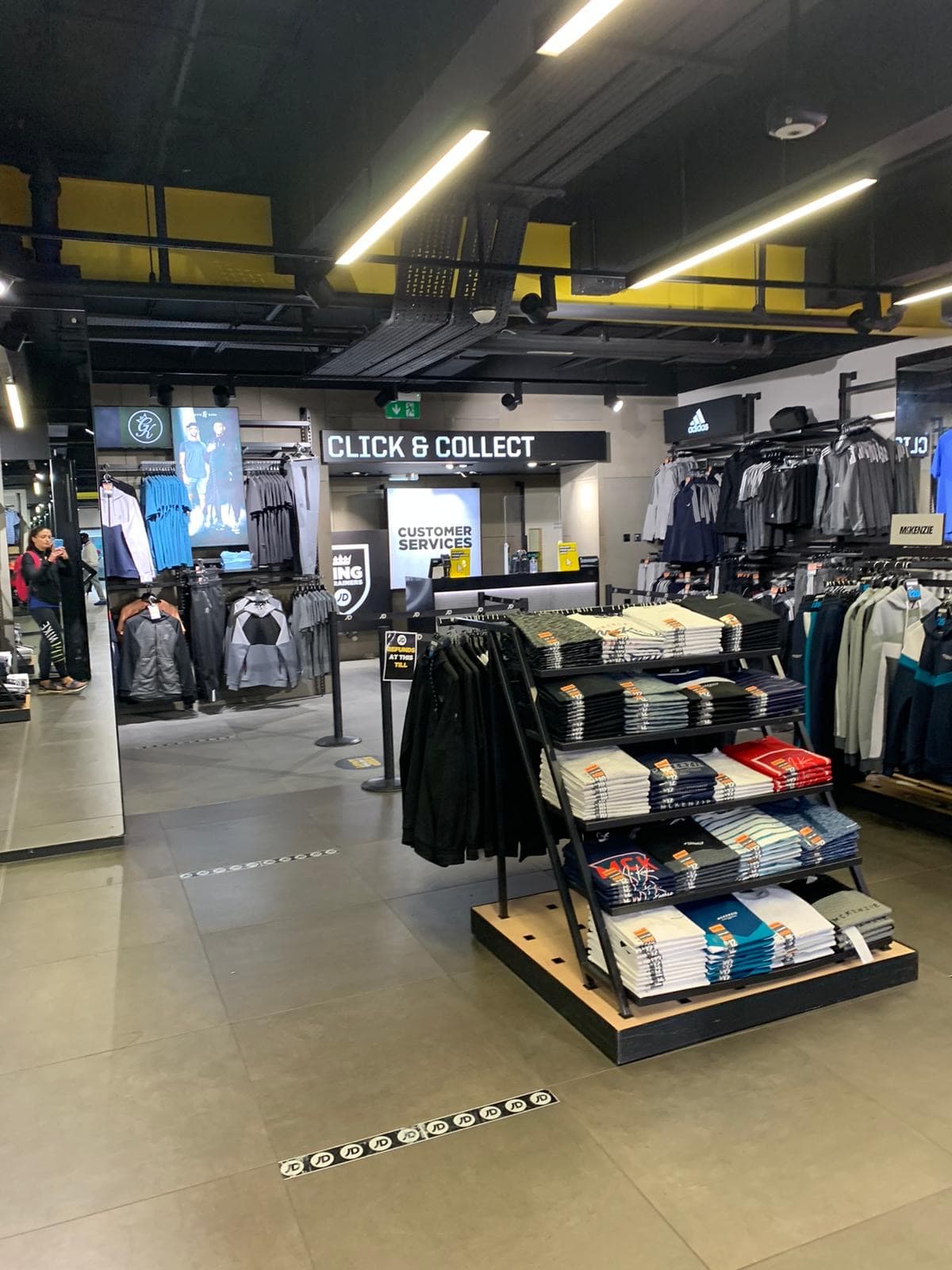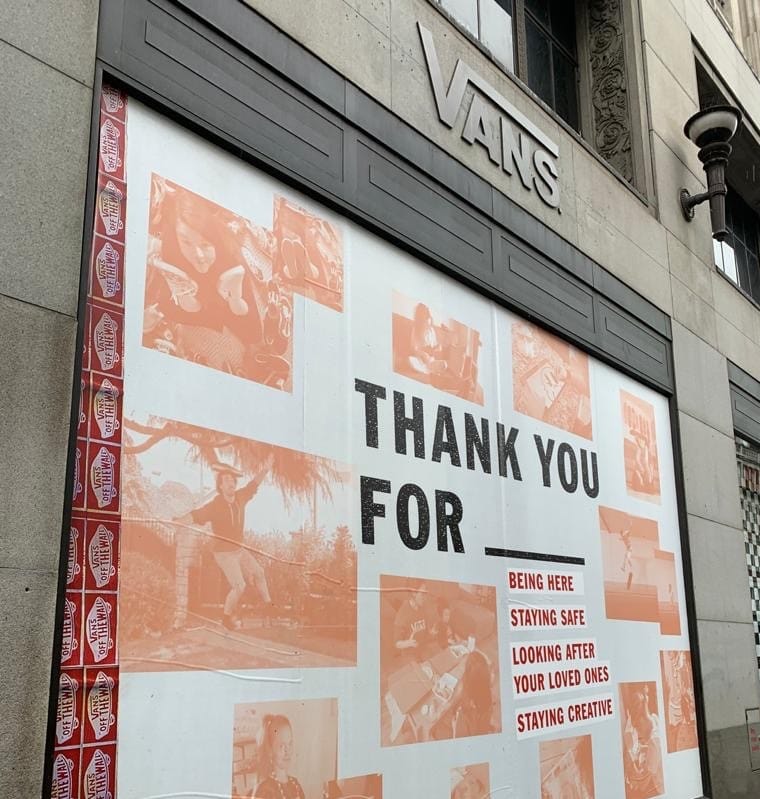 Vans, London
After being greeted by a friendly guy wearing a mask, first impressions of this store are not the instore safety measures (which although essential, serve as a constant reminder of these uncertain times), but VANS' connection to the community. Making up the front of store activation is a display of community-led content in the form of little models. These models are home creations that people have personally sent to VANS – a reminder of how important it is to support and celebrate members of our communities at this time.
Advantaged with a spacious store, VANS needed to do little in the way of reconfiguring its store layout to allow for social distancing, however, as a precaution it still operates separate entrances and exits as well as displaying directional signs for easier wayfinding.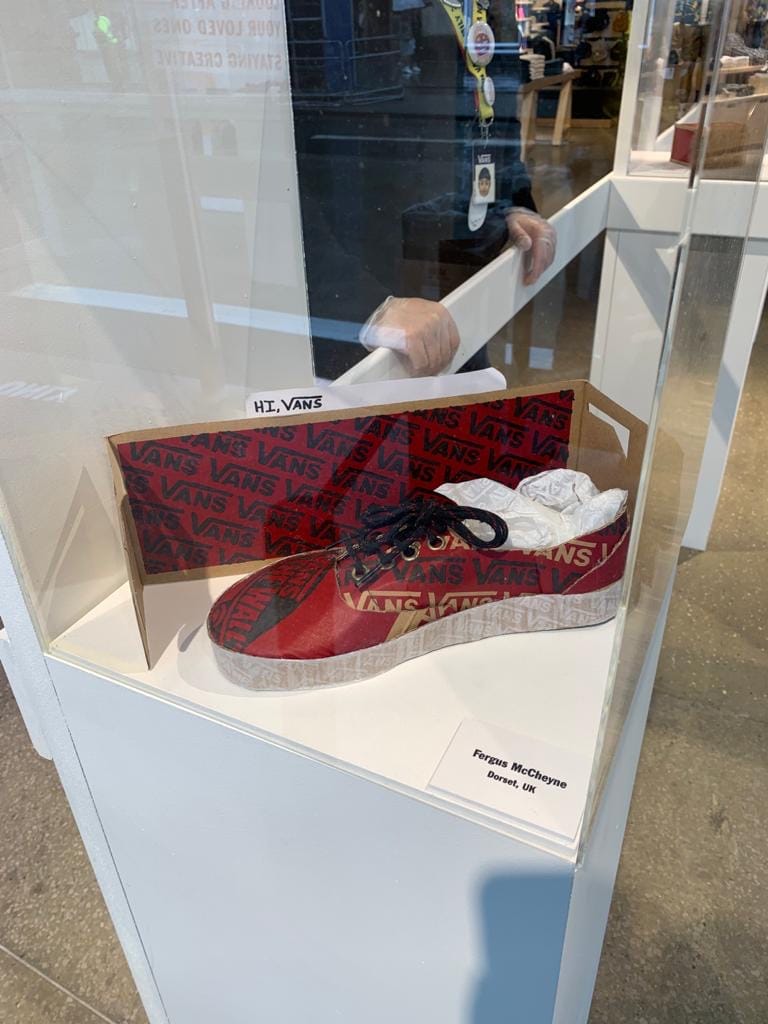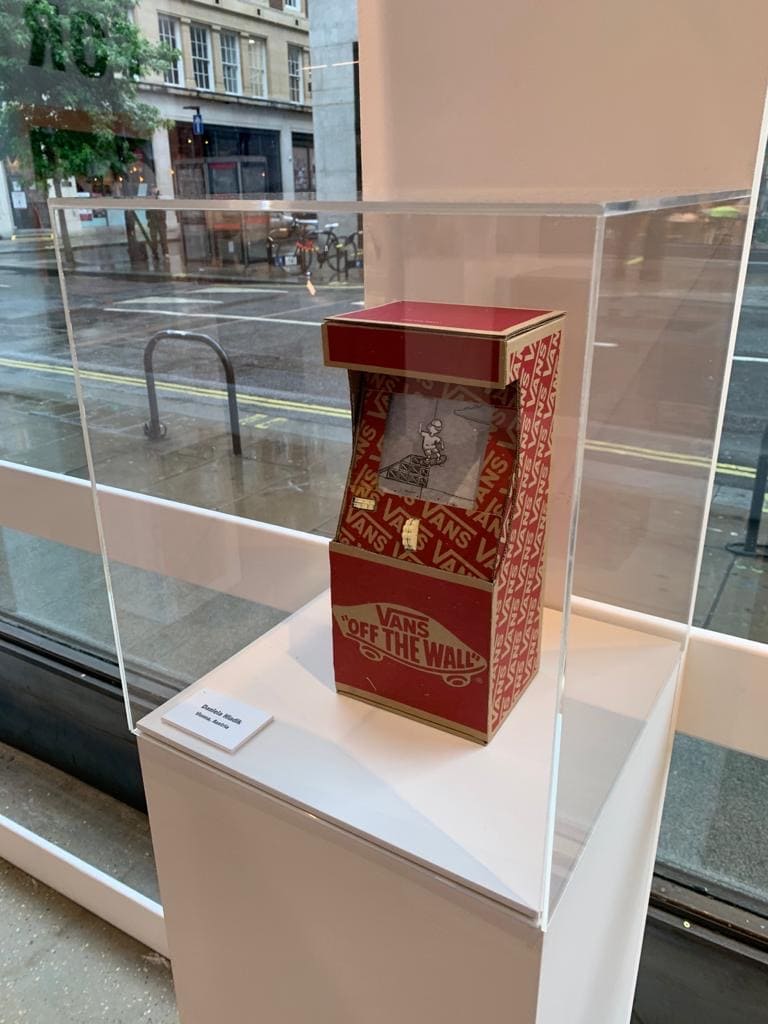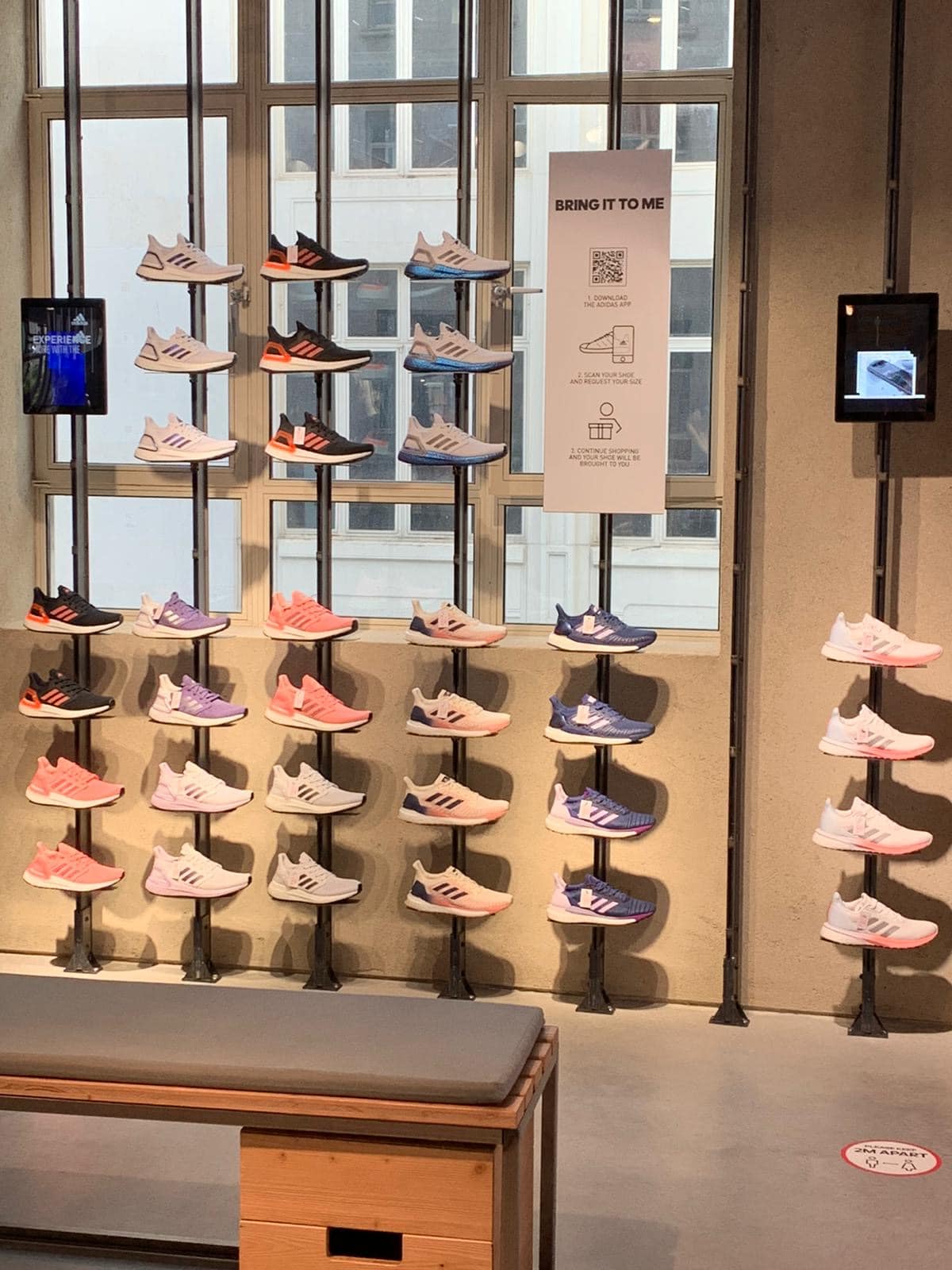 adidas, London
Another brand advantaged for its spacious London flagship is adidas. With a store spanning over four floors, it is incredibly easy to keep your distance from other shoppers and staff. What's more, if you did by any chance encounter another shopper or member of staff in the store, you are safe in the knowledge that all hands have been sanitised at the entrance, with additional safety precautions taken by staff via wearing PPE. Clear wayfinding signage makes it easy for shoppers to navigate the store and informational signage serves as a reminder for shoppers to adhere to safety measures, such as maintaining a social distance of two metres.
Footwear activations encourage shoppers to download the adidas app which enables customers to scan a shoe on the footwear wall and request for their size to be brought to them by store personnel so they can try-on the footwear. This system allows for store personnel to easily keep track of the merchandise that has been touched by shoppers with an additional element of enhanced customer service.
Already a digitally enhanced store, pre-coronavirus, this adidas flagship is fully geared up to cope with reduced contact between shoppers and staff!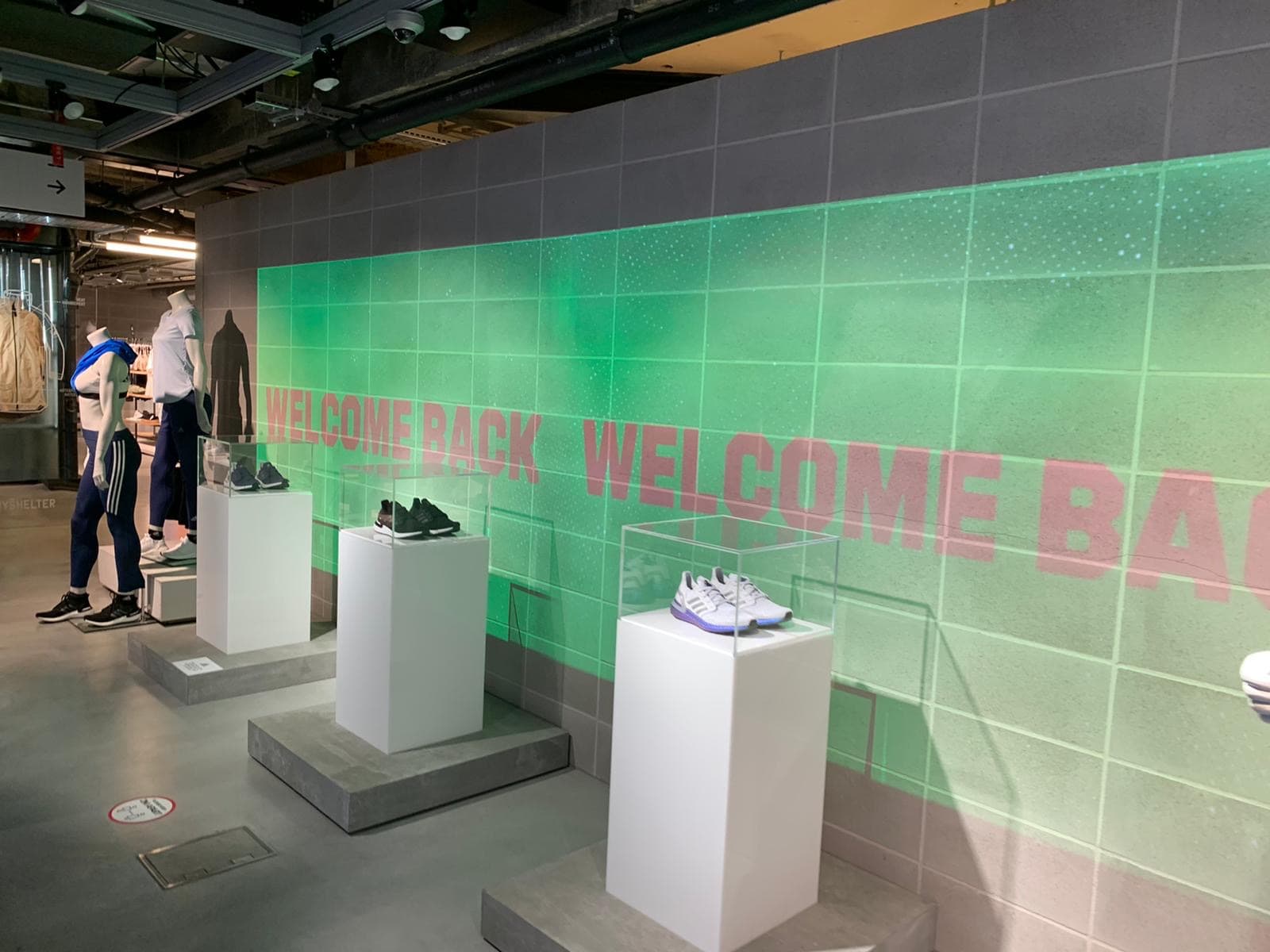 It was also great to see adidas' smaller 'Originals' store on Carnaby Street 'open for business' when many other stores on the same street remained closed. The adidas Originals store asks that every visitor sanitises their hands upon entry and that shoppers wear disposable socks when trying on shoes.
Carnaby Street, London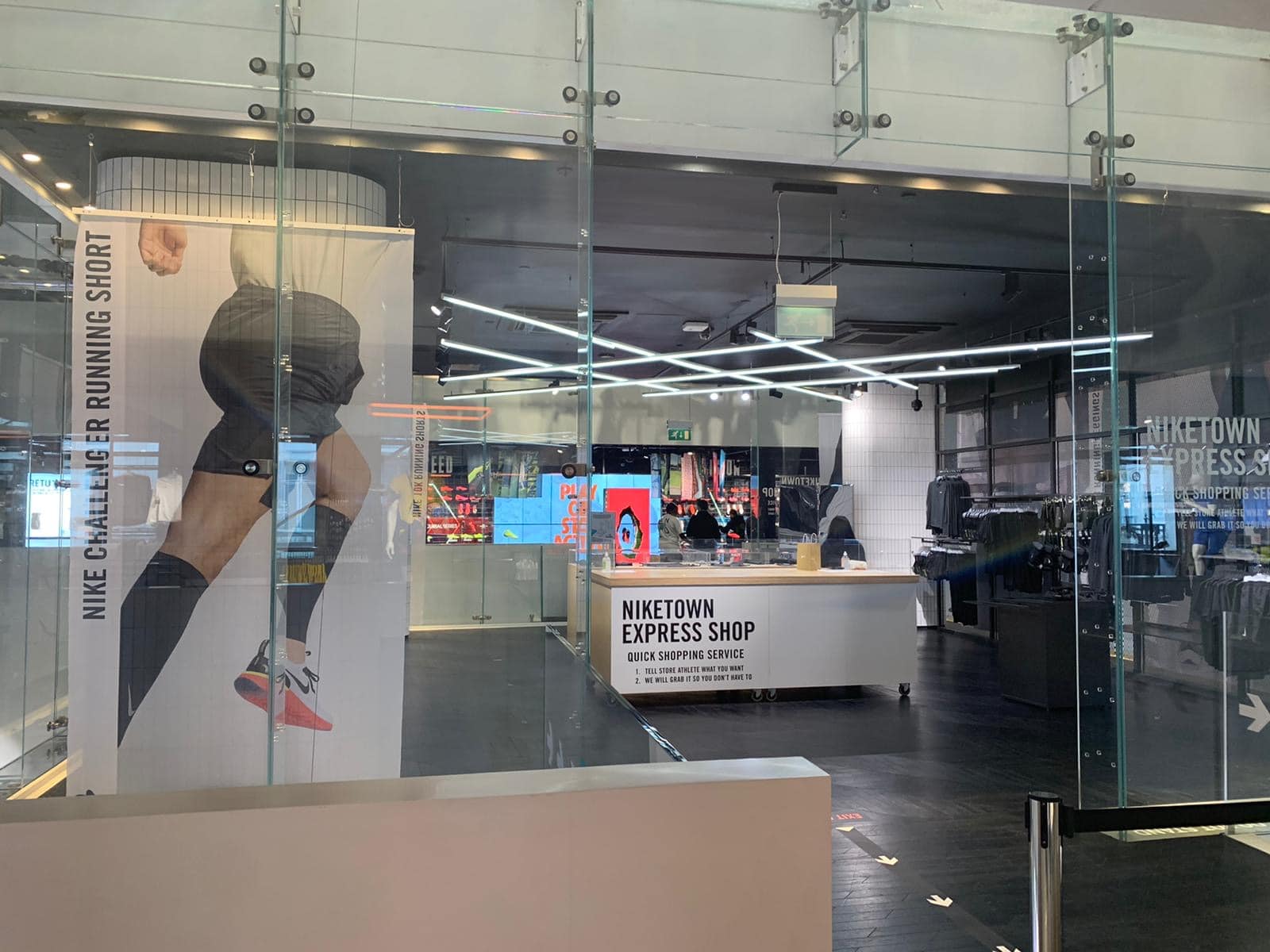 NIKE Town, London
Echoing the same instore safety precautions seen in the other larger stores in the capital, NIKE also operates separate entrances/exits, the use PPE among staff, navigational signage on the floor,  reduced/limited store capacity and hand sanitising stations on entry to the store. Setting this retailer apart is a live instore DJ to welcome shoppers back to retail and an increased level of security and store personnel – a response to the large crowds that NIKE attracted upon reopening as a result of the huge discounts that were applied to its products.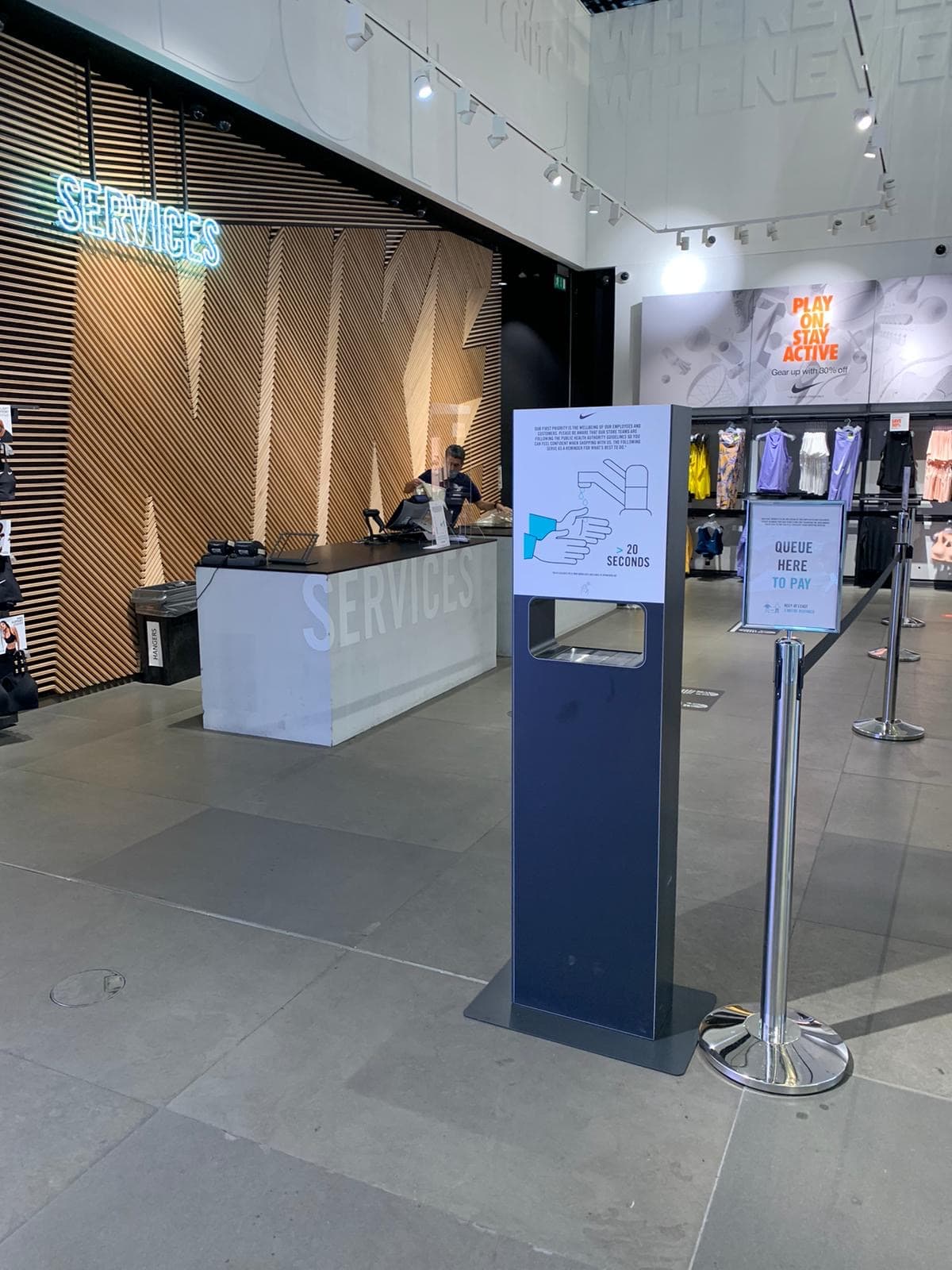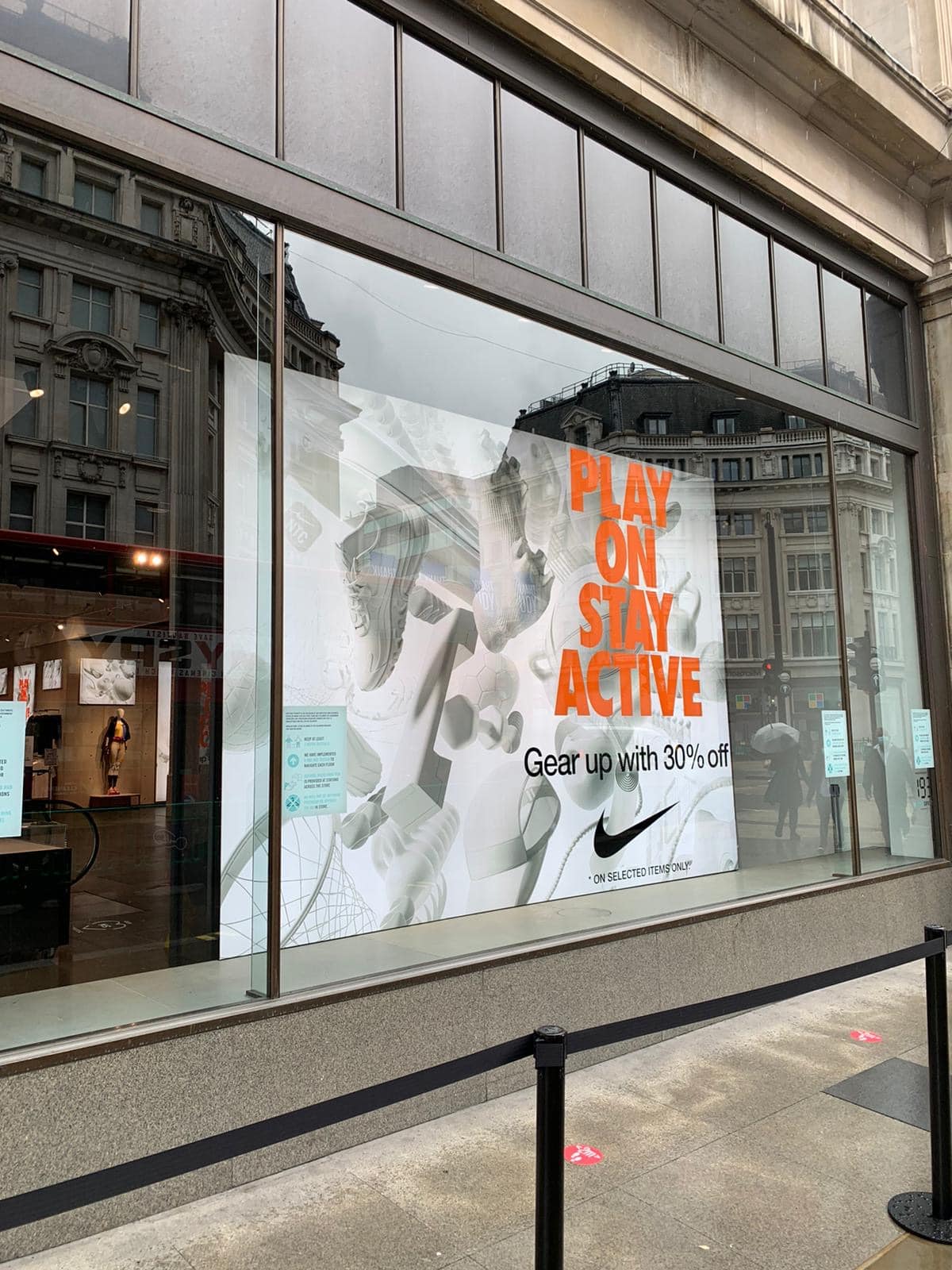 Topshop, London
Much like most of the fashion brands and retailers that had freshly stocked their stores with Spring collections prior to 'lockdown', TOPSHOP is selling these collections, as well as its summer collections, at a reduced price to shift the stock and to get its customers to return to the store once more.
Sociable campaign messaging, enhanced navigational signage, information graphics, and multiple hand sanitising stations sets a precedent for the shopping experience ahead. A new, more open, store layout allows for easier social distancing and better traffic flow in response to re-configuring the doors of the store to be either exclusively for entry or exclusively for egress – a safety precaution that appears to be commonplace among stores with two or more external doors.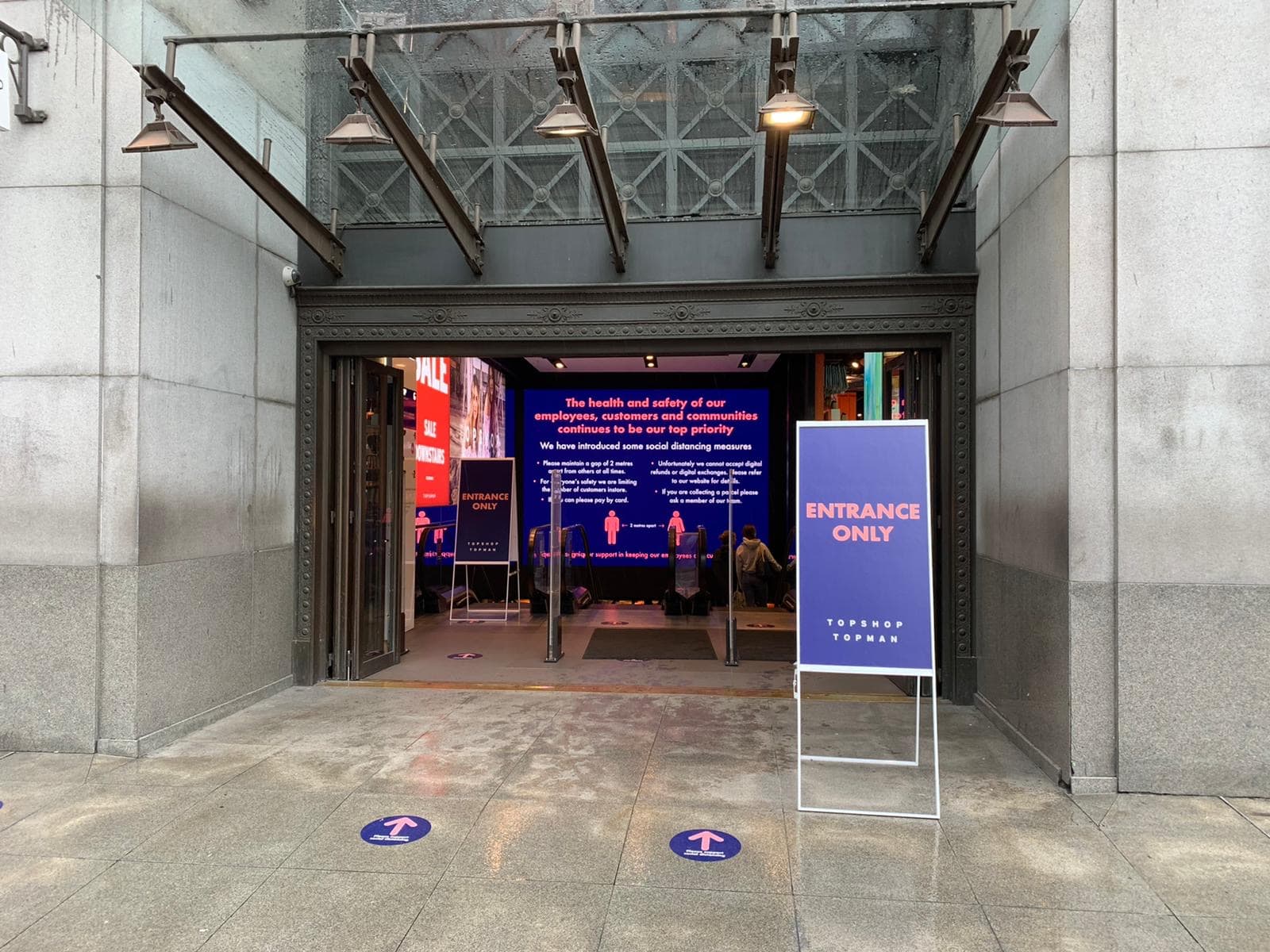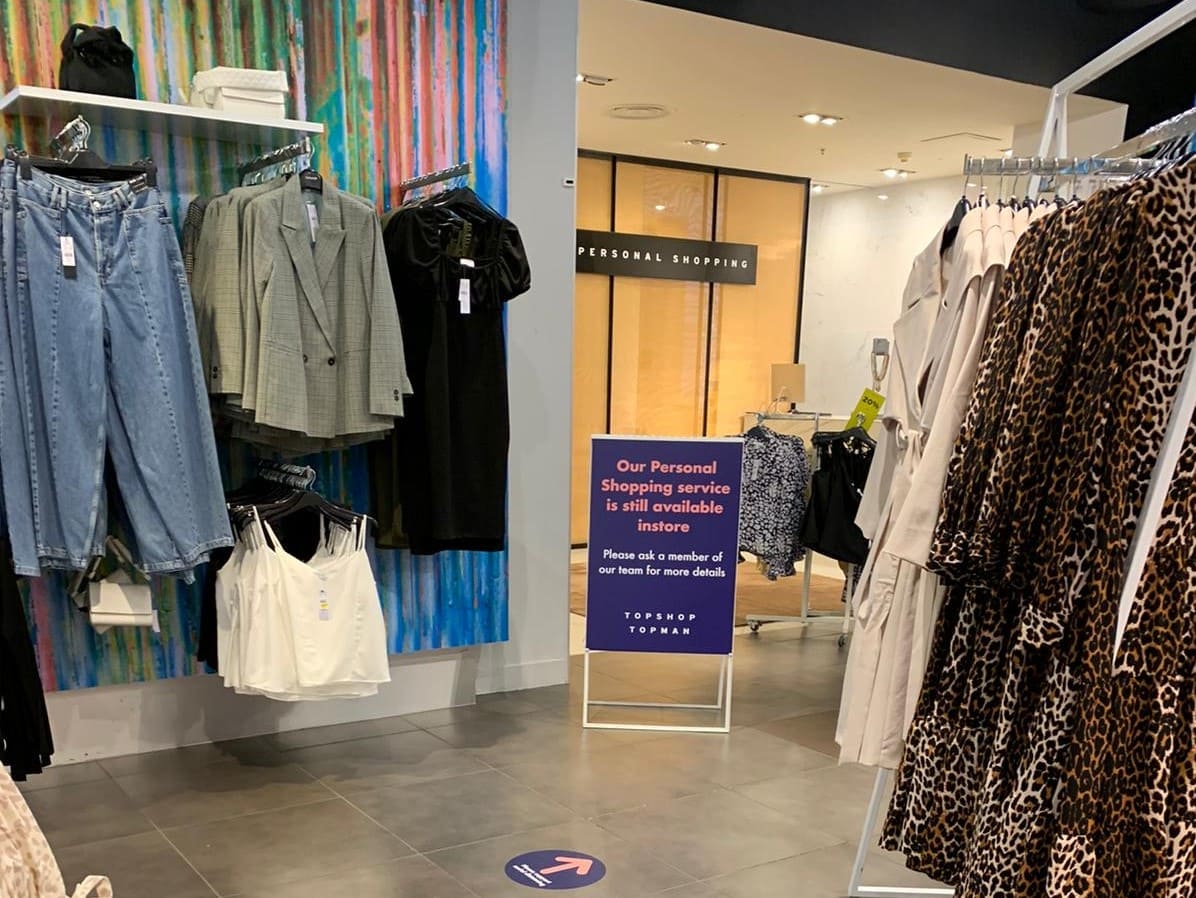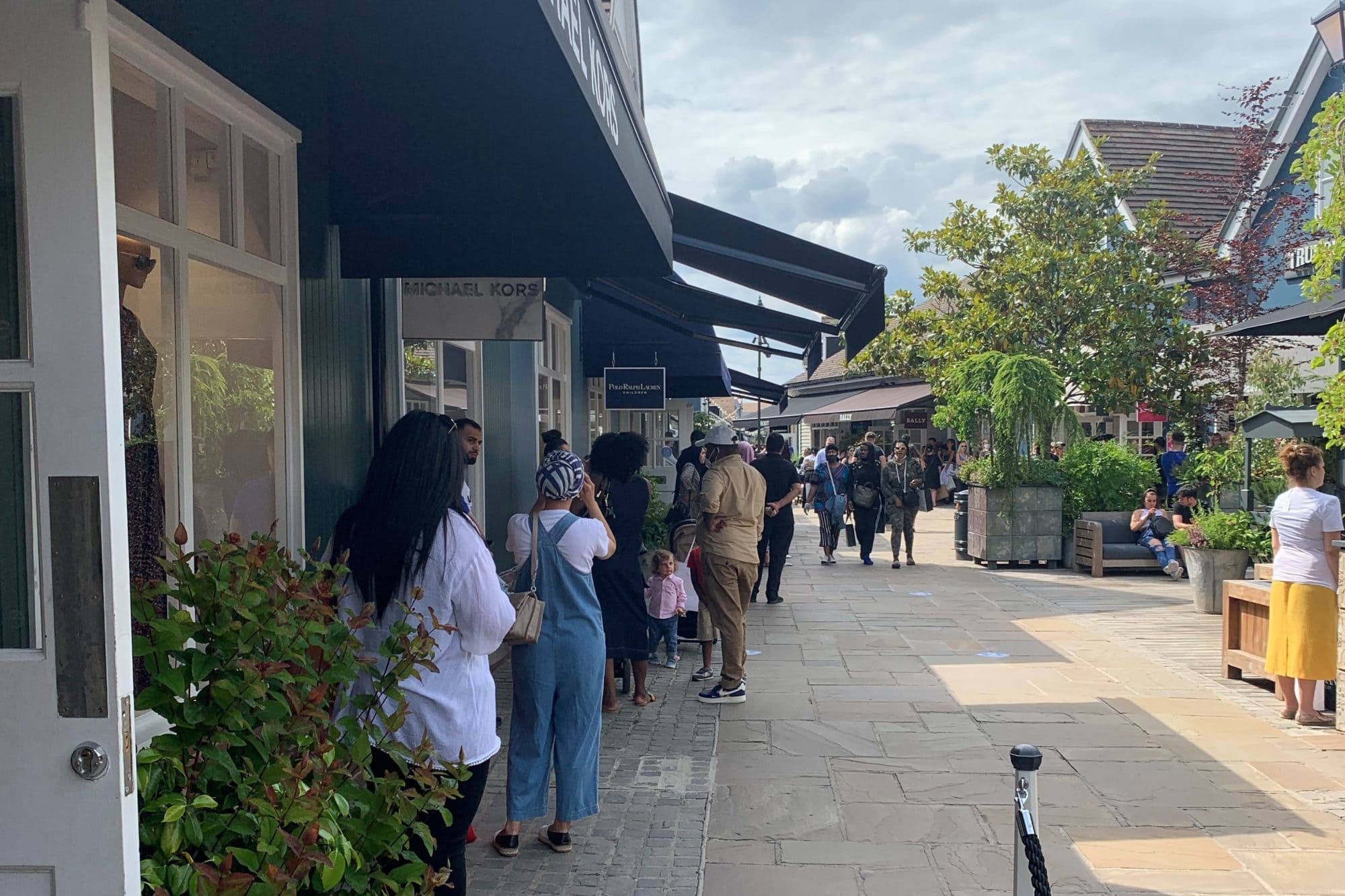 Bicester Village
On Monday, one of our Directors, Tim Howitt, went on a retail safari to Bicester Village to observe how this luxury shopping outlet was operating on its first day of business since closing its doors to the public in March:
"Virtual queues in action with some stores but others had good old-fashioned queues. Inside the stores it was actually a near-normal experience with the exception of the sanitiser stations. Good staff-to-customer ratios meant that service was great. Each store had signs displaying the maximum capacity for customers which was quite reassuring for customers waiting in line. Some stores had set-up one-way systems, but the majority had just removed some mid-floor fixtures to create more space."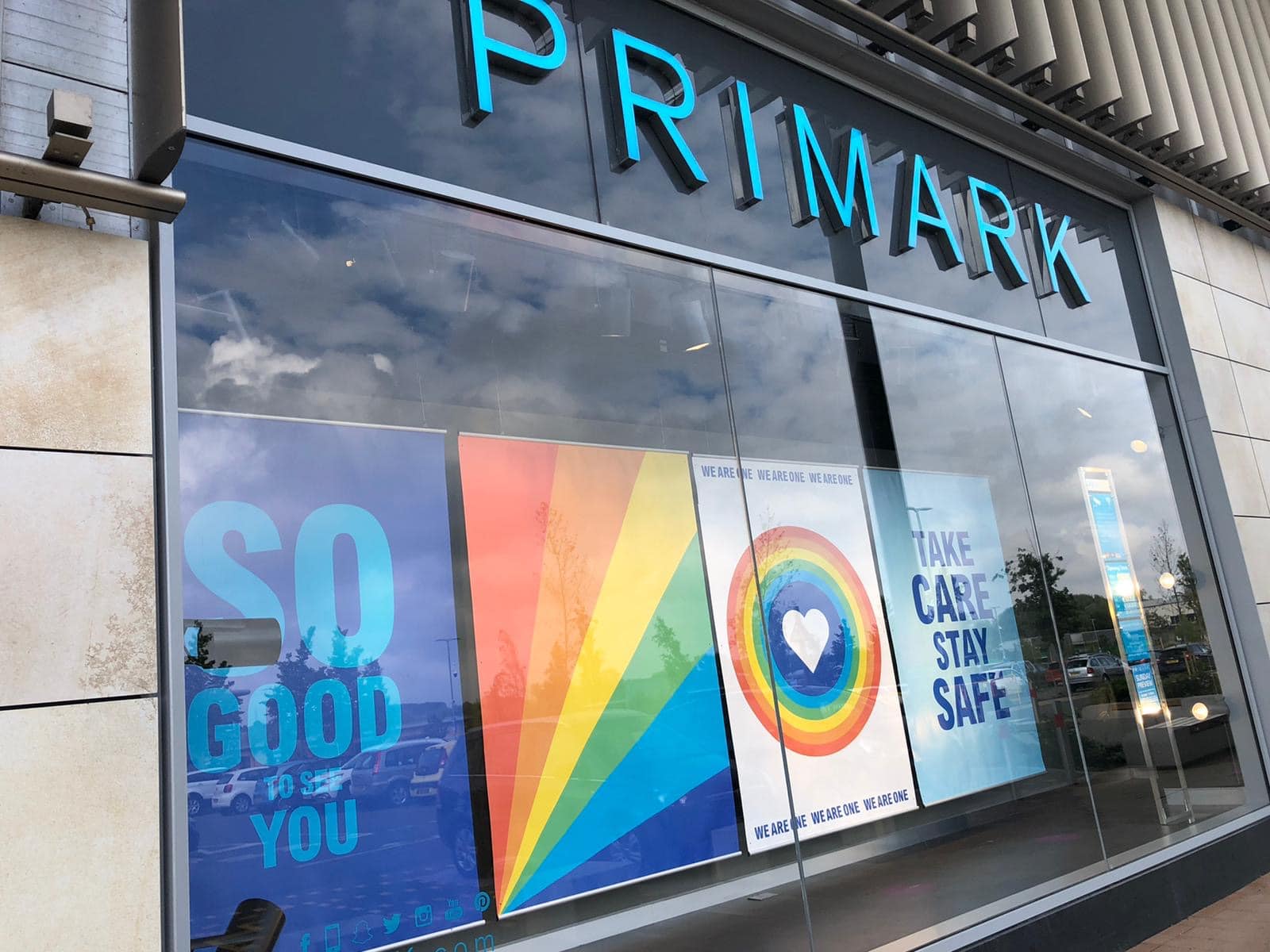 Rushden Lakes
On Tuesday, our Head of New Business and Marketing, Vanessa Keen, enjoyed a visit to Rushden Lakes – a new major shopping and leisure complex in Rushden, Northamptonshire which first opened its doors as recently as 2017.
PRIMARK
Known ordinarily for its bustling atmosphere; Primark has done a 180, creating a store where space is plentiful, customer service is exceptional and its organisation of people, product and staff is beyond impressive – all owed to the implementation of its enhanced safety measures, including:
An open-till area as opposed to its ordinarily snaked queue system designed to fit as many people as possible into any given space

A high staff-to-customer ratio

Screens protecting staff at the tills

S

taff holding way-finding signs and making themselves available to customers for that personal 'touch'

Hand sanitising stations

Step-by-step information boards to inform people about the instore safety measures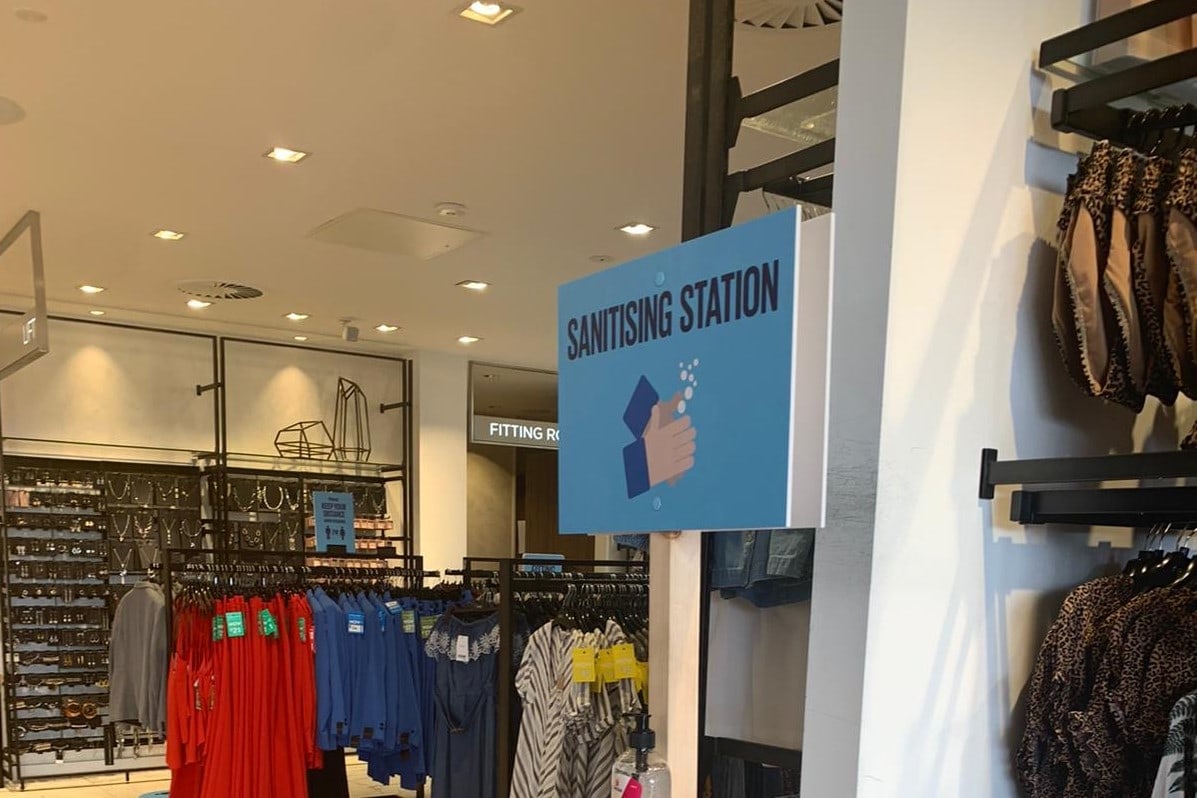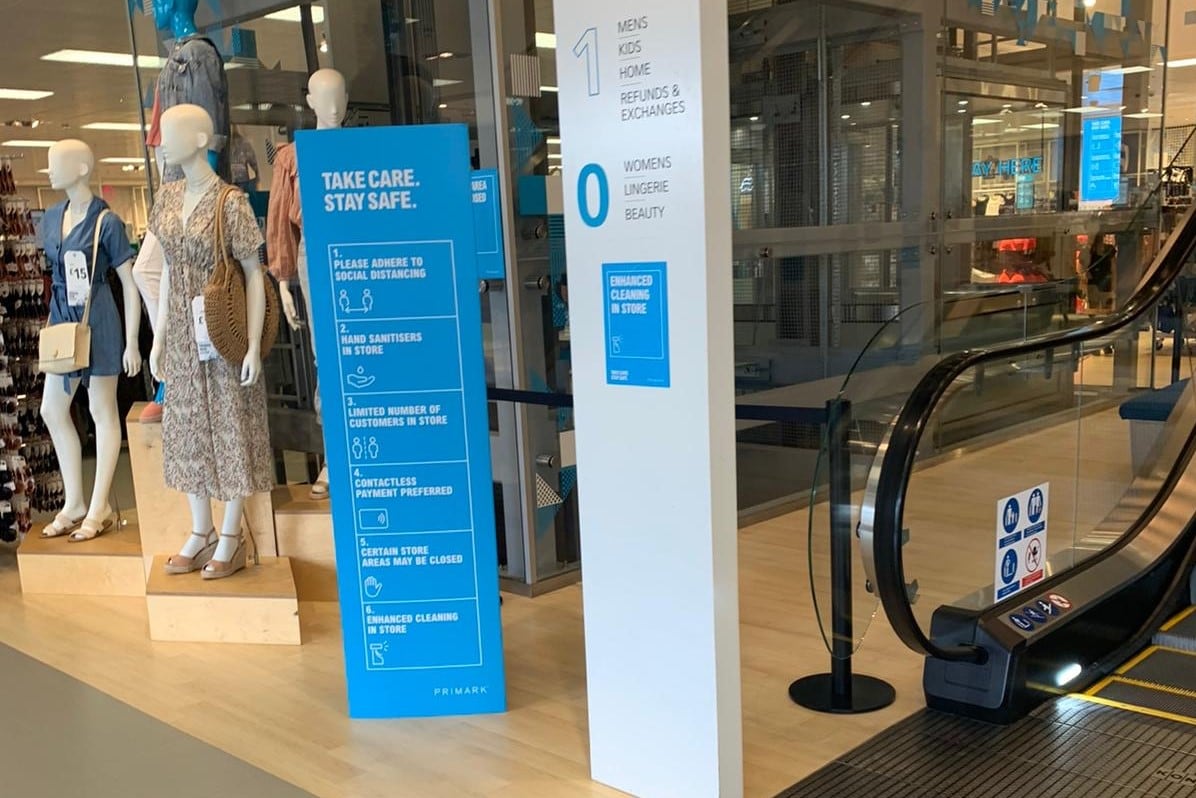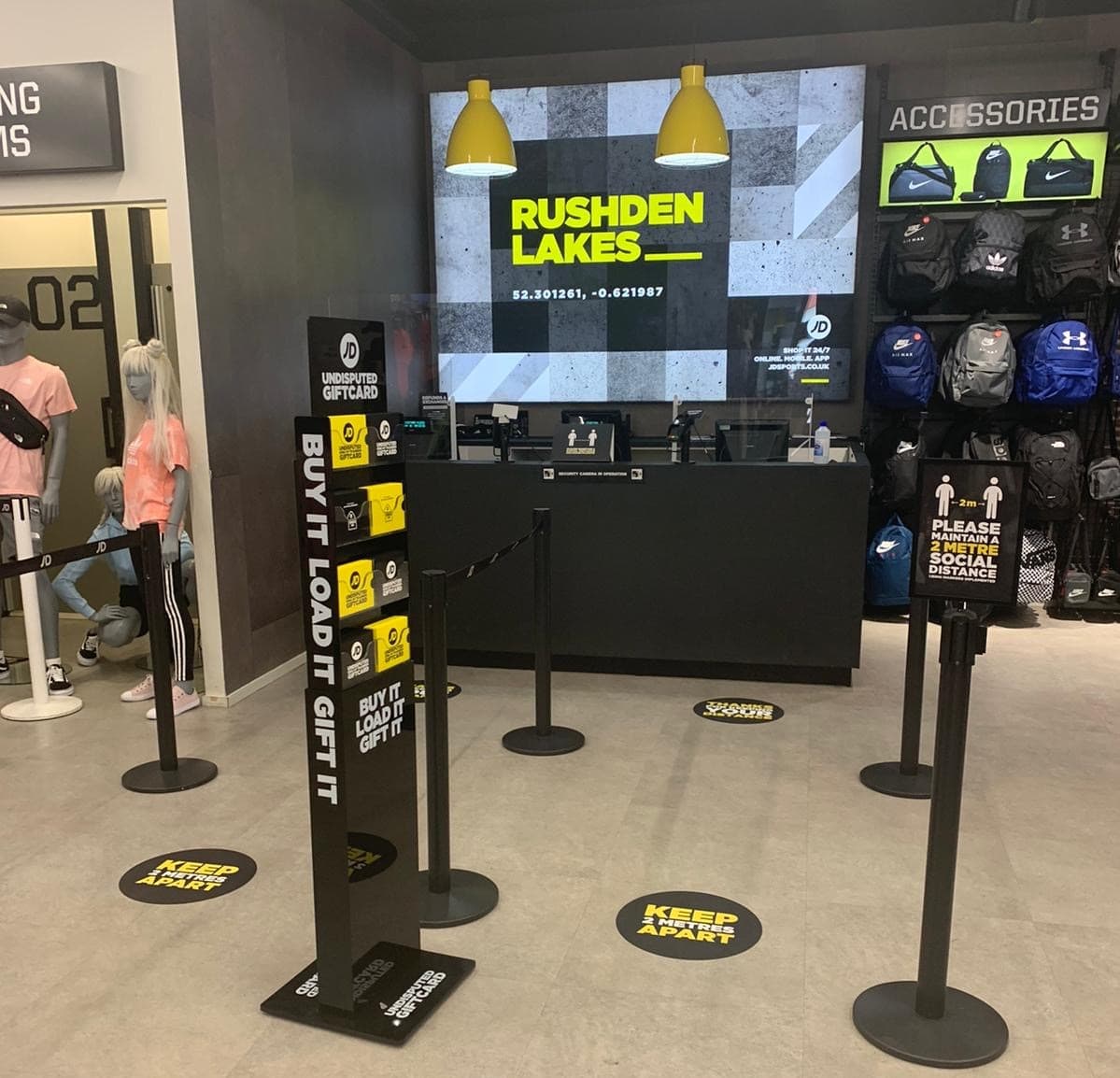 JD SPORTS
JD was a stand-out retailer of the visit – highly organised and prepared for the welcoming back of shoppers to the store, all whilst remaining on-brand and maintaining true JD composure. Visually appealing floor graphics, signs and barriers remind shoppers to keep a 2 metre distance when shopping and queuing, while separate entrances and exits and intelligently positioned Footwear Request Stations maintain the flow of the instore customer journey – designed as such to look after the wellbeing of customers, first and foremost. Furthermore, the digitally interactive footwear ordering facility no longer acts as merely a service of convenience for customers, but rather, it can now be considered a service of safety for its ability to reduce the need for interaction between staff and customers.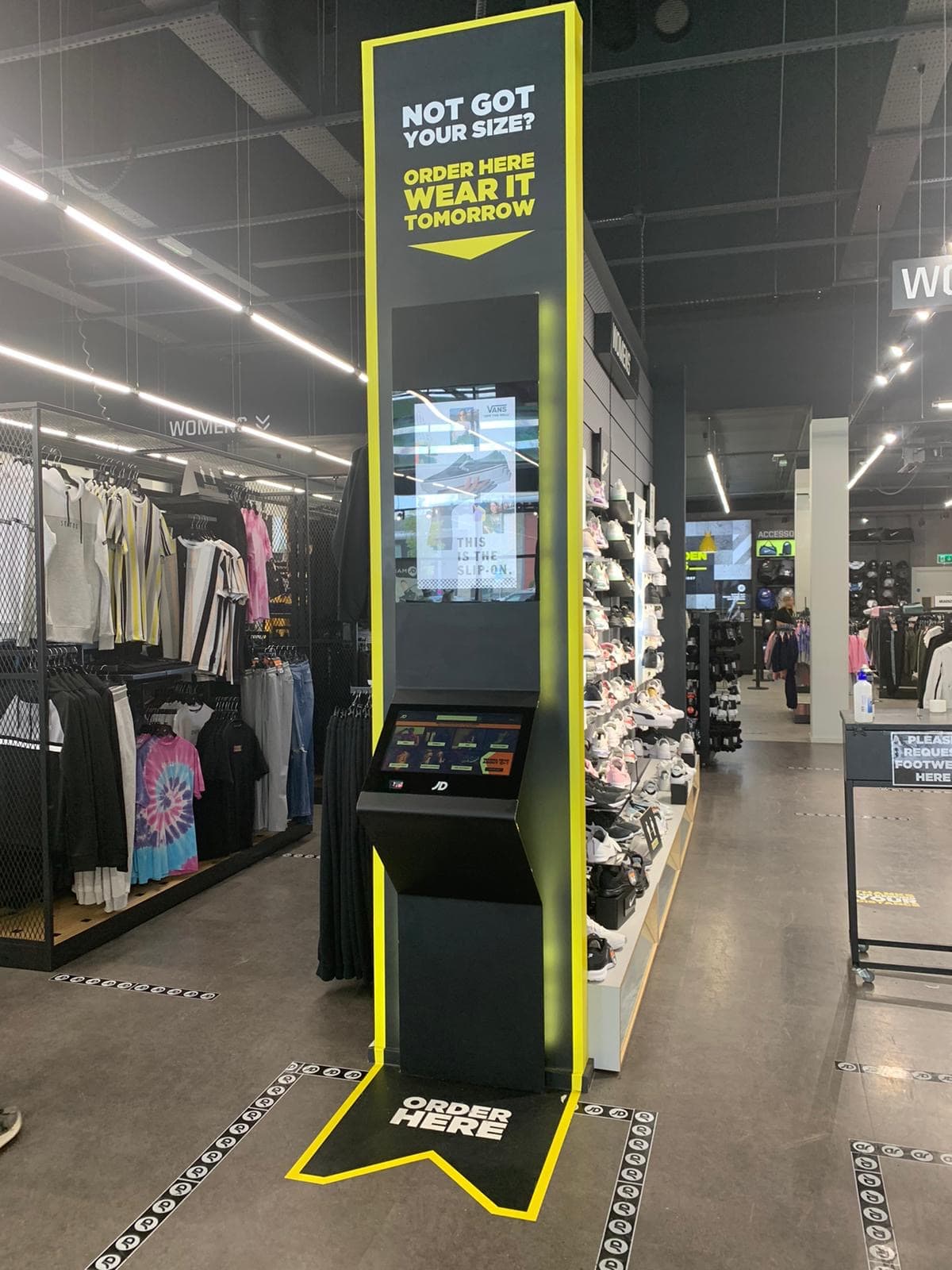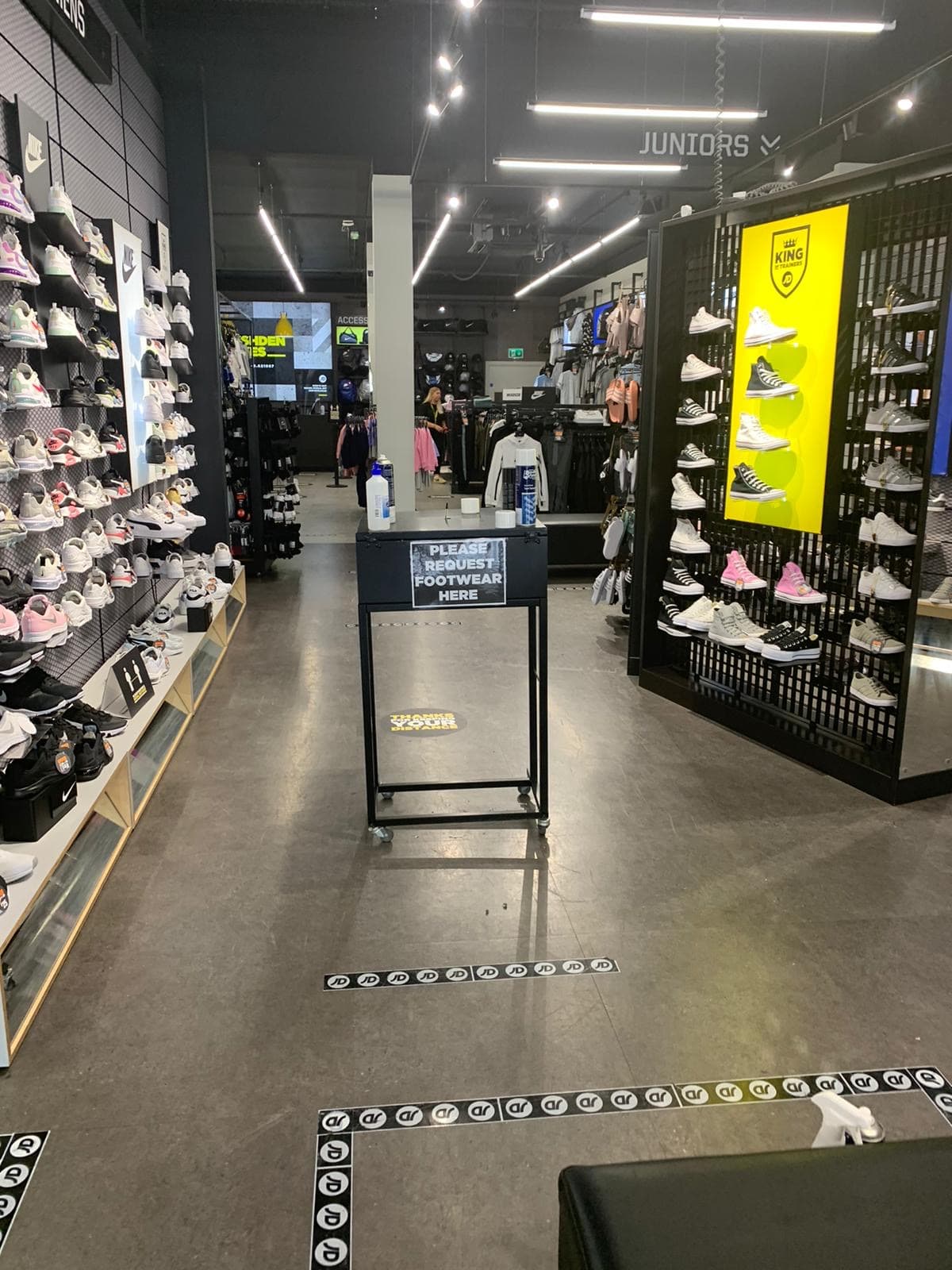 Our thoughts on week one of returning to retail
Our experience of week one of brands and retailers returning to retail has given focus to several recurring themes, including; store greetings/tone of voice, wayfinding, store layout, graphics and signage, queue management systems, hand washing, PPE precautions, limited contact with product and cash, customer service, and innovative solutions.
The level to which instore safety measures are enforced is intriguing. Some stores are politely offering hand sanitiser to customers – an offer that can be accepted or declined at the discretion of the customer, whereas other stores are insisting that shoppers sanitise their hands upon entry. Similarly, whilst the majority of stores do not require for customers to wear PPE, Samsung and Benetton (among others) ask that visitors put on a face covering before entering their stores. It will be interesting to observe how these measures will evolve or devolve overtime in accordance with the changeable rate of infection (R) and guidance from the government.
Although not completely non-existent, so far we have not seen too many innovative solutions for restoring the experiential nature of physical retail – an important facet of physical retail that, in some instances, instore safety measures have almost completely denied. In the coming months we will be therefore be focusing our attention on helping brands and retailers to restore their instore experiences, particularly as far as the fashion and beauty sectors are concerned where trying on and sampling product is pivotal to the shopper journey.