Choosing the right pop-up for your brand _
Investigating Three Popular Pop-Up Formats…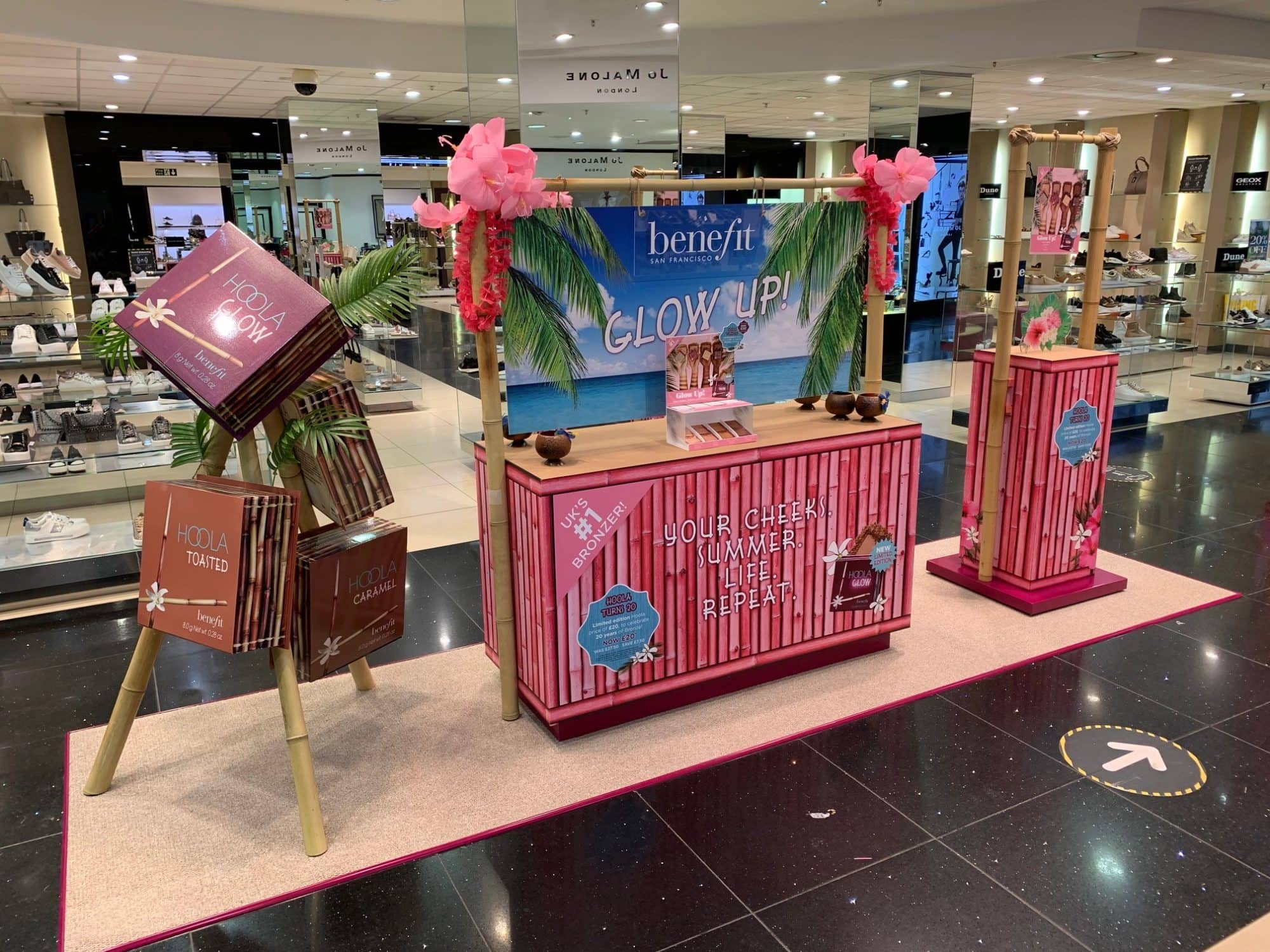 In this article we explore three popular pop-up shop formats (with examples), including the characteristics and benefits of each, so that you are equipped with the information you need to deploy the right pop-up for your brand.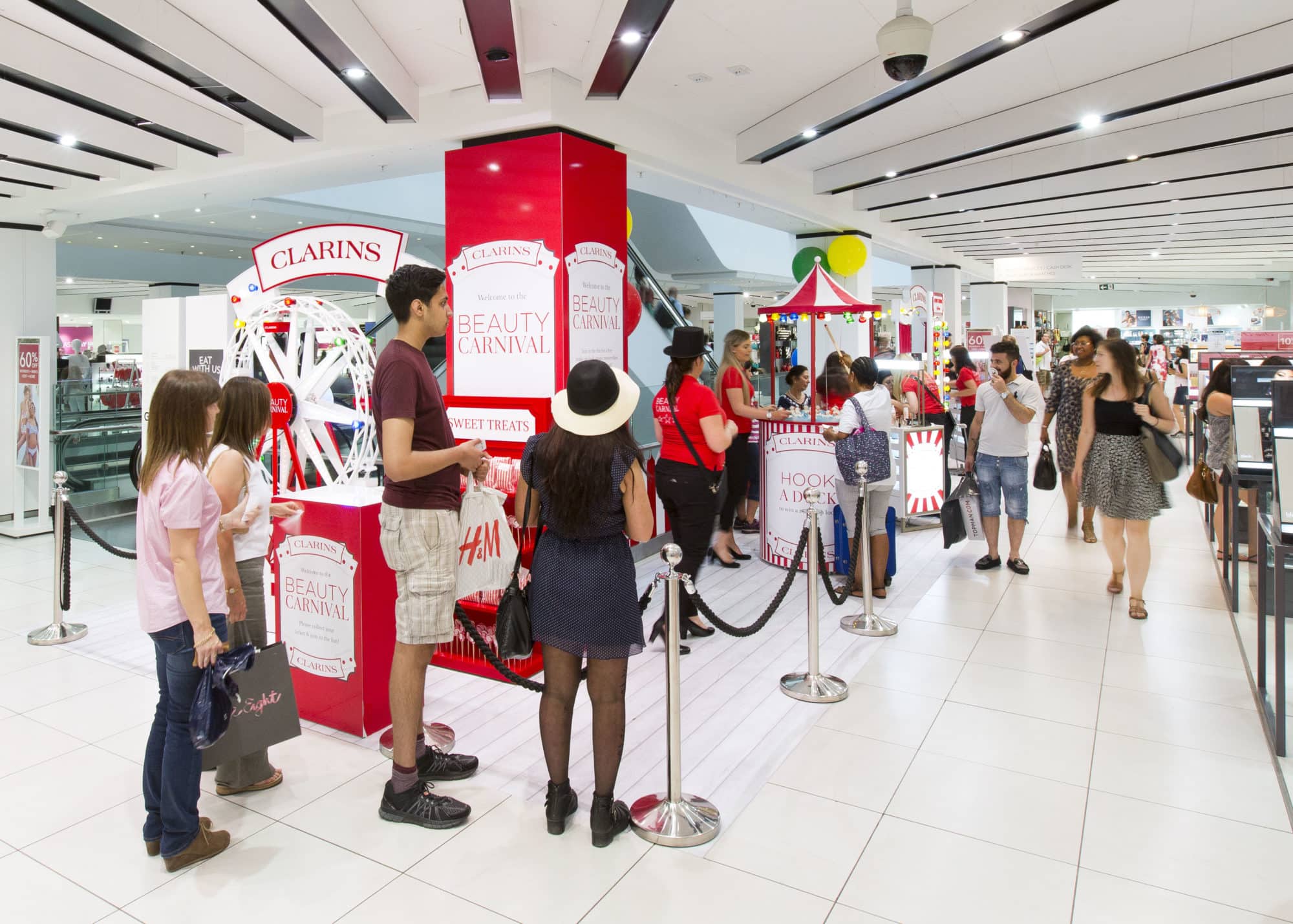 Pop-Up Format #1 – Experiential
EXPERIENCE THE BRAND. BUILD A CONNECTION.
Some products and services just have to be experienced to be understood. According to 'Score', trying items in a physical store is 3x more influential than any other purchase factor. Physical retail experiences that go beyond simply functional displays of product, verging into sensory experiences are more memorable and therefore more likely to convert into a sale for the brand.
According to shopping mall group, Westfield, the future of retail is in experience, where their research shows that more than half of square meterage will be dedicated to offering experiences rather than selling products. This industry-wide shift towards experience led retail gives us confidence in the belief that we will continue to see a trend in successful experiential pop-ups in the future.
As experiential pop-ups come in all shapes and sizes, a tailored approach to brand story-telling must be taken. For example, when beauty brand, Benefit, decided to create its very own experience led pop-up to celebrate its latest product release – 'Roller Liner', they decided they needed to be memorable and disruptive.
They achieved this by partnering with the Queen's of chicken wings, 'Mother Clucker', to create something completely unrelated to beauty – a fried chicken shop. This was such an impactful and memorable experience that got its customer-base hyped about the pop-up online, creating a buzz on social media before it even opened.
A pop-up should reflect the values of a brand and embody it. Product presentation and demonstration will be a big part of a successful pop-up, however giving shoppers a hit of dopamine will build a relationship between them and the brand, creating product affinity & desire.
Focus on creating a memorable experience to grow product affinity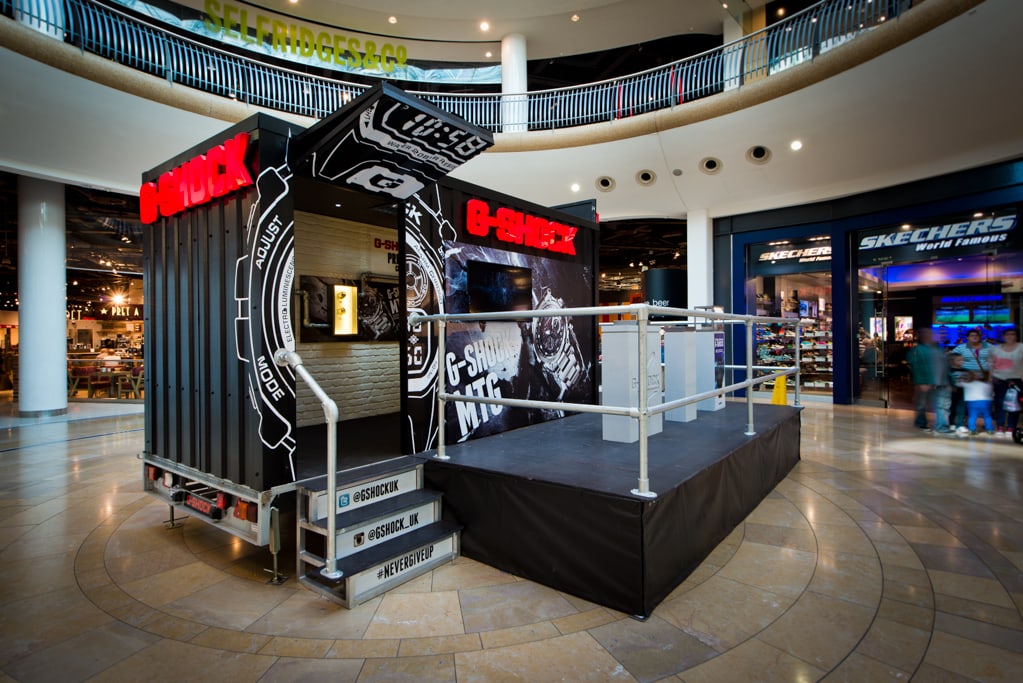 Pop-Up Format #2 – Travelling
UNMISSABLE, VISUAL, EXCLUSIVE
Mobile pop-ups are agile. They offer the flexibility to go from location to location, meeting your consumer in the spaces they inhabit. This means your brand can connect with consumers, garner more attention, build awareness, and create more social followings and mentions.
Global fashion brand H&M met their consumer right where the product was going to be used. Their apparel collection for summer came to life in their beach pop-up, packaged in an oversized wooden crate, and landed it right on the shoreline. This pop-up is upheld as one of the most memorable of all time, in terms of both its visual impact and context specificity.
On a sidenote, the brand's conscious values were expressed here by partnering with charity WaterAid, donating partial proceeds to the NGO that provides access to safe water, hygiene and sanitation in the world's poorest communities.
According to a Pop-Up Republic poll, 39% of shoppers indicated that 'the main reason they'd visit a pop-up store would be because of exclusive products or services on offer'. Limited edition products, one-off events, and special appearances are a sure-fire way to build hype as your pop-up approaches.
Sharing teasers across social media platforms emphasizing the 'get it before it's gone' notion will generate the kind of buzz that money can't buy among your audience.
Levi's drew attention to its commuter collection by creating a travelling pop-up bike repair shop. This shop sold bike repair services for time strapped commuters, whilst promoting the range of apparel tailored to make commuter life easier. The workshop appeared in many urban locations and met the consumer in the places the community and the brand could intersect, providing a helpful and exclusive 'had-to-be-there' service offering.
39% of shoppers indicated that they'd visit a pop-up store because of exclusive products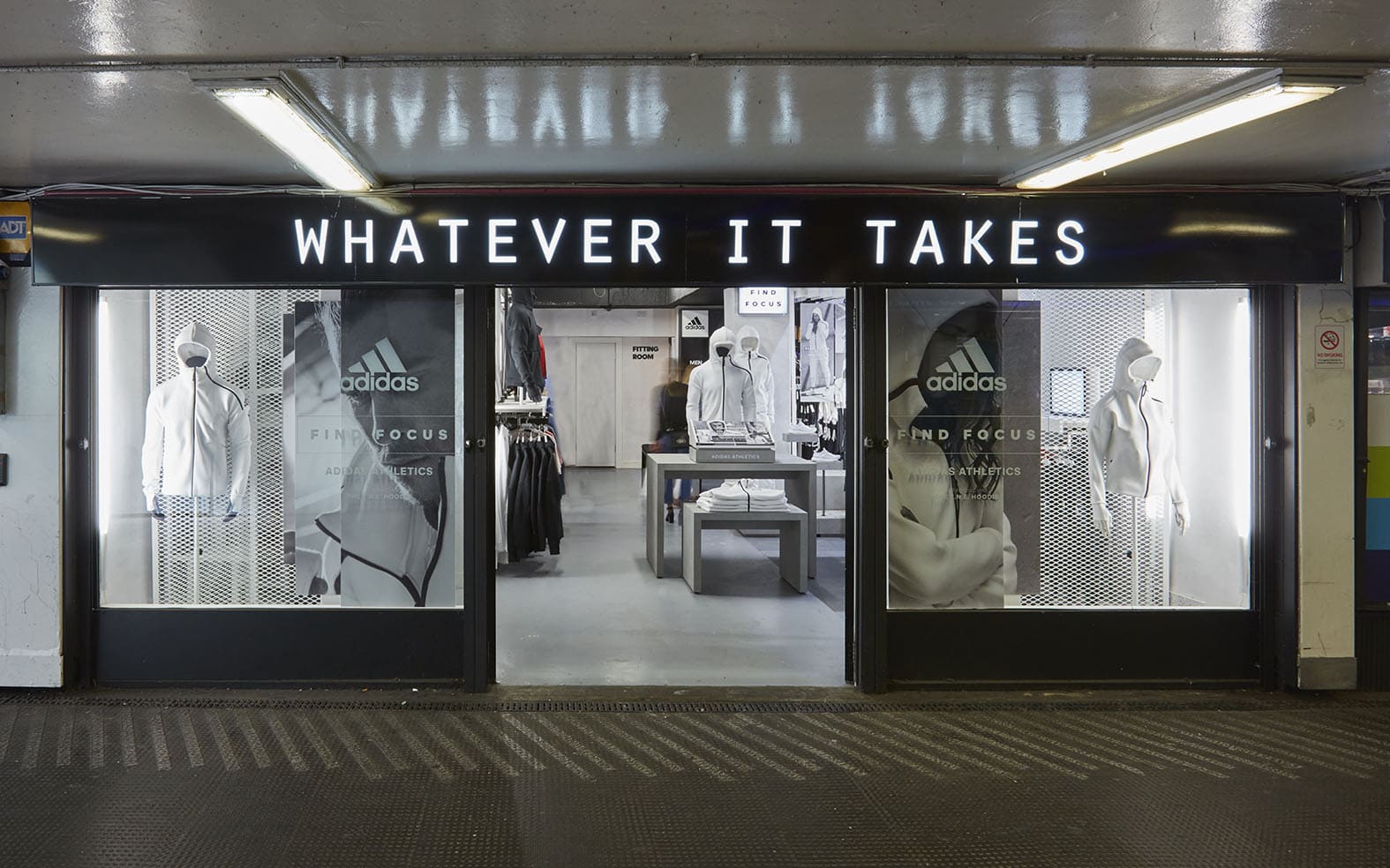 Pop-Up Format #3 – 'White Box' Takeover
APPEAR IN ANY SPACE. OWN ANY SPACE.
The opposite of a mobile pop-up is a stationary one. But these four-wall pop-ups come with great value. Finding an existing space is often very cost-efficient: the store front will already have a shop-like set up. More and more, commercial retail developers and malls are open to signing short-term leases. Plus, from a shopper's perspective, the space is already within the expected pathways of their regular foot traffic.
Storenvy – an ecommerce platform that played host to a pop-up marketplace in San Francisco – understands that there is power in numbers. Brands who used Storenvy to power their ecommerce operations were invited to participate in an offline store, which allowed Storenvy to leverage multiple brands' followings to build hype and foot traffic. With this, pop-up transactions are still done online, and each vendor is completely in control of their own spot.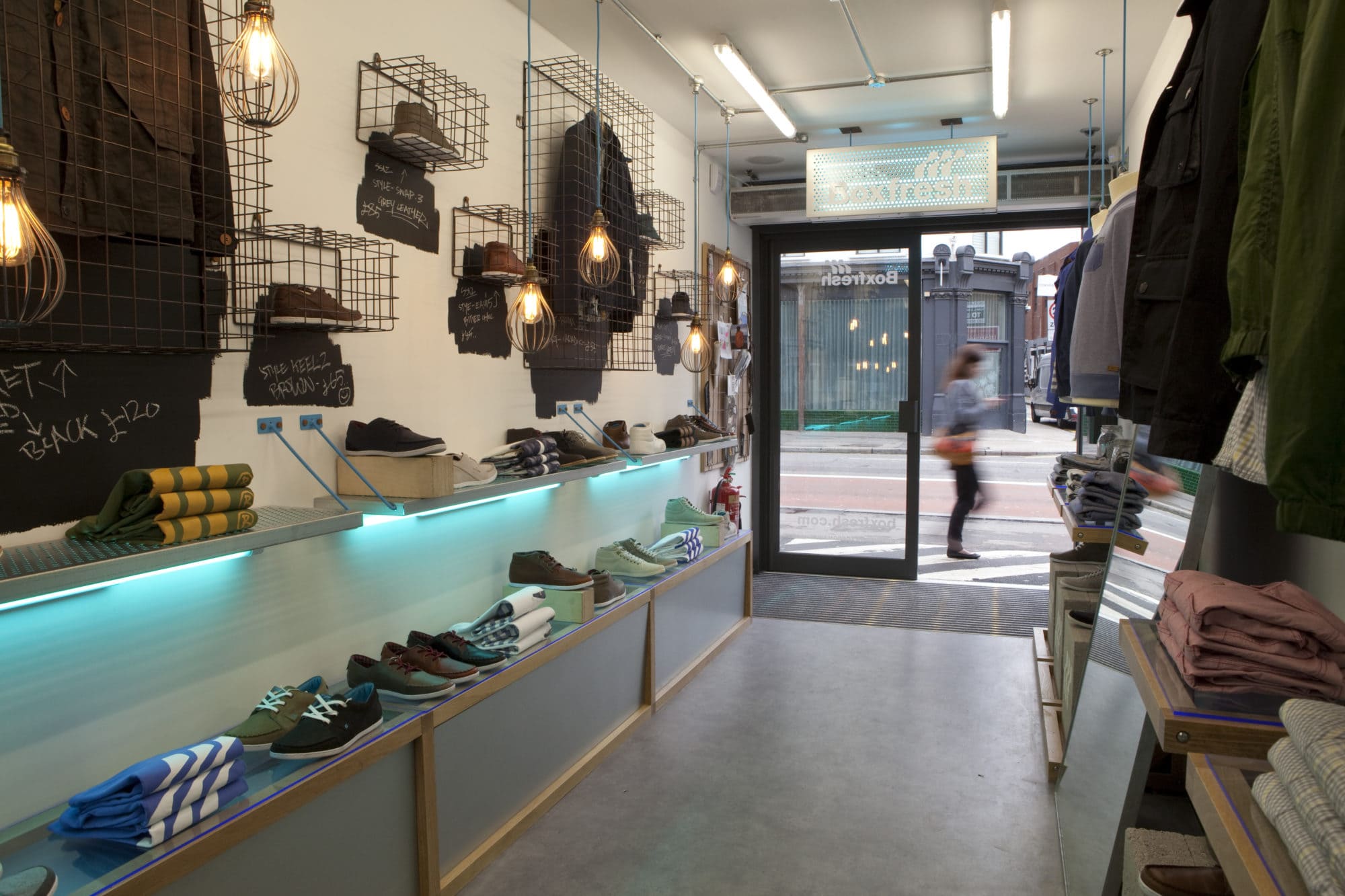 Driving consumers to your store for a charitable purpose is a pop-up shop idea brands are also successfully employing. Harrods recently unveiled its luxury charity pop-up store idea in collaboration with NSPCC. The pop-up boutique is located in a white box retail environment and was entitled 'Fashion Re-Told'. All of the clothes sold were donated by Harrod's customers and employees, with proceeds going directly to NSPCC whilst presenting product in an elevated yet simple boutique way.
The retailer's mission for this pop-up shop idea was to make the space entirely Instagrammable. As their Head of Visual Merchandising states, "when you're doing a charitable initiative if you don't generate noise on every platform, you're never going to make it a success." The luxury retailer leveraged its celebrity connections to launch the space with a star-studded guest list to further support the goal of raising awareness.
 "Take over any space, with signature elements & a strong brand story."
 TH partnered with Mirror, the world's first nearly invisible and interactive home gym to create a brick-and-mortar style pop-up store in New York. Each space was used for demonstrating the product, offering an opportunity for guests to interact with the technology and trial a workout. The storefront window showcased two Mirrors coupled with displays featuring a slow-motion workout animation catching the attention of passers-by in the popular Flatiron neighbourhood, while a team of retail specialists were onsite seven days a week to handle all product demos and sales.
LOOKING AT DEPLOYING A POP-UP SHOP IN THE NEAR FUTURE BUT NOT SURE WHICH POP-UP FORMAT TO PURSUE? Get in touch to carry on the conversation with one of our Retail Design Specialists, or have a look at some of the pop-ups that we have worked on previously for some inspiration.