Masters of the roll-out _
Behind the design: 3 things to consider when managing a full turnkey SIS or branded space roll-out
This short-read article comes from this month's insight report: Maximising the impact of your SIS or branded space.
The roll-out of a SIS or branded space into multiple retail locations involves an entirely different approach to the design, technical development, project management and installation of a single SIS or branded space into a single location. It is an approach which demands several areas to be examined before a design can be put to the client, including those mentioned below.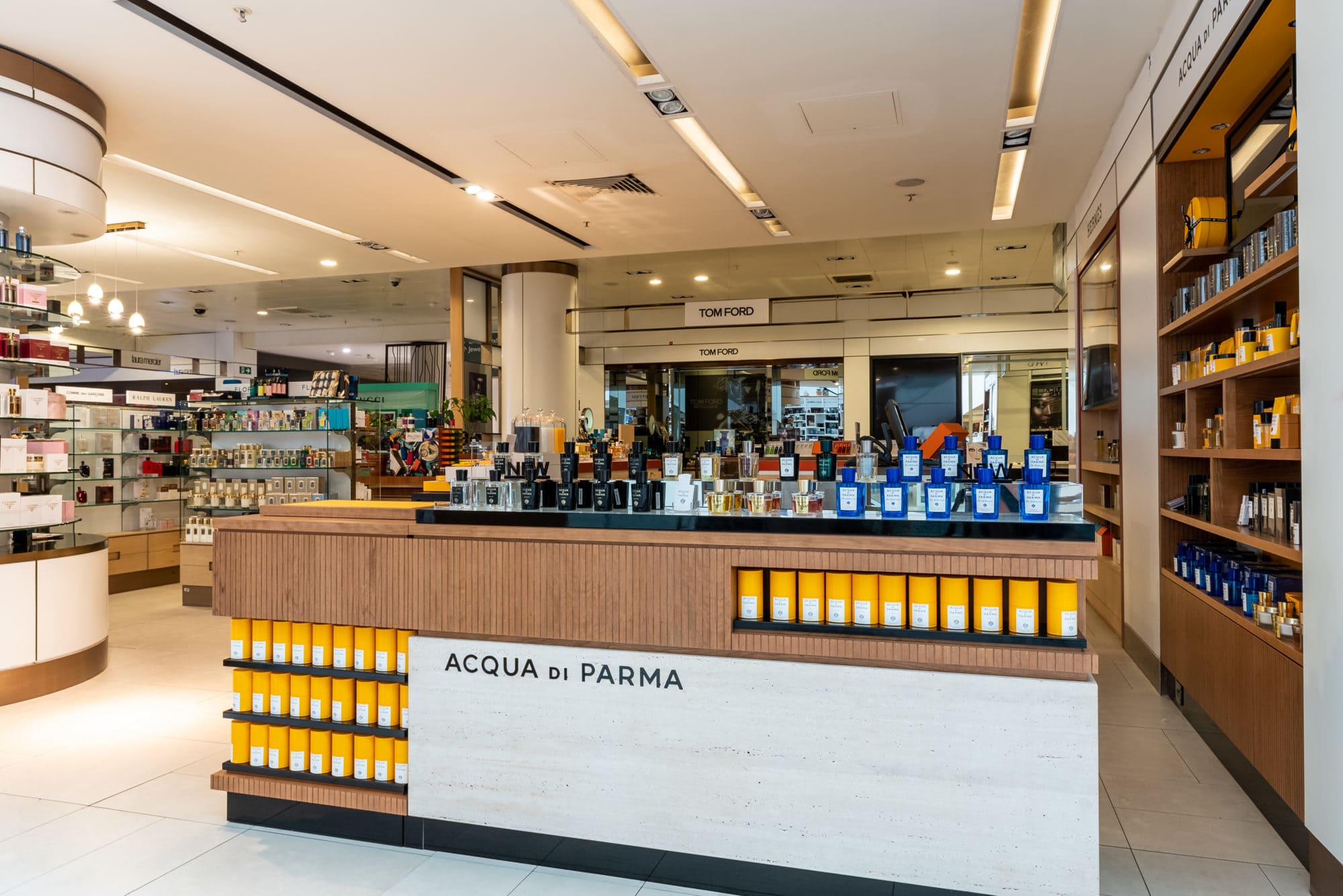 1   Value engineering
When our senior designers are appointed to design a shop-in-shop or branded space for a large-scale roll-out, they work closely with our in-house technical developers to ensure that materials, design elements and the overall configuration of a SIS or branded space is being designed to be as cost-effective as possible, without adversely affecting creativity. Thus, value engineering begins at the stage of conceptual design, and is not merely an after thought when the cost creeps up.
It is at this early stage of the design process where our designers also ask questions, such as: "Can this concept be made to be more environmentally-friendly?" and "How might this concept work in locations of different shapes and sizes?", among questions put forward by the brief to ensure an infallible design, or several design options are produced for client consideration.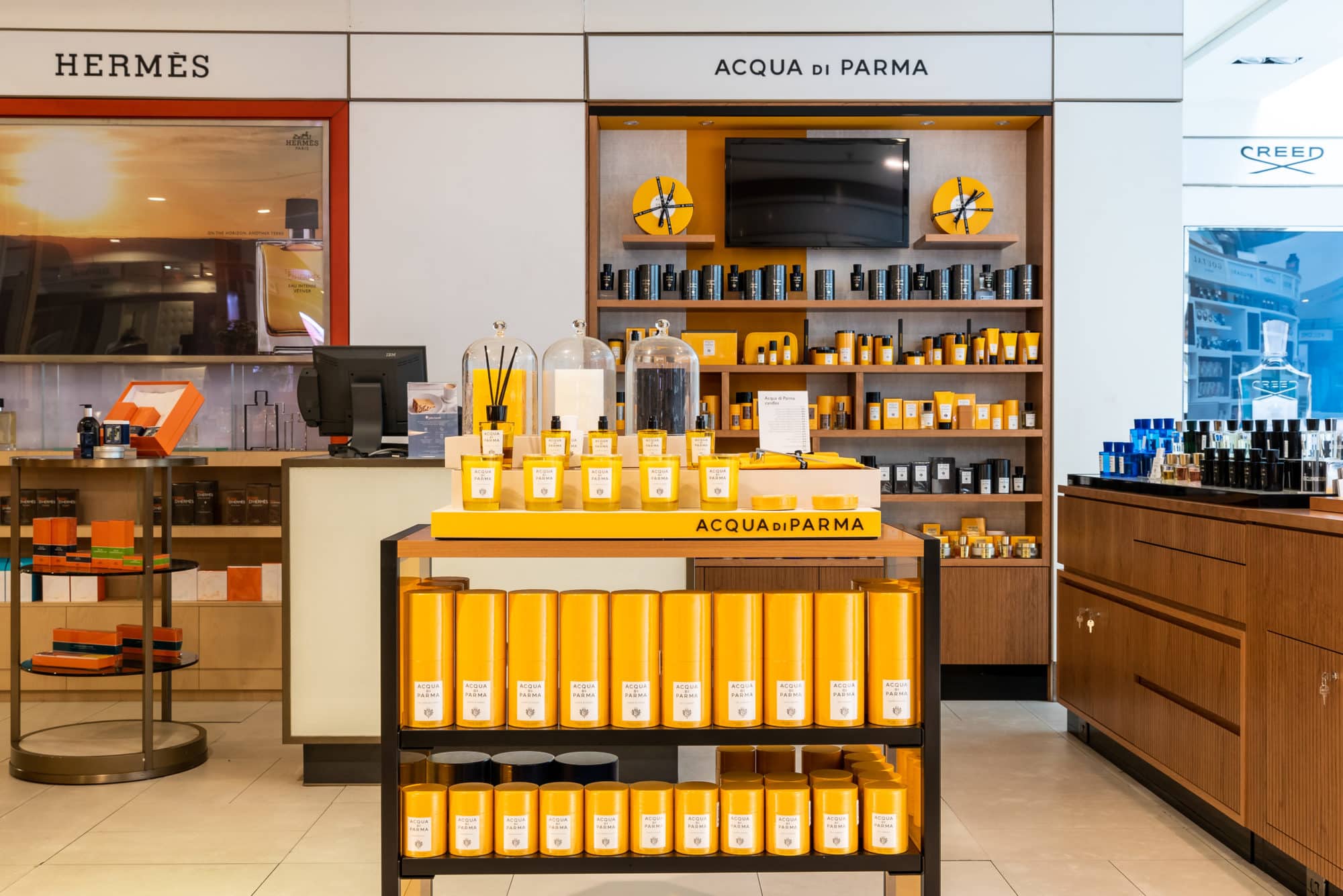 ACQUA DI PARMA
Launching in John Lewis on Oxford Street, we created a sleek, minimalist space oozing luxury, achieved by utilising indulgent materials, bespoke finishes and considered design. Custom Italian wallpaper,  striking natural travertine stone and rich timber create a stunning backdrop to display Acqua di Parma's luxurious range. A brand with integrity and sincerity at its core, Acqua di Parma emphasised the importance of utilising sustainable materials from the very start. We worked with local suppliers to recreate the look and feel of traditional Italian materials whilst ensuring to never compromise on quality.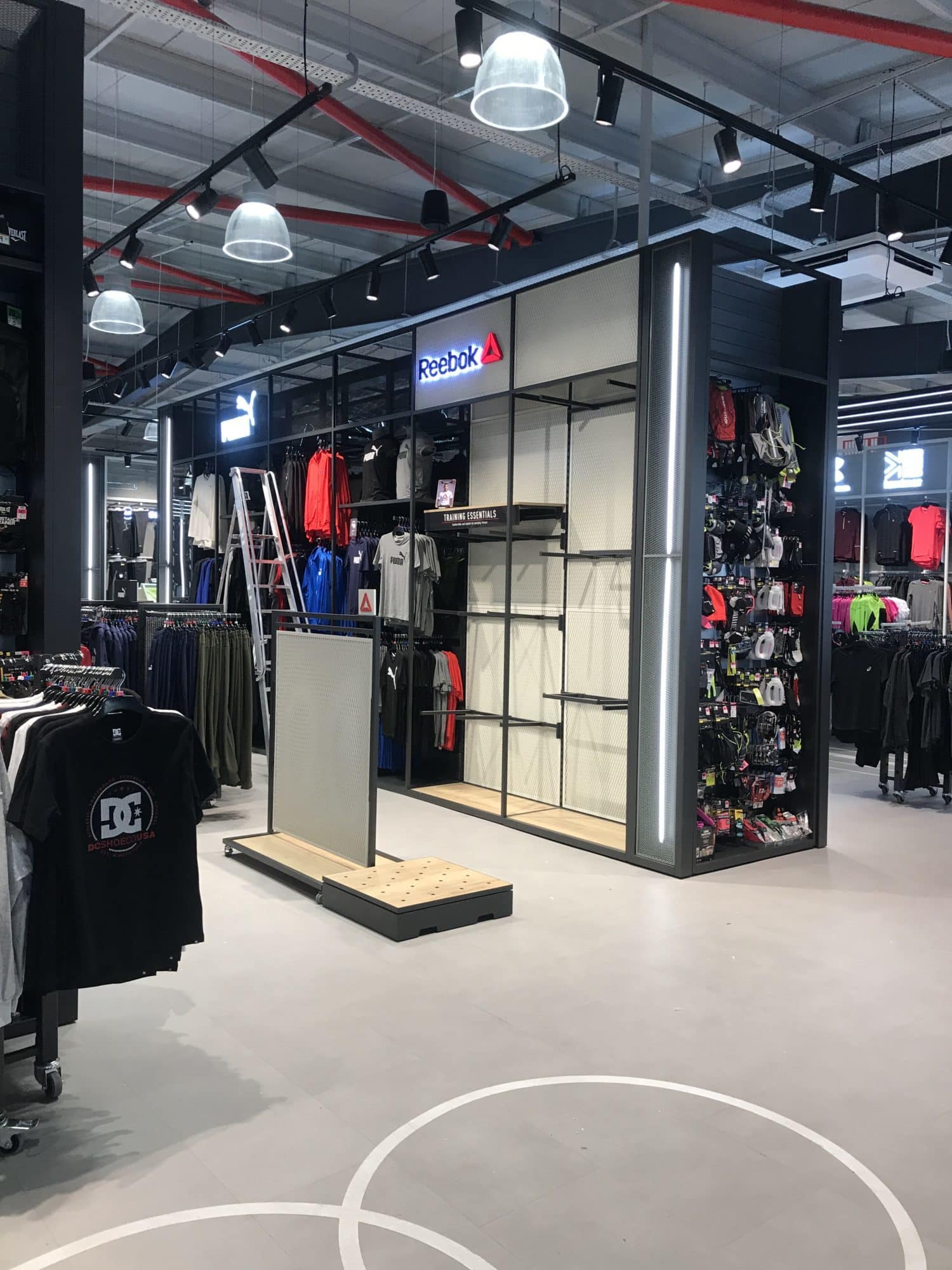 2   User-friendly
Whilst it is important for a shop-in-shop or branded space going into a single location to be designed in such a way that is straightforward to merchandise by agents of a multi-brand retailer, it is perhaps more important to ensure that shop-in-shop or branded space roll-outs are user-friendly.
This is not only because designers would otherwise receive a large influx of queries from the staff of several (sometimes hundreds) of stores when it comes to merchandising the SIS or branded space, but also to ensure that the shop-in-shop or branded space is merchandised consistently throughout the multi-brand retailer's estate. The requirement for the SIS or branded space to be user-friend is more important-still if there is a communication barrier to overcome (language or time zone) for multinational rollouts.
In some cases, the staff of a multi-brand retailer are required to install the entire SIS or branded space themselves due to retailer policy, adding further reason for a SIS or branded space to be designed in a way that is user-friendly to install. This is typically achieved via a handover of detailed instructions and notes from D4R (a retail design agency), as well as creating a clear pathway for communication between ourselves, the brand and the retailer.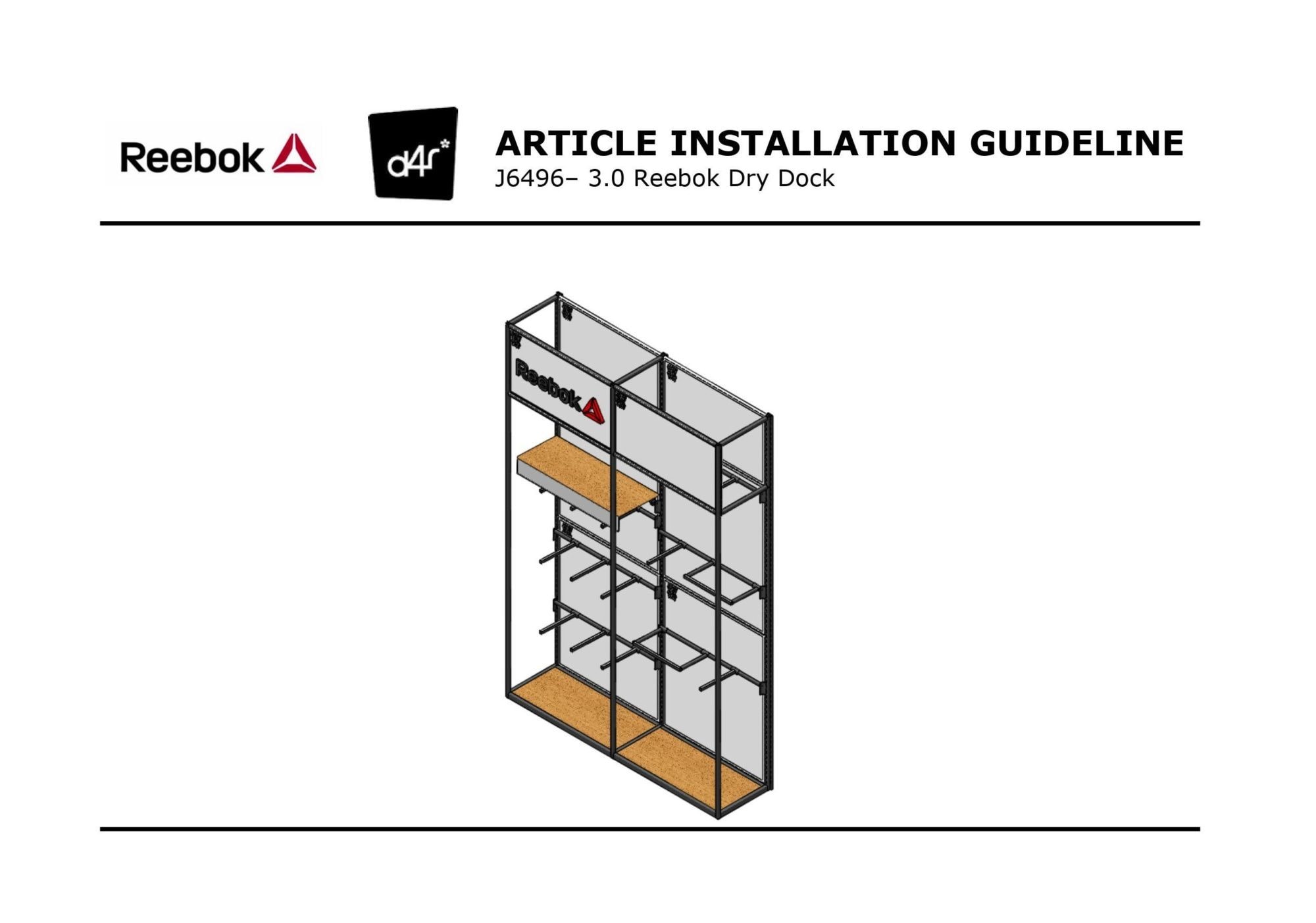 REEBOK
D4R designed and developed a Reebok-branded wall bay system which was rolled out to several Sports Direct locations. Alongside developing the wall bay parts for production, our technical designers also produced comprehensive installation guidelines for an effortless and user-friendly install process.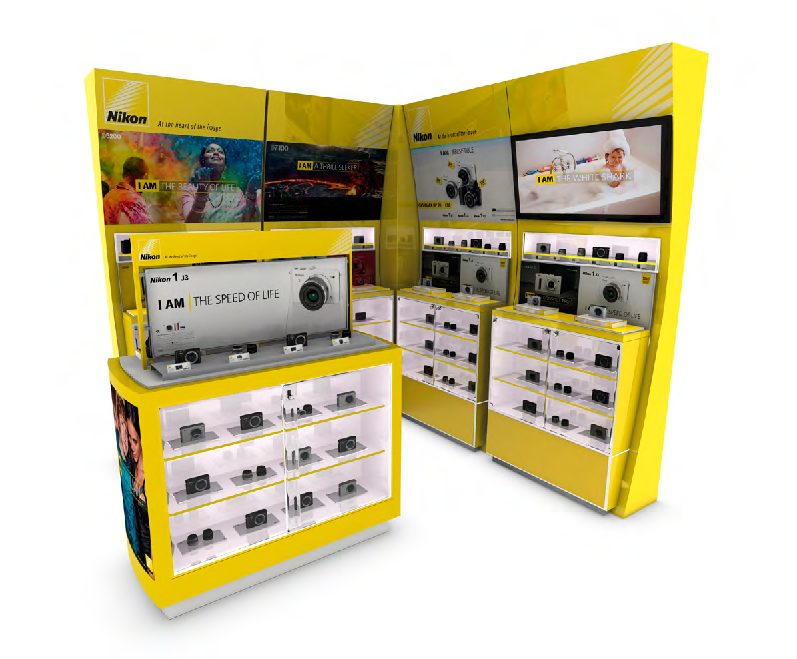 3  Toolkits & modular systems
In response to ensuring that a SIS or branded space is user-friendly, uses a concept that works well in retail environments of different shapes and sizes, and costs less per SIS or branded space by taking advantage of economies of scale, a modular approach to the design of an SIS or branded space is deployed.
This modular approach entails designing, developing and producing individual elements (or modules) which when put together compose the intended design concept. These modules can be configured in a multitude of ways to serve areas of different shapes and sizes, simply by adding, subtracting or swapping out modules, depending upon the space. The advantage of this is that a brand can avoid having to have bespoke furniture designed, developed and produced to meet specific space requirements. Thus, saving on cost and time.
This collection of standard elements can be referred to as a toolkit or 'kit of parts', with each retailer requiring varying types and amounts of these 'tools' or 'parts' depending on the size and shape of the negotiated site. If for whatever reason another agency or the staff of a retailer are required to install the shop-in-shops or branded spaces, a design agency, such as ourselves, will share this toolkit with the other party, along with instruction of which 'tools' are to be installed at which site, and details of their configuration. Otherwise, our own installers will use this toolkit as reference.
NIKON
Using Nikon's brand guidelines, we designed a kit of parts, complete with wall bays, shelf risers, play tables, cabinets and table end units. Nikon can draw upon this kit of parts to effortlessly create a striking branded space, no matter the size or shape of the negotiated site.
Kit of parts
If you would like us to support your brand with the design and/or implementation of a SIS or branded space rollout, please do get in touch with one of our Retail Design Specialists – hello@design4retail.co.uk.
What's trending?
This short-read article comes from March's insight report, "Maximising the impact of your shop-in-shop or branded space". To receive future insight reports and retail highlights, simply subscribe to our mailing list by clicking the link at the bottom of this page and entering your details.