On The Road _
L'Occitane Regent Street
Returning 20 years after opening their first boutique on this iconic shopping street, the 6,450 square foot store is spread across two beautiful floors.
After reading all about the 86Champs store and unfortunately not having the time to visit earlier this year, we were thrilled to hear of the London opening and have finally been able to see the L'Occitane Regent Street space for ourselves.
Upon arrival at the flagship, we were greeted by a brand ambassador spritzing some of their gorgeous scents outside of the store. If we hadn't already been on our way to the store, would this have enticed us anyway? Probably. Another win for sensory and emotive retail marketing.
At first glance, you can see that dedication to natural beauty was integral as part of the retail design, with an abundance of flowers and plants across the space creating a calming and refreshing summer feel. In fact, this freshness associated with the botanicals is complimented by the soft colour palette and warm lighting throughout the entire store.
Prior to our visit, our research yielding results that 'Customers are invited to go on a multi-sensory journey through the store to experience the beautiful textures, fragrances and sounds of Provence.' With each part of the store clearly signposted, we were encouraged to begin our journey and weave our way across the two floors at ease. And we could go on and on about the store as a whole, but we'll focus on three key aspects of our journey: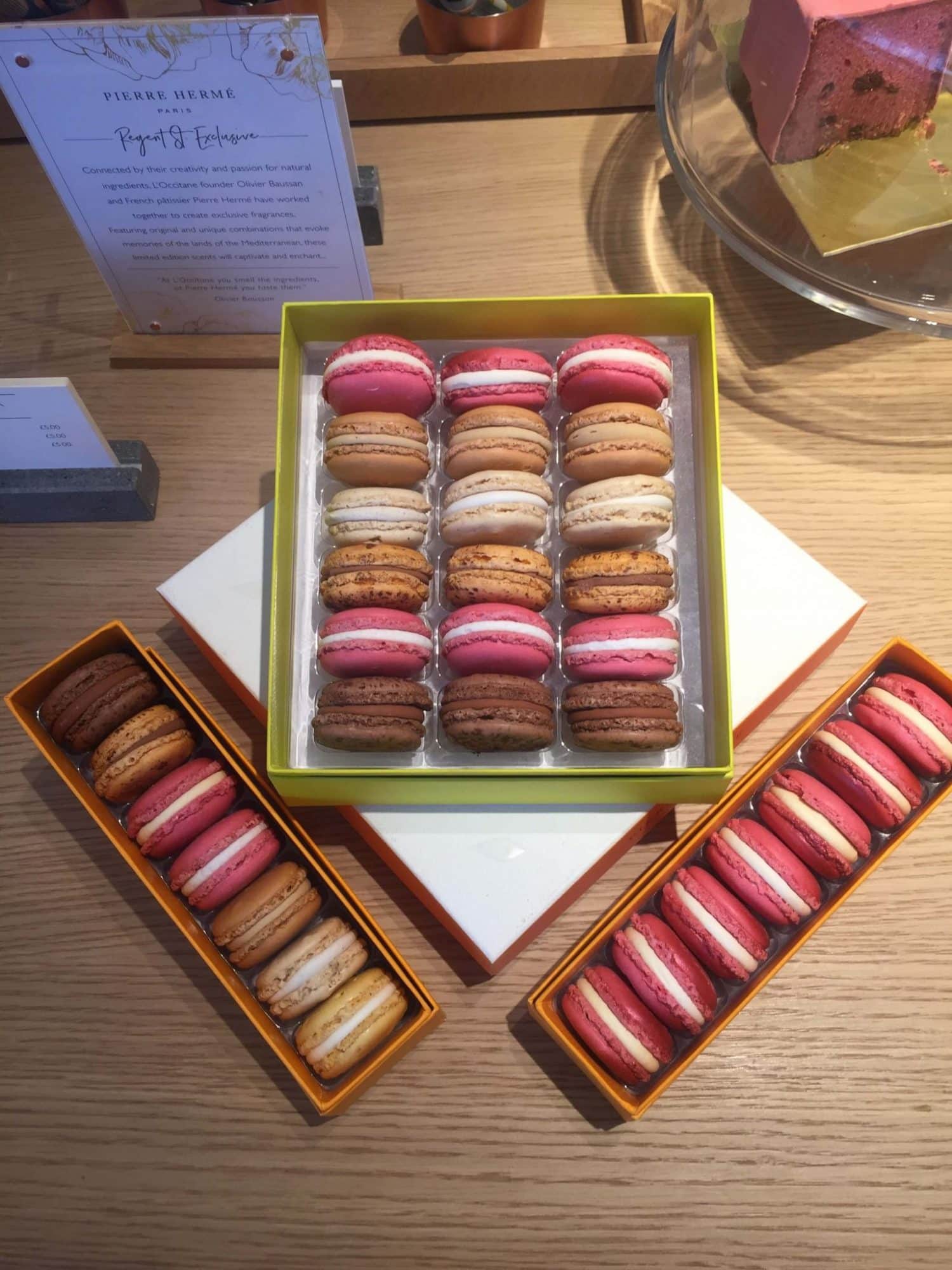 Fragrance with Flavour
Following in the footsteps of the 86Champs store, this flagship is also home to a beautiful 'Macaron and Hand and Arm Massage Bar'. A lengthy name for this experiential space, but certainly worth a visit!
Combining the concept of spa and café into one multi-sensory space, consumers are encouraged to engage all five senses whilst visiting this bar. Eat a macaron courtesy of pastry chef Pierre Hermé whilst enjoying a hand and arm massage, with the small French pastry complimenting the fragrance of the L'Occitane product. Luxurious yet quirky, this bar answers all our prayers about combining physical spaces with emotive responses.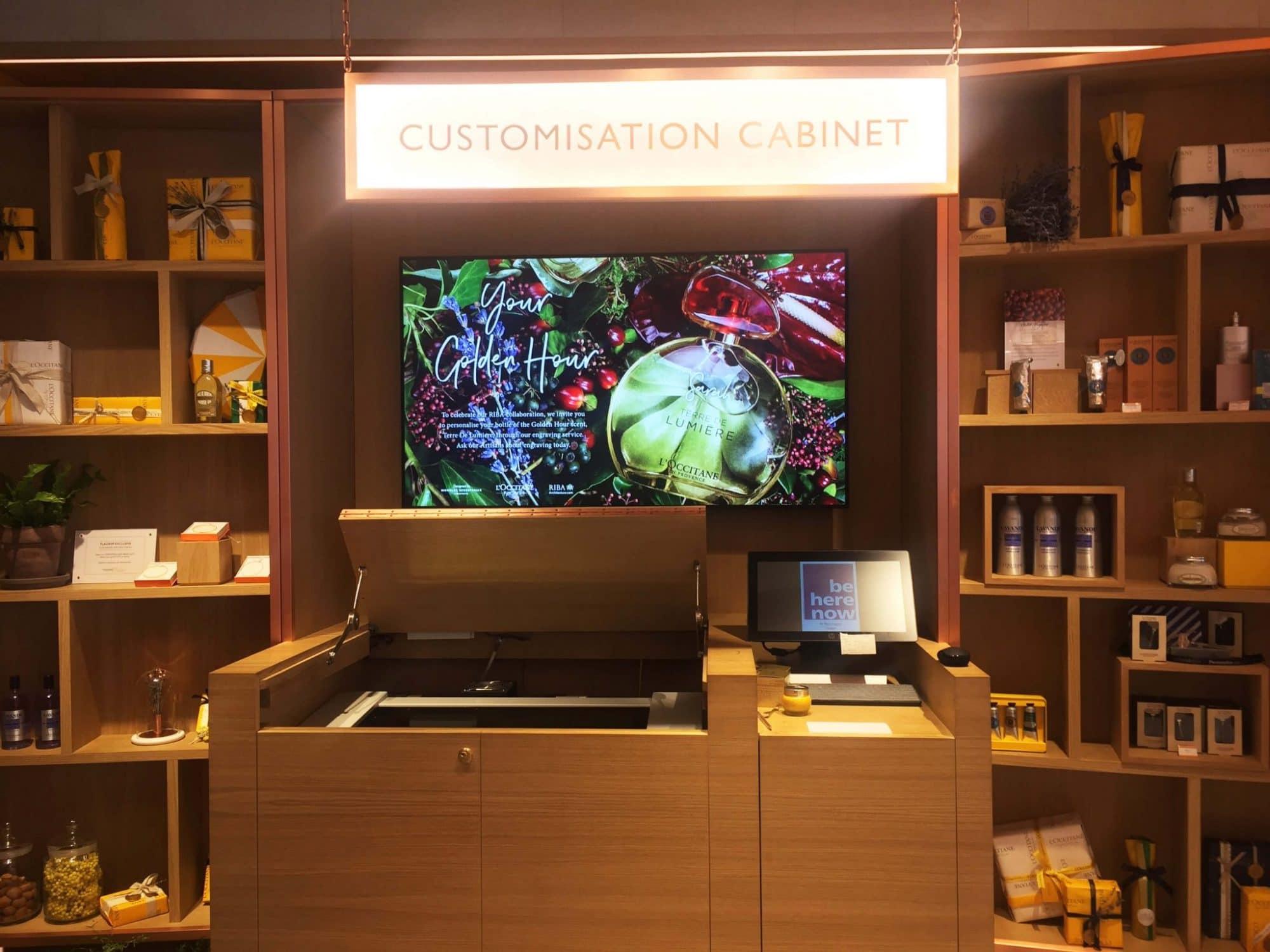 Personalisation
'The store's design is our first to centre around a desire for memory creation through inspirational storytelling. This guiding principle has resulted in a store packed full of unique sensorial experiences and enhanced personalisation and customisation opportunities so that every shopping trip is truly unique' – Jamie Taylor, retail, wholesale and property director at L'Occitane UK.
With personalisation such a hot topic, L'Occitane have their very own 'Customisation Cabinet'. To celebrate their RIBA collaboration customers could personalise their own bottle of the 'Golden Hour Scent, Terre De Lumiere' with the opportunity to engrave with your own message. Other products could also be engraved, a great personalisation touch if you ask us.
The art of gifting is very important to L'Occitane and core to their heritage. Designed to be an experience rather than just a service, the 'Gifting Garden' offers a luxurious gift-wrapping service. Further exploring personalisation, customers can tailor the service for any occasion and recipient. You can print your own unique ribbon design and even finish it off with an initialled wax seal – that's just really cool.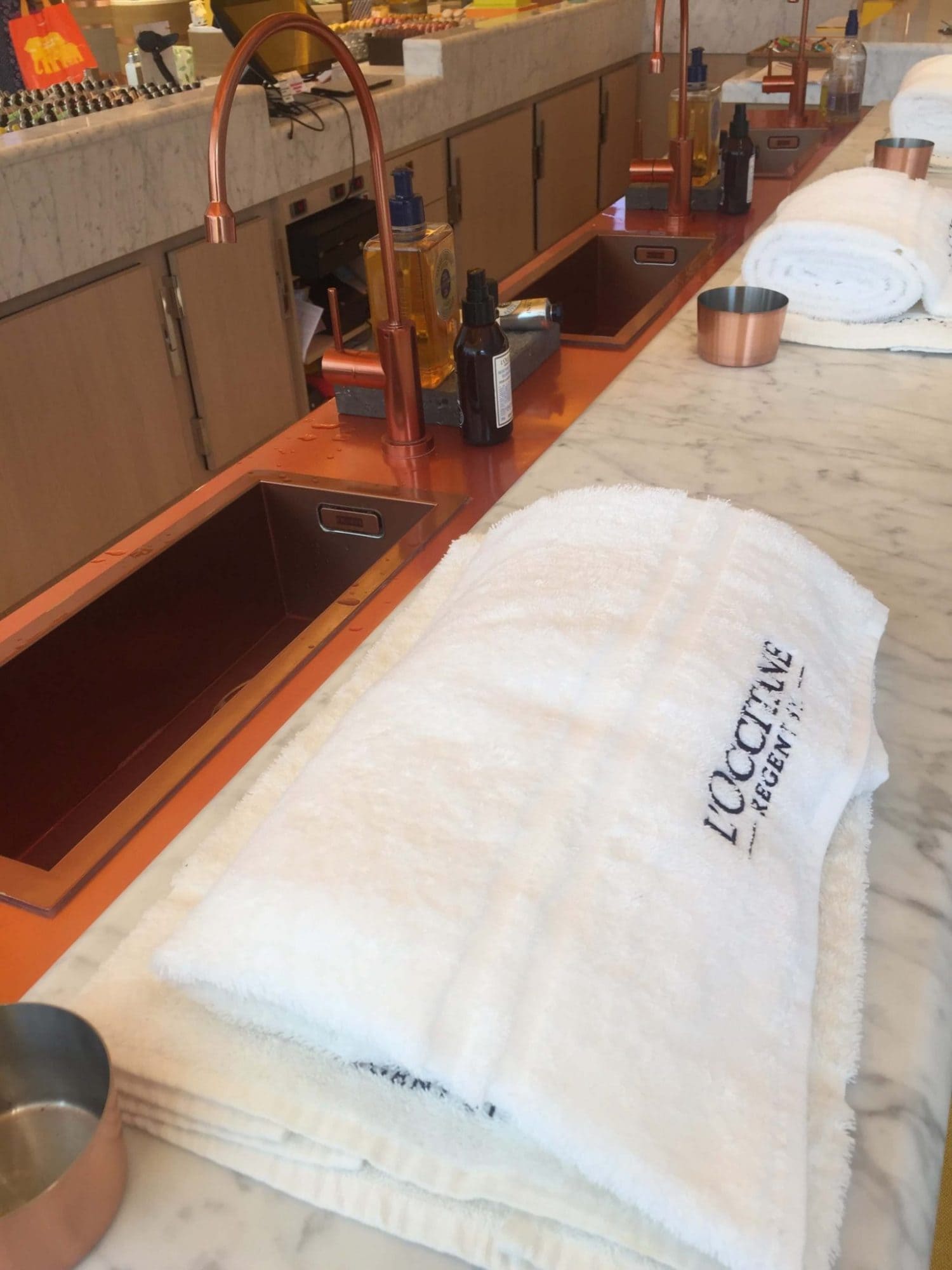 Experiential Beauty
Whilst the combination of hand massage with macarons is a definite highlight of experiential space, the L'Occitaine Regent Street store is brimming with sensory experiences. The Beauty Discovery bar is another area dedicated to creating the human-centric experience, offering shoppers the chance to receive tailored facial treatments which are designed to target specific skincare needs. The handcare fountain is surrounded by taps to release products for exfoliating, cleansing and moisturising.
Changing the way in which we sample perfumery, L'Occitane have introduced lined ribbons to be tied around our wrists rather than walking around with paper strips doused with scent.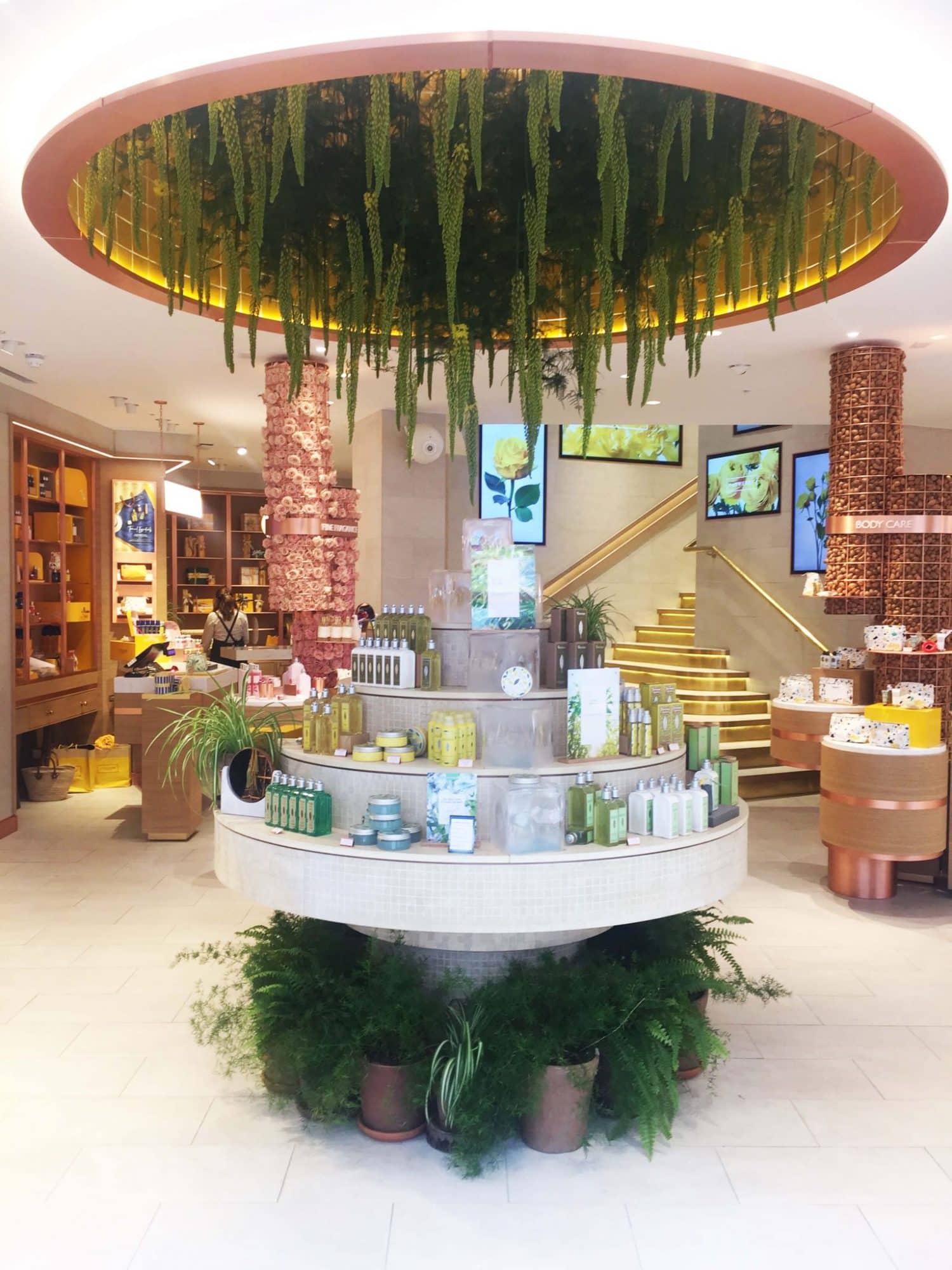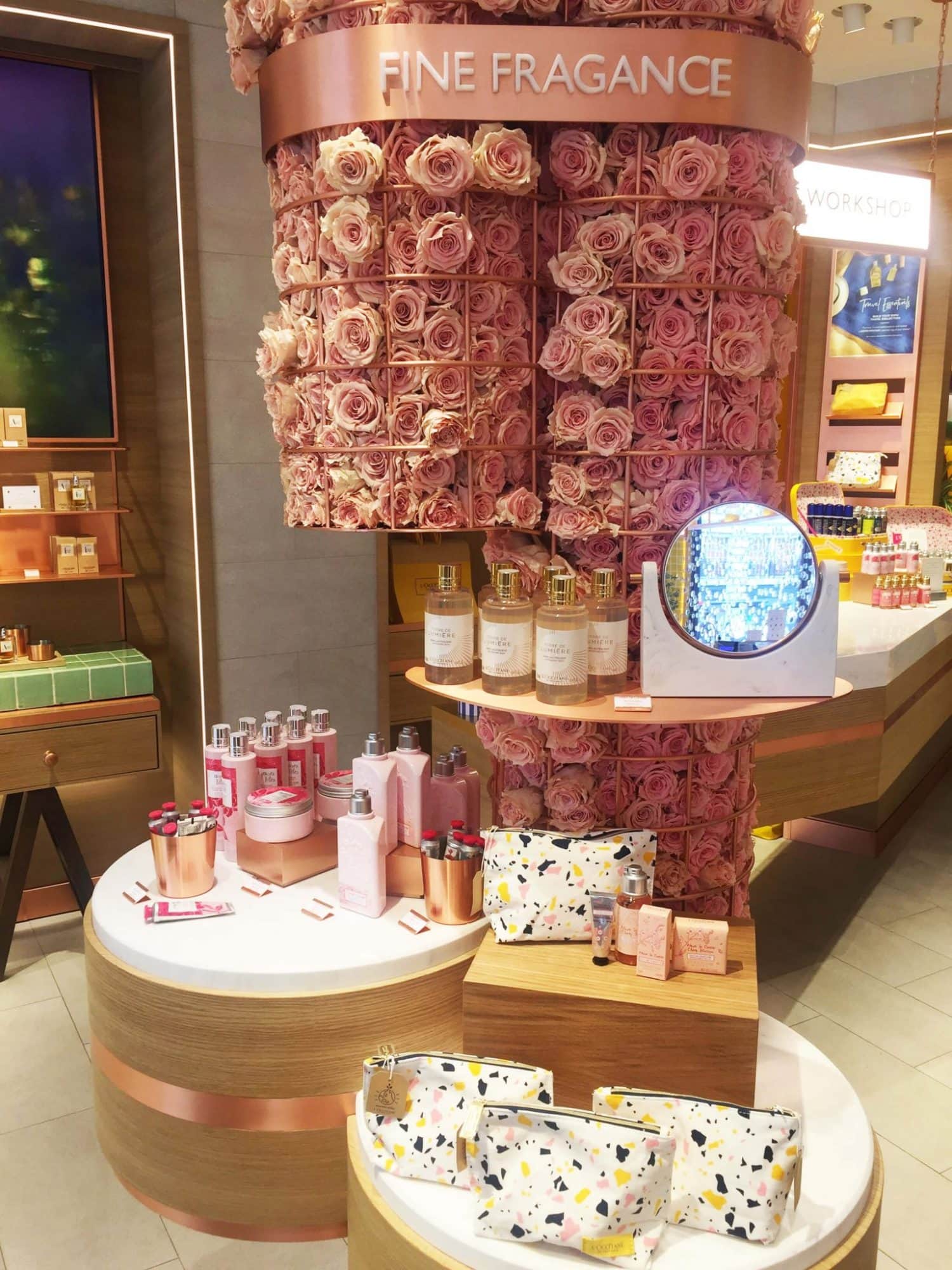 Whilst we're still saddened at the thought that we didn't see the 86Champs store, at D4R we certainly felt as if we'd entered the Parisian highstreet whilst visiting this new flagship. As sensorial design becomes integral to retail activations, we're pleased to review this store so highly on it's commitment to consumer experience.