d4r x JD Sports _
JD opens new digitally-enabled concept store at Westfield Stratford
Featuring only the UK's best-loved sports and lifestyle brands, JD launched a new digitally-enabled store concept in its newly acquired two-storey retail unit in Westfield Stratford.
Bringing a sense of exploration to the shopping journey through its ticker-tape signage and futuristic-style screens displaying cinematic media, this ultramodern store concept is one of adventure and discovery. Making up its bold, statement design is a series of branded zones, many of which d4r had the pleasure of being involved with – whether it was designing a footwear wall, developing an apparel wall bay, or implementing a midfloor cage.
FIRST, LET'S TAKE A LOOK AT SOME OF THE BRANDED APPAREL ZONES…
"Nobody beats us on brands"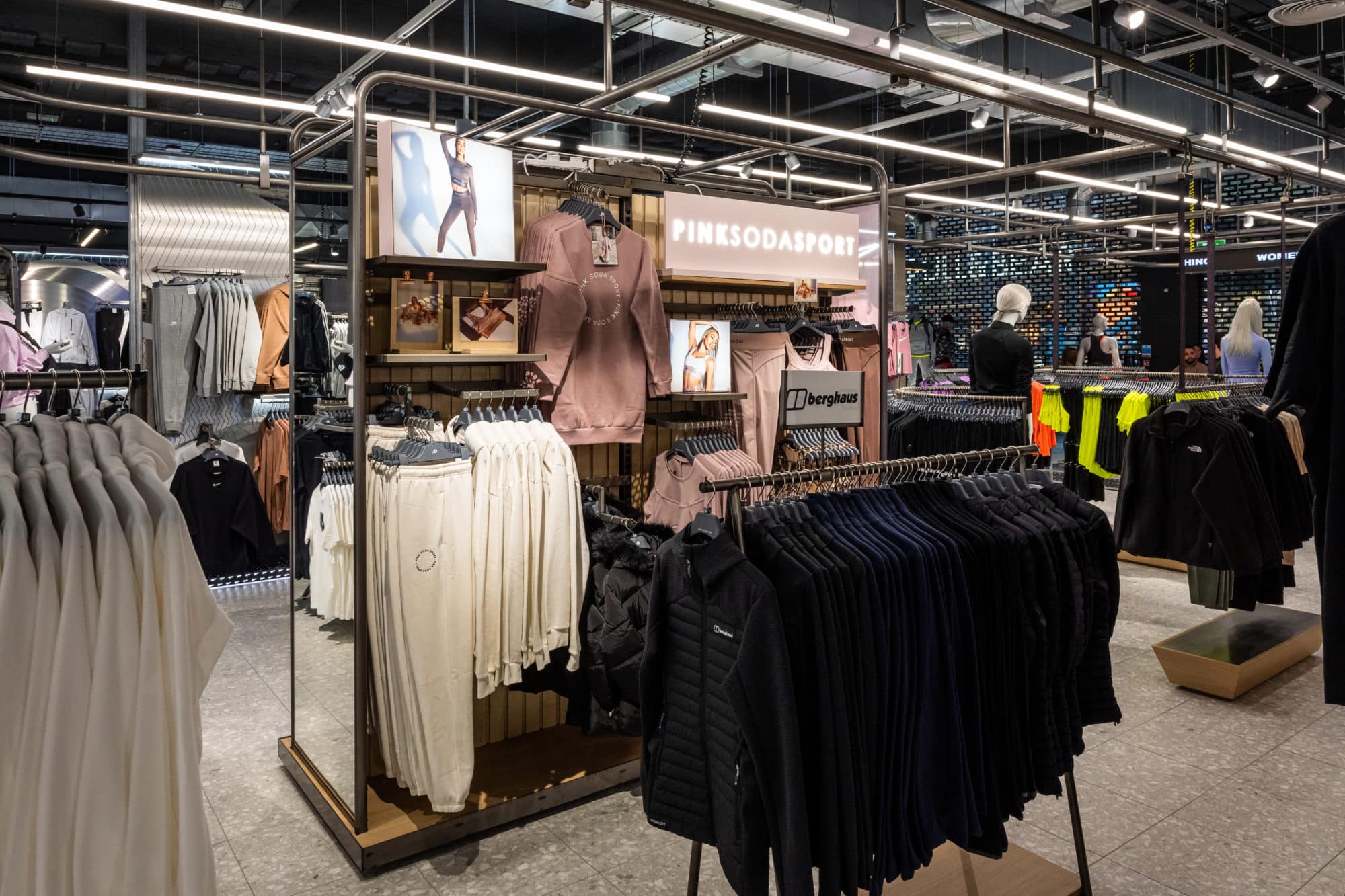 Pink Soda Sport
After being invited to design a soft shop-in-shop concept for JD's own-brand, Pink Soda Sport, which would be trialled in a handful of top JD locations, we were delighted to hear that our concept was really well received among shoppers of the multi-brand retailer – so much so that it will be rolled out to new JD locations in the coming months!
To house the brand's collection of fitness and lifestyle essentials for women, we designed, technically developed and installed a SIS concept with a core focus on materiality, brand elements, and flexibility.
For materiality, we implemented a recycled card for the shop-in-shop's POS elements; and a natural wood backdrop which would complement the brand's signature pink and white, and contrast JD's existing wall and midfloor retail systems. For the branded elements, we incorporated a myriad of POS items in an array of formats, from illuminated 3D brand-signage and freestanding lightbox blocks to POS on clip boards and large lightboxes displaying sports-lifestyle graphics. For flexibility, we ensured that the SIS concept could be easily adapted to different wall and/or midfloor locations. This was achieved by creating a wide-ranging kit of parts where elements can be combined and interchanged for several different SIS variations.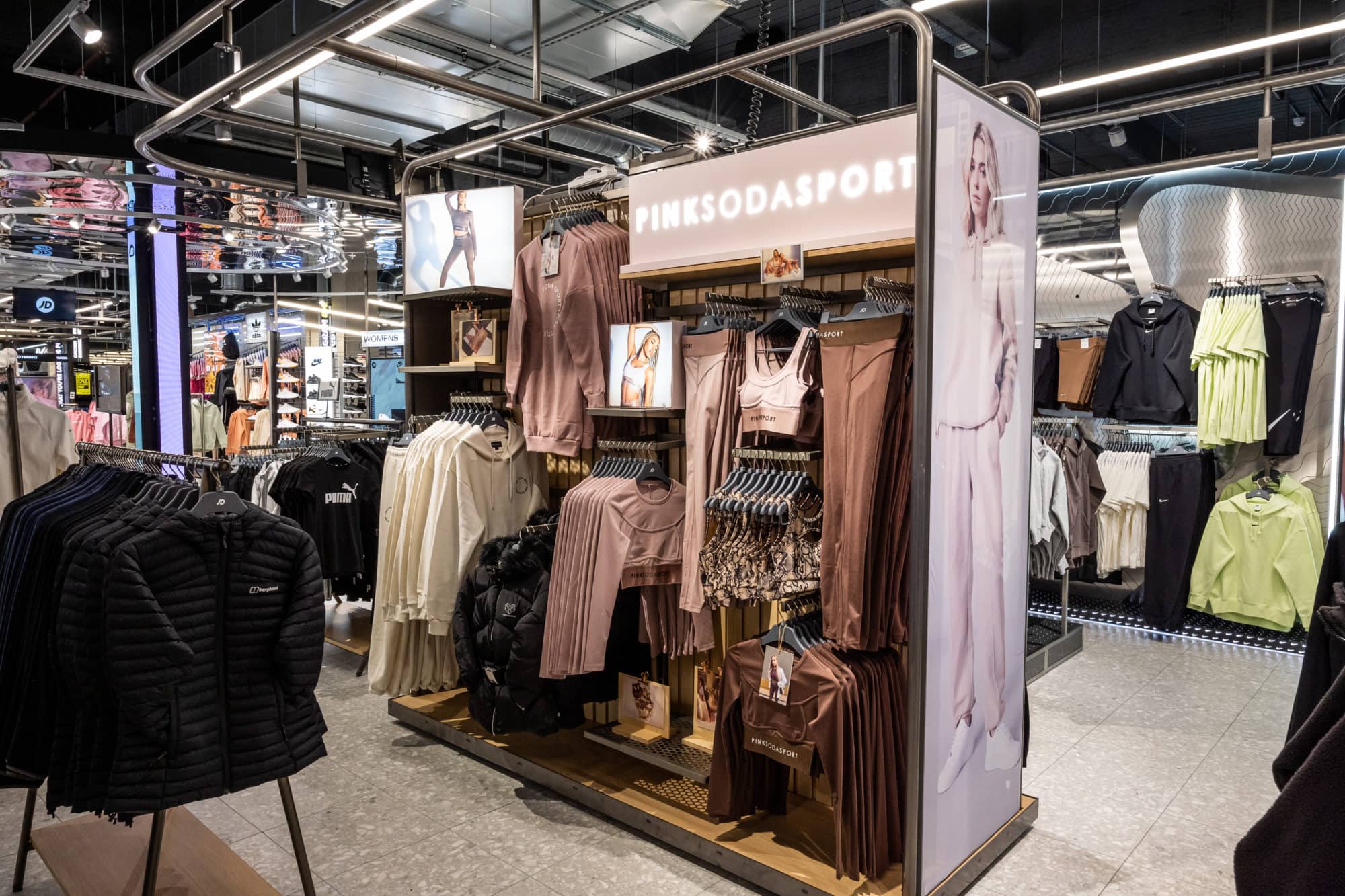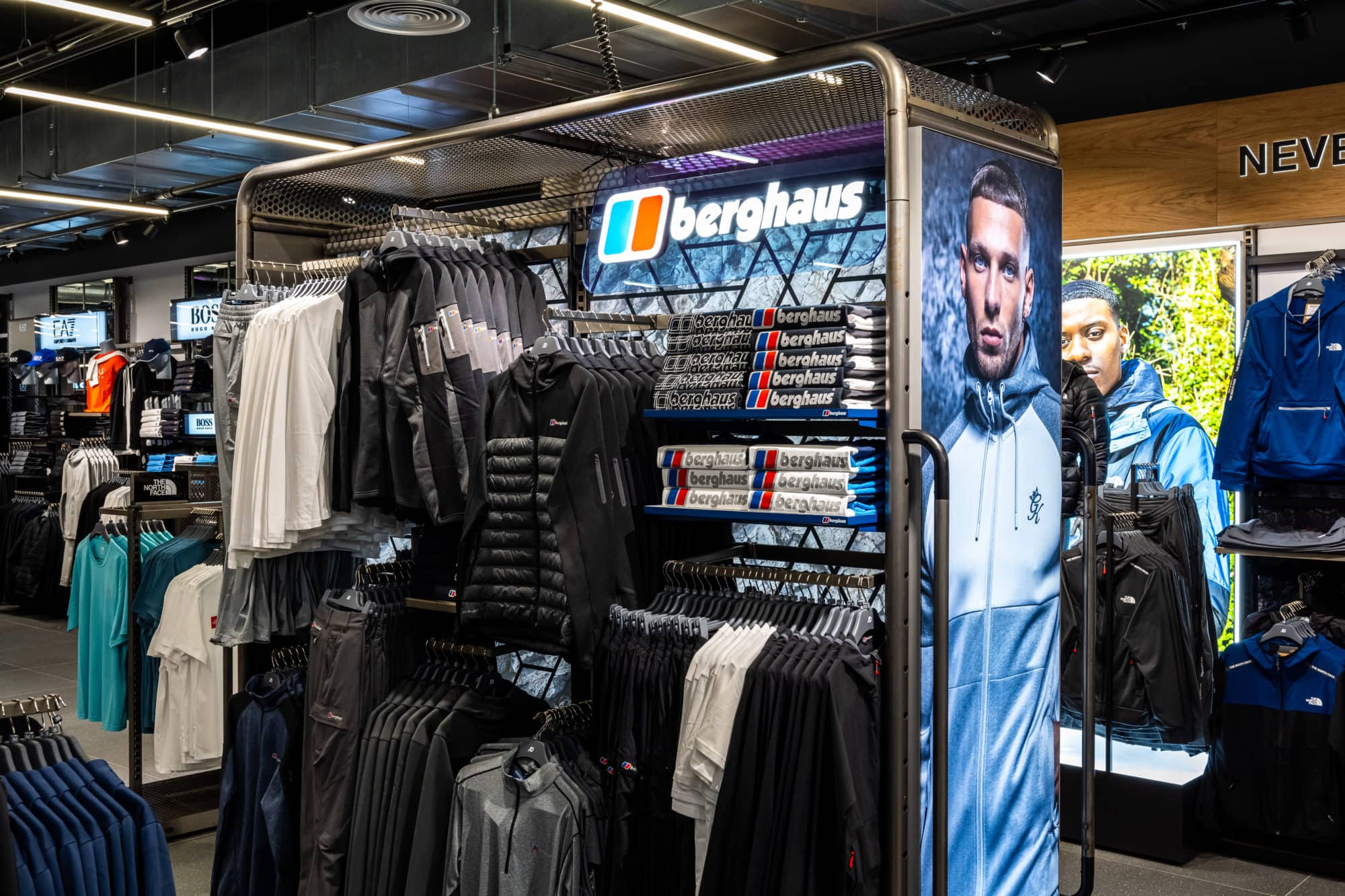 Berghaus
We were tasked by the Pentland brand's Shopper Marketing Team to evolve Berghaus' branded shop-in-shop areas in JD that had been piloted in 2020. With the initial focus being to elevate Berghaus' men's apparel areas in the top 30 JD stores, we designed, developed, produced and installed a concept which would create an overall stronger brand presence.
The result… a flexible kit of parts that works on both backwall and midfloor areas, and stands out owing to its clever use of red and blue brand colours to frame the space; its visually intriguing textures; and its illumination properties, which include a luminous backdrop and 3D illuminated LED signage.
What's more, this flexible kit of parts has been designed so that JD's own store teams can themselves install the branded space, avoiding the need for shop fitting and installation teams to travel to the stores (a plus for the planet).
Hoodrich
As the fastest growing streetwear brand in the UK, JD are keen to further support Hoodrich following its continued popularity among JD customers.
Serving as a great example of how JD can support a new brand's growth, we were asked to conceptually design (including materials and branding elements), technically develop, produce and install a shop-in-shop concept that would duly define Hoodrich's brand identity at retail, and further elevate the contemporary streetwear brand's presence in the sports-fashion retailer.
To create an ultramodern urban backdrop for Hoodrich's utility-inspired collection, we implemented illuminated fluted polycarbonate panels with metal mesh overlays, whilst our decision to include 3D illuminated LED signage and an overhead projecting 'hood' canopy with spontaneously-placed LED light battens gave the brand a strong monochromatic identity.
"From Nothing to Something"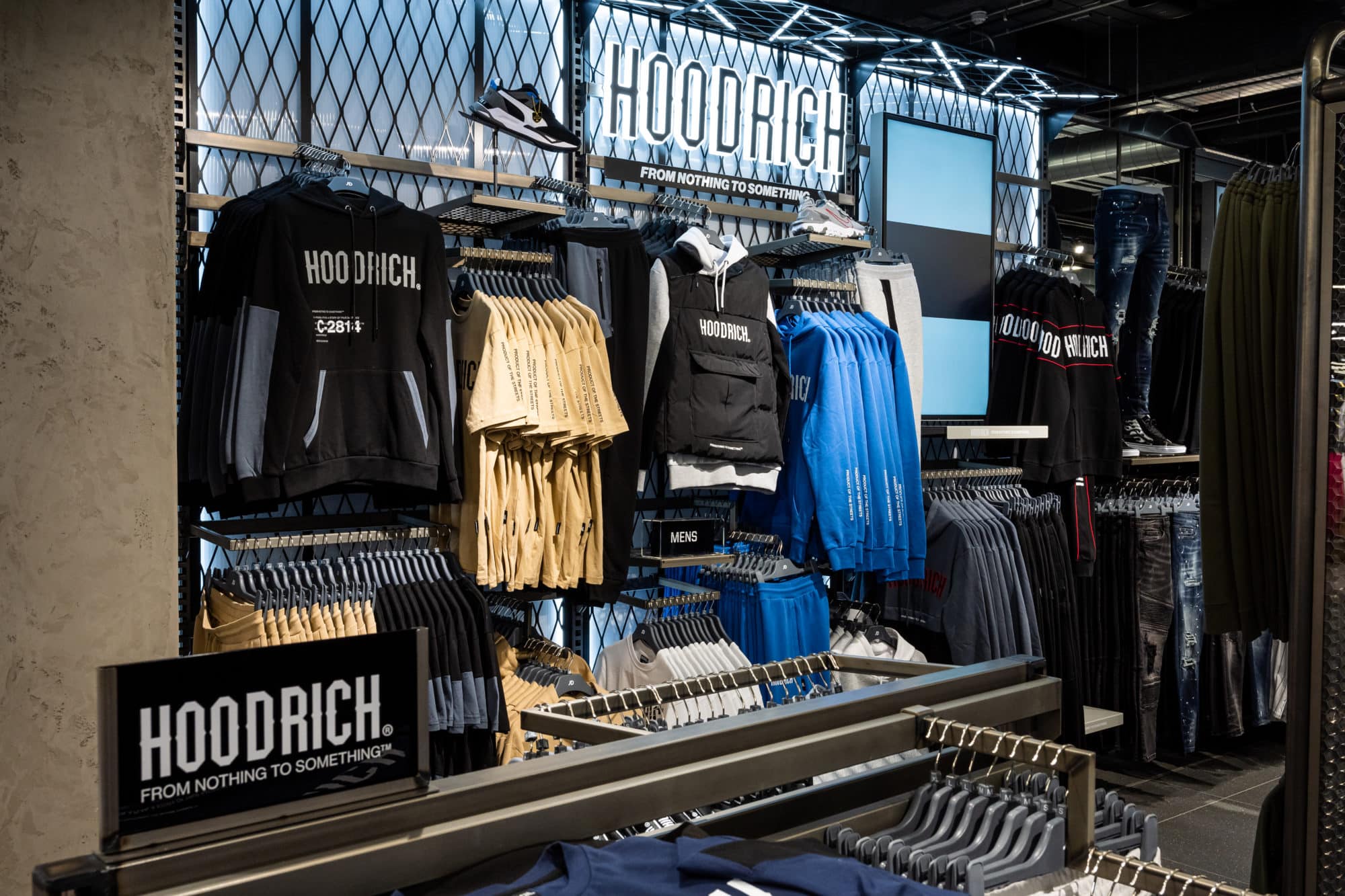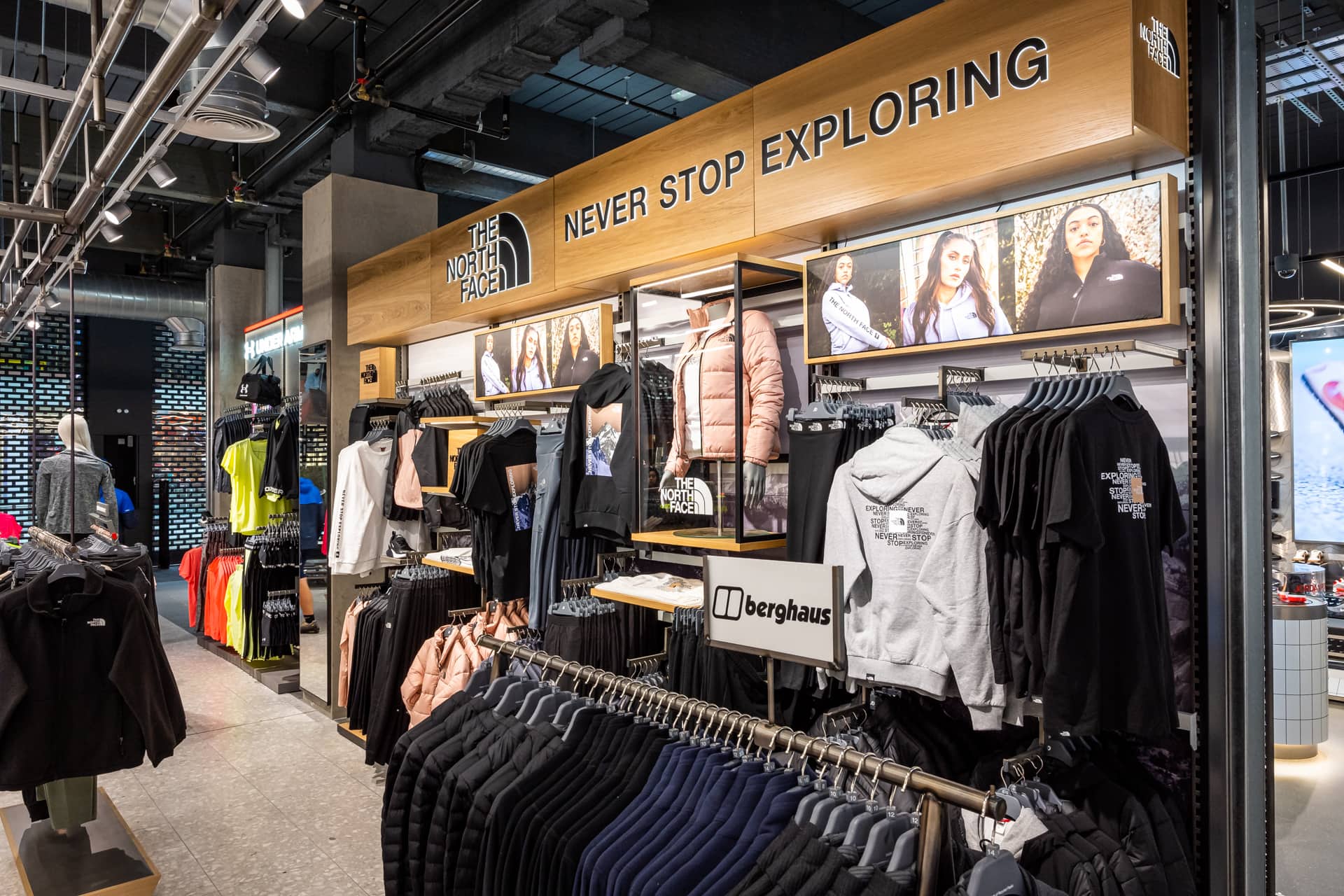 The North Face
Over the past five years, we have helped The North Face to deploy over 150 shop-in-shops in JD stores, both in the UK and across mainland Europe. At beginning of 2020, the outdoor clothing brand embarked on curating a new 'look and feel' for its branded spaces in JD, and d4r were invited to help develop the brand's vision to work across the JD estate.
We prototyped a flexible shop-in-shop solution which was piloted in two JD stores (Paris and Berlin), later to be rolled out by d4r in both new and some existing stores following a successful tender process with VF Corporation.
A projecting timber wall bay header adorned with an illuminated TNF logo and strapline draws the attention of customers whilst the LED-lit timber shelves and black framed display case breaks up the space and draws focus to the brand's hero products. Sitting forward from the back wall, which exhibits a strong half-dome mountain scape, are lightbox blocks displaying TNF branding and lifestyle graphics. The use of strong brand callouts to highlight The North Face's range extends to a modular midfloor storyteller made up of transparent graphic panels and featured-product display.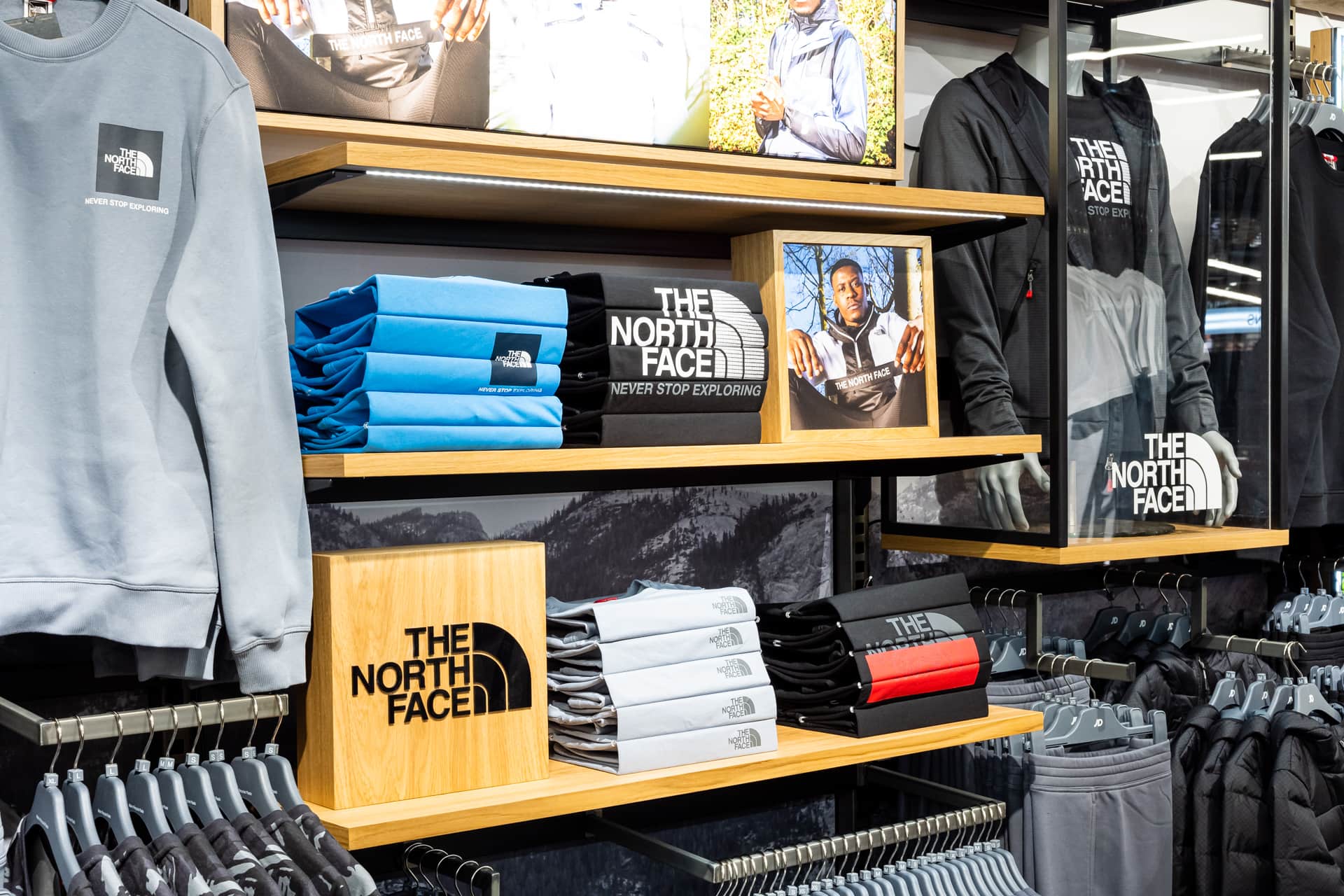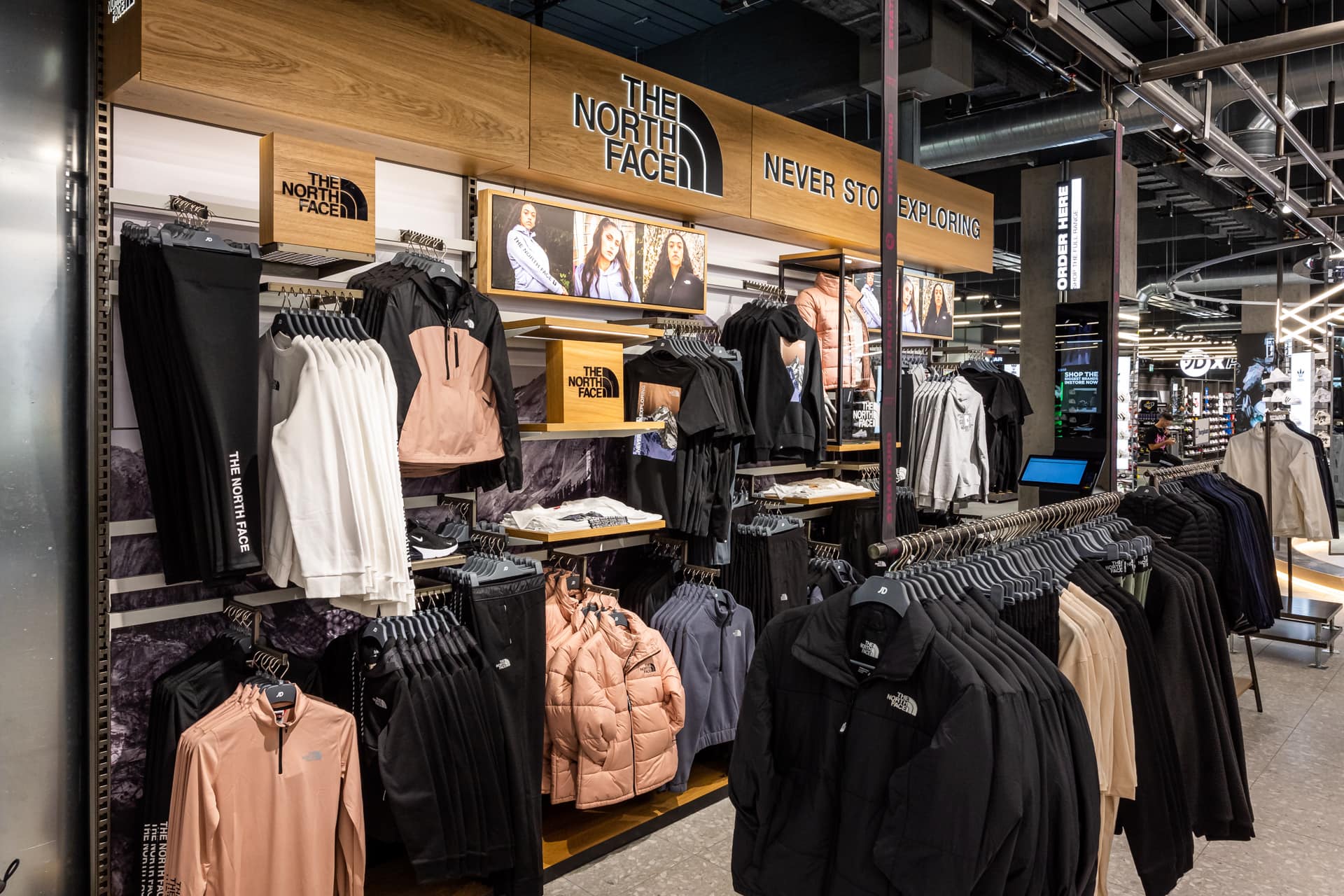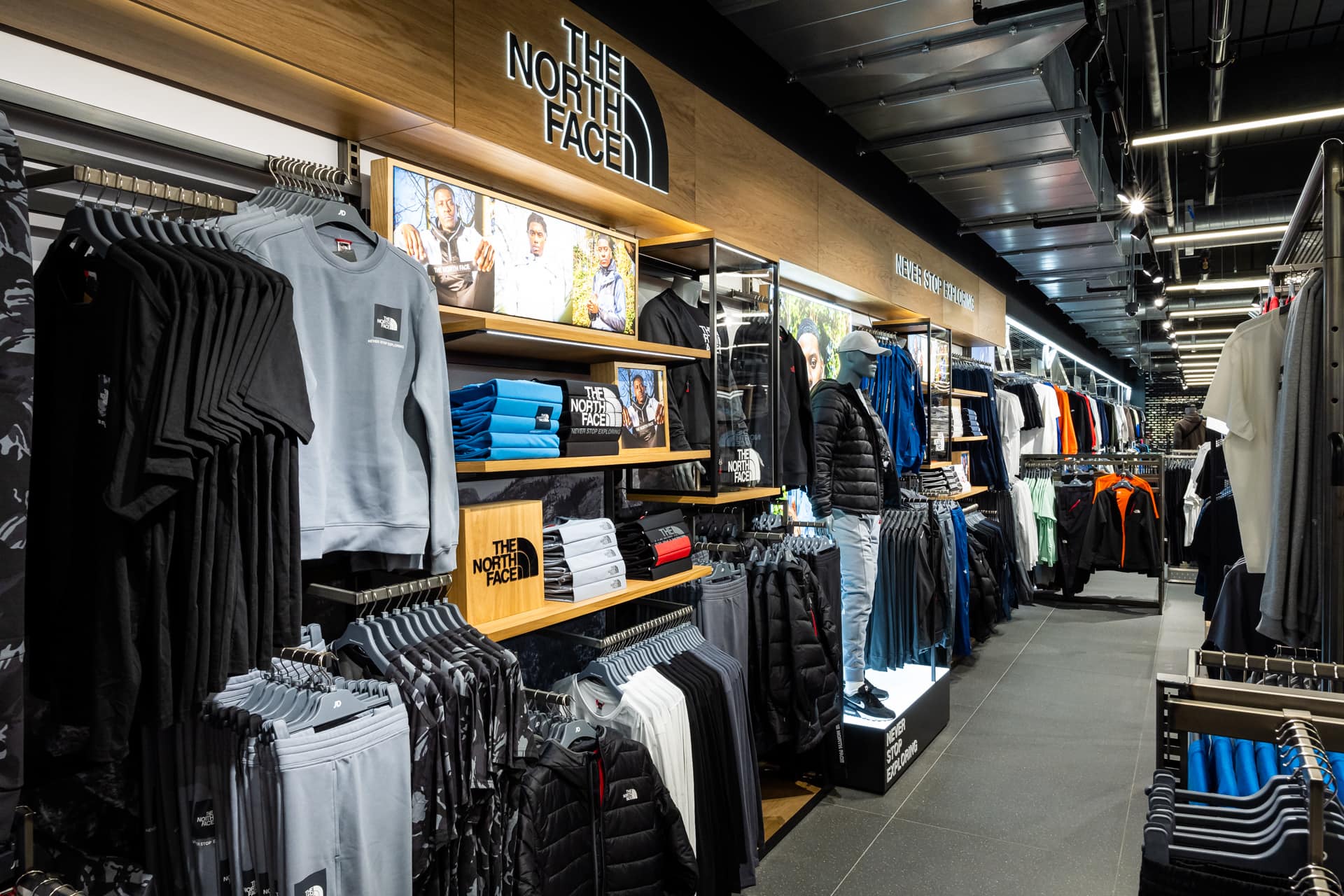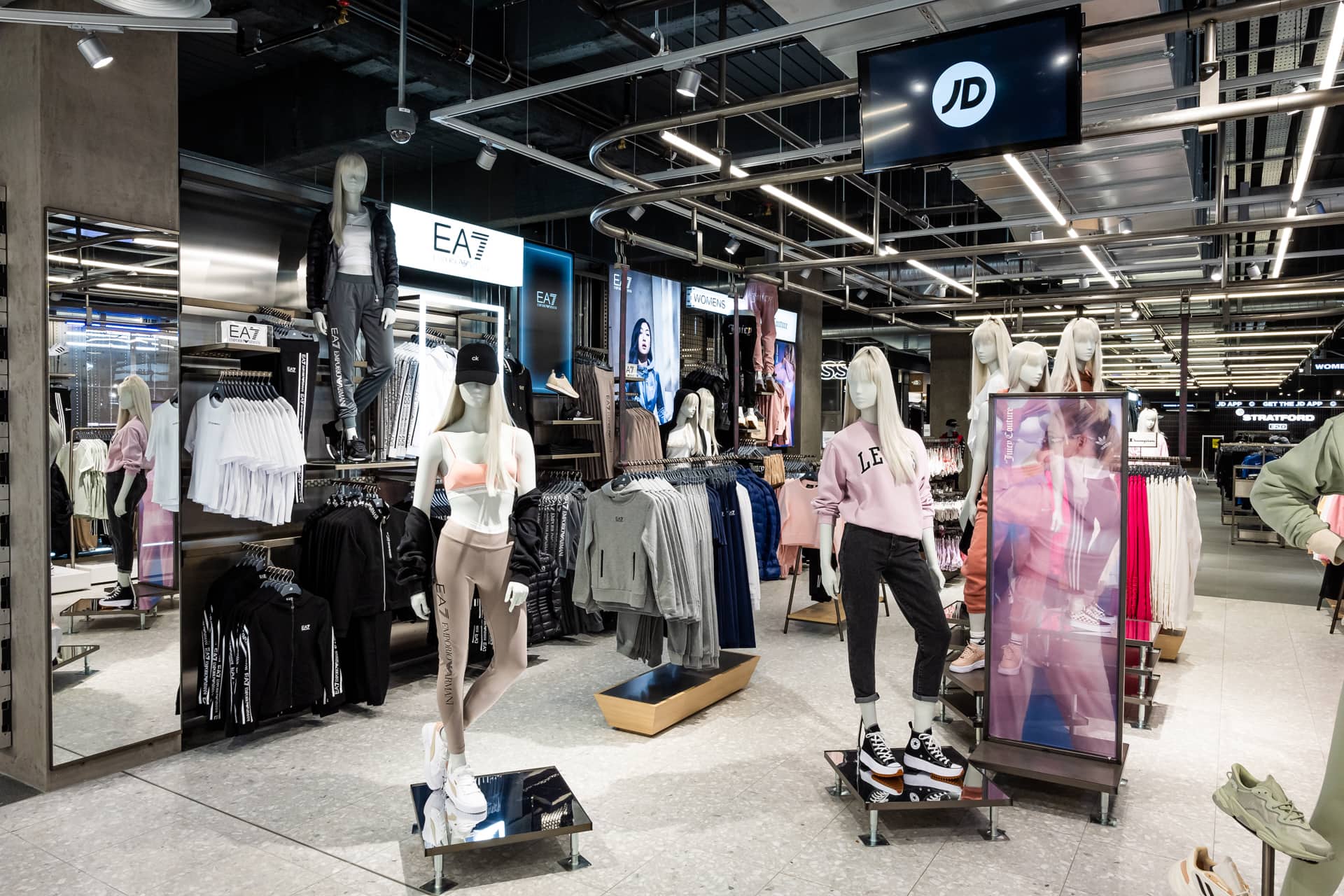 EA7
Enveloping a designer style with a sporty edge, EA7 required an updated womenswear SIS aesthetic that is befitting of the brand. Design4Retail were invited to adopt a series of elements from the menswear concept and add a handful of JD visual elements, to support the brand and JD's Visual Retail Team deliver a clean and simple branded space.
Using EA7's minimalist material pallet sporting polished metals and other high-sheen materials in the brand's signature black and white, JD digital signage supplied by the JD Digital Team to bring a sense of movement to the space, a large lightbox displaying lifestyle graphics, and Illuminated frame display case highlighting the brand's hero products, this new EA7 womenswear branded space concept stands out among a sea of brands in the brand-new JD Westfield Stratford store.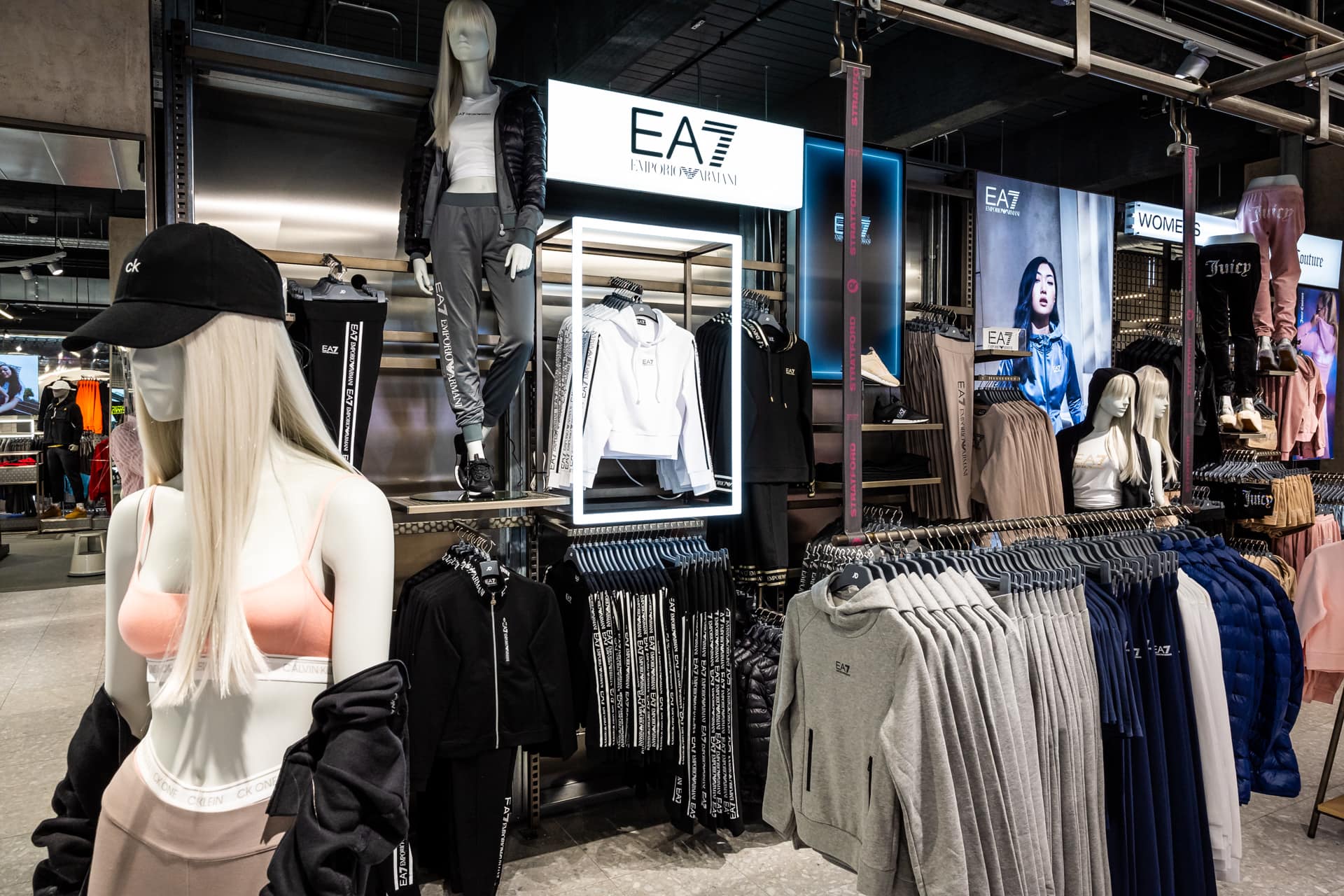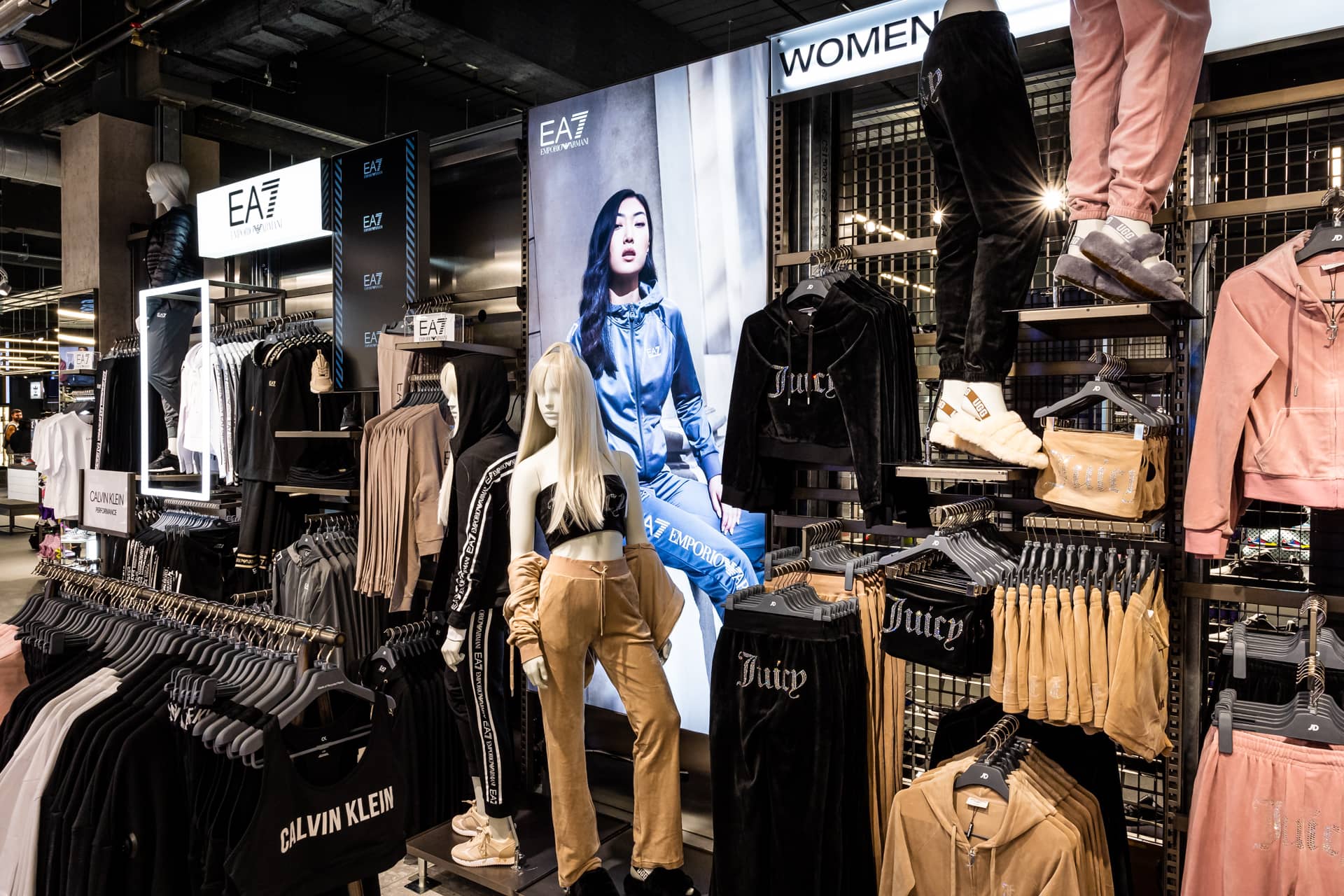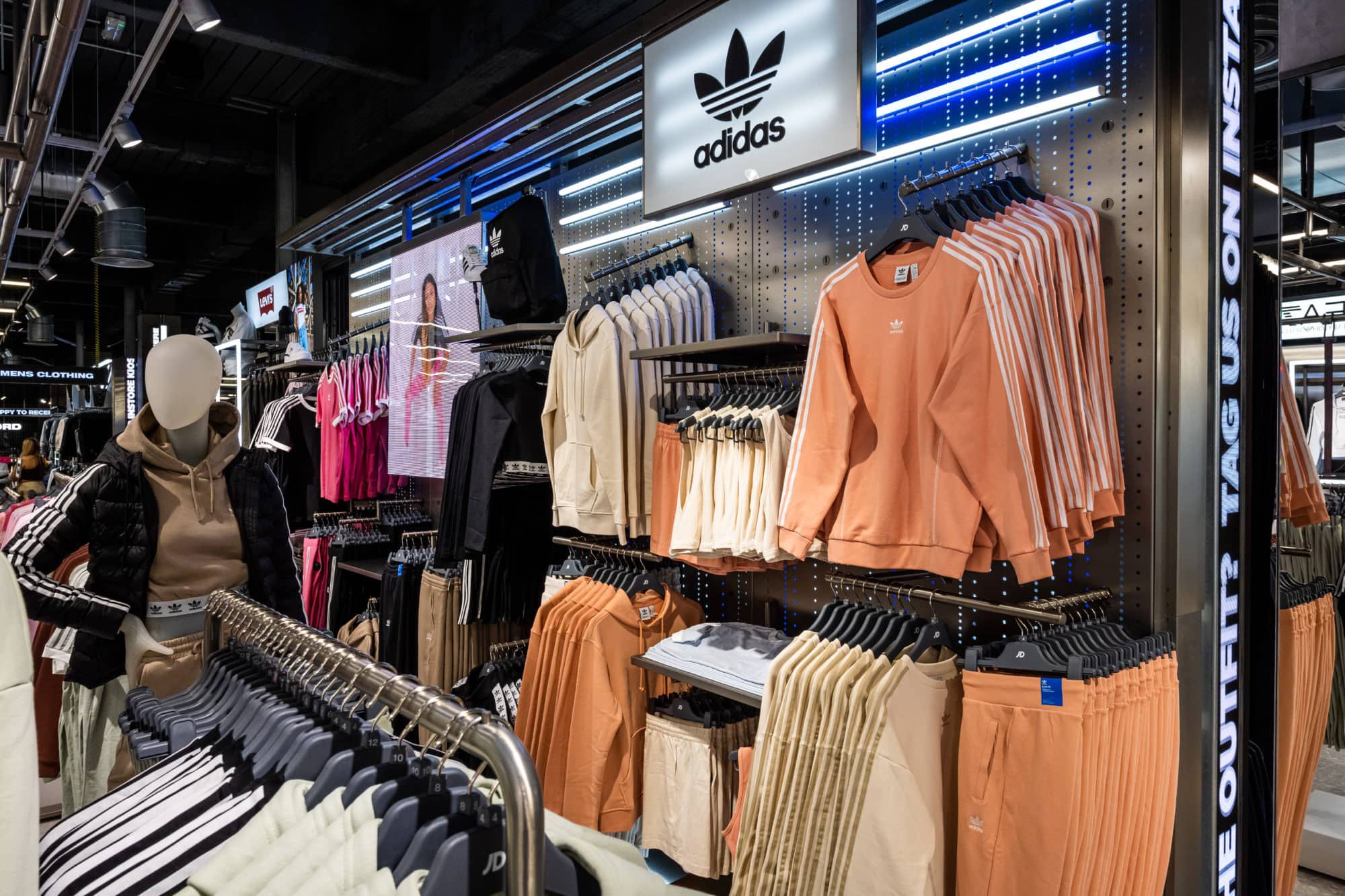 adidas
As the largest sportswear manufacturer in Europe, Adidas was, perhaps not surprisingly, invited by JD to create a series of branded spaces that would complement the evolution of JD's future retail offer and new store concept. Choosing d4r to support the delivery of the new adidas branded apparel spaces with our production and execution services, adidas made a strong impact in this multi-brand retailer – not least with its transparent digital features and illumination properties. The branded spaces for both Men's and Women's apparel feature perforated metal wall bays with blue and white breakthrough-effect lighting and white tube-effect lighting, transportable logo headers, futuristic glass-effect digital screens showing aspirational media, and minimalist midfloor podiums that put Adidas products at the forefront.
NOW LET'S TAKE A LOOK AT FOOTWEAR…
JD, Undisputed King of Trainers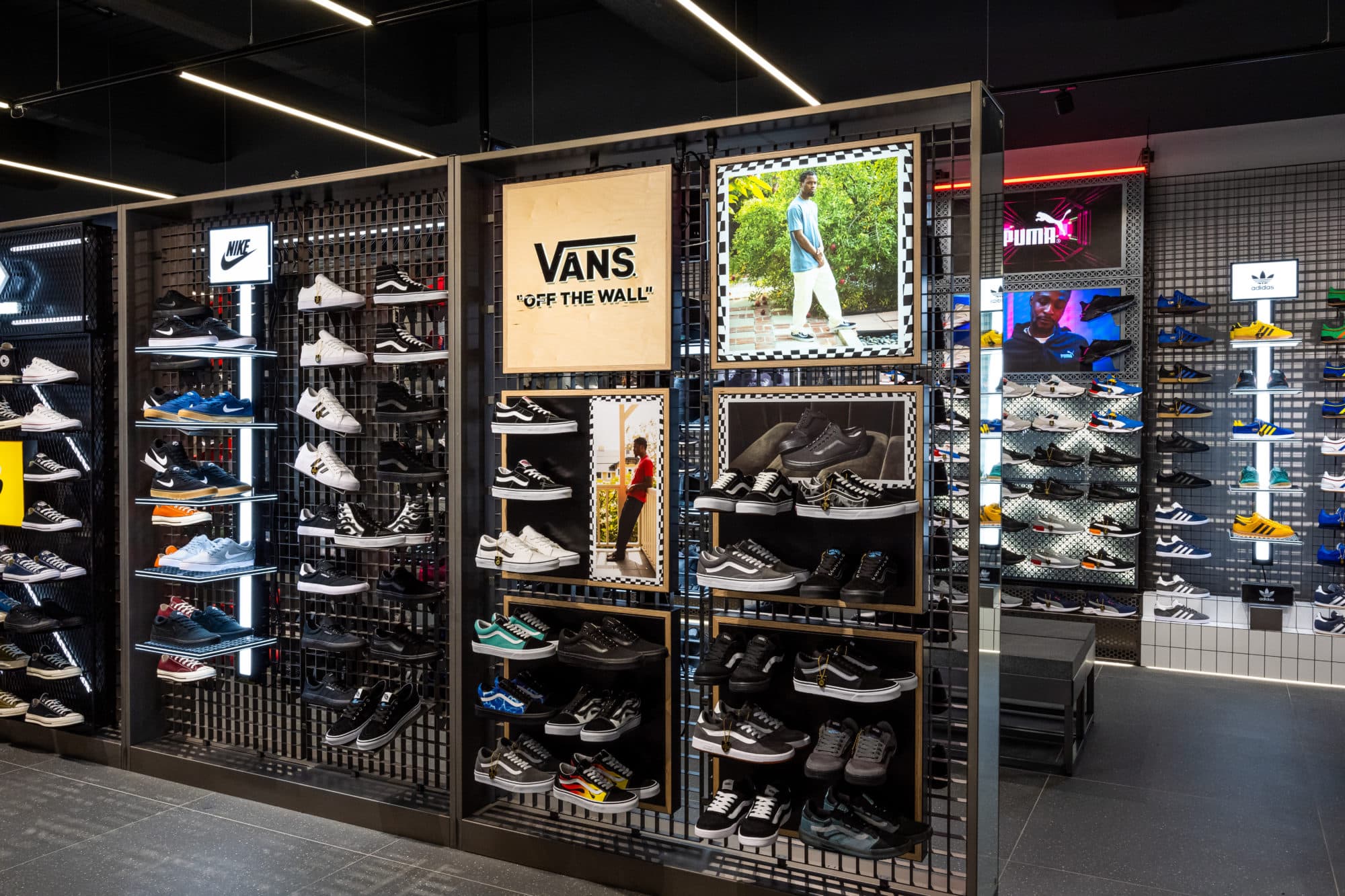 Vans
With an already established JD SIS concept, VF Corporation was looking for an agency to partner with who could provide continuity and consistency for the brand by supporting it with the concept's rollout into new and existing JD stores.
Keeping it simple with a product-centric display to highlight its skate-inspired range, VANS uses a flexible system that incorporates a modular arrangement of boxes so that the concept can be easily adapted to the dedicated VANS' footwear areas across all JD stores – no matter their size or shape. Moreover, its POS elements, including wood-and-chequerboard-framed metal panel and lightbox graphics, allow for easy updates and campaign overlays.
Following a successful tender process, d4r were invited to perform the rollout of this footwear concept which commenced at the beginning of 2020.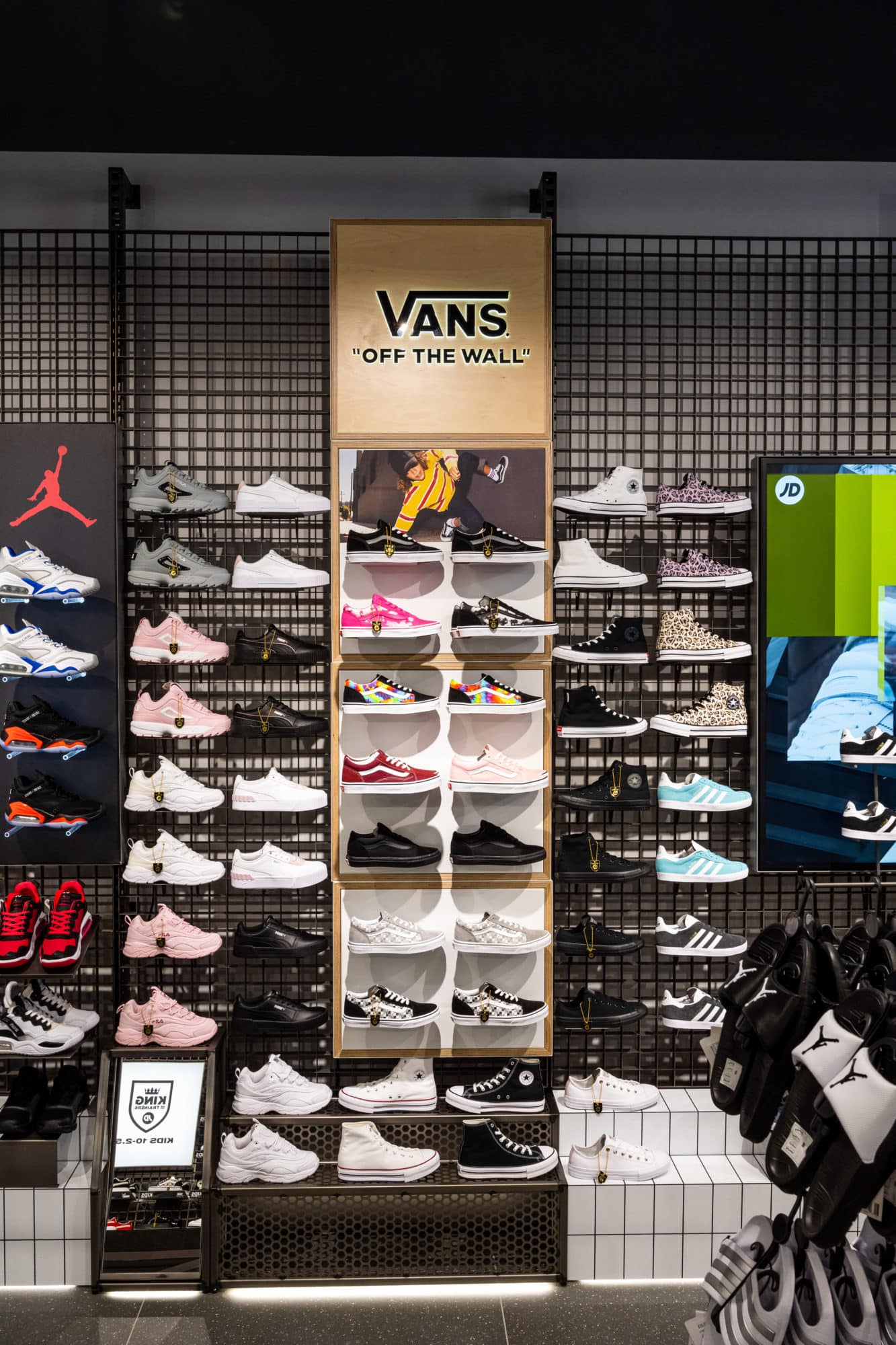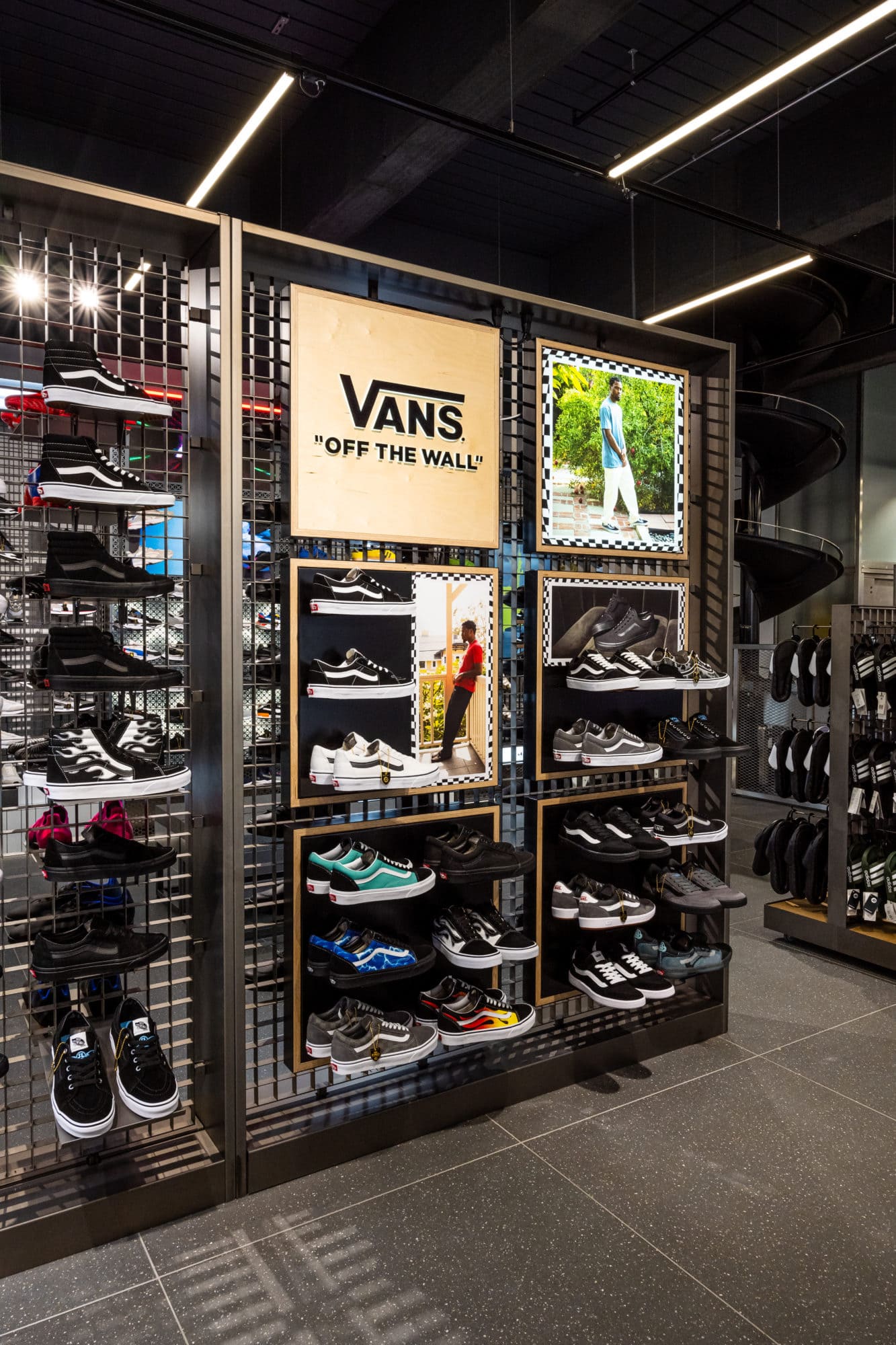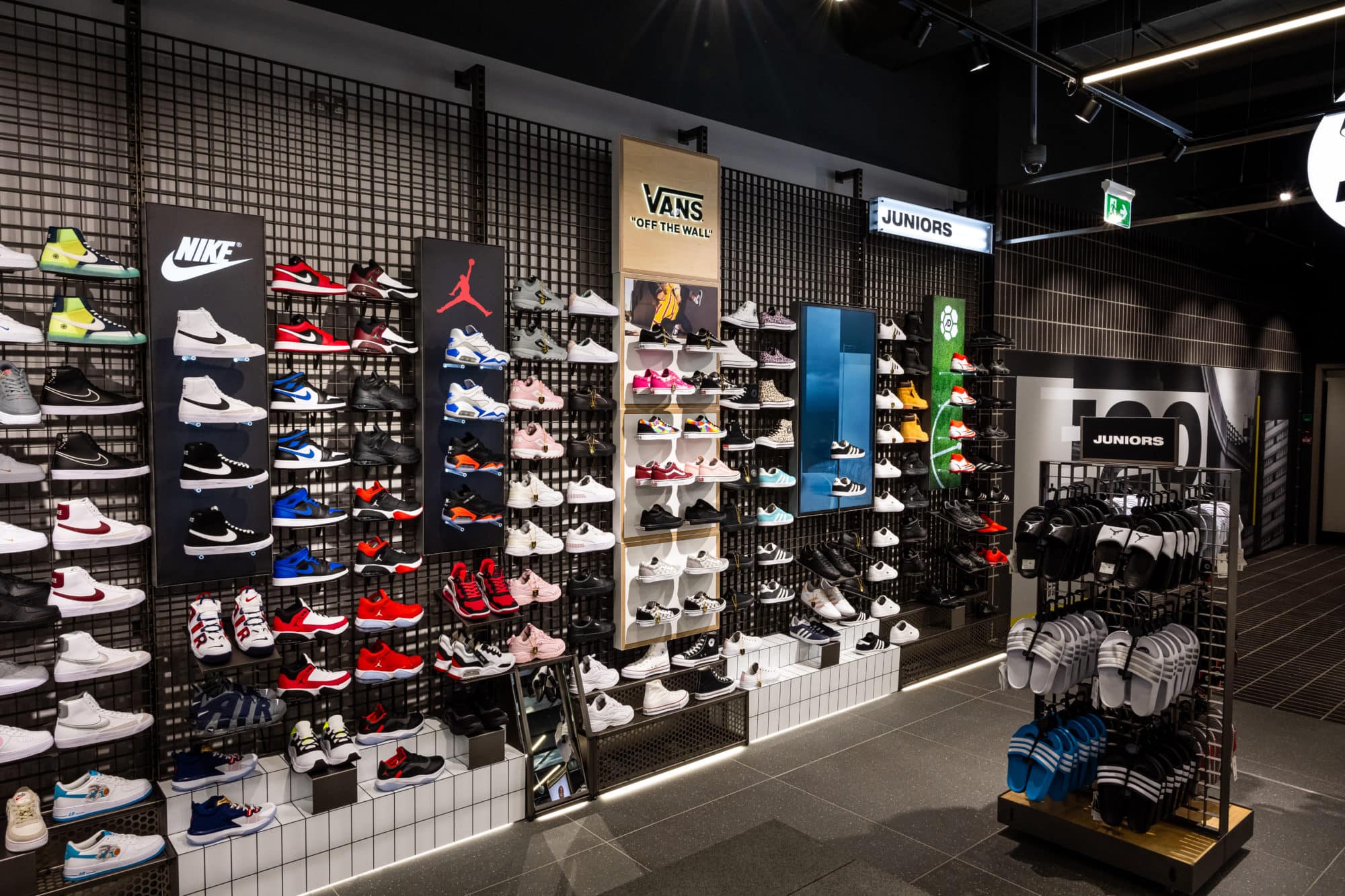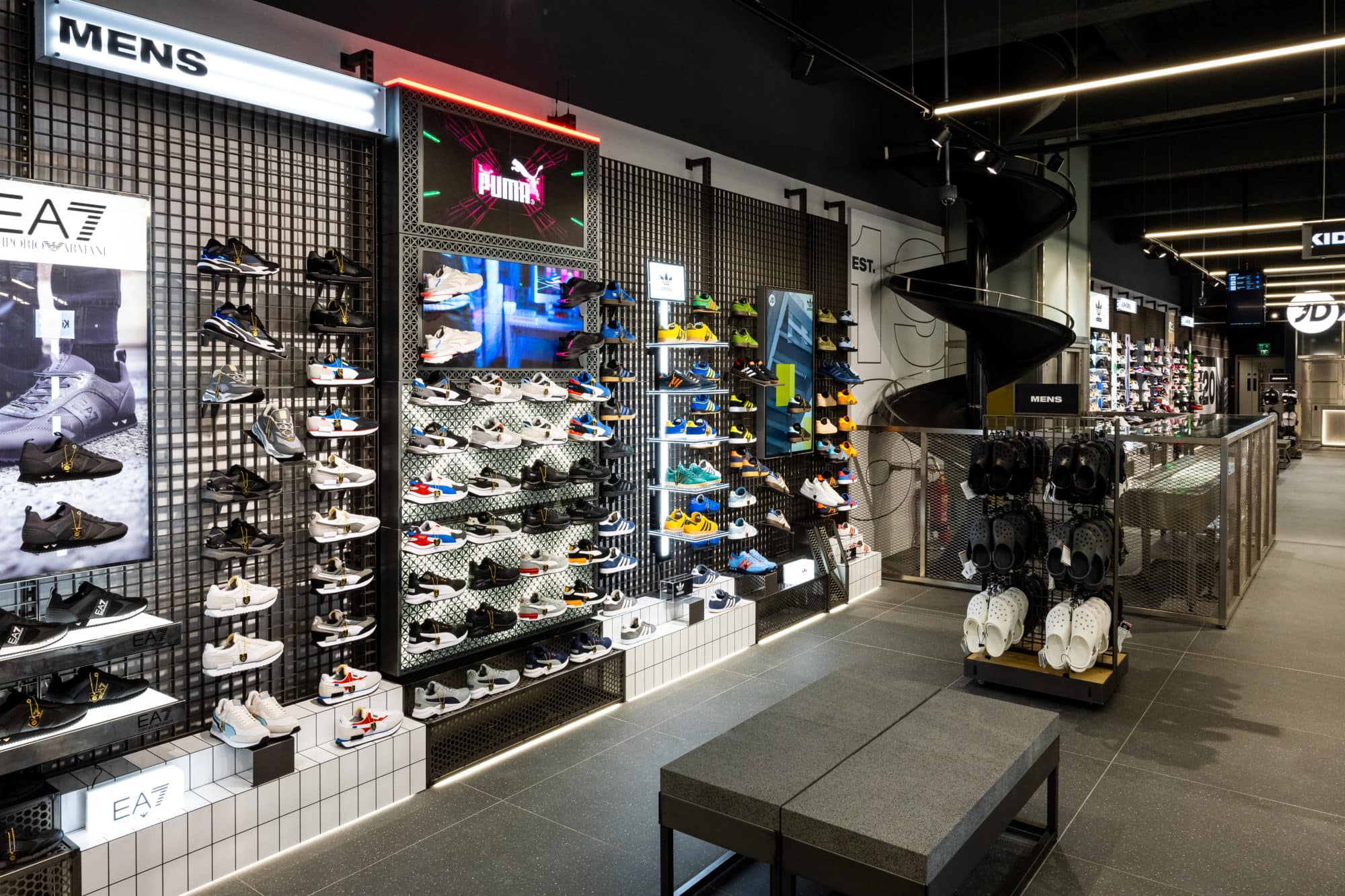 Puma
d4r are currently rolling out an array of Puma Footwear Walls into new and existing JD Sports' Flagships all over Europe. The 47-store rollout consists of an assortment of contrasting footwear wall designs and configurations for the Men's and Women's footwear areas, with a modified version of the Men's footwear wall used to display Puma's Junior footwear offering.
The Men's footwear wall design is visually commanding, brandishing distinct illumination properties within the footwear display area, and strong brand callouts via static and/or dynamic digital Puma brand signage.
d4r's development designers were invited to bring this concept to life, and consider the design's practicalities with regard to its ease-of-install. It was vital that the footwear walls were technically developed with modularity and durability in mind so that they can work within all JD stores and be seamlessly re-arranged by JD's VM team as necessary.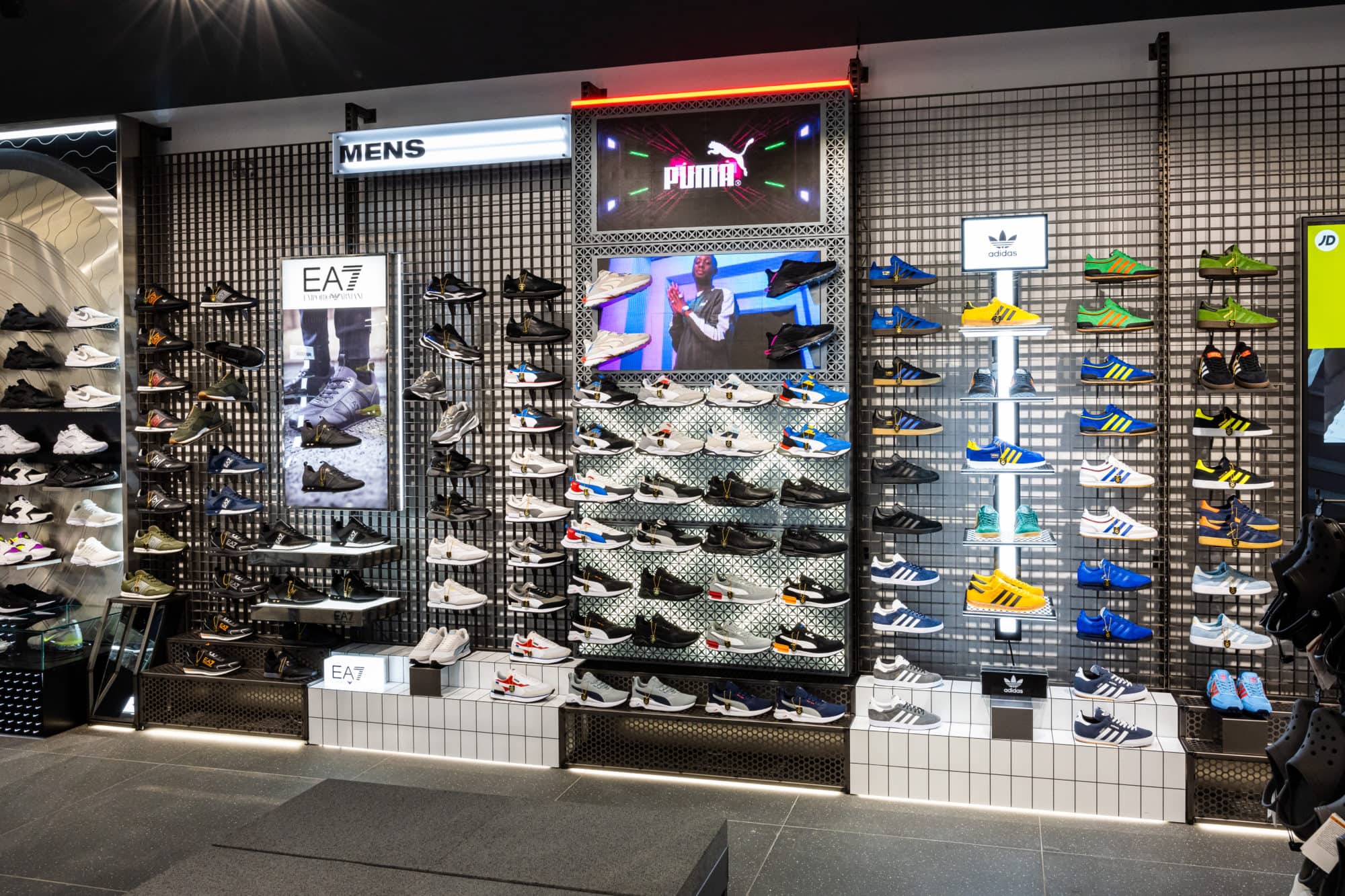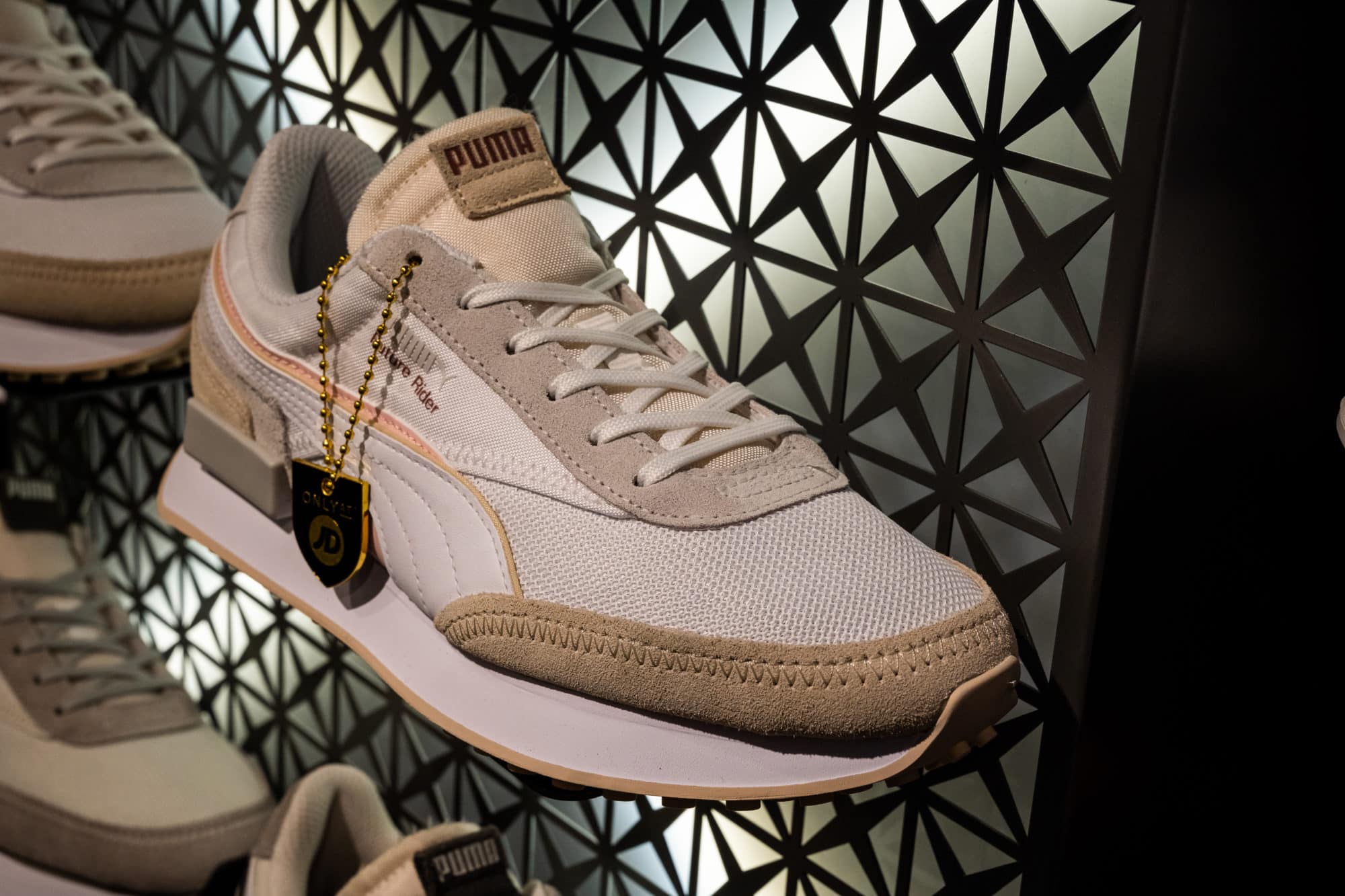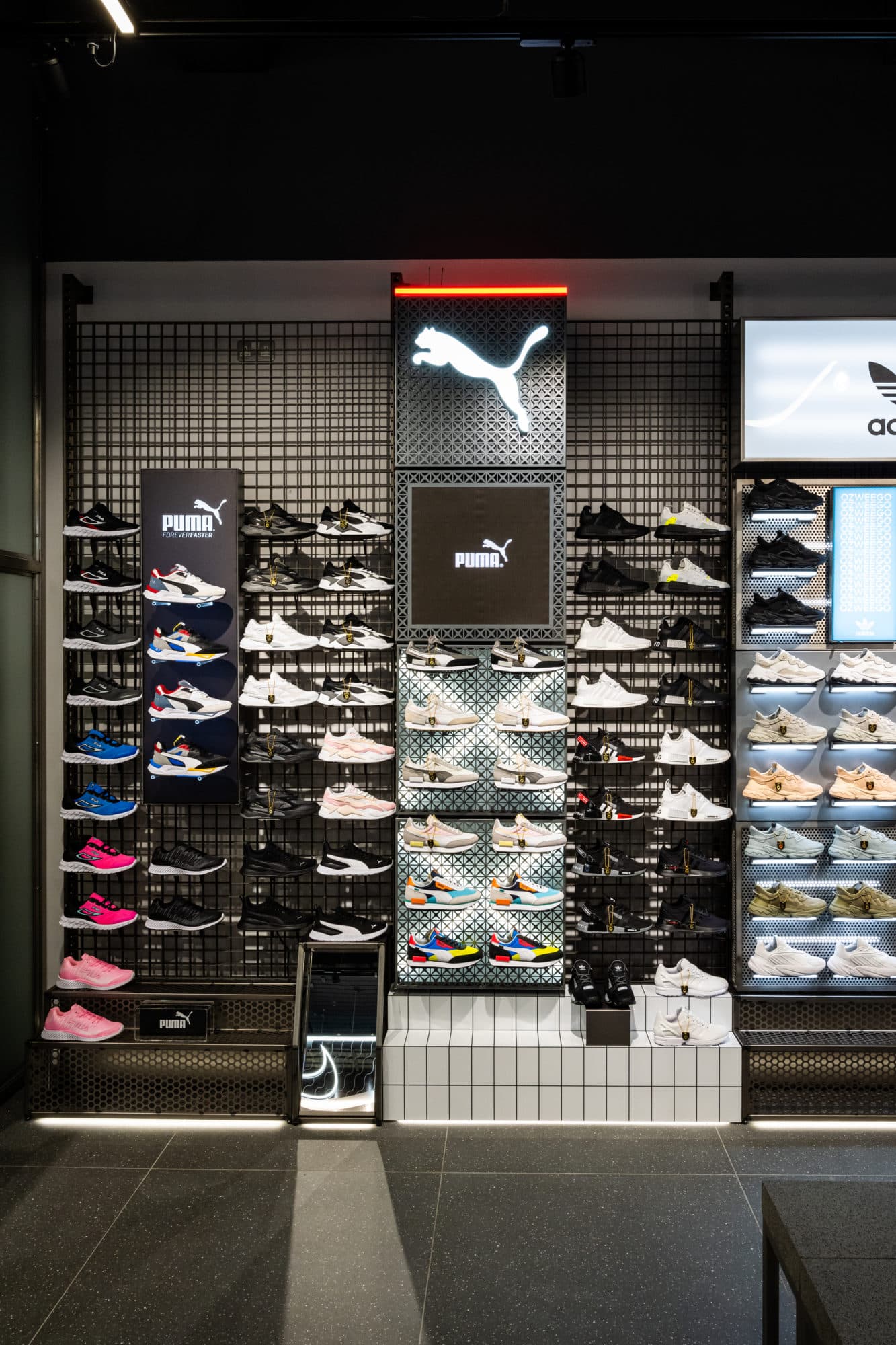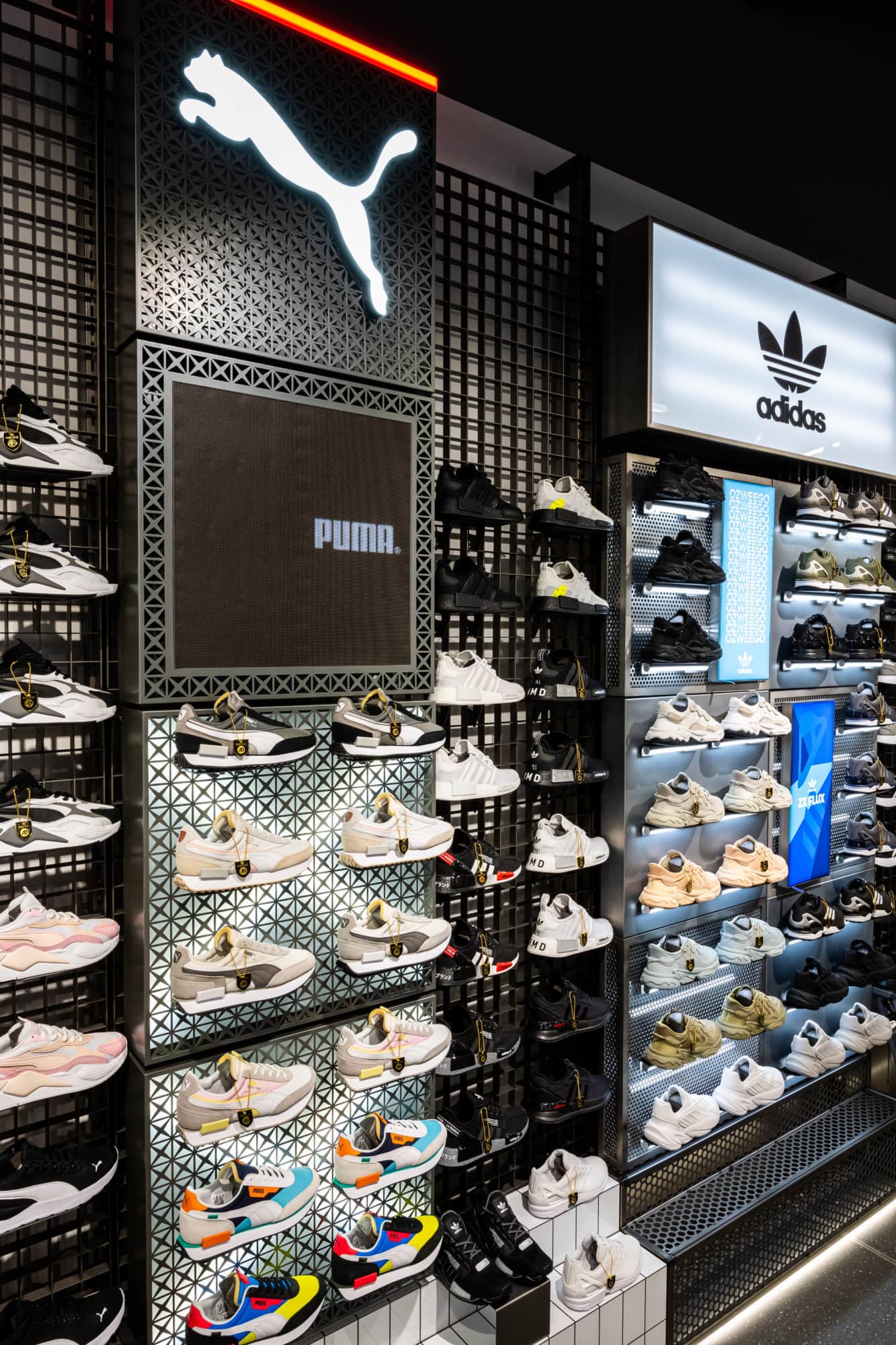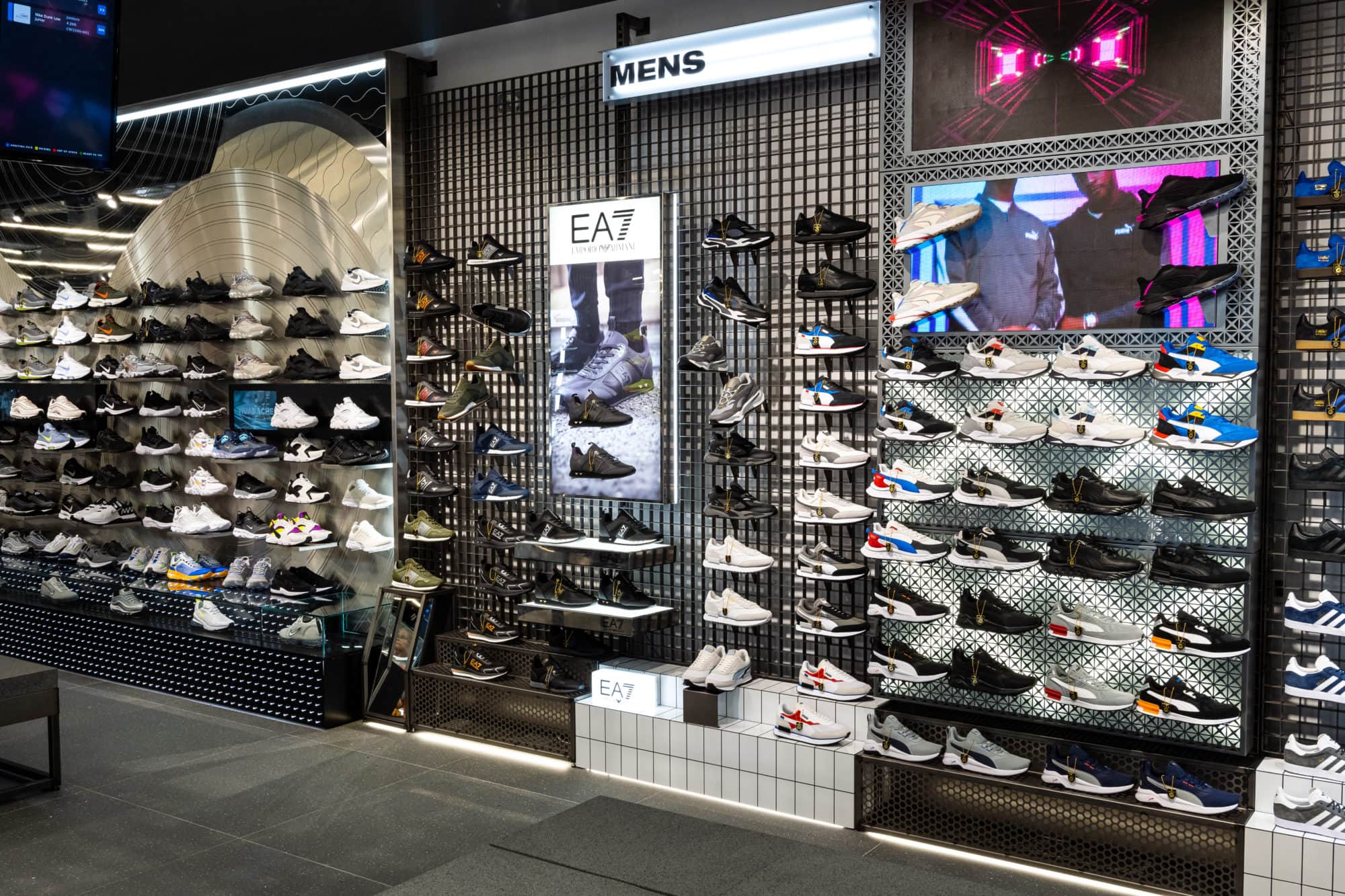 EA7
d4r were briefed to create a standout footwear display that is in keeping with the premium nature of the EA7 brand. This involved calling upon our talented designers and developers to design and bring to life a concept that would exceed expectations, and provide project support for the production and logistics of the JD rollout totalling 100 UK and EU stores in 2020 alone.
As a timeless sneaker brand that doesn't compromise on quality or style, EA7's footwear wall bay concept needed to portray a premium 'look & feel'. We achieved this by choosing a blend of materials that would complement EA7's existing branding, including polished metal and high-quality glossy print in place of conventional lightbox fabric.
We also included a number of unique design elements to really frame the display and highlight the brand's sneaker range, including illuminated feature shelves with a reflective metal edge, removable shoe rods that create a floating sneaker effect and allow for shoes to be featured within the main visual area, and an illuminated brand block at the foot of the wall.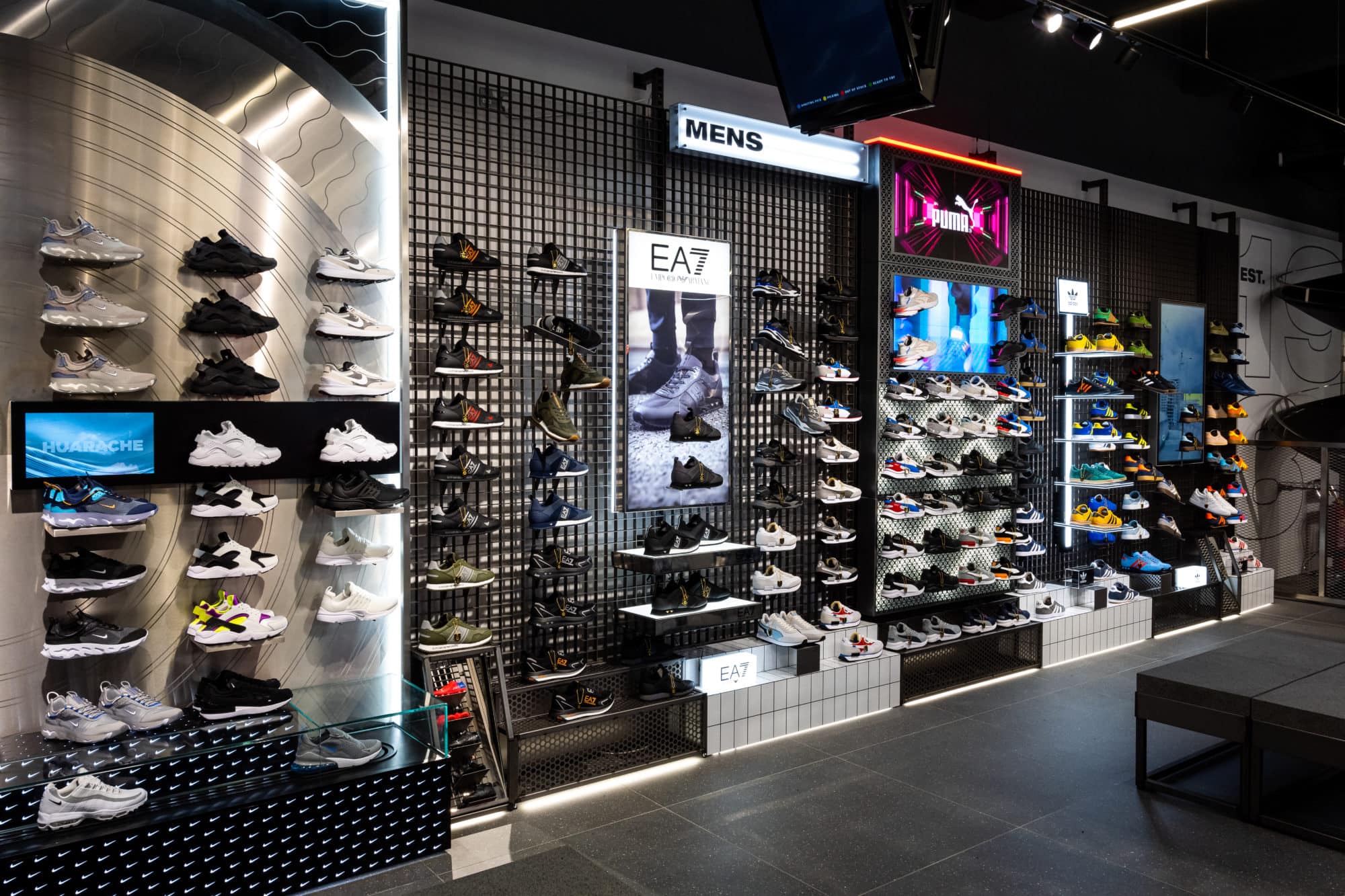 GET IN TOUCH TO DISCUSS HOW WE CAN SUPPORT YOUR BRAND WITH DESIGNING A SHOP-IN-SHOP OR BRANDED SPACE, OR KEEP SCROLLING TO FIND RELATED ARTICLES