Charlotte Tilbury _
The Complexion Launch
Quickly becoming a leading cosmetics brand in the UK and further afield, Charlotte Tilbury have been consistently exciting consumers with new product launches on a regular basis.
And no Tilbury launch is ever complete without the takeover of their own-store locations and promotional sites in key locations. This time, we reveal their latest complexion products launch with the same luxuriousness that has become synonymous with the brand.
Unveiling the latest Charlotte Tilbury complexion products to eager cosmetics fans, we developed a brand activation tailored to the premium nature of Tilbury products. The long-awaited additional shades to the acclaimed foundation, supplemented by the brand-new Genius Magic Powder and Magic Away concealer, drove the concept of luxuriousness within beauty.
Eye-catching designs may be at the core of all Tilbury activations, but this launch took a slightly different approach to the usual sultry glamour of deep burgundy finishes and Hollywood lighting. Instead, etched illuminated starburst panels become the complexion launch's calling card, complete with the famous Tilbury oversized factices. Despite the slightly softer approach of pale pink and delicate illumination, the products are boldly announced with beautiful imagery and playful dripping foundation shades. Answering the age-old query of complexion products to suit all skin types, this promotional launch focuses its colour palette on highlighting the many shades available to consumers.
A softer approach to beauty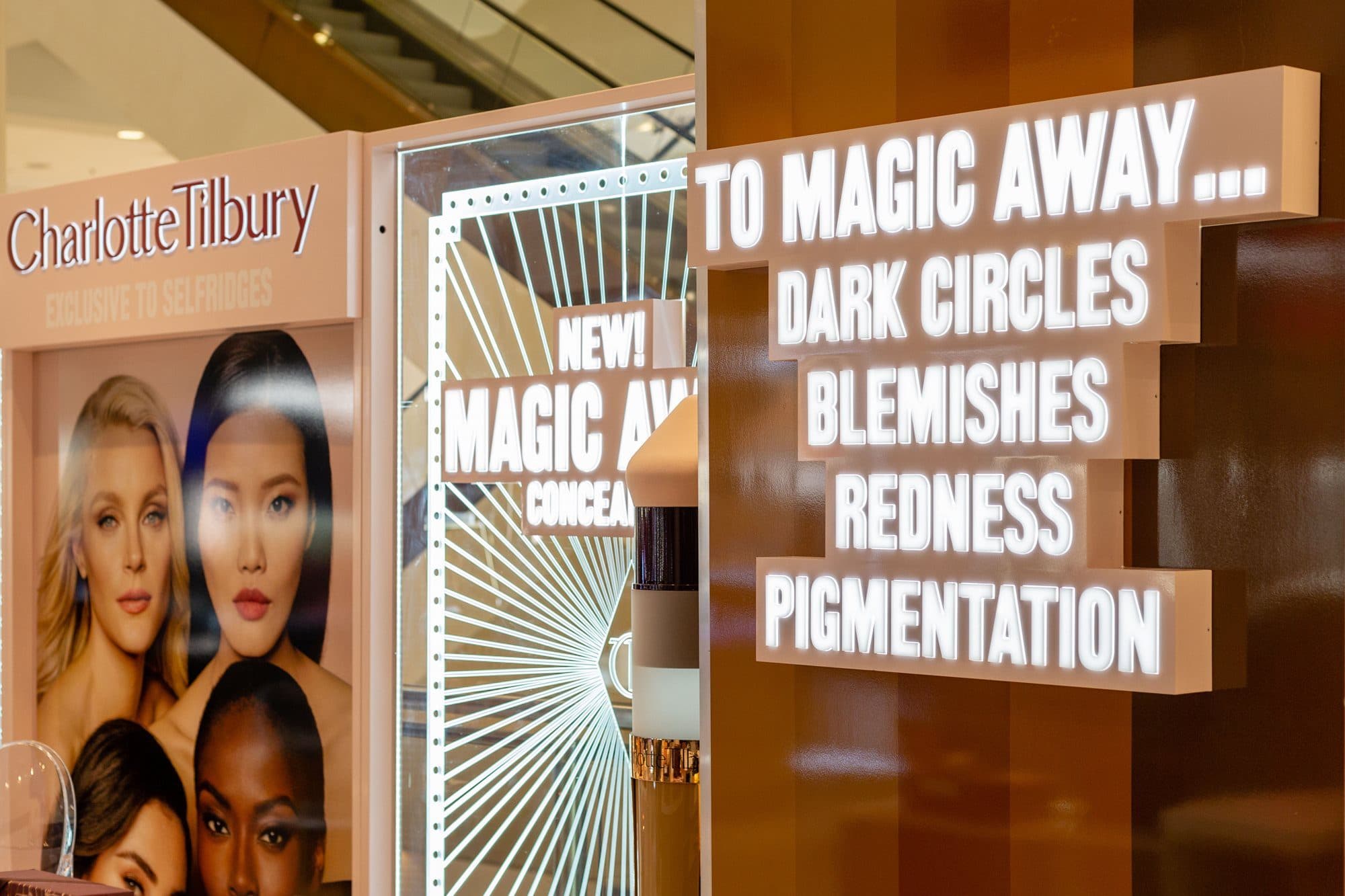 Understanding that the 'perfect skin every day' is affected by numerous skin ailments, the graphic application highlights Tilbury's knowledge of skin conditions; with Tilbury ambassadors on hand to help visitors explore the range with their specific need in-mind.
A softer side of Charlotte Tilbury, but by no means less impactful.