East meets West _
How Samsung tells its story at home and abroad
Having visited both Samsung D'Light in Seoul, South Korea and the Samsung KX environment in London, UK, one of our Senior Designers, Josh, cites a notable difference in tone, experience & aesthetic.
This report will compare, contrast and discuss the differences and consistencies created by the brand, Samsung, in two experiences we have visited this year.
It will look at the varied approach taken in each country, discussing how the brand tells its story in Seoul, South Korea Vs. London, UK and how it challenges consumer and industry expectations.
Contents
1.0 Context Specificity & Audience
2.0 Atmosphere + Aesthetic
3.0 Interaction + Engagement
4.0 Visitor Journey – Guided vs self directed
5.0 Personalisation + Customisation
6.0 Conclusion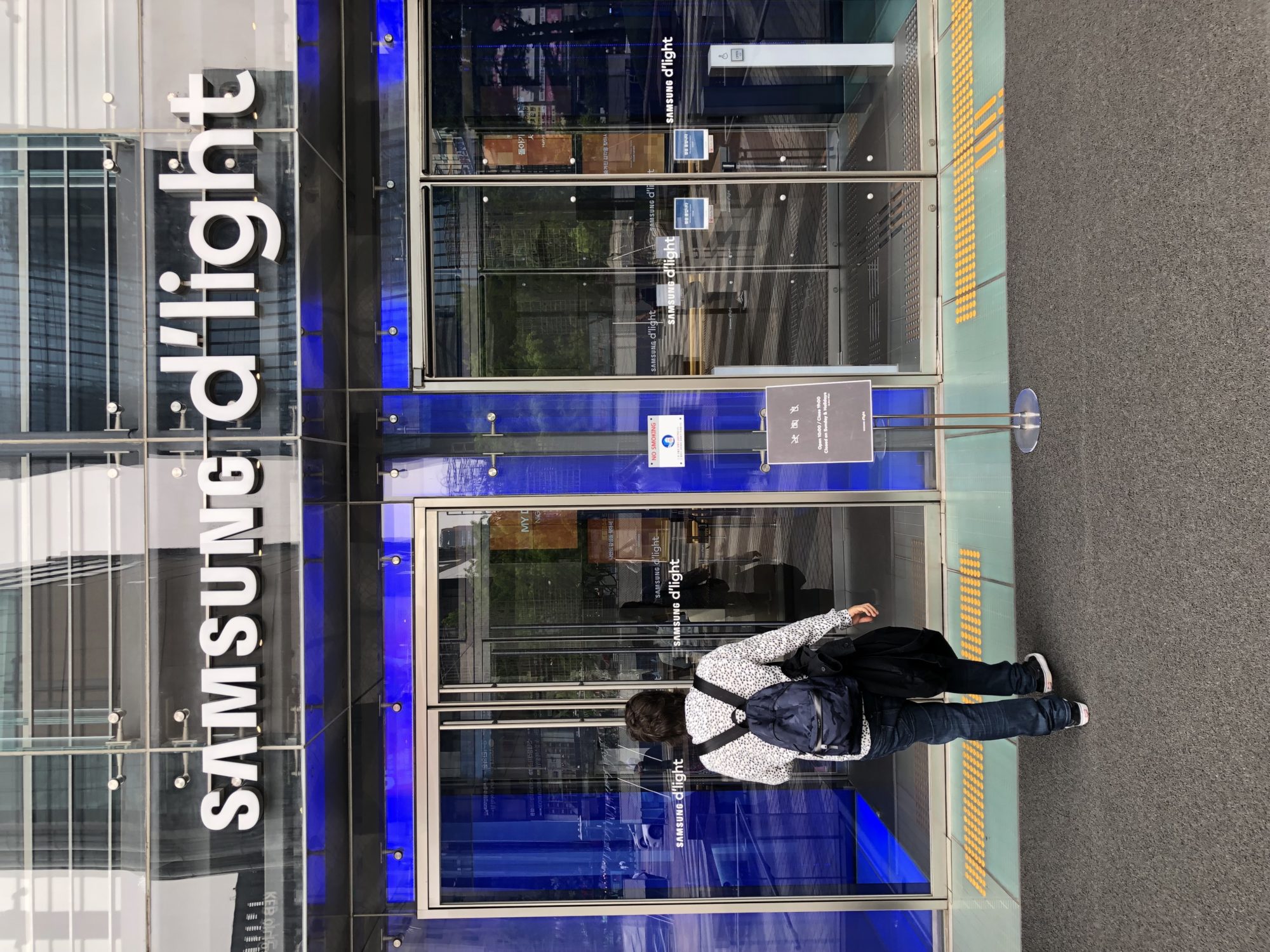 1.0 Context Specificity + Audience
Samsung has cleverly crafted their approach and understand that to truly connect with a global consumer base they need cater to the needs of their audiences on a local basis. The brand pays heed to the context of their physical spaces to ensure they work as effectively as their online presence, providing a sense of cultural and geographical awareness.
Culturally, Seoul in South Korea has many differences to that of the London in the United Kingdom and so it makes sense that Samsung should tailor its physical experiences to match the local
environment and population. The brand takes into account local values and customs, drawn from insight into the national identity.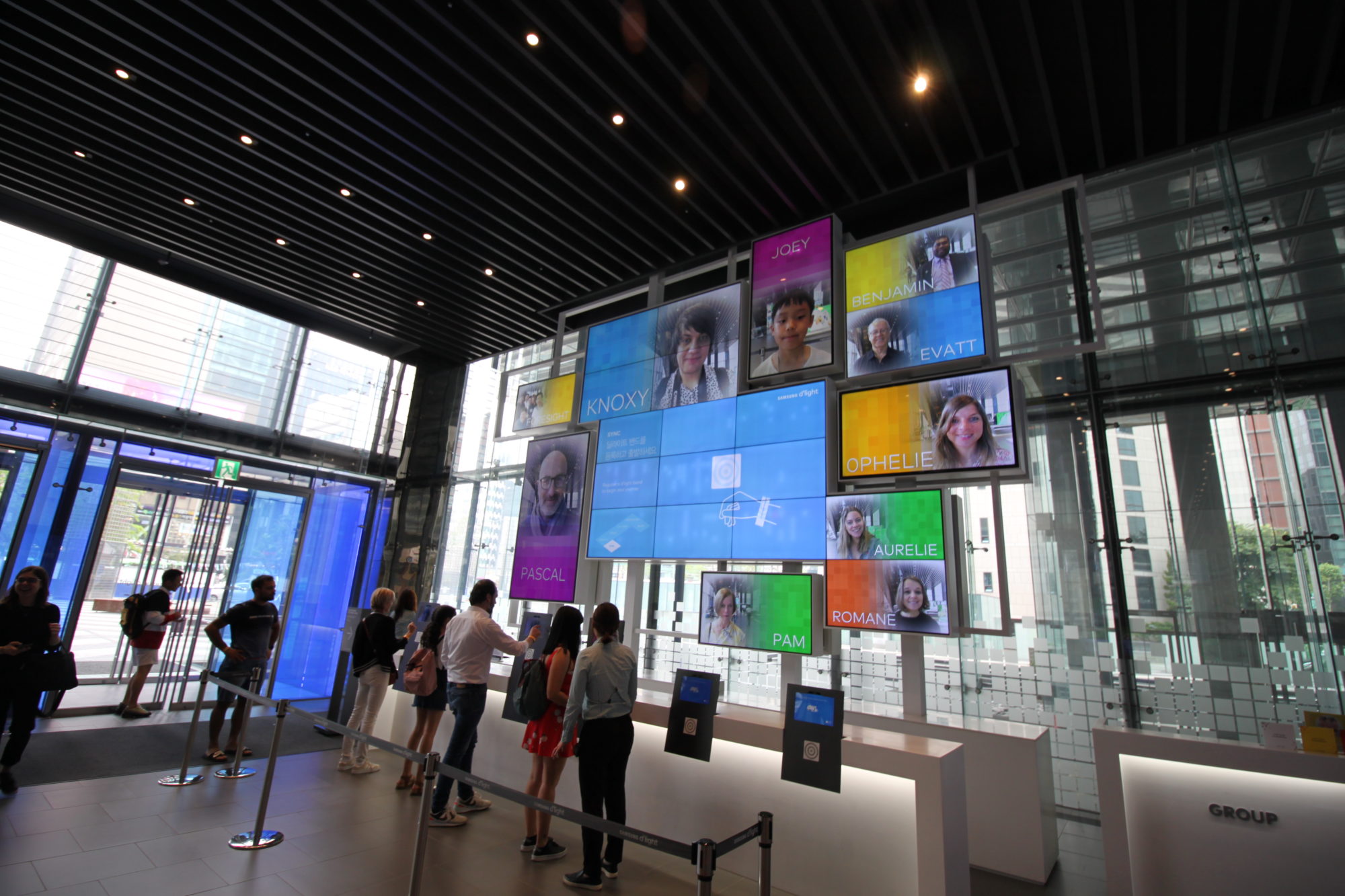 1.1 Samsung D'Light, Seoul, South Korea
Samsung's creation of the tech-focussed 'D'Light' environment seems to speak to the South Korean locals love of technology matching their 'normal' of having innovation at their fingertips and acceptance of tech that is still considered experimental in the UK.
Citizens of Seoul are located in a country described as the 'World's number one producer in mobile phones, displays & semiconductors' as well as being ranked as the "2nd most innovative country in the world" by
Bloomsberg-Businessweek. With these statements it could be said that South Korean people are 'digitally native'. With adept experience of cutting edge technology, the brand speaks to its consumers in a technical, 'digital first' way.
Samsung has also taken into account the 13.57 million tourists that visit the S.Korean capital each year. They have achieved this by making the experience accessible to many nationalities, allowing visitors to explore the space and its digital moments seamlessly, in many different world languages.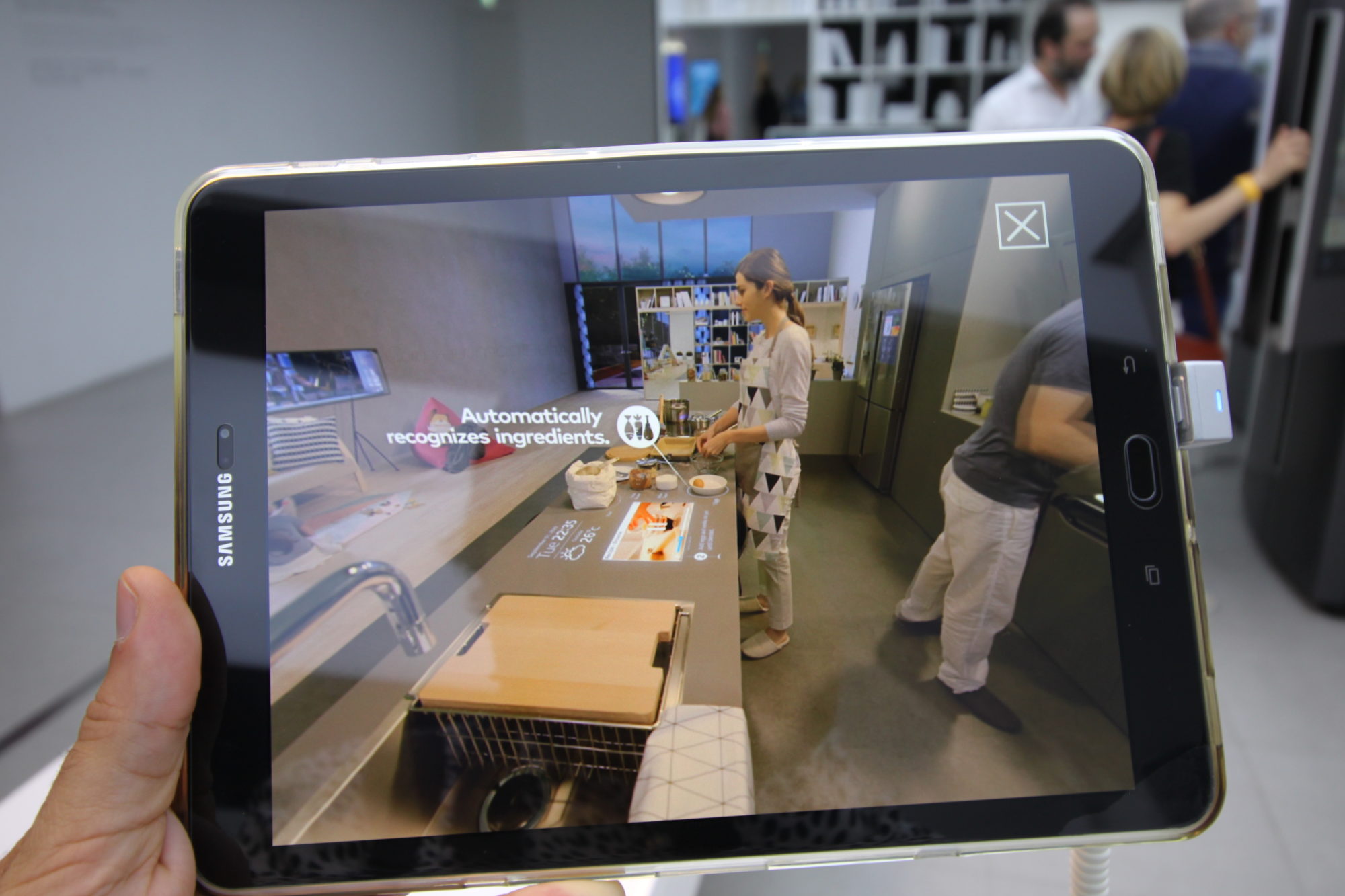 An example of Samsung's social sensitivity whilst staying true to it's cohesive brand image can be seen in both the 'Samsung D'Light – Seoul, S.Korea' and 'Samsung KX – London, UK' experiences.
In Seoul the brand manifests as a museum like journey that focuses on utilising technology to demonstrate the brand's future aspirations. It seeks to wow with augmented reality videos; illustrating what they believe the not so distant future will be like in the setting of the family home, the gym, the office and the shops.
Geographically, the 'Samsung D'Light' space is situated over the Gangnam district train station – an area that is both famed for its wealth and style. It sees both local people and tourists visiting, with the experience ending in a shoppable store that exits directly into the train station.
Samsung's creation of this tech-focussed environment seems to speak to South Korean locals' love of technology and matches their 'normal' of having innovation at their fingertips.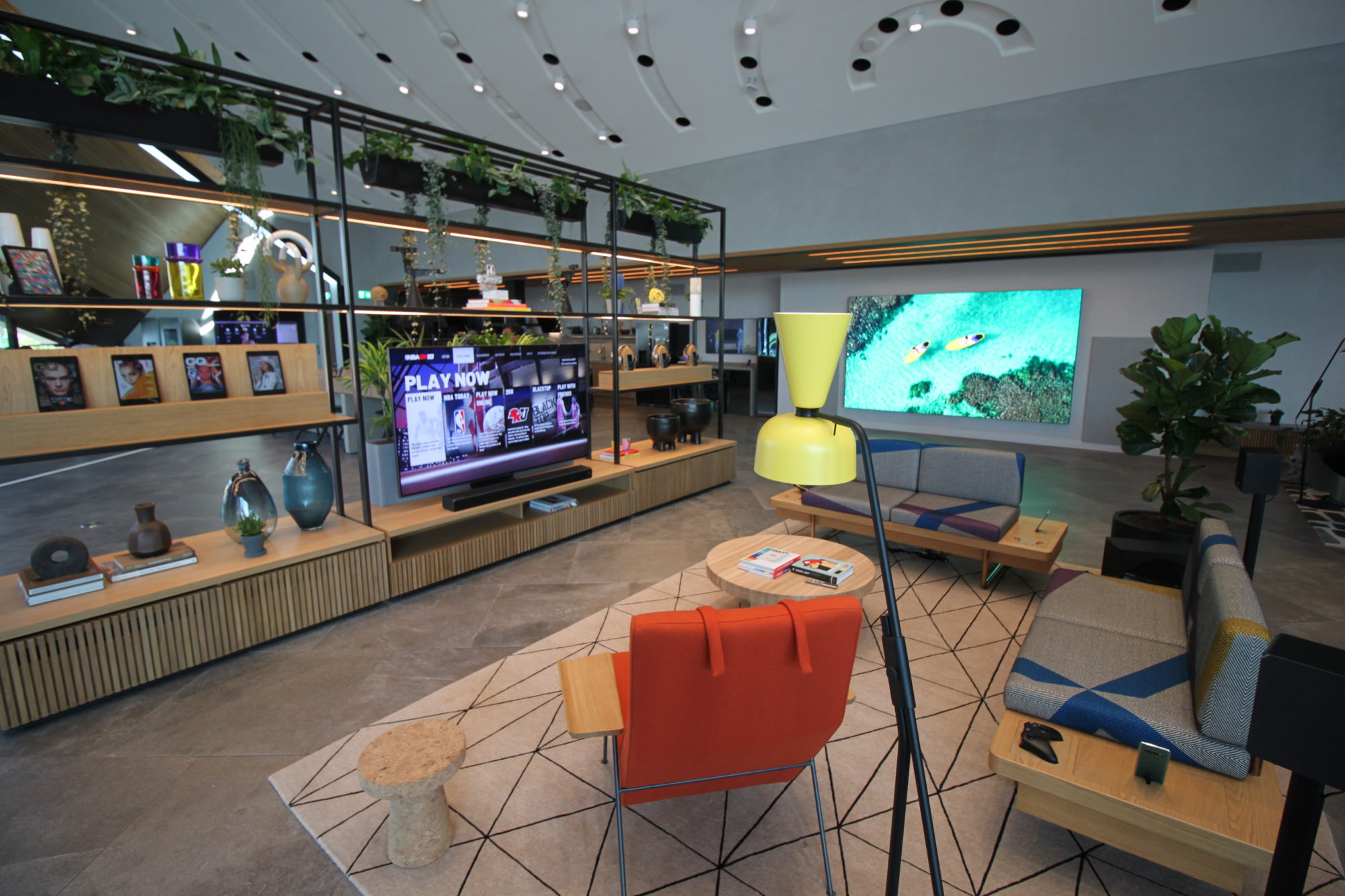 1.2 Samsung KX, London, United Kingdom
In London, Samsung have taken up residence in the blossoming 'Coal Drops Yard' retail area situated in the King's Cross district. 'CDY' is right in the heart of the creative pulse of the capital, adjacent to the famed Central St.Martins design university and the start-point of many journeys to and from London; St.Pancras International train station.
With its geographic location, its no surprise that this Samsung space is culturally rich and has a focus less on technology and more so on community and lifestyle. The 'KX' atmosphere brings elements of exploration and art through a number of subtly digitally augmented engagements set up in home-styled vignettes.
The 'Samsung KX' space incorporates a sense of
belonging & comfort through dwell zones, personalised engagements (such as designing and making your own free phone cover), as well as a community auditorium space where talks and classes are run throughout any given day.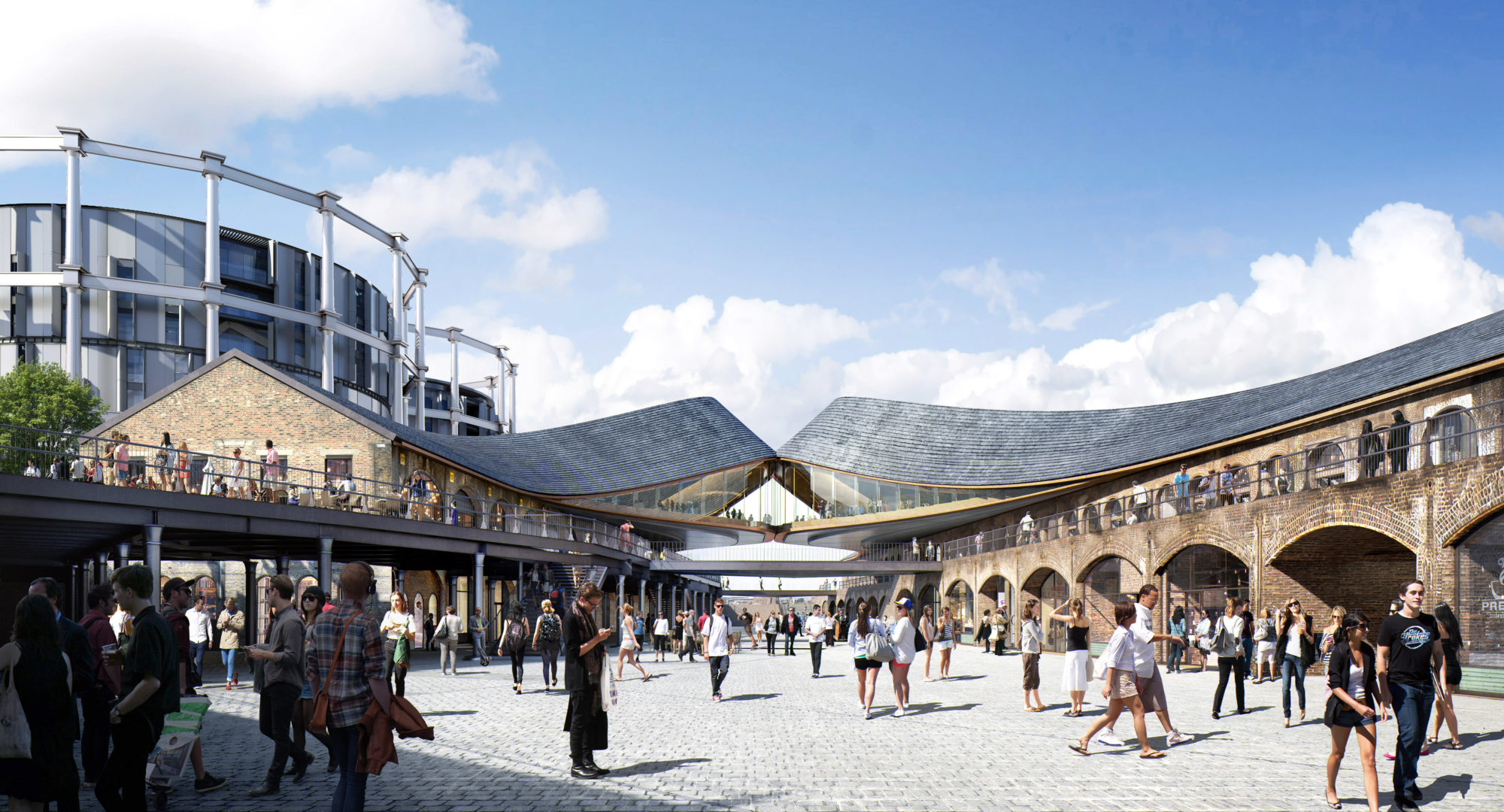 Samsung hints a connection to its Korean roots, presenting seminars such as "How to take beautiful pictures on a trip to Seoul".
In Samsung KX's words "This is not a shop" and it can be said that the space is not actually any singular thing – it provides curated moments for a variety of audiences and ages with the brand's technology being integrated so well it is almost invisible.
The environment seems to evoke an emotional connection between the brand and the unique lives of its customers, deliberately adopting a less sales focussed atmosphere than that of a traditional flagship store.
It caters well to the demographic of shoppers whom 'CDY' is aimed at, with its luxury lifestyle goods and services. It does this by working hard to give back to the community, regenerating the area into something more aspirational.
Even down to the building's exterior, Samsung KX screams artful beauty, designed by esteemed architect Thomas Heatherwick.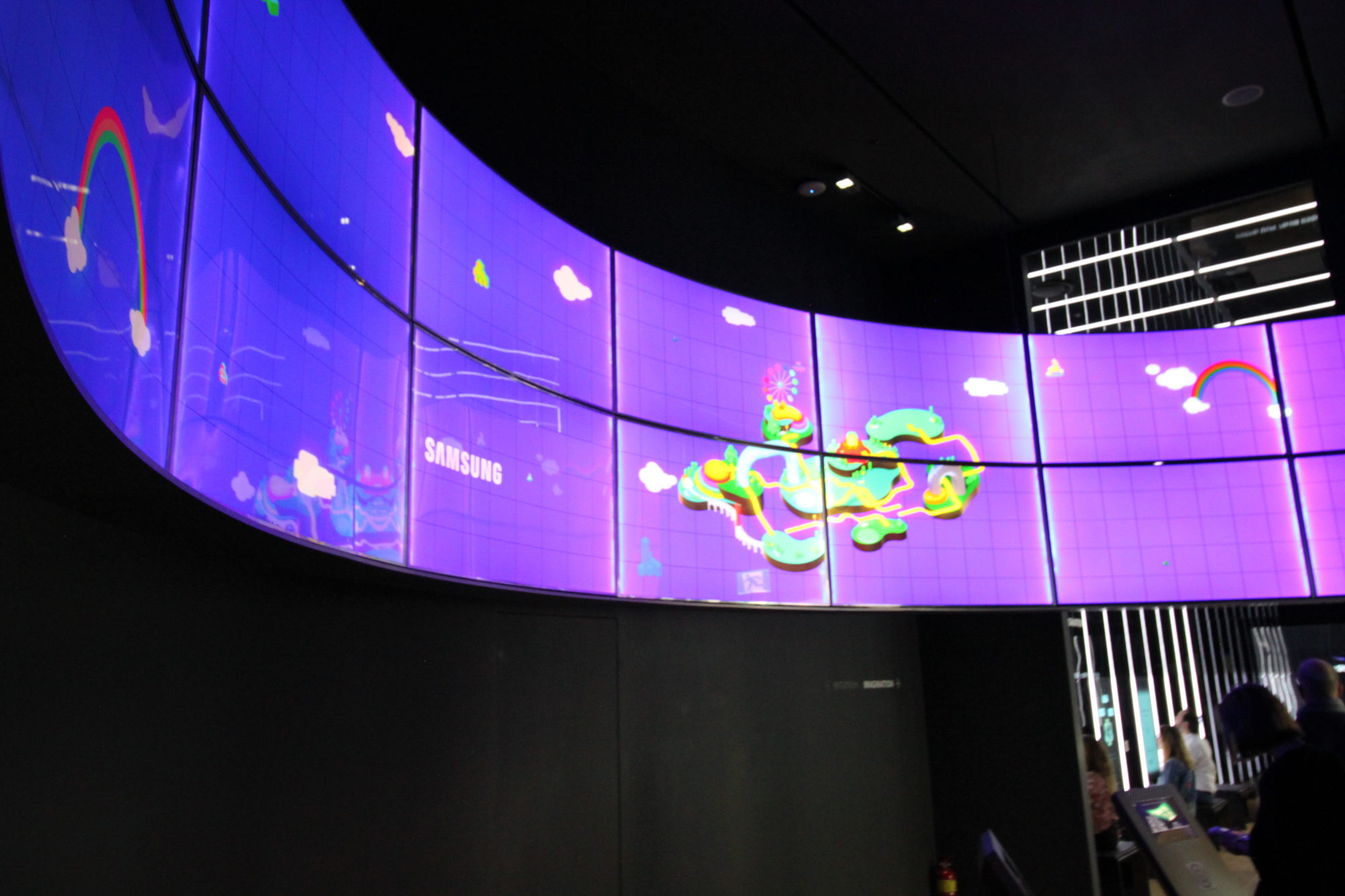 2.0 Atmosphere + Aesthetic
SAMSUNG D'LIGHT
Samsung has a bespoke approach to the
aesthetic it has created for each flagship environment, given that 'Samsung KX' as a
space is much newer than that of 'D'Light', both exude a designer contemporary aesthetic.
'Samsung D'Light' has a very minimalist feel, created by its sleek forms and combined use of black and chrome materials often considered synonymous with tech brands and their products. The environment feels very tech focussed with its abundant use
of screens and the floor to ceiling video walls.
A corporate look is achieved through
its restrained use of material palette and recognisable colour codes. 'S-D'Light' works hard to transport you to a future world through its aesthetic and fully immerse visitors in their journey and vision.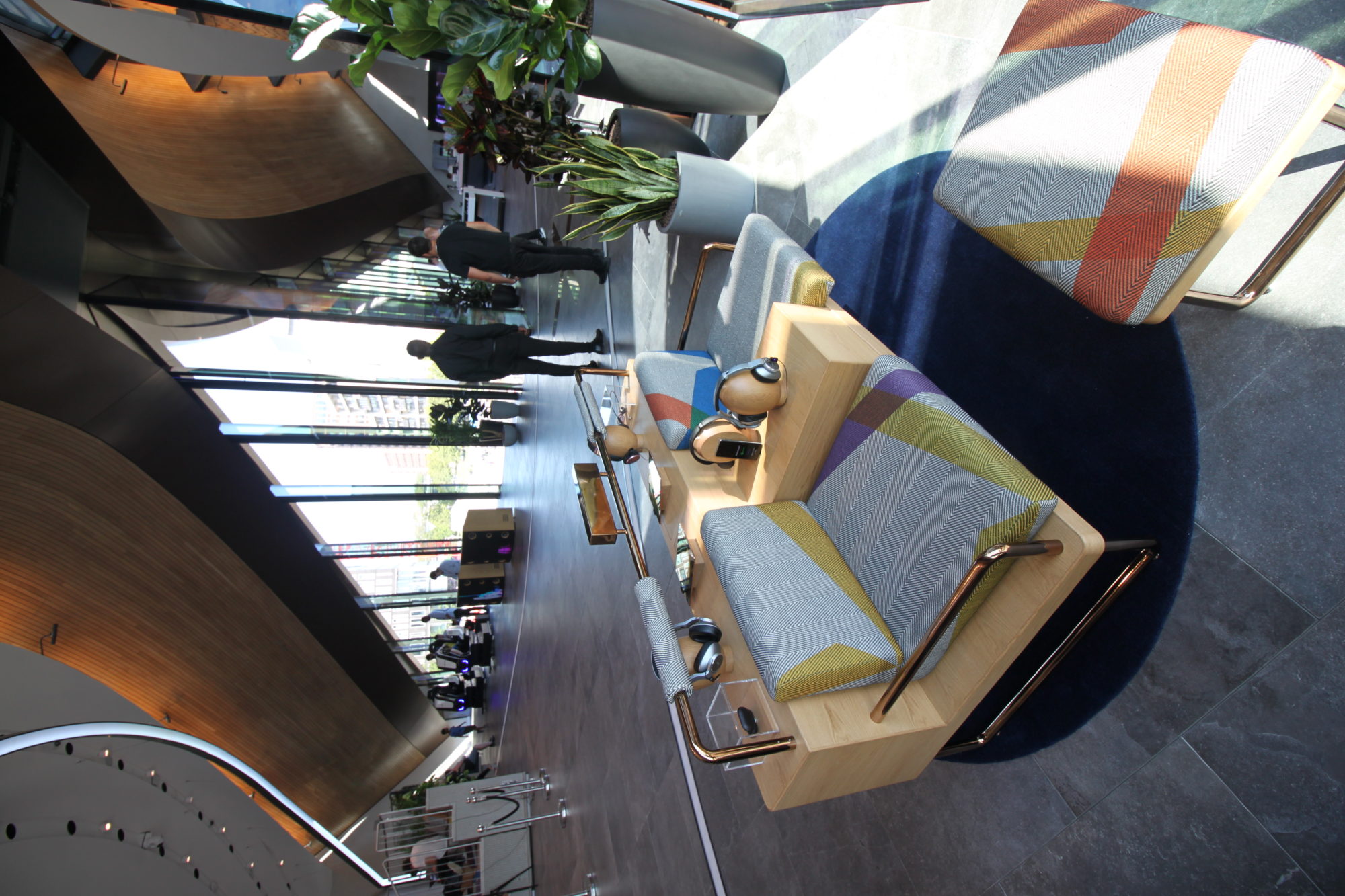 2.1 Atmosphere + Aesthetic
SAMSUNG KX
'Samsung KX' has a dramatically different look and feel to 'D'Light', as well as having a visual point of difference from its competitors' flagship stores. The environment of 'S-KX' is simply beautiful, an eclectic mix of tactile, artful and high end materials that complement the encompassing building's architectural features.
The space is designed using a combination of wooden and stone textures, creating a sense of harmony between the soft and hard materials. 'S-KX' does not try to look futuristic, instead it focusses on creating an environment that inspires comfort and shows an unexpected warmer visage of the brand.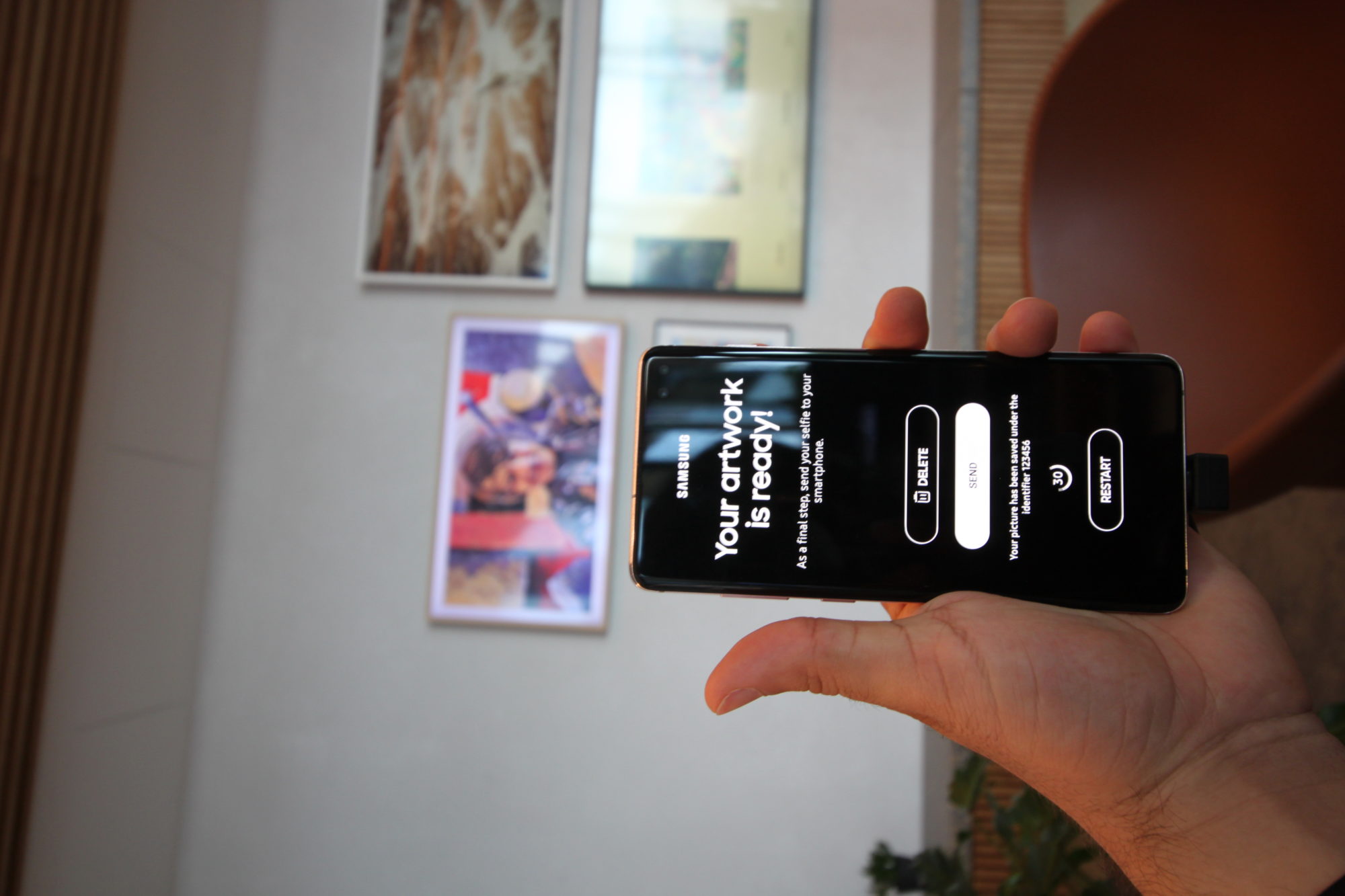 3.0 Interaction + Engagement
Both flagship spaces have technology at their core, however they take a different approach to visitor interaction to achieve engagement with the brand. S-D'Light concentrates on the experience of the individual whereas S-KX seems to center itself around community participation and collective creation.
S-D'Light uses an RFID tech enabled bands to recognise the user at various activity stations. Tablet based AR tech is used to illustrate future developments. Connecting the individual to the experience first hand, the Samsung vision and solo digital activity stations garner the user's creativity, culminating in digital
take-aways that can be shared online.
S-KX uses moments that are best enjoyed as a community with moments such as the 'message tree'; a social repository for communal voices viewable on a samsung device through AR. Instead of single stations that are for a single
user to interact with, S-KX utilises a sense of theatre and public display of creativity. This can be seen with their interactive art wall or Samsung car of the future where onlookers can also enjoy the engagement or demonstration.
A tailored approach may have been adopted in Seoul's 'D'Light' space to help consumers to project their individuality in the densely populated city where standing out from the crowd is difficult. However, London's S-KX situated in a culturally evolving district of the city, takes a slower pace and helps to form a sense community in a cosmopolitan environment where people seek connection over social status.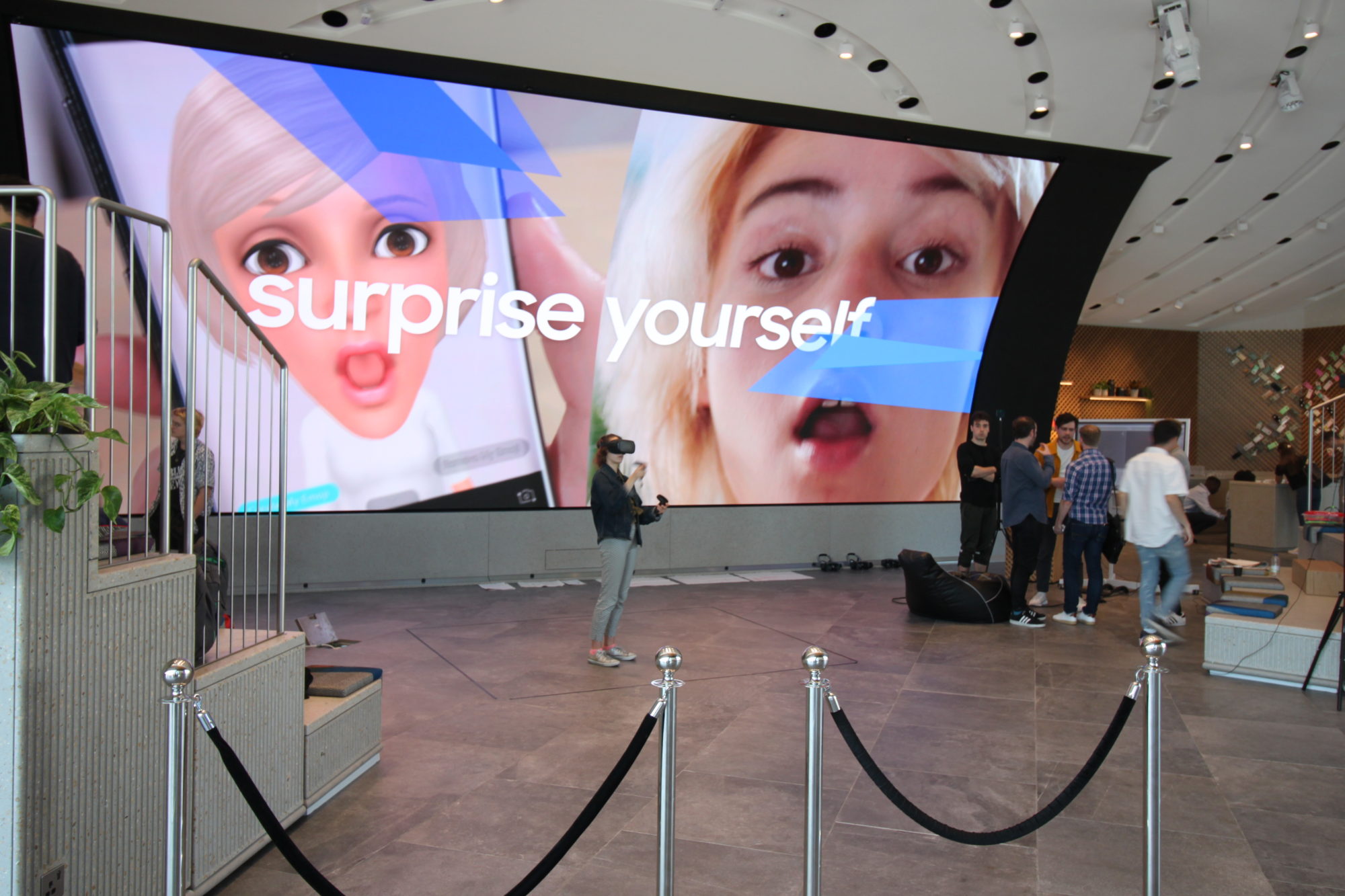 3.1 Key Interactive Moments
Both brand environments are packed with interactive moments, ensuring that something is always happening – from VR simulators, DJ mixing booths and digital art installations to community seminars, movie screenings and creative educational workshops.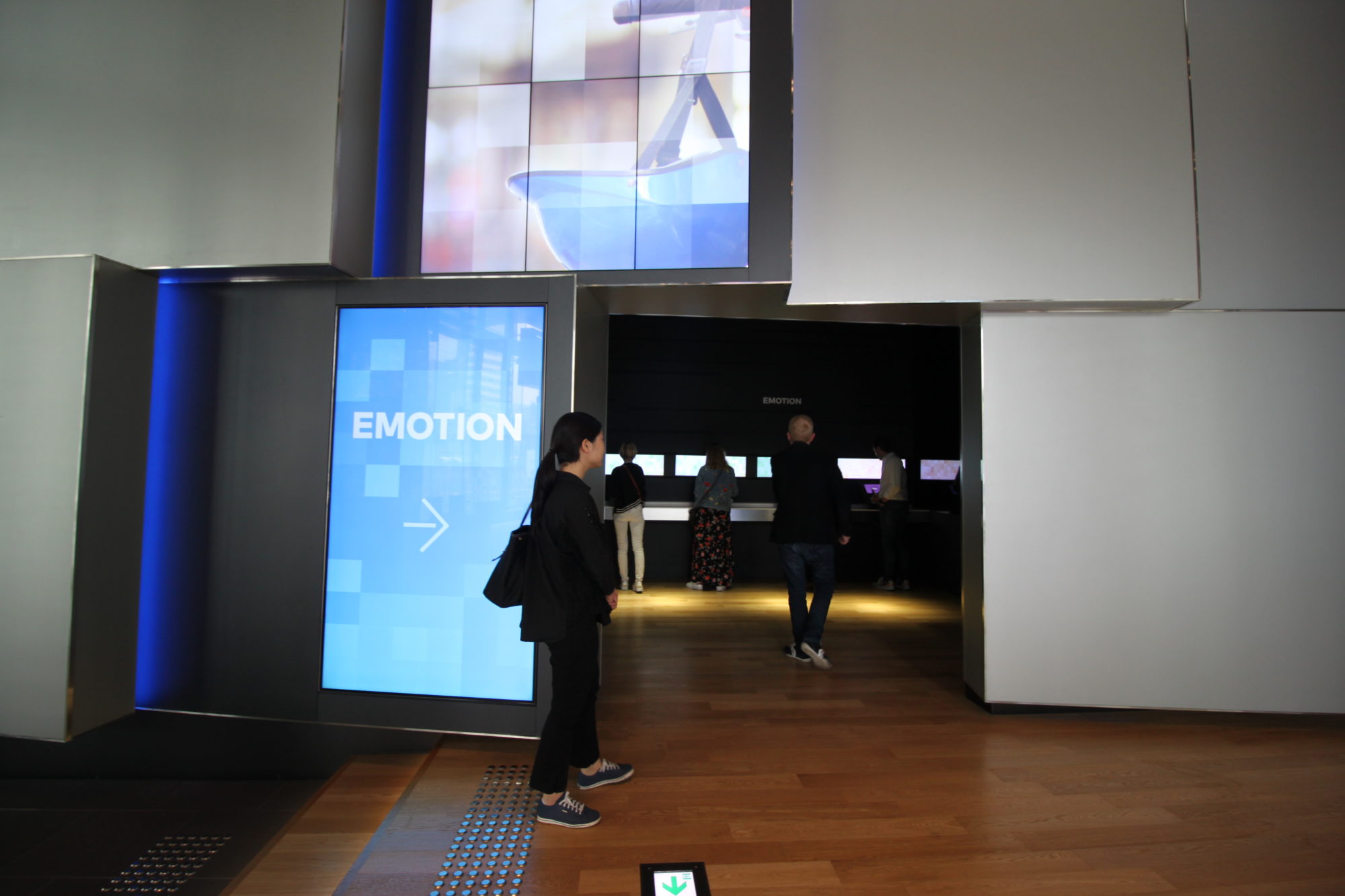 4.0 Guided vs. Self Directed Journey
Samsung uses differing styles of presentation in the two flagship experiences. S-D'Light creates a journey that feels like a staged moment with a clear start, middle and end. It begins with registration and progresses onto a zone entitled 'Emotion', which contains a number of digital engagements focussing on creativity and personality; giving the chance to find something out about yourself.
The next stage takes visitors up to a space prefaced by the impact of technological advancement on the globe and what the brand is doing to mitigate it. This leads onto a floor made up of key mock environments that a typical family might inhabit. These spaces, through the magic of AR, show you how they might work in the future using technology the brand aspires to create.
The final floor is a shoppable product focussed space with a collection of today's top products, rounding the journey off for visitors and hopefully having convinced them to buy into the brand and available products.
S-KX on the other hand takes visitors on a totally different journey – one of discovery & freeform exploration. One open plan space that is sprinkled with artful, interactive, personalised and fun moments of engagement. The space feels like a fairground of attractions,
augmented by technology.
The space's mantra, "This is not a shop", sings true what happens within it – an ecosystem of theatrical interactive moments to be enjoyed with no hard push of product. It feels opposed to competitor environments that fetish-ize products, and instead, celebrates freedom; could this be a metaphor for the freedom enjoyed by its customers using its products?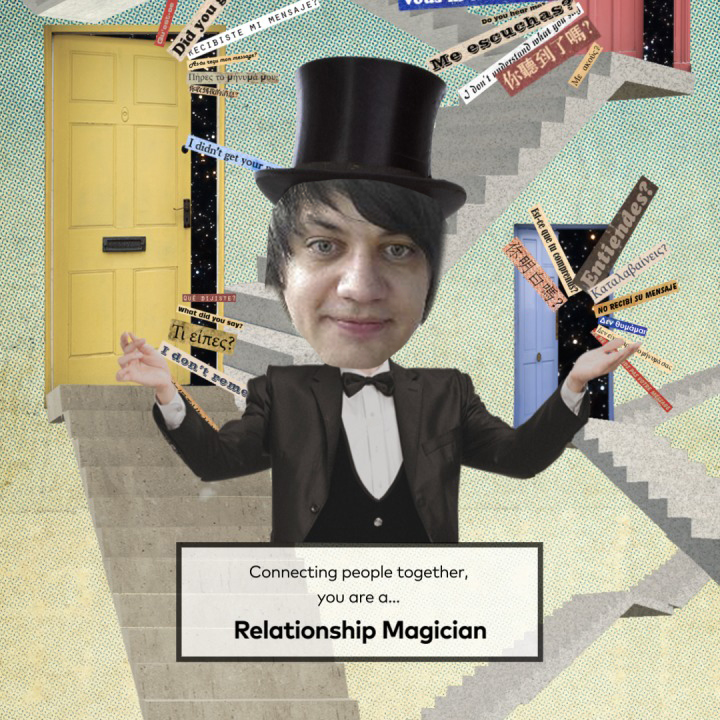 5.0 Personalisation
Both experiences, to varying degrees, try to give the consumer / visitor something back –
a tangible take away that has personal and social value. S-D'Light does this through collating a pack of elements you create along your journey. The exploratory, interactive route visitors follow is multi-sensory and involves physical and emotional engagements that form exciting digital take-aways.
Through the medium of multiple choice questions, the experience determines what an imaginary world created by you might look like. It watches how you perform its tasks and attributes a descriptive word based on what choices you made and how you made those choices. The experience then assesses all of your results and suggests an imaginary job role for your future.
'All of my creations were e-mailed directly to the account I registered with at the concierge desk. Interestingly, that is where Samsung stopped their contact and did not follow up with any unsolicited direct advertisements; a refreshing factor I did not expect.'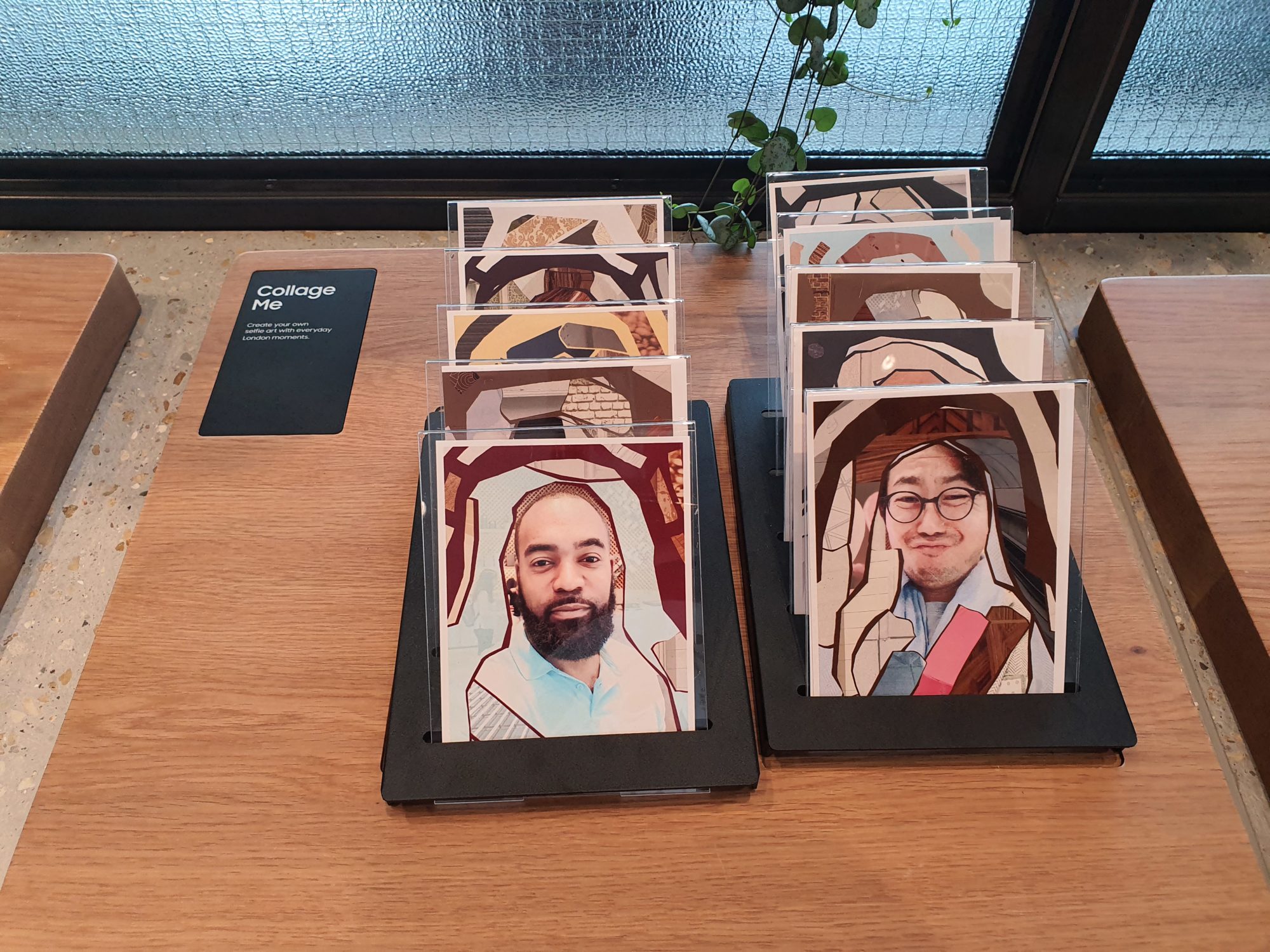 Samsung KX took engagement the furthest in the form of creative personalisation moments that yielded physical take-aways, created by you. Free to take or to become a part of the community display, custom phone cases for your samsung phone got visitors to interact with their flagship tablet: the Galaxy Tab S6. Collage selfie art prints and digitally 'hand-drawn' wooden face eggs showed off the creative capacity of other hand-held devices.
The social & physical payback from these engagements encourage visitors to get hands on experience with Samsung's products in an 'under the radar' way; whilst giving them a reason to do so – physical mementos and content for social media platforms. Through this, S-KX forms an emotional connection to fans of the brand to become a part of the Samsung world in an 'I was here' moment.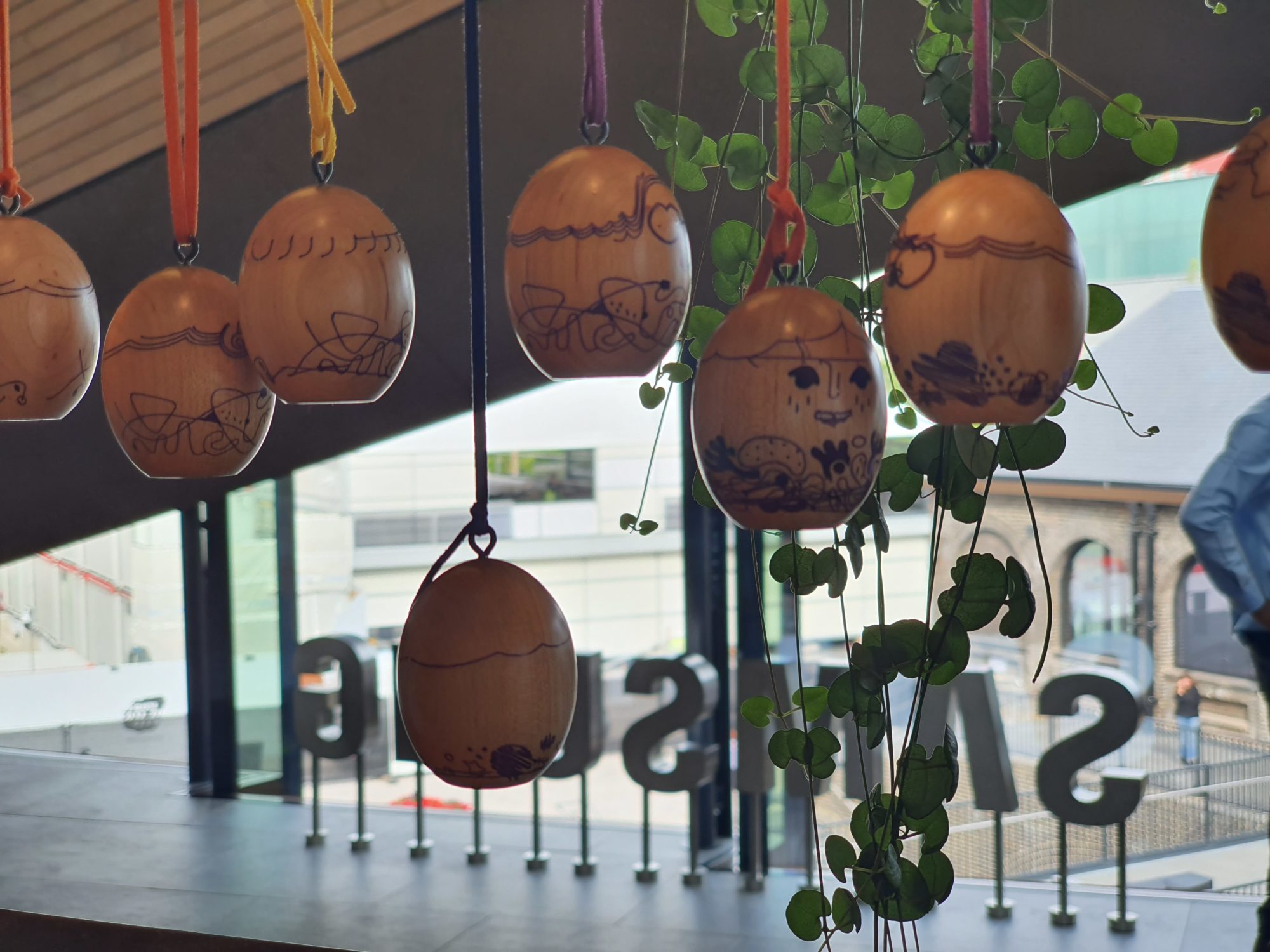 6.0 Conclusion
By experiencing these spaces first hand and looking closely at the translation of this celebrated Korean technology brand, we can see that they have successfully incorporated into the very fibre of British consumerism and retail.
We feel empowered that there is tremendous value for brands to pay heed to this across the board, best in class experience that blends the physical & digital realms without forgetting product engagement, social currency or emotional connection to the brand.
Both environments we visited challenge the view that digital user experience is somehow divorced from physical customer experience.
We observe the days of disconnected retail for big brands seeming to dwindle and online retail being named as the cause for a decline in highstreet brands. However, this is not the herald for the death of retail; it is in fact the beginning of a new breed of retail.
A new approach to brand manifestation, transforming our perceptions as consumers to what retail is. Meeting more of our needs and peeling us away from our mobile devices without forgetting the importance of our digital self identity.
A new understanding of the acclimation of value for brands; accepting that consumers are no longer concerned with purchasing instore. Brands such as Samsung now relish sales uplift no matter the channel it originates from, allowing deeper focus on consumer engagement and leaving a lasting impression over a quick sale or stock volumes.
'We predict that in 20 years time all highstreet stores and big brands will follow in the footsteps of environments such as Samsung KX. With engaging retail experiences becoming the new normal and purchases being made by consumers in whichever way they desire, over the brands preferring one outlet to another and comparing the difference of physical and digital retail outlets.
Brands, Service providers and Retailers will instead see the two worlds as one and the
same – an ecosystem that grows to meet the needs of the consumer & where possible, exceed their expectations, creating desire, demand & proving their agility in an ever changing world.'