The rise of the NFT _
A different kind of ownership
In our previous article, we explored Gen Z's rejection of ownership and its preference for rental. Now we delve into a trend that altogether challenges the definition of ownership: Non-Fungible Tokens, or NFTs.
Beknown and embraced by very few, it could be argued that NFTs are still very much an underground trend.
And whilst this might be true (for now), we think that it is a trend to keep a very close eye on in the coming months considering that some leading brands and retailers are beginning to test its waters, as well as our seemingly unavoidable attraction to digital formats as consumers.
For the majority who are new to NFTs, we hope that this article can offer a basic understanding of its concept by providing real-life examples of when, where, and how NFTs have been utilized previously.
Lastly, we envision how, despite seeming worlds apart, NFTs and physical retail environments might coexist.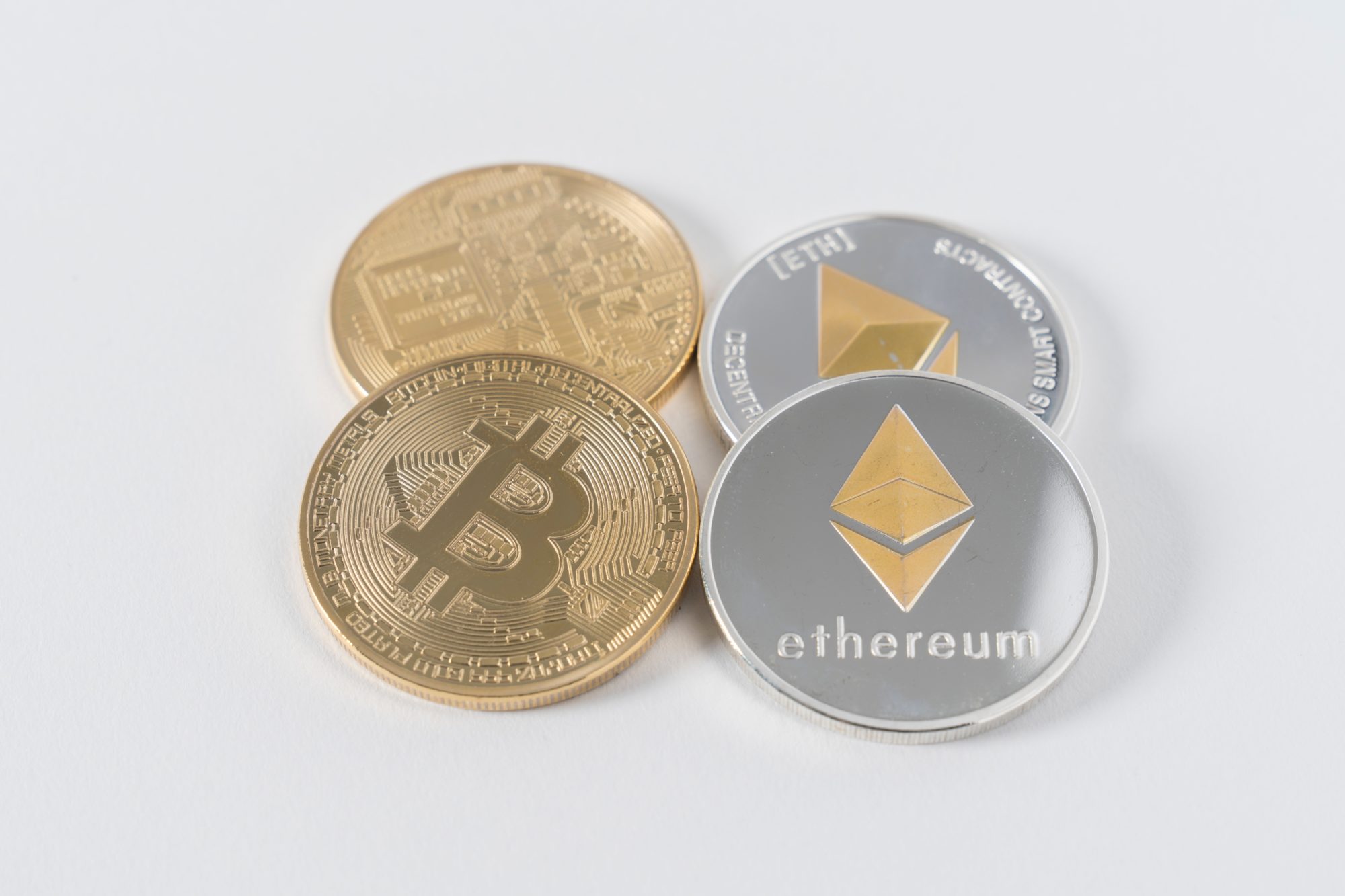 What is a Non-Fungible Token (NFT)?
A NFT is a certificate of ownership for a digital asset, if you like, that can be created, owned, sold, traded, and bought, in the same way that a physical asset can. As per its name, a NFT is non-fungible, meaning that each NFT is one-of-a-kind.
This puts it in a very different kettle of fish to cryptocurrency as there are, for example, 21 million bitcoins and 115.6 million ethers in circulation, but only one kind of each NFT.
NFT Examples
UNIQUE DIGITAL ARTWORK
The NFT art scene has exploded in recent months, making it one of the more popular types of NFT, not only with regard to how many NFTs for unique digital artwork have been created, sold, and subsequently owned, but also with regard to the amount of money that people are willing to pay for this NFT art.
The most expensive NFT sold to-date was for a unique digital artwork titled "Everydays: The First 5000 Days". Created by artist, Mike "Beeple" Winkelmann, this digital artwork was sold for $69.3 million to Vignesh "Metakovan" Sundaresan at Christie's – a British auction house.
DIGITAL SNEAKERS
It turns out that sneakerheads are well and truly embracing NFTs as brands like Nike join the trend to sell its very own, one-of-a-kind, digital sneakers.
However, the most disruptive brand to-date to sell NFT sneakers has been, RTKFT, "a very eclectic, creator led organisation [using] the latest in game engines, NFT, blockchain authentication and augmented reality, combined with manufacturing expertise to create one-of-a-kind sneakers and digital artifacts.". Known for creating viral sneaker designs, RTKFT has teamed up with Atari for several of its sneaker drops, but it was its collaboration with crypto-artist, FEWOCiOUS, which made history, with the FEWO sneaker selling out in just 7 minutes and generating $3.1 million.
IN-GAME ITEMS
The ability to purchase in-game items is as old as online gaming itself, so why is purchasing in-game items with NFTs any different? Not only are NFT purchases unique to the buyer (explained previously) but these purchased items can never be taken away from the gamer by the game developer. What's more, the new item owner can sell or trade the item how they see fit – potentially making for a really robust economy in online gaming as developers invite players to own parts of the game, as opposed to simply owning a copy of the game.
One of the more popular games using NFTs is Axie Infinity – a strategy game akin to Pokémon. Players buy NFTs for their fantasy creatures called "Axies", putting their Axies head-to-head in online battles with other players. Alongside being able to sell and trade NFT creatures for 'real-world' value, the game allows for you to breed your Axies, thus making it possible to increase the number of NFT creatures in your portfolio without having to purchase further NFTs from the game developer.
COLLECTIBLES
Using blockchain technology – a ledger that records the ownership of digital assets -, NFTs are a sure way to ensure that collectibles are authentic, and therefore worth a few bob. Consequently, it is no surprise that Major League Baseball (MLB) is the latest sporting organisation to explore making digital collectibles available via NFTs. Like with all NFTs, the digital collectibles can be bought, sold, and auctioned on digital item marketplaces, such as OpenSea.
SOCIAL MEDIA POSTS
Just when we thought we had seen it all, Twitter CEO, Jack Dorsey, reportedly sold one of his Tweets for 1,630.58 ether, the equivalent of $2.9 million! You will be glad to know that it wasn't just any old Tweet, but rather it was Jack's first EVER Tweet which read, "just setting up my twttr". You might also be happy to know that he donated the proceeds from the sale to GiveDirectly's Africa Response fund.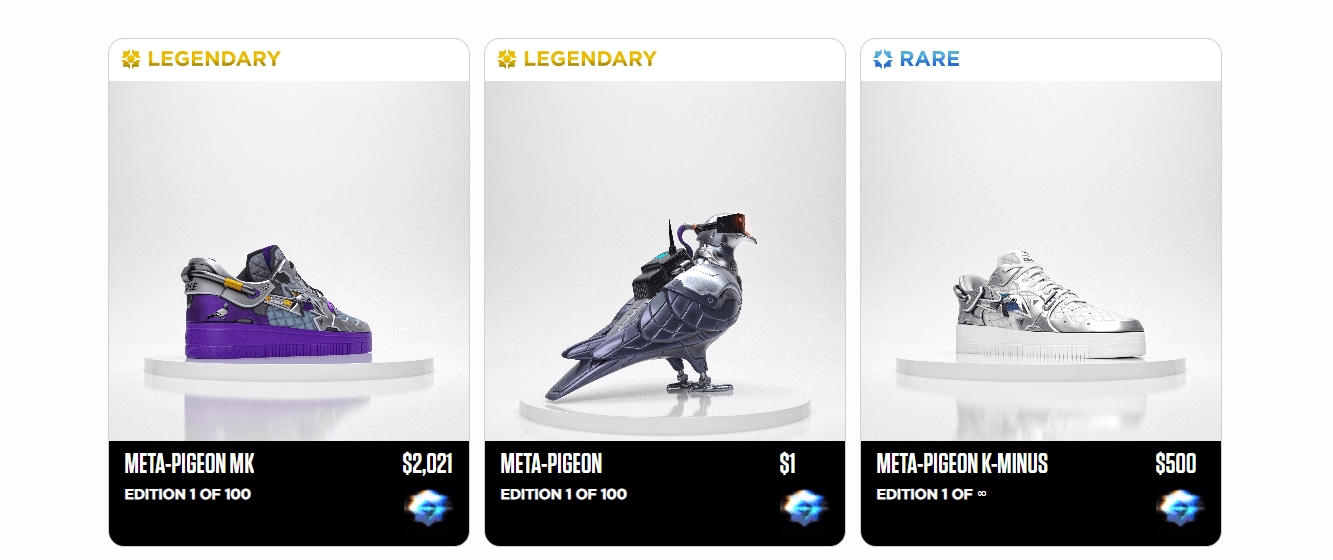 Why & how highstreet brands should be utilizing NFTs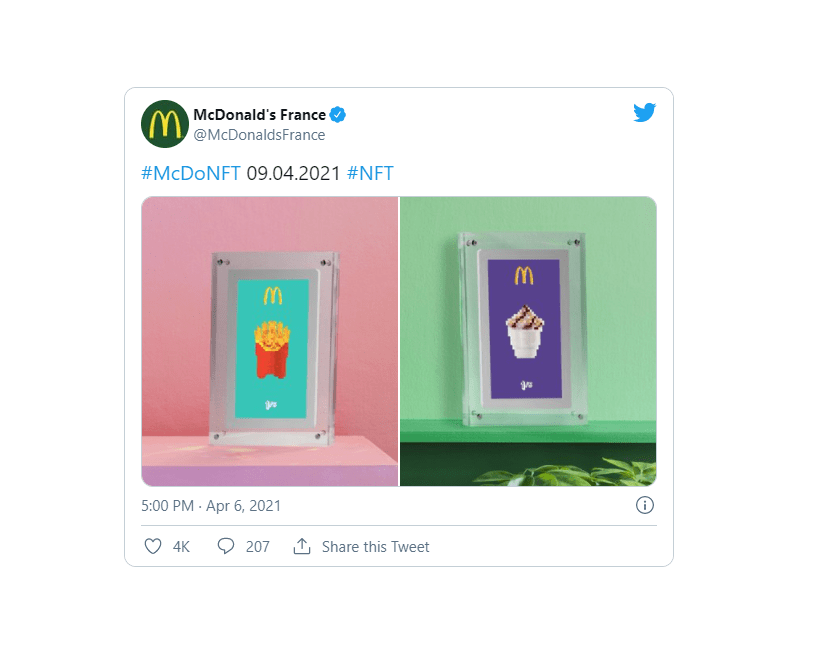 Brand awareness
NFT PRIZES
Hosting events and competitions for lead generation and to raise brand awareness is a marketing strategy as old as time, but it is only now that brands and retailers are offering NFT assets as a prize.
NFT prizes are unique, thus offering a sense of exclusivity which the competition winner might not otherwise get with a tangible prize item. Not to mention that owning a NFT is still a fairly unique experience in itself, increasing its exclusivity further still and making for a very interesting prize indeed.
Manchester City teamed up with 3D digital artist, Jon Noorlander, for example, to create a NFT collection marking its premier league win. Whilst the majority of the collection went up for sale, the premier league winners invited fans to enter a prize draw to win a NFT for an edition of The Champions Medal.
Similarly, in April, McDonald's launched NFTs for iconic menu items which its social media followers could win upon entering a competition. Using the hashtag #McDoNFT, the initial Instagram post (later followed by a Twitter post the week after) generated over 7,000 likes.
NFT COLLABORATIONS
Arguably, collaborating with other brands to create and sell NFTs is more convenient than collaborating with brands to create and sell physical items, not least because the cost of sales is generally lower. What's more, collaborating with other brands and creators to create NFTs provides an opportunity to form some otherwise unlikely collaborations, allowing brands to reach unlikely consumer markets.
DraftKings, a sports betting company, for example, recently bought CryptoPunk #1871 (there are 10,000 unique CryptoPunks in existence) for $70,400 worth of ETH, and subsequently gifted it to its "PGA Putt for a Punk" Fantasy Golf Contest winner – attracting a mix of golf fans, collectors, investors, crypto-fans, and…… punks?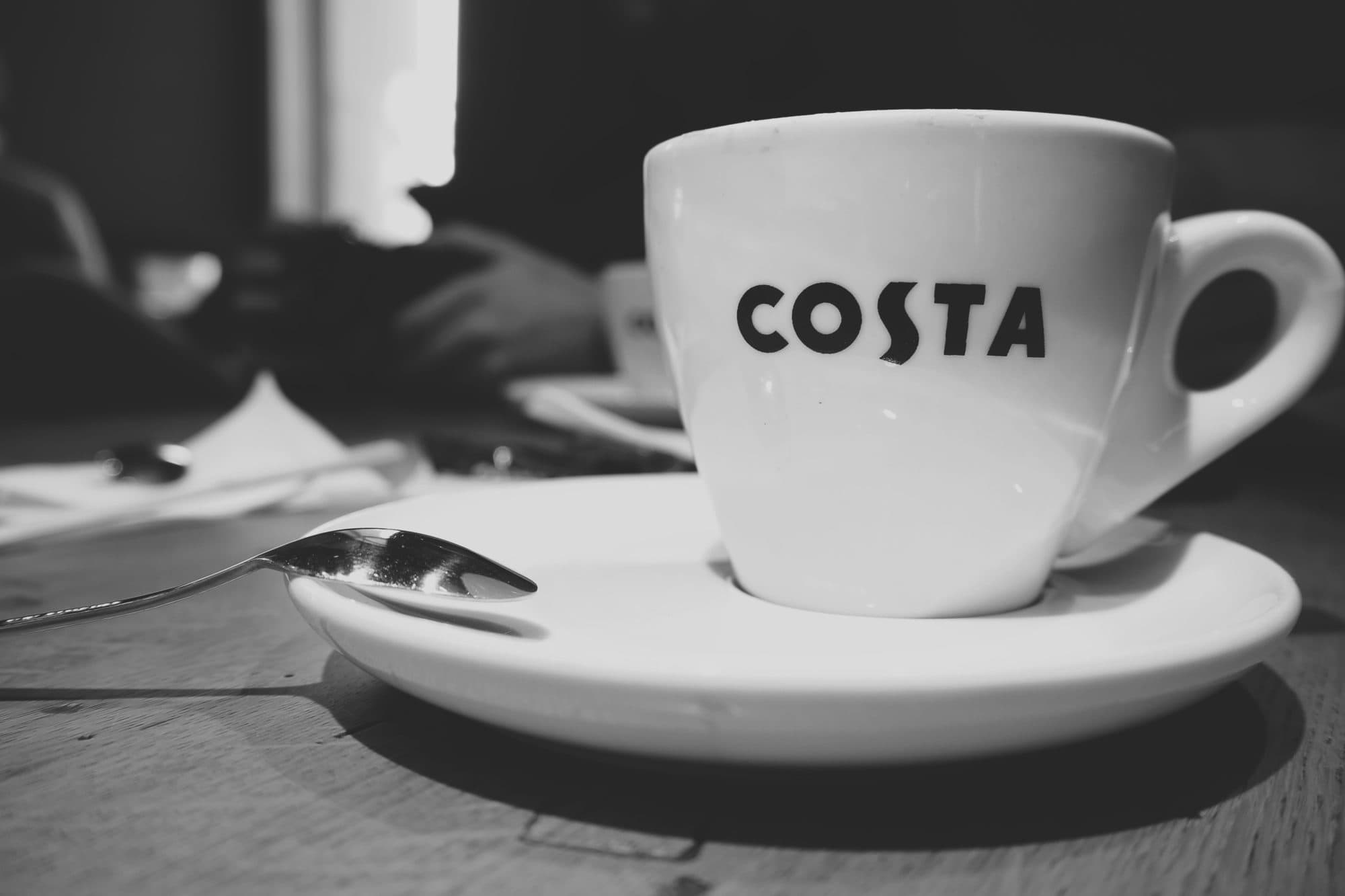 Fostering brand loyalty
BLOCKCHAIN LOYALTY PROGRAMMES
Similarly to offering NFTs as prizes for competition winners to foster brand awareness, NFTs can of course also be gifted to customers as part of a loyalty programme.
Currently, many coffee outlets, such as Costa Coffee, run a scheme by which a free coffee is rewarded to the customer if they can prove that they have bought x number of coffees previously from the coffee brand. The widely used method of stamping a card is adequate but not robust nor fool-proof. For example, if the card is spoiled, proof of a customer's 'right' to a coffee reward is lost.
With blockchain-based loyalty reward programmes however, where customers receive NFTs for their loyalty points, this is no longer a problem.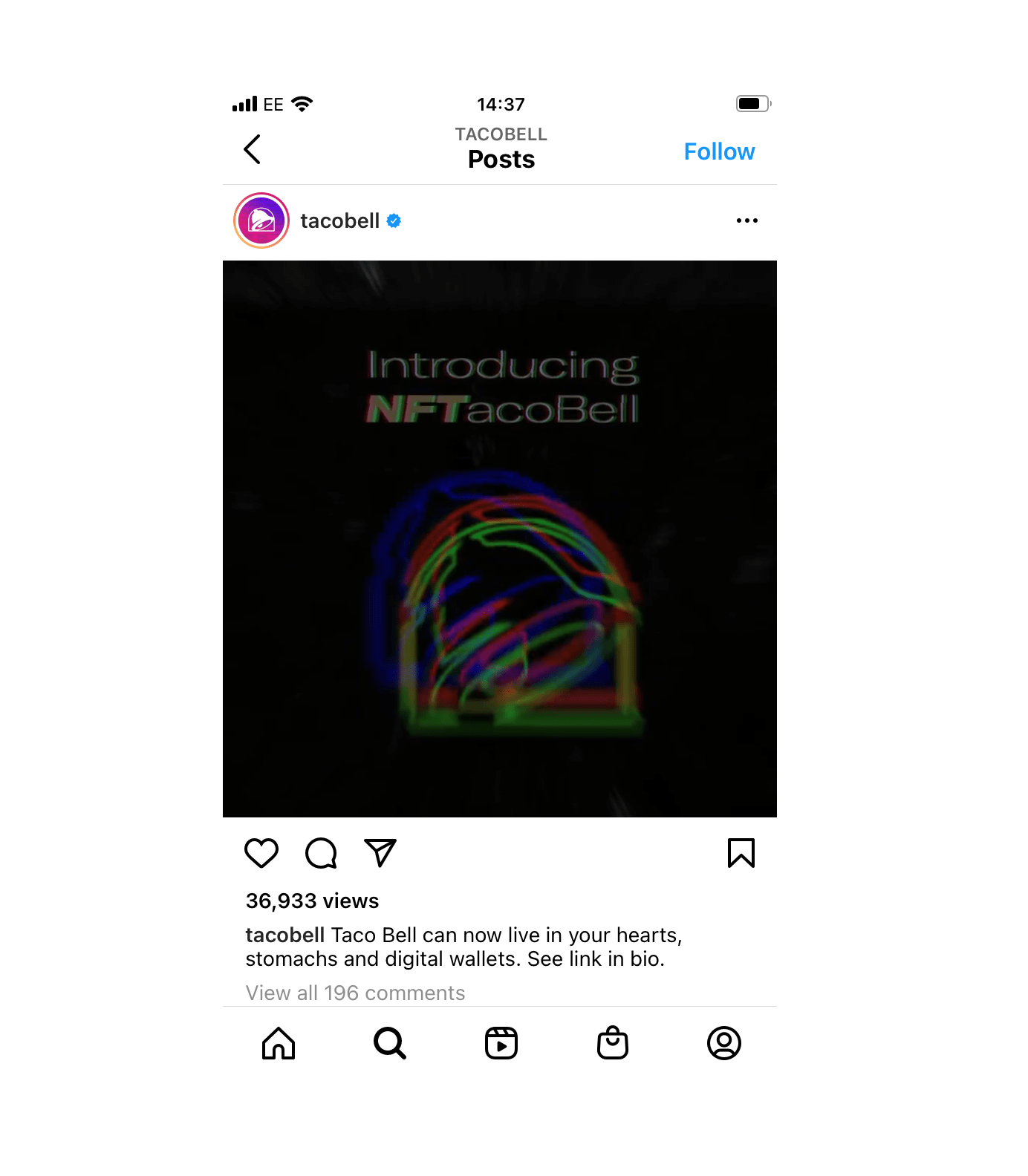 Demonstrating brand purpose
In a world where a brand's political, social, and environmental stance is just as important to consumers as the relevance of its product/s, selling NFTs to generate money for a cause is a great actionable way for brands to demonstrate their purpose and alliance to a cause.
Taco Bell, for example, sold a collection of taco-themed NFTs in March with all profits going to the Taco Bell Foundation – a foundation which raises funds to support key educational initiatives, such as scholarship programmes.
An alternate revenue stream
To state the obvious, brands could of course embrace the NFT consumer market by selling the NFTs that it creates as routine, potentially opening up another revenue stream for the brand.  Selling NFTs as routine has worked for some brands, such as RTKFT mentioned previously. A handful of highstreet brands are starting to test the waters of NFTs, and many more are ready and poised to dip in a toe.
Luxury fashion brand, Gucci, had been embracing digital fashion for some months via designing digital versions of its collections for a fashion-themed video game, and launching a platform that allows users to design sneakers and then see them on their feet using AR. Therefore, it didn't come as too much of a surprise when we learned that Gucci entered the world of NFTs. In May, Gucci took part in the "Proof of Sovereignty" collection which was curated by Lady PheOnix and facilitated by Christie's (online) auction house, by presenting Gucci Aria – a NFT for a fashion film of its Aria Collection.
Just as online shopping creates the halo effect, we wonder whether a similar phenomenon would occur following consumers purchasing a brand's NFTs?
NFTs at physical retail
So far there have been very few situations in which NFTs and physical retail has coexisted. There are of course many instances where digital assets have been used to augment the customer experience.
Nike Points are collected by Nike Members via being active, and by interacting with the brand, and can be used to unlock exclusive experiences, products, and promotions.
However, the ownership of these points, like with most digital assets that have been offered to customers by brands, has not been recorded or 'minted' via blockchain technology meaning that there is very little proof of anyone actually 'owning' these digital assets that have been earned.
In the below, we put forward three hypotheticals in which physical retail and NFTs can exist side-by-side so that modern consumers can experience the best of both worlds when interacting with their favourite brands and retailers.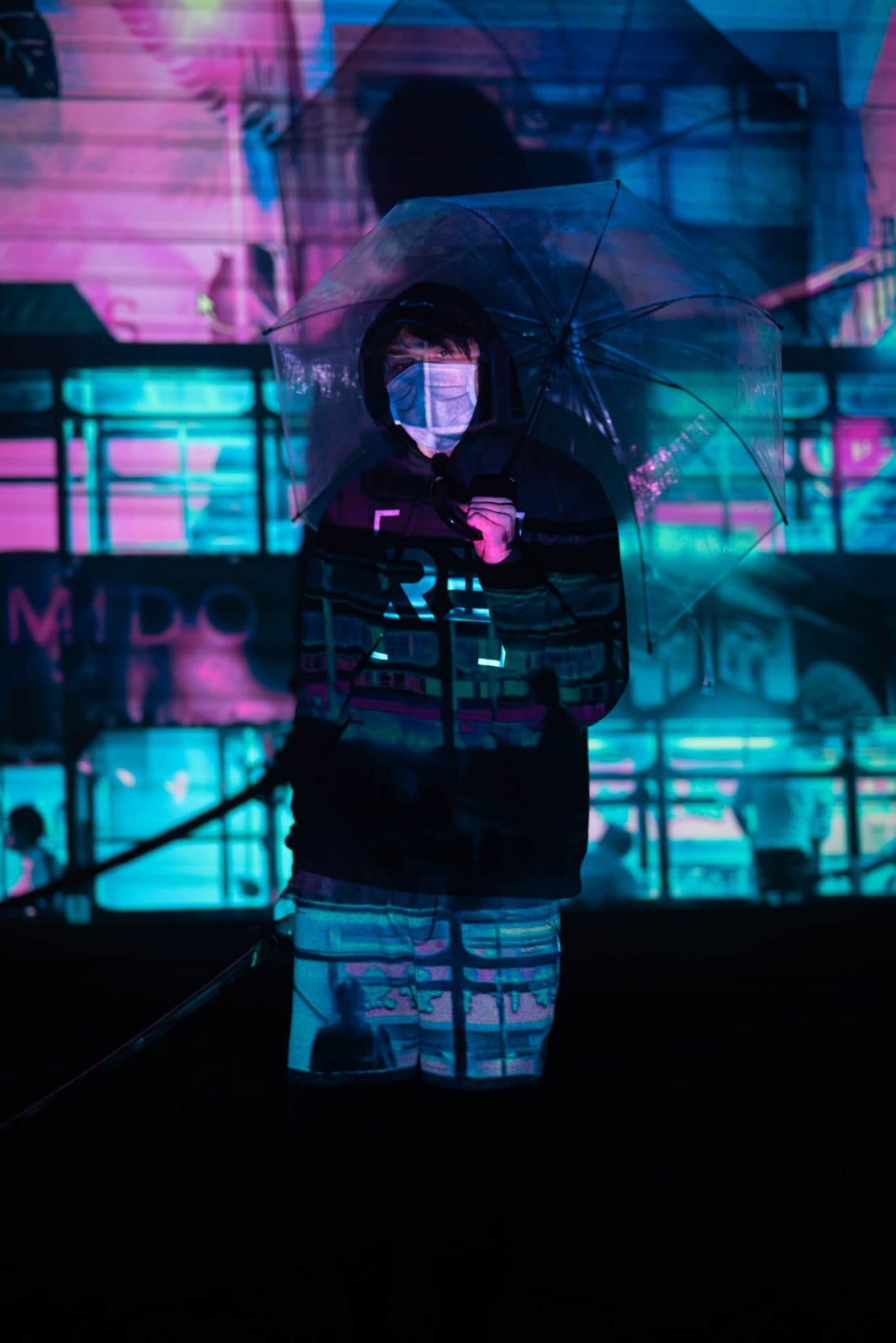 #1 OMNI-OWNERSHIP
Could it be that when we buy an item of clothing from a store, that we are offered a NFT of the item's digital counterpart, alongside, so that we can own the item (or a version of the item) in both the physical and digital realm?
#2 NFT CONCEPT STORES
Just because tangible items are well…. tangible, it doesn't necessarily mean that we have to buy and browse for these items in the tangible/physical world. Similarly, just because NFTs are a digital record of ownership for digital assets, it shouldn't have to mean that we are required to buy and browse for NFTs in the digital realm. With this logic, could the highstreet feature NFT concept stores so that consumers can still benefit from the experience that comes with visiting a physical store?
Alongside creating digital fashion, 'The Fabricant' also curate phygital experiences to "merge physical and digital capabilities to create interactive brand experiences", suggesting that this vision for the future of retail is very much a shared one.
#3 NFT TICKETS
Lastly, going forward, brands might choose to sell NFT invitations or tickets to exclusive events in the physical realm, such as brand experiences and workshops, Black Friday Sales, or even for entry to the location of a brand's latest product drop!
👀 NEVER MISS AN INSIGHT 👀 Subscribe to our newsletter (it's free!) to get retail highlights & insight exploring the emerging trends in retail today sent straight to your inbox.