On The Road: H Beauty _
H Beauty launches a brand-new beauty playground in Bristol!
On Thursday (21st April 2022), H Beauty launched a brand-new beauty playground in Bristol, making it the fourth standalone store to join the H Beauty family…
Located in Cribbs Causeway, this 25,000+ square foot store offers a plethora of makeup, skincare and fragrance from a host of exciting brands, from legacy names to pioneering, next gen newcomers (Including a handful of brands that are not present in Knightsbridge's iconic beauty hall!)
The space features a mix of permanent and temporary shop-in-shops which occupy the space around the perimeter of the store, whilst a maze of beauty counters sit within its core. This new and vibrant beauty experience allows customers to get hands-on with products at the interactive play tables where you're invited to experiment with your own purchases or receive makeovers and tutorials from in-house experts and special guests.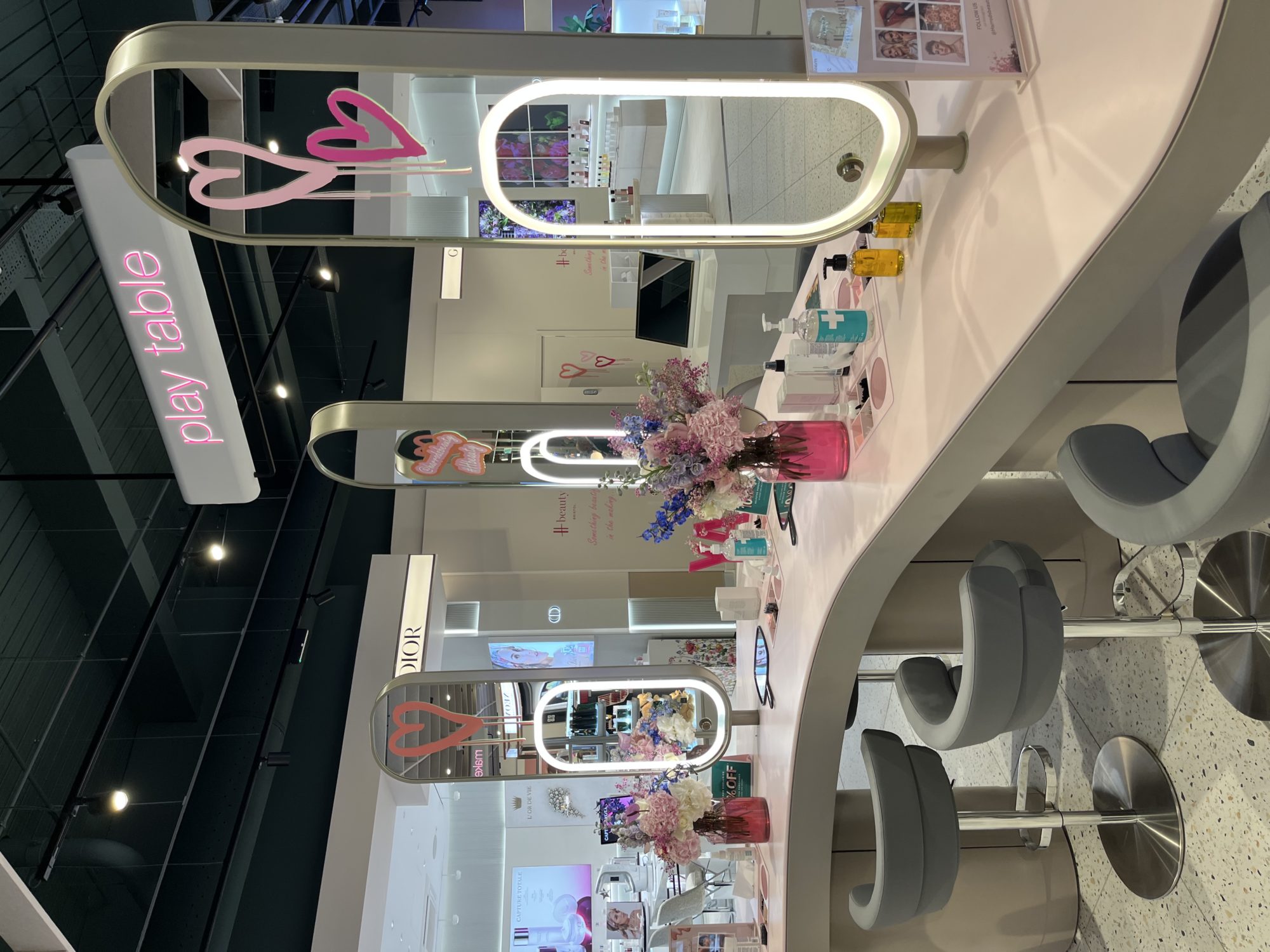 H Beauty Services
If skincare's your thing, the store houses its own skincare station where customers can relax with a mini facial and book consultations with in-the-know H Beauty specialists…or explore the mask bar which holds a comprehensive range of at-home pampering face masks, from "sheet" to "sleep", to "hydrating" and "clarifying".
Got a party, last-minute date night, or just fancy a pampering? You can book yourself in to the H Beauty Dry Bar offering an elevated blow dry experience for every occasion. What's more, take a moment to scan the QR codes dotted around the store and you might just find yourself receiving a blow dry at a discount!
In fact, digital touchpoints can be found throughout the store with brands such as Gucci and Chanel offering virtual try-ons via digital screens, and Dior inviting customer to use its virtual skin scanner to identify their personal skin needs, and perfect foundation matches.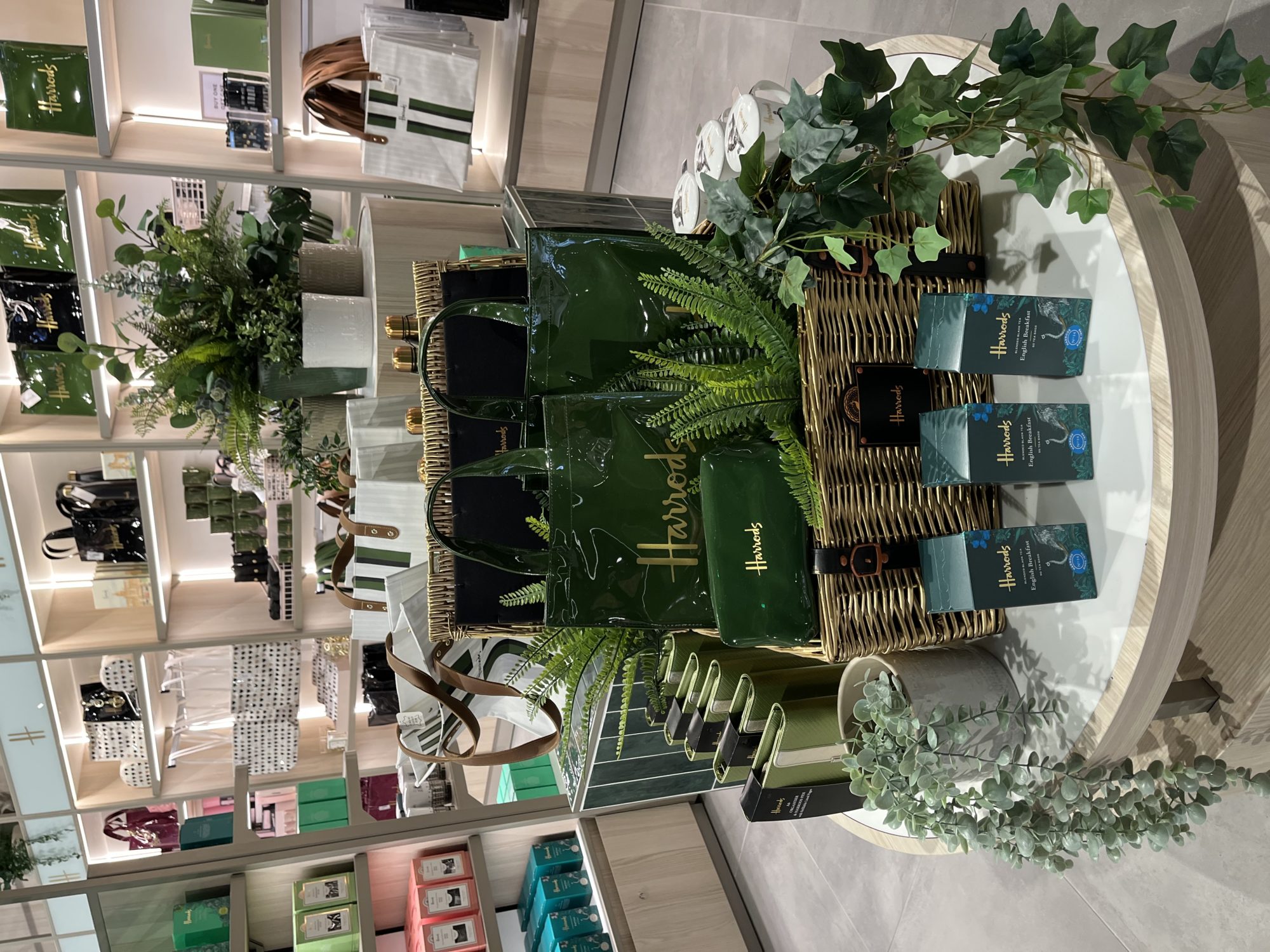 After all that shopping…
H Beauty invites customers to take a pause at their on-site champagne bar which sits right beside the Harrods gift shop where customers can purchase Harrods merch – everything from bags to crockery and even sweet treats…
…and, of course, snap a quick selfie at the H Beauty flower wall!
Our Top Picks
We've hand-picked some of our favourite beauty counters, pop-ups, and shop-in-shops (in no particular order) to give you a feel for the store and things to look out for…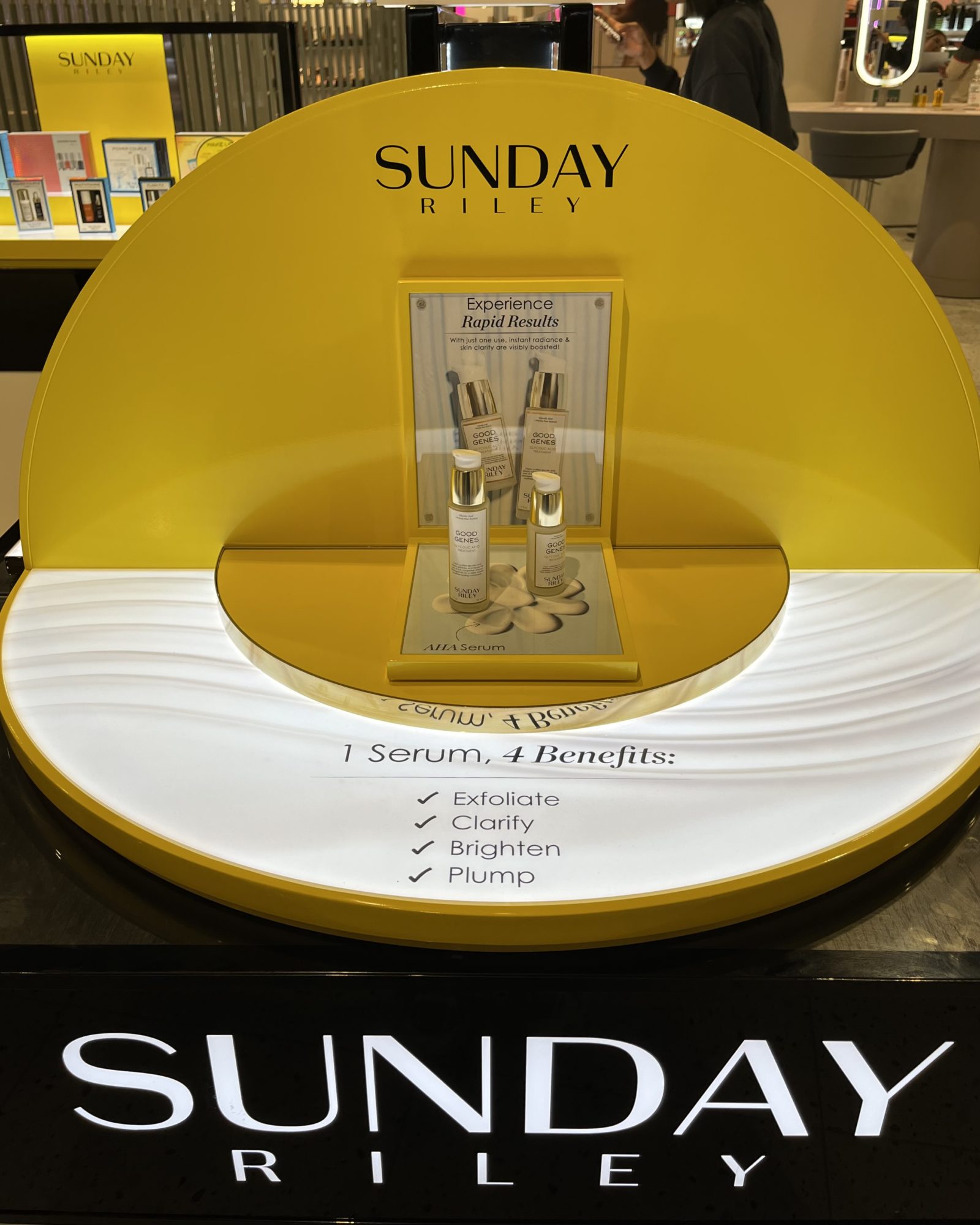 1. Sunday Riley
We may be biased but we had to include the beauty counter that is home to botanical skincare brand, Sunday Riley, executed by Design4Retail. Although the premium brand is sold elsewhere, this was the first time Sunday Riley has launched into H Beauty. The counter oozed luxury with its high gloss black and mirror gold design, paired with vibrant yellow accents – a defining feature that really makes it stand out from a sea of beauty brands. Amongst the clean lines and illuminated surfaces sits a lazy Susan holding various product lines, packaged in bright colours, bringing yet more attention to the counter.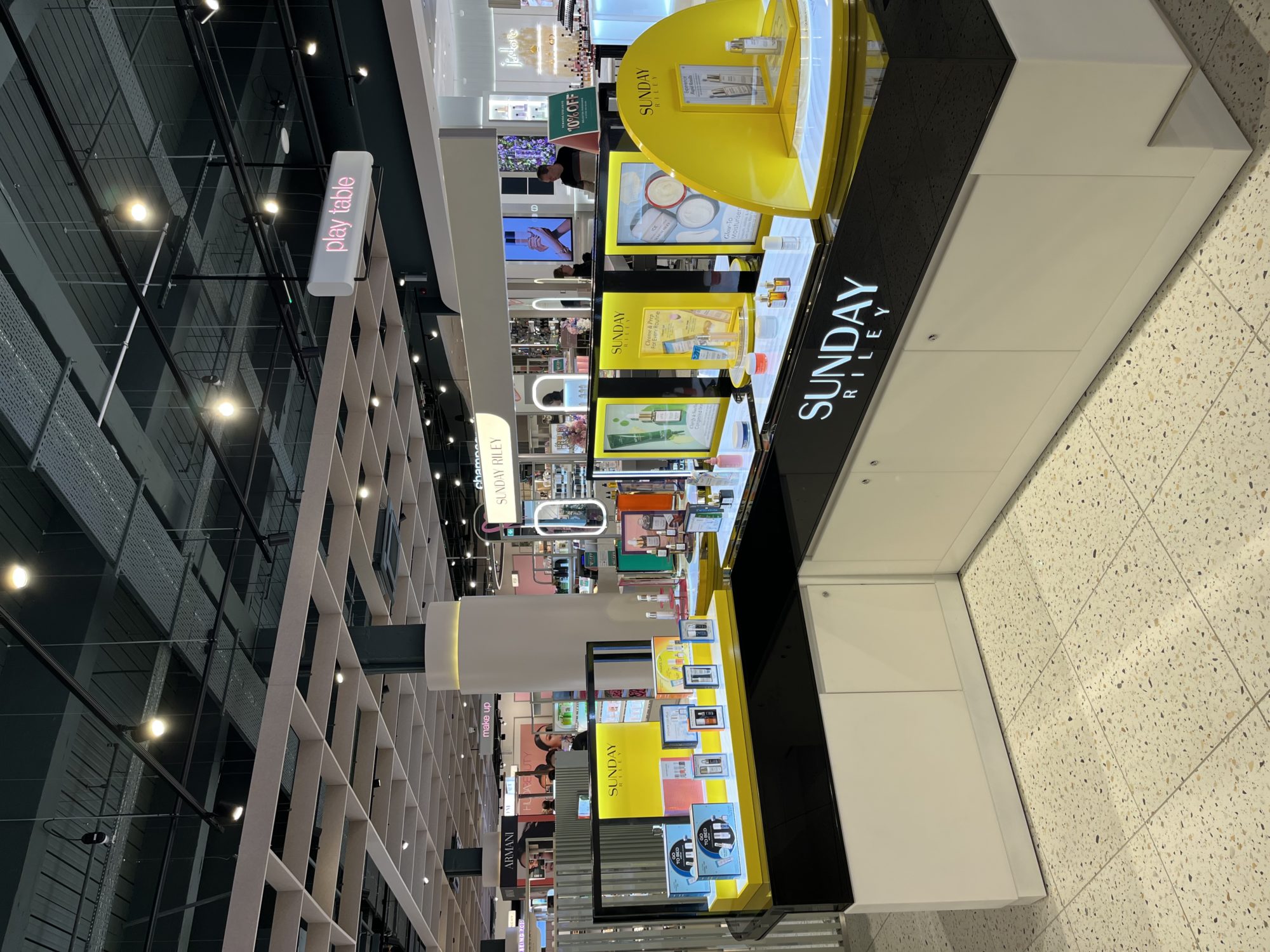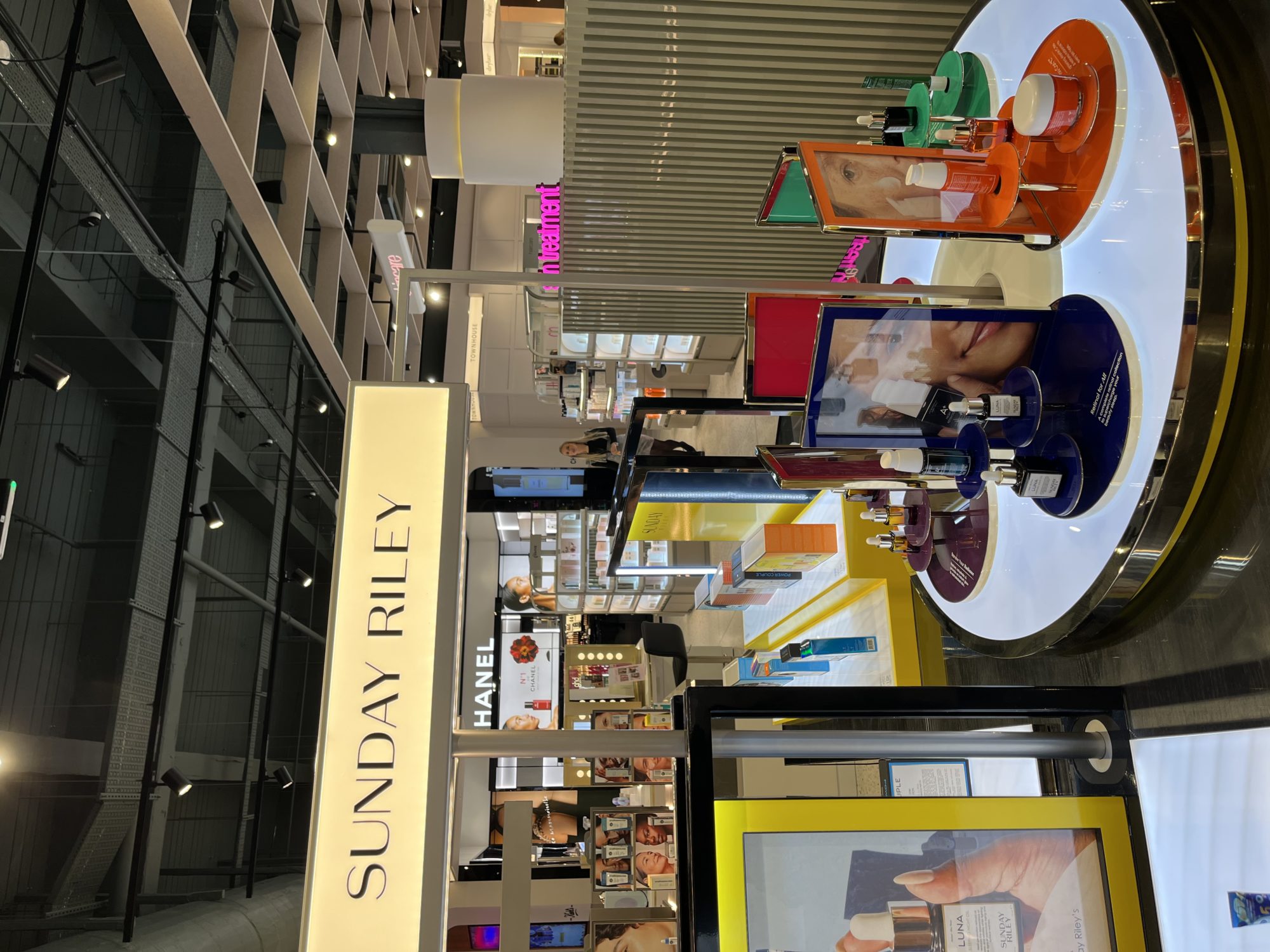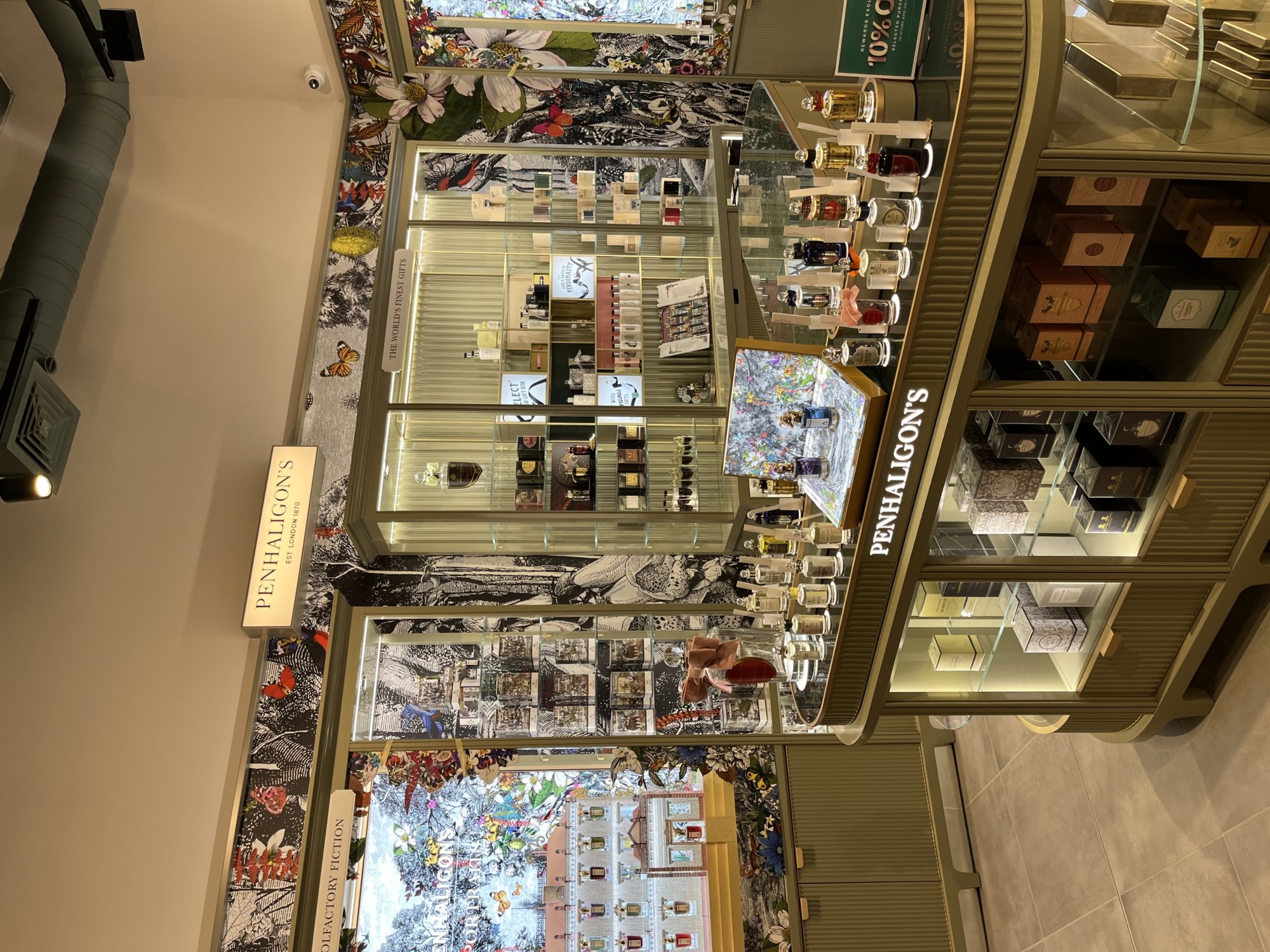 2. Penhaligon's
We think Penhaligon's shop-in-shop dominates the back left corner of the store with its maximalist, illustrative-style print accompanied with sage-panelled, gold-finished furniture. Within this eye-catching space, products are displayed on glass shelving and in London townhouse-style casings, paying homage to the brand's British heritage. The juxtaposition between the traditional style of the décor, which is a nod to Penhaligons humble beginnings, and the vibrant prints, reflecting the delightful concoctions, overall provides a very effective space.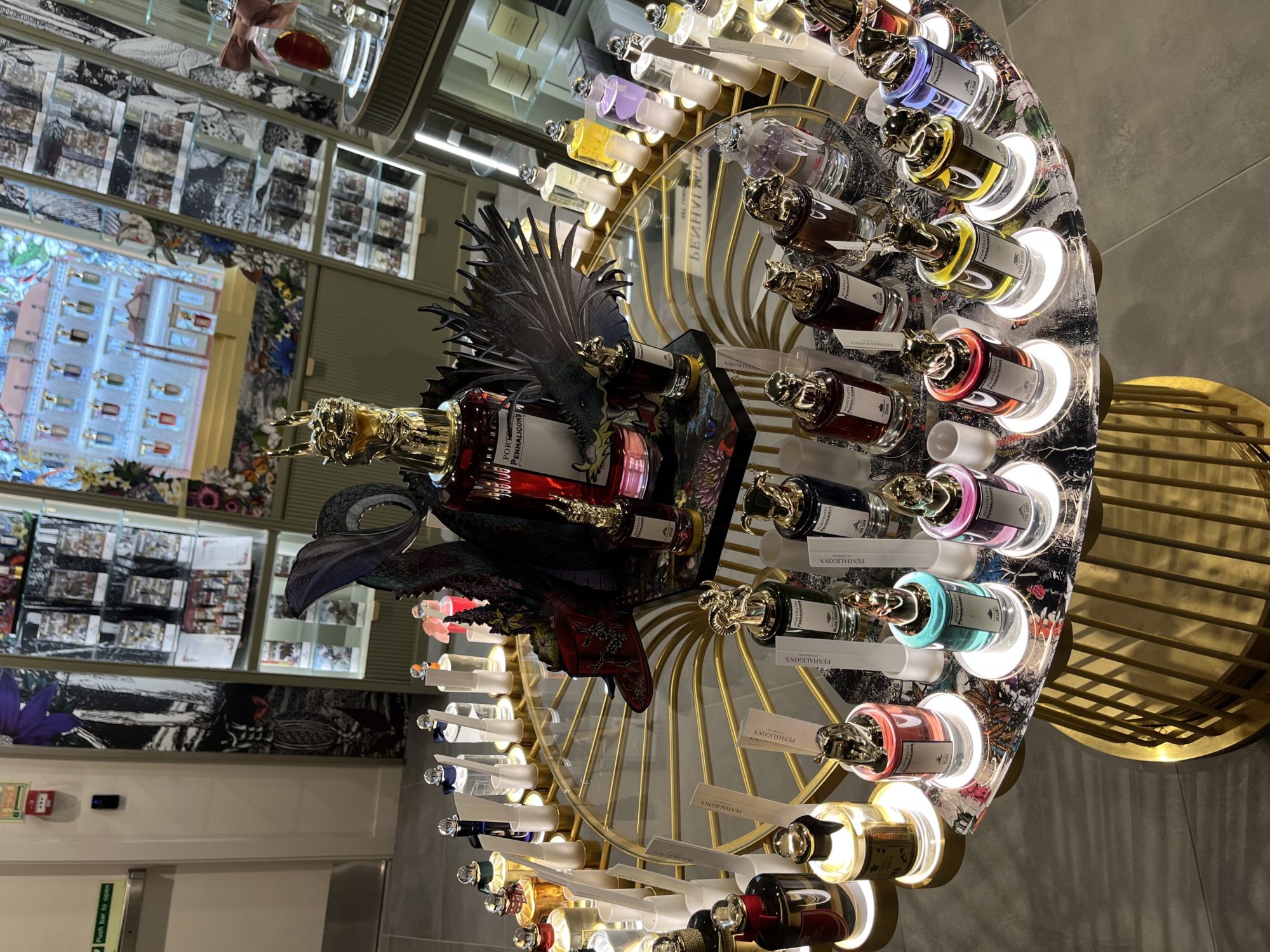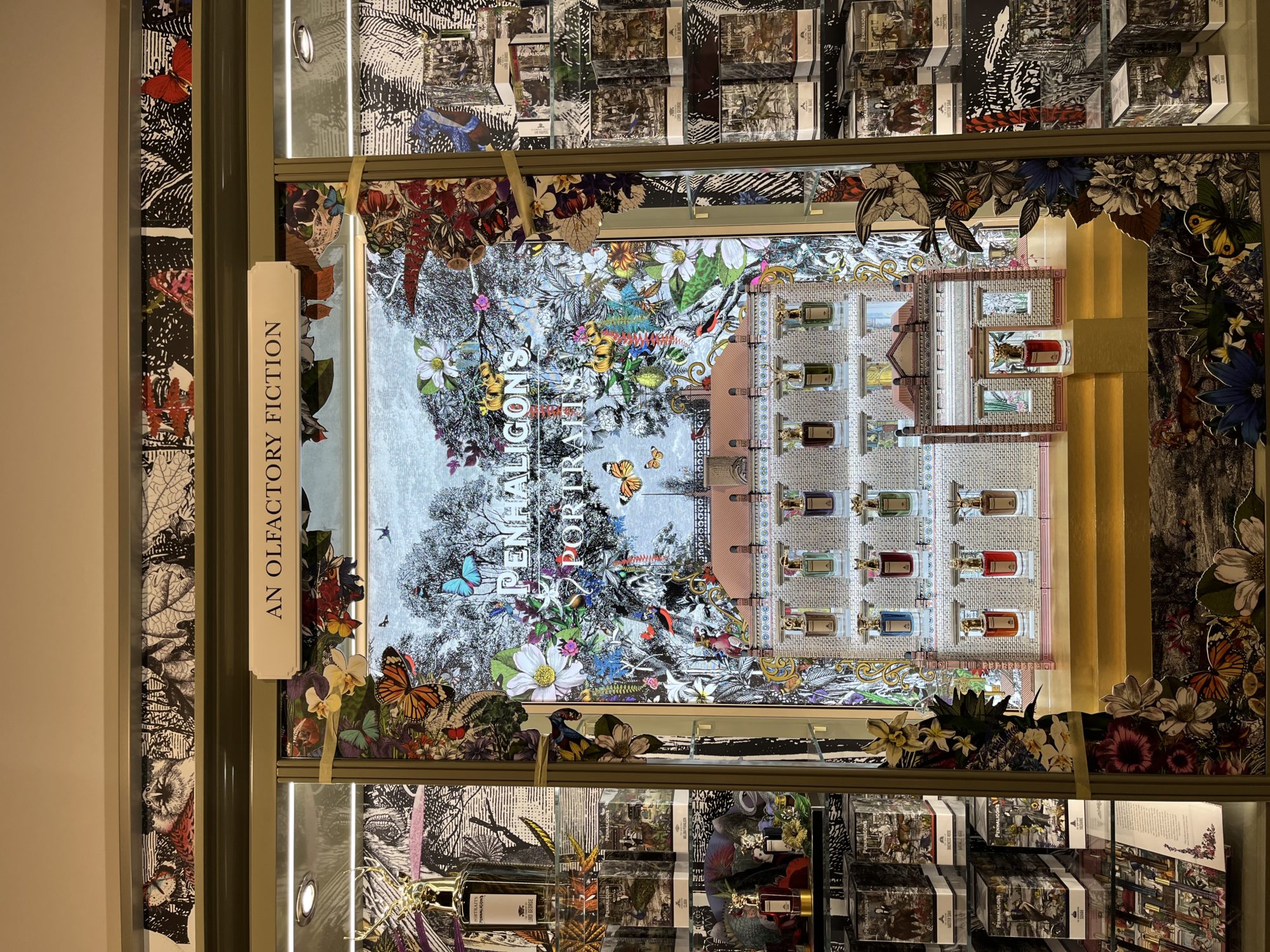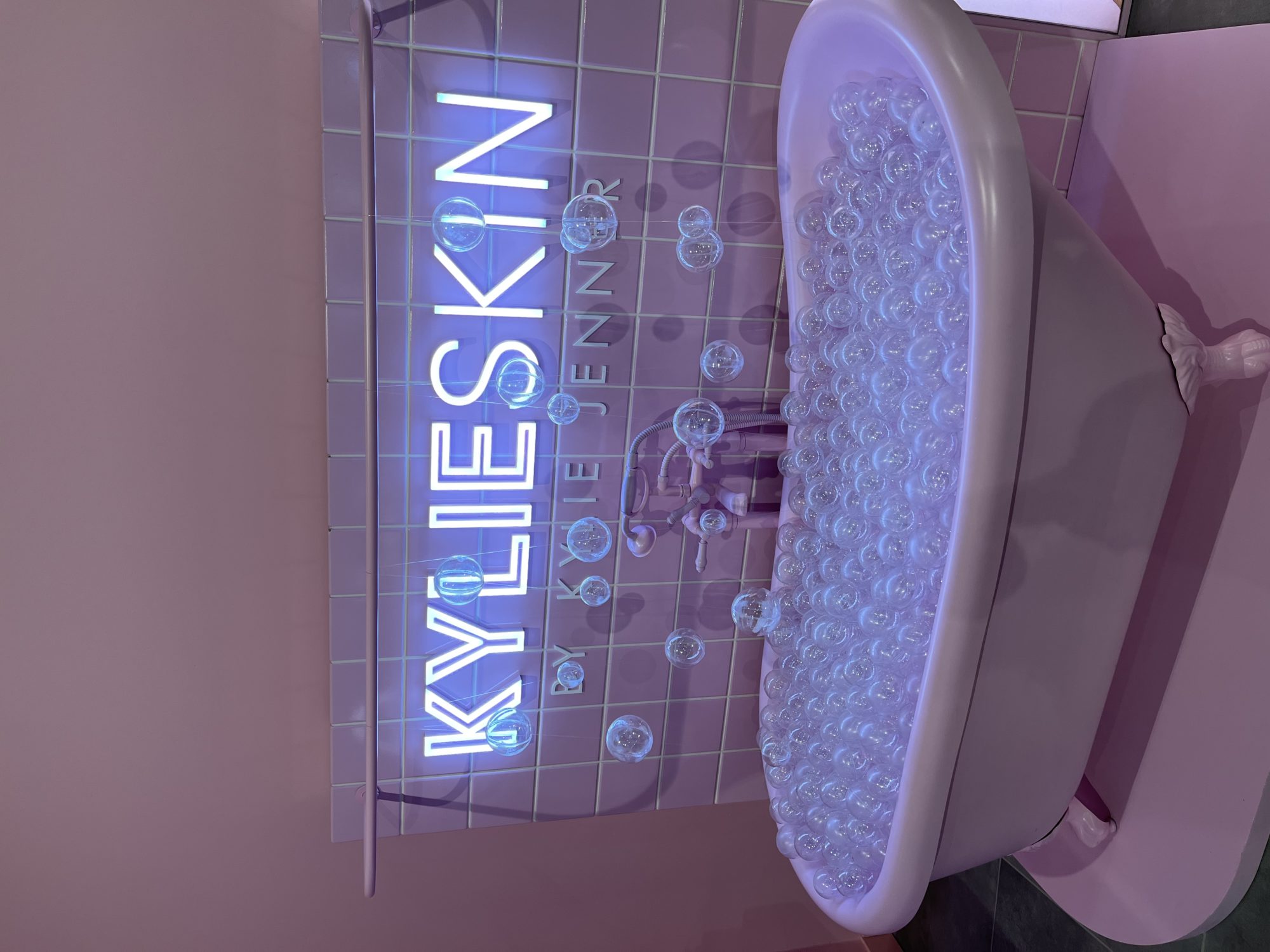 3. Kylie Skin
Standing beside Huda Beauty in the far-right corner of the store is very impressive Kylie Skin temporary shop-in-shop. Although the 'Kylie' brand predominantly offers makeup, the pretty pink space, clad in glossy tiles to mimic a bathroom setting, is dedicated to the brand's skincare range – "The first step to great makeup". Within the theatrical display sits a bathtub installation with overflowing, larger-than-life bubbles, and an illuminated neon sign hanging above.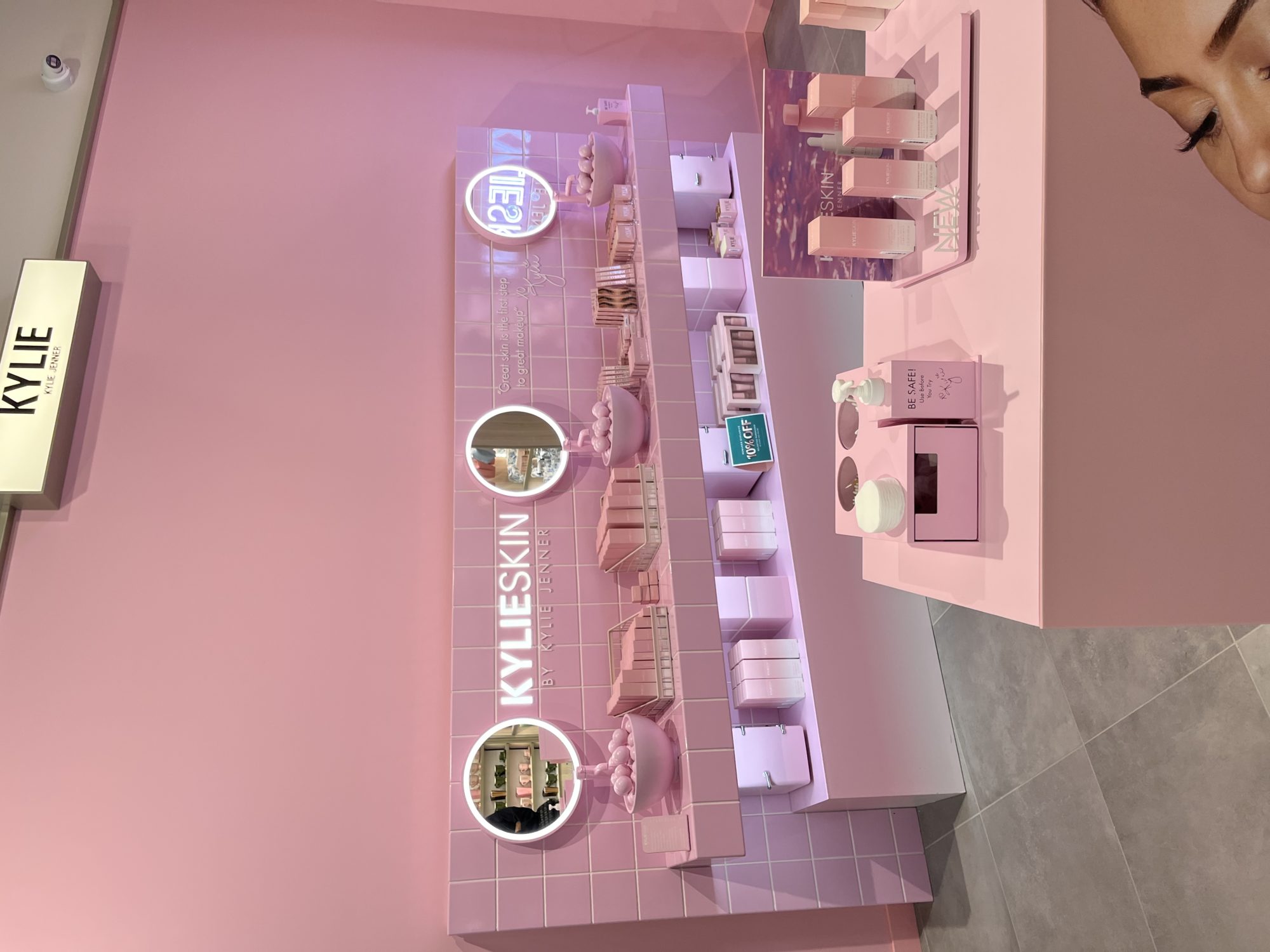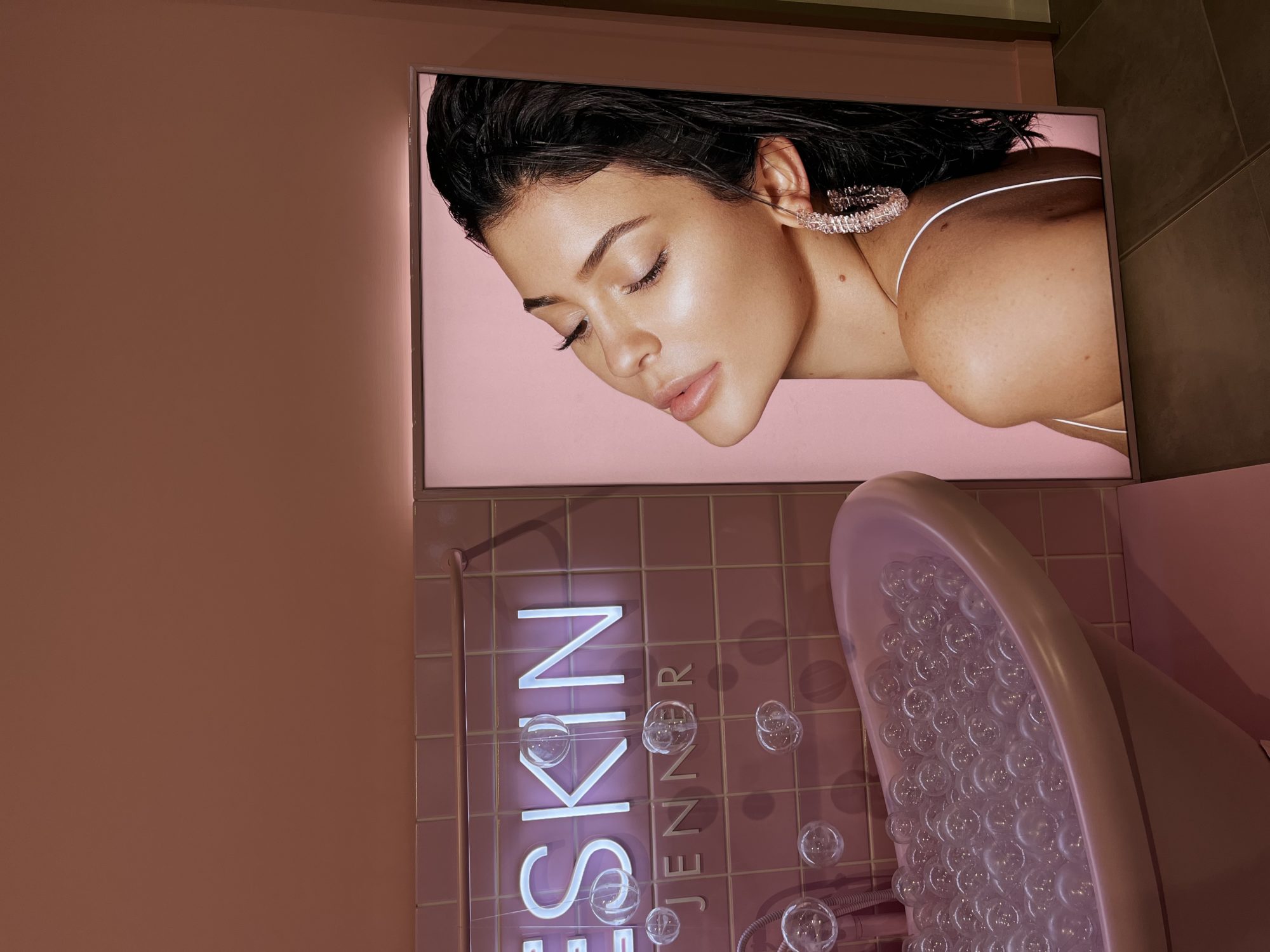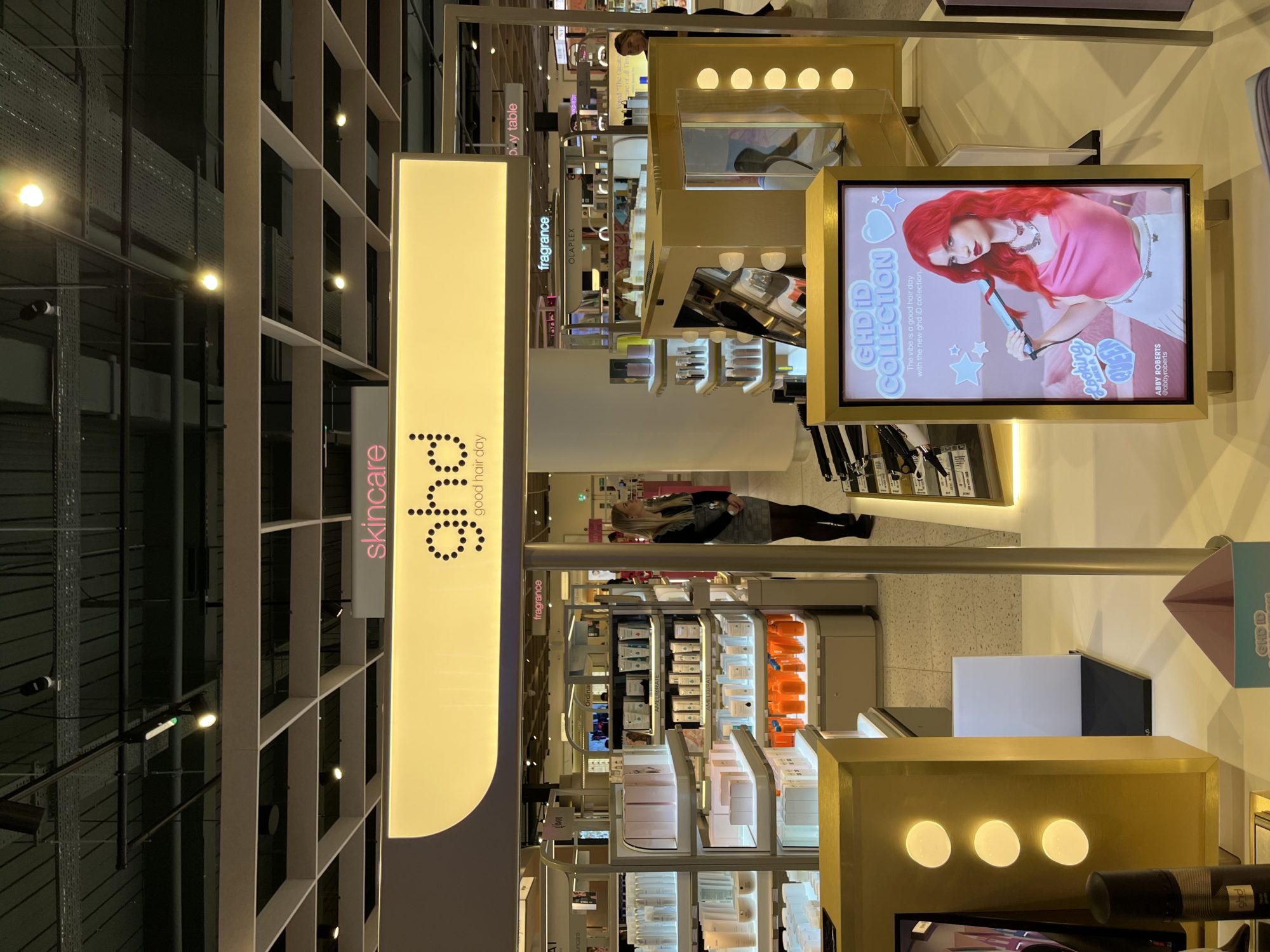 4. GHD
GHD'S counter lived up to all expectations, with its iconic black and gold brand colours at the forefront of its design, but it was the digital screens that sparked our intrigue. GHD displayed dynamic content on three screens, activated and controlled through a customer-led, RFID-based 'lift & learn' experience. Each screen was dedicated to an array of straighteners, curlers, hairdryers, and brushes. When a particular product was lifted, it triggered a motion picture on the screen demonstrating product tutorials, comparisons between the products, styles achieved with each, and their suitability for varying hair types. The entire counter was framed with bright bulb lighting to mimic a Hollywood mirror you might find in a dressing room or salon, suggesting that customers can achieve salon-quality hair from their home with GHD products.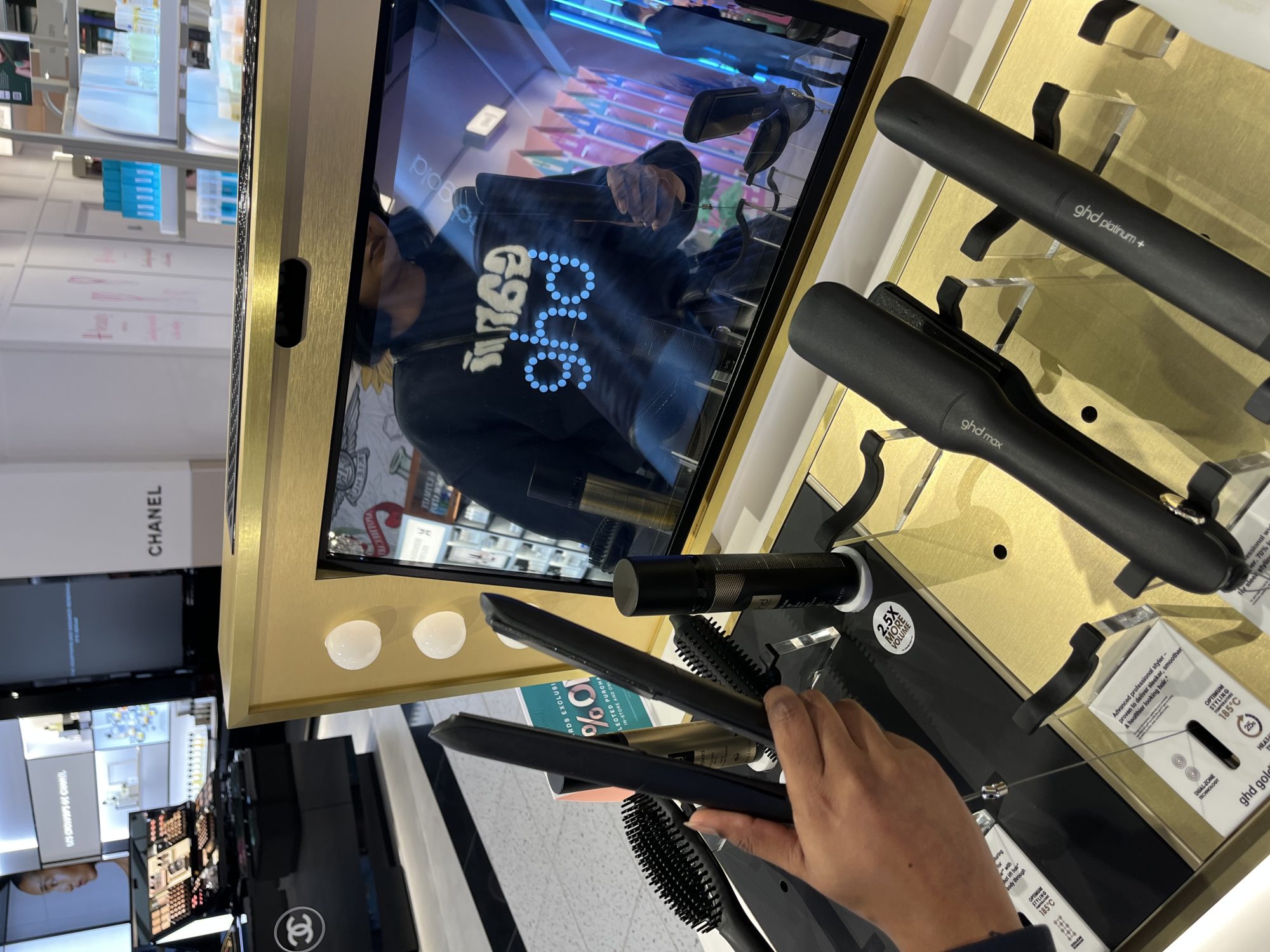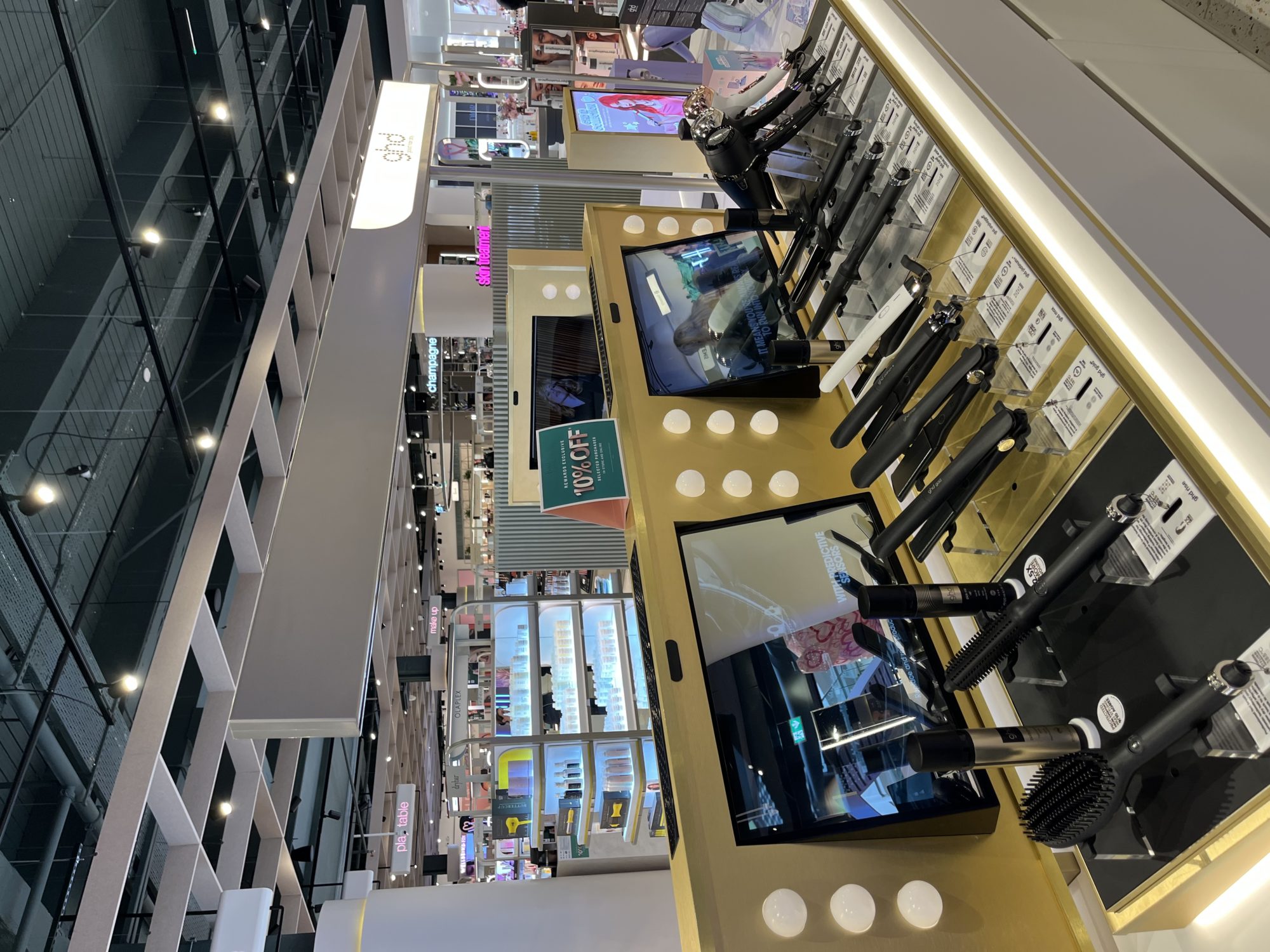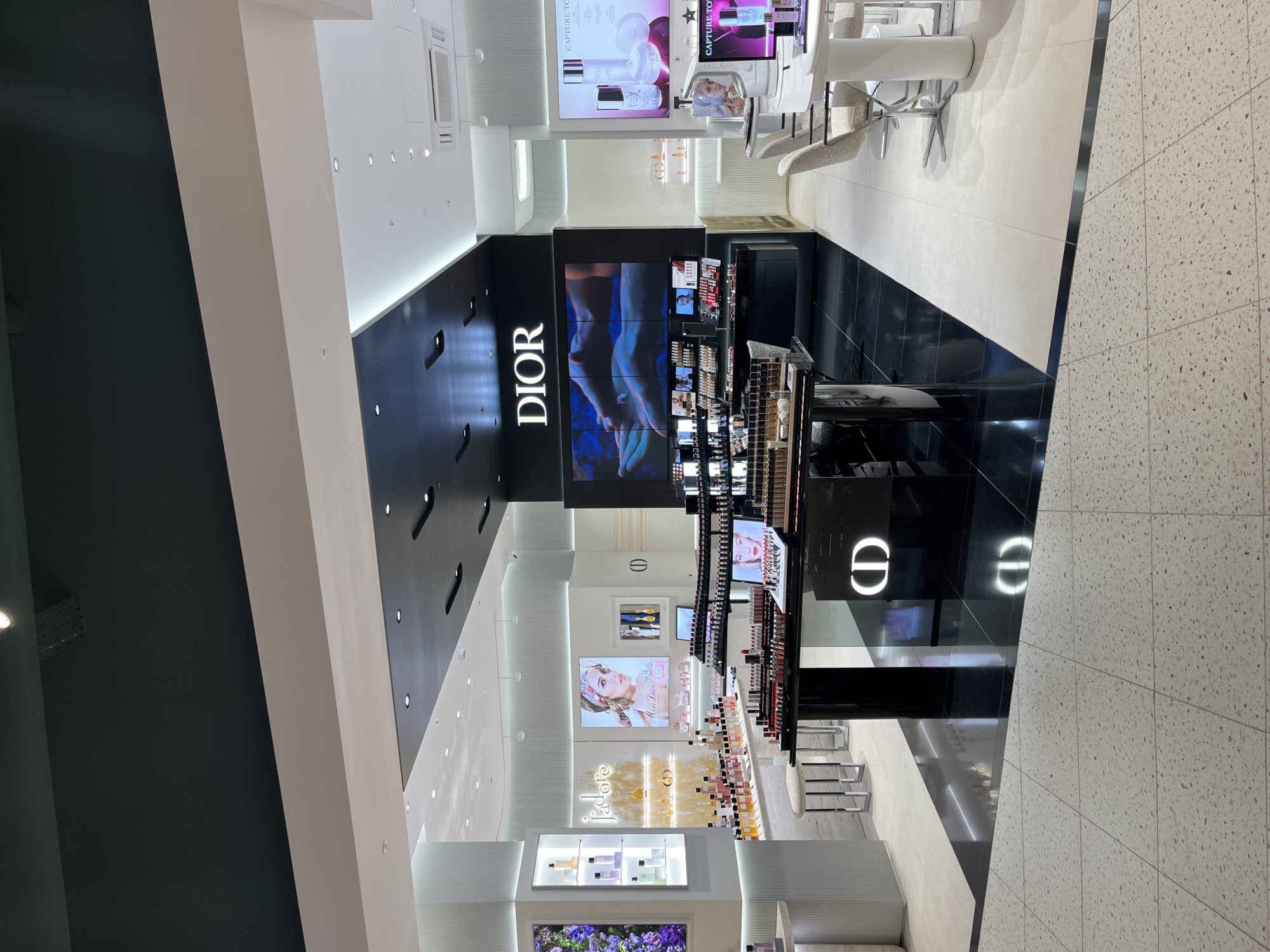 5. Dior
This was one of the biggest, if not the biggest, shop-in-shop within the store, split into three areas – skin, makeup and fragrance – each with its own identity but still working in harmony to create a holistic and contemporary space. The fragrance zone consists primarily of white décor with touches of gold and pink to subtly highlight the colouring of the brand's hero fragrances: miss Dior and j'adore. The middle section contrasts the former with glossy black décor and the addition of a large digital screen on the back wall displaying promotional content as the main focal point. Last but not least, the skincare zone engenders a neutral colour palette with accents of orange and gold to reinforce the luxury 'look & feel'. It is here where customers can find the digital skin scanner or even enjoy treatments in the beauty room, nestled in the back.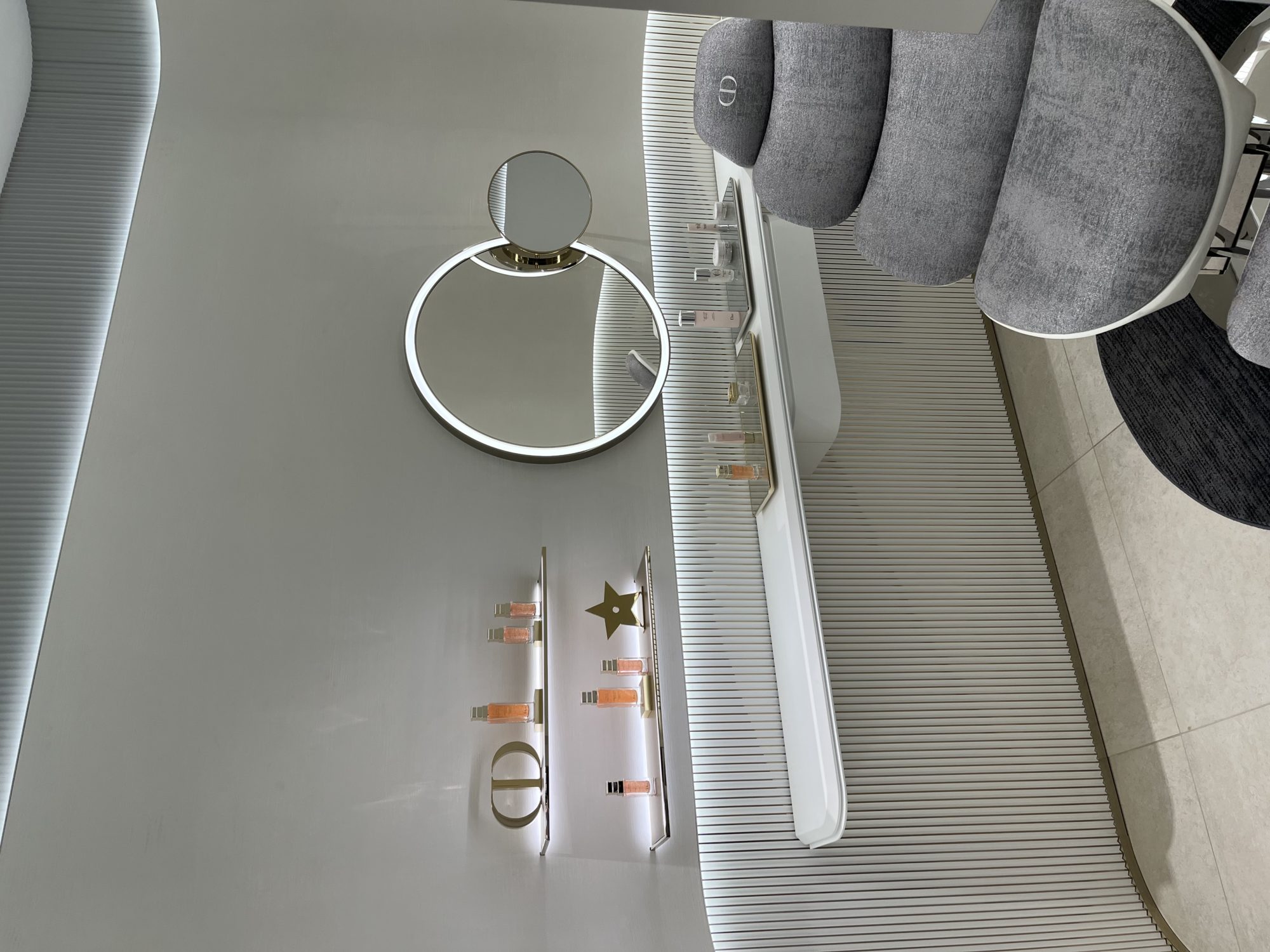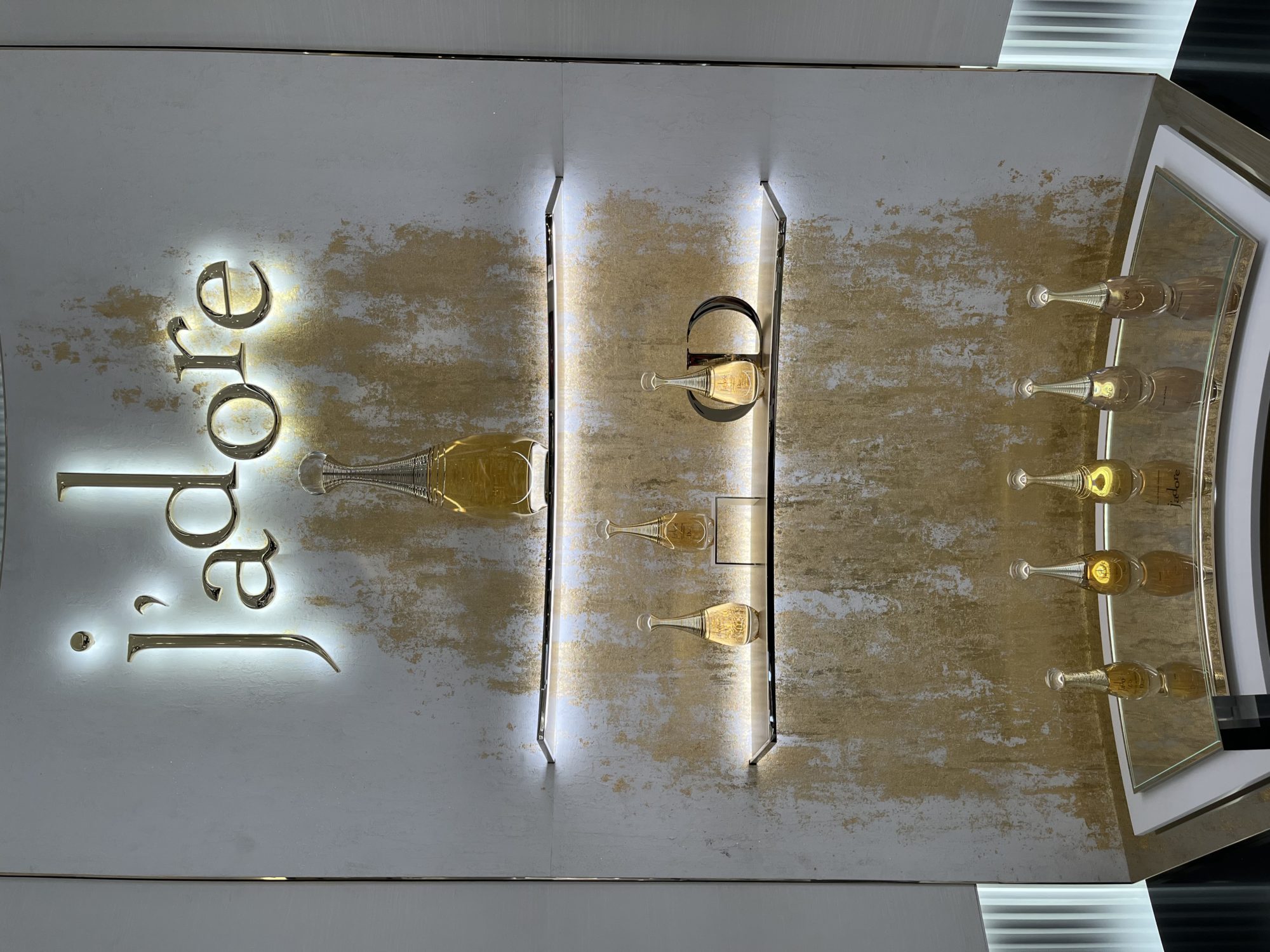 "The overall feel of the H Beauty store is 'luxe' and 'exclusive', yet it arguably feels more accessible and welcoming to a larger demographic of beauty consumers than some other beauty retailers in the luxury market." – Georgie Lee, D4R Marketing Team
We look forward to visiting H Beauty's fifth store which is set to open in Newcastle later this year!