Moral Commerce _
New Format Retail #8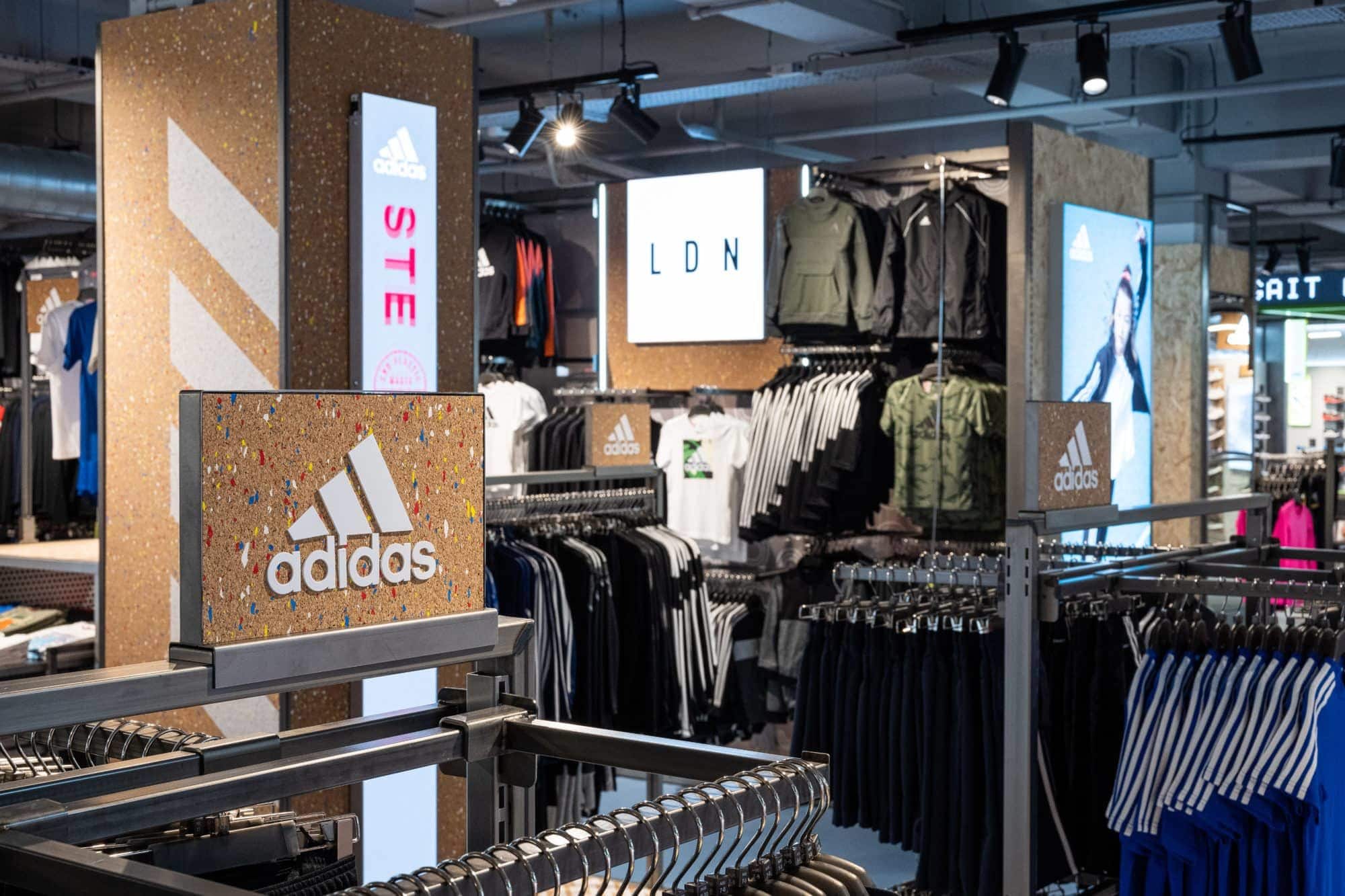 "Cause-Driven Retail"
WHAT IS MORAL COMMERCE?
We've said it before, and we'll say it again. Nowadays, a brand's social, political, ethical and environmental stance is as (if not more) important than the products it sells. Brands are therefore becoming more involved with social, political, ethical and environmental issues via their omnichannel marketing campaigns, with the campaigns very often following the customer through to the Point of Sale and beyond. In 2021 we saw a number of really innovative gestures from brands engaging in moral commerce to create a connection and alliance with its customers, such as…
EXAMPLE ONE – ADIDAS X SPORTS DIRECT, SUSTAINABLE DESIGN
Design plays a pivotal role in shaping the future of physical retail, and at d4r we envision a future where the only design for retail is sustainable design. Based on our in-depth insight, we set out to curate a design strategy for adidas which contributed to ensuring that over 95% of the materials used in its retail fixtures were sustainable. We set out to incorporate materials such as cork, eco-board, and sustainable inks, among others, into the design rationale, as well as recycled ocean plastics as per adidas' commitment to ensuring that none of its products contain virgin plastics from 2024 onwards. This initiative is part of the brand's wider End Plastic Waste campaign which aims to raise awareness of the damage that we are doing to our oceans via our single-use plastic deposits.
EXAMPLE TWO – NIKE, CIVIC PLACEMAKING
At the Block 70 recreational centre in New Belgrave is a basketball court made from 20,000 sneakers that were otherwise destined for landfill. Born from a collaboration between Nike and B-Corp-certified creative agency, Accept & Proceed, this renovated basketball court is part of Nike's Move to Zero campaign. With the pandemic making outdoor spaces more vital than ever, the initiative also responds to a need for community centric practices that re-energise public spaces.
EXAMPLE THREE – ART NOT ADS BY W1, ART FOR ALL
Art Not Ads by W1 transformed the exterior of Flannels' London Flagship store into a largescale public exhibition. Using state-of-the-art technology, the group exhibited digital artworks across the whole façade. A reaction to how in modern environments people on the street are bombarded with urban advertising, this activation gives everyone the opportunity to experience art – removing it from the 'elite' status of the gallery, and making it accessible and relatable.
EXAMPLE FOUR – BREWGOODER, WELLBEING WORKSHOPS
Using its brand as a platform to raise awareness of mental health, Brewgooder launched a wellbeing project called "Wrestling Demons". The craft beer company collaborated with artists, suppliers and other stakeholders to create product packaging that would make people aware of the toll that working in the service industry can take on one's mental health. And to really make a difference, Brewgooder encouraged its customers to donate to therapy workshops via a QR code printed on the beer can.
WHY IS MORAL COMMERCE GAINING POPULARITY?
A combination of Millennial's and Gen Z's inclination to be more politically active than previous generations and our increasing awareness of a brand's power as a platform to influence change is driving an overall popularity and growth for cause-driven retail. However, it is usually the unexpected emergence of socio-political events, such as the BLM movement, that accelerates the growth of moral commerce as consumers seek brand allies and make shopping decisions informed by their socio-political values.
TRANSIENT OR A NEW NORMAL FOR RETAIL?
For as long as Gen Z and Millennials stay socially and politically active, and brands can continue to influence change, we predict that moral commerce or cause-driven retail is a new normal for retail which will continue to take on new and exciting shapes.
In our latest insight report we explore a total of 10 new & increasingly popular store formats, and discuss whether we believe these retail formats to be transient or a new normal for retail.