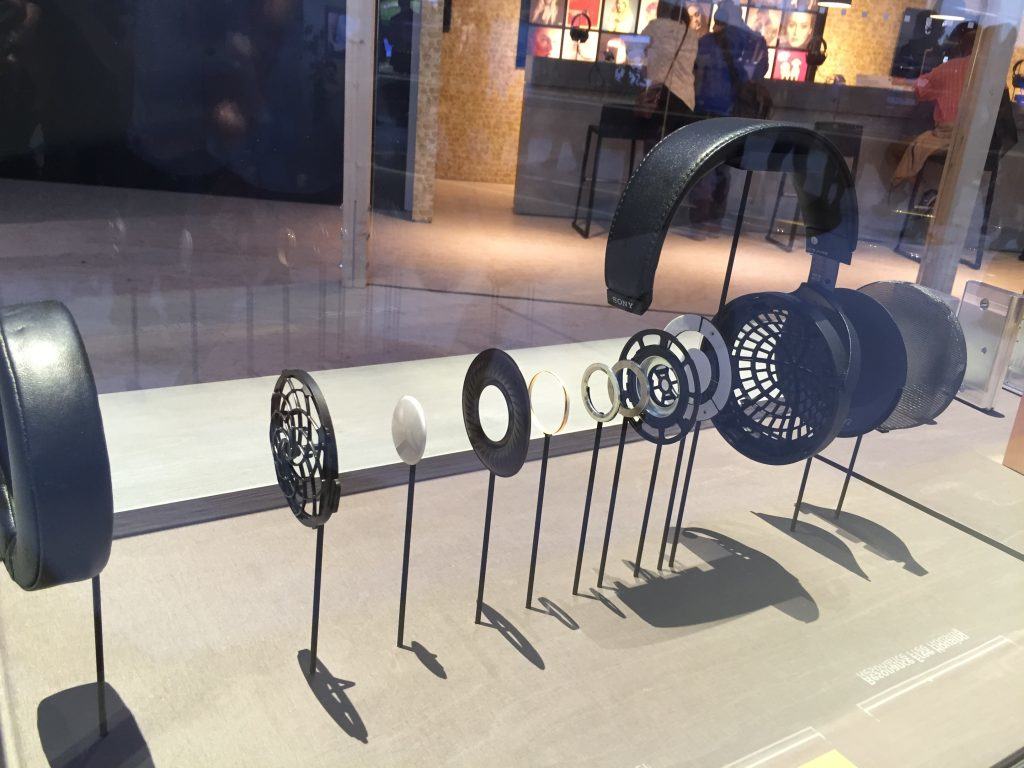 D4R have arrived back from Berlin! During our time there we spent a day at the IFA Technology Trade Show. We saw some amazing and innovative stands displaying various forms of technology including virtual reality, projection and augmented reality.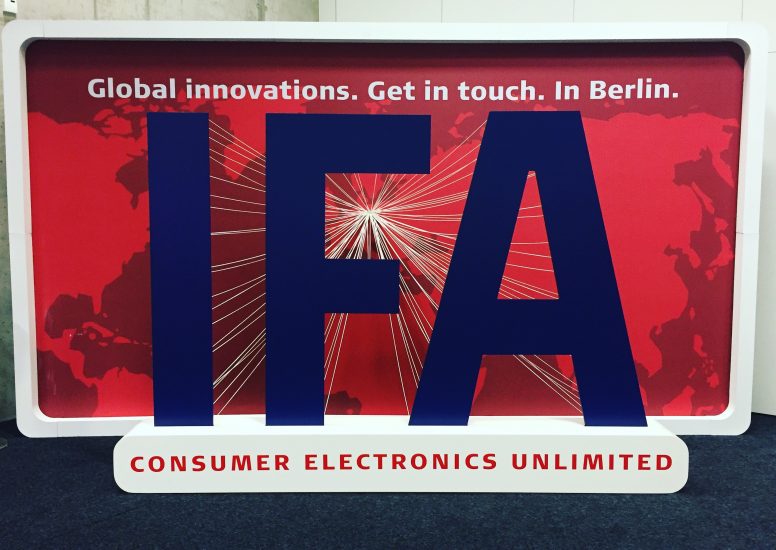 Here is what we want to take from the show as inspiration;
Best in Show- Panasonic
Panasonic's vast space within IFA was impactful and varied, all under the 'A Better Life, A Better World' tagline. We were extremely surprised by the range of products and room sets being displayed within one space. Everything from barbers and beauticians through to Japanese laundry specialists and cooking demonstrations were available for visitors to interactive with.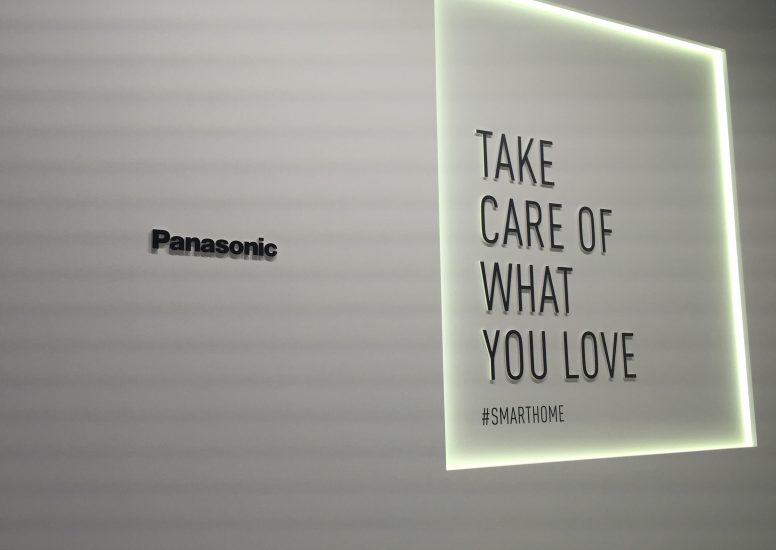 Panasonic incorporated large areas of text in their space. These were slogans that related to the specific space within the space.
Another highlight taken from the Panasonic stand was a rain shower that incorporated colour changing lights and lettering. This was being used to promote home entertainment and wireless technologies.
But the star of the show for Panasonic was their prototype for an OLED television with mesmerizing colour and crystal clear picture display.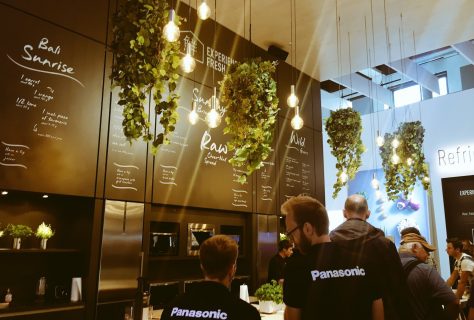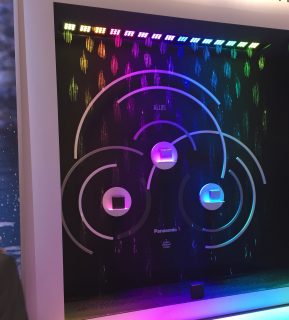 LG
The brand we have chosen as second is LG. This is down to their amazing digital tunnel created by using curved TV screens showing moving images. This bought one of the biggest crowds seen at the show. This particular tunnel is the world's biggest OLED tunnel, it contained 216 curved OLED panels, each being 55 inches. This tunnel was created to celebrate the 50th anniversary of the first LG TV being showcased at IFA; this was used to make up for the fact that LG didn't have any new products to promote.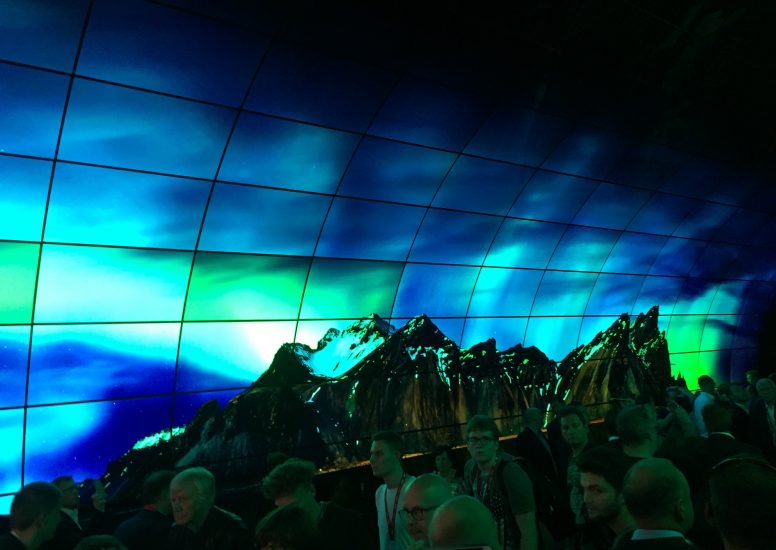 Their space was also extensive, displaying products for every part of the home, everything from microwaves through to home entertainment systems.
And nothing warrants a second place more than handing us free popcorn as part of their microwave displays!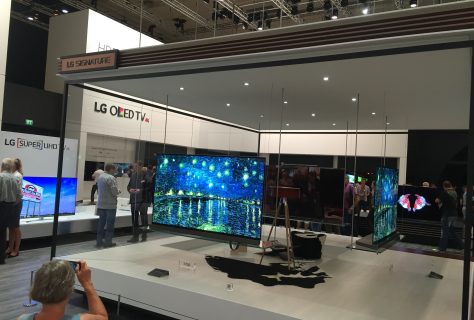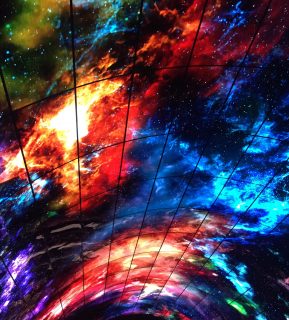 Miele
Our first experience of the Miele showcase was digital projection. At first, there appeared to be an interesting white box design before a projector turned on to reveal Miele Fridges in this space. They clearly knew what they were doing in showcasing a standard home product within an interesting design concept.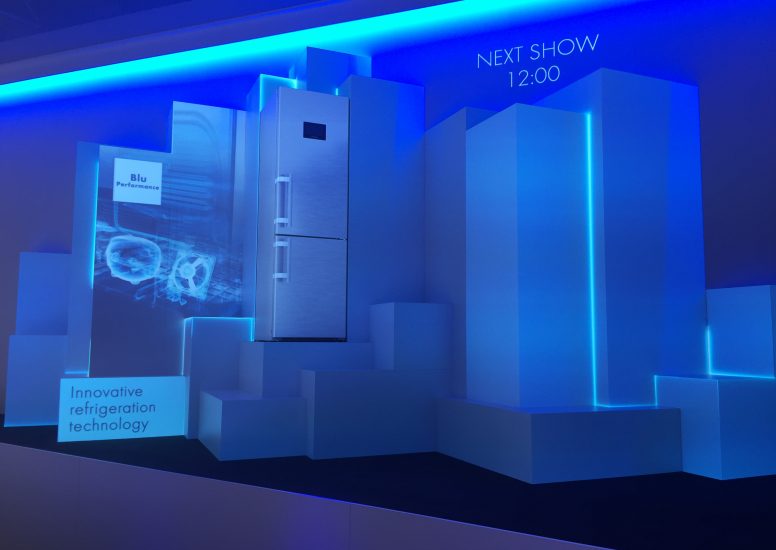 As well as their fridge display Miele also showcased other kitchen appliances and products including vacuum cleaners. This year's IFA was in fact where they released their bagless first vacuum cleaner; which could perhaps be seen as slightly behind the times but a first for Miele.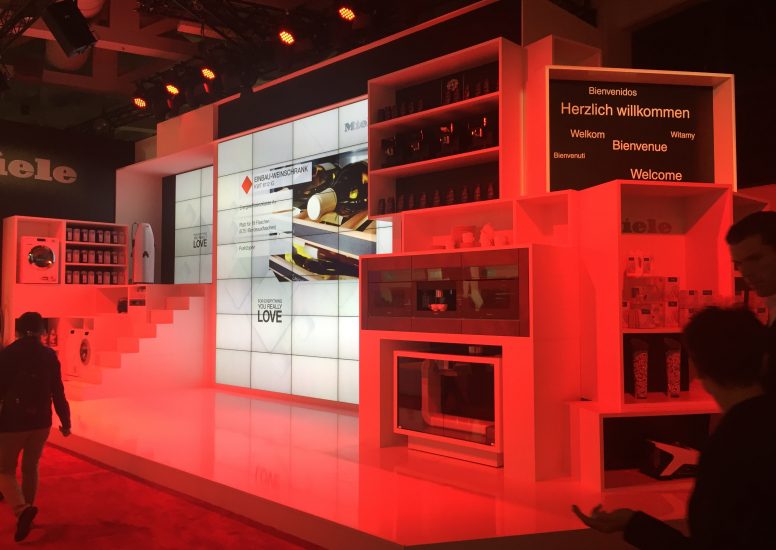 Bang & Olufsen
B&O had two different spaces within two different halls at this year's IFA. The first space we stumbled across was focussed on smaller technology, including their headphones, and fell under two taglines: Make Beautiful Music and Escaping Into Nature. The latter had a specific focus on coloured products with the feeling of looking at a rare animal through the glass at a zoo!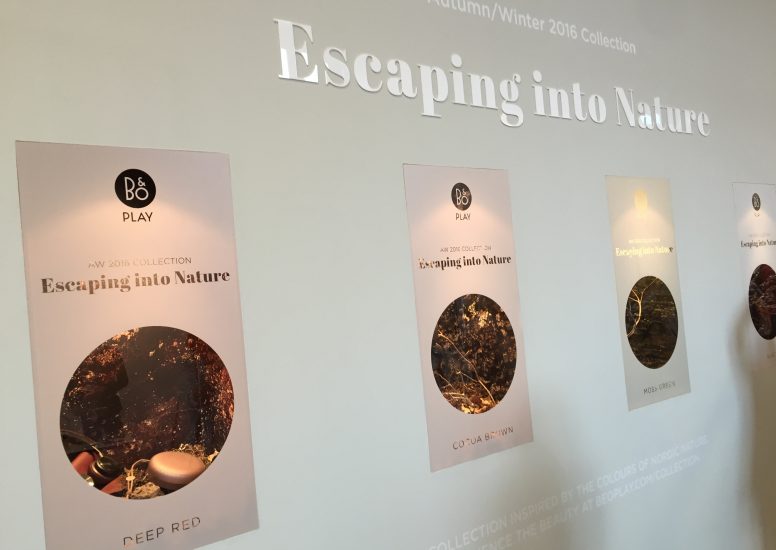 The second space had a definite cinematic feel, with long curtains creating a closed off private feeling space. Surrounding these curtains were various podiums highlighting B&O's beautiful new wireless speakers which fall under the tagline 'Flexible Living'. Yes, they look a little like something from a sci-fi film or Dr Who, but they are also elegant and digitally beautiful. Behind the curtain you are introduced to their BeoSound TV with natural wood and it is – for want of a better word – stunning.
Overall, their stand was high-class and intriguing so it couldn't escape our top five.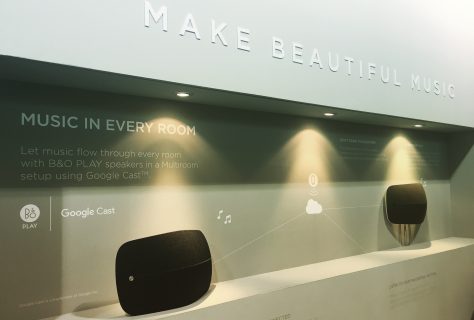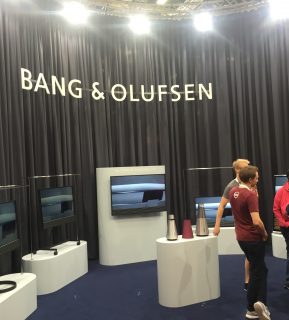 Vain Sthlm
We just love the simplistic nature of headphone brand Vain Sthalm stand. The overall design feels very design led and with on trend grey being used as a backdrop for the stand with copper pipes being used to elegantly display the product. Not an easy task displaying something so small but they have done this so well and the stand feels engaging and beautiful. Overall they have the perfect balance of colour, materials, display and digital!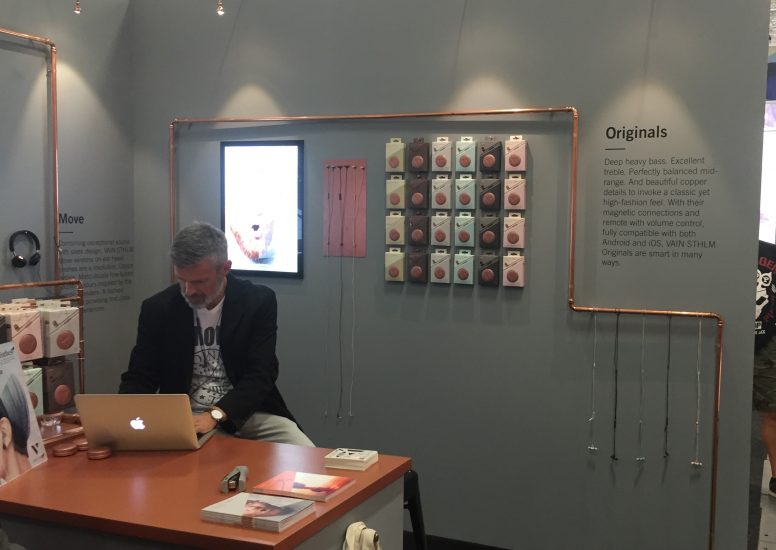 Our time at IFA definitely improved our knowledge of not only the future of technology, but also the way in which these digital brands choose to design their branded space. We appreciated that the theme of a smart home has been on the cards for some time now, but this year's show also displayed a heavy focus on flexible living. From wireless speakers, smart watches and sports headphones through to Lenovo's beautiful YogaBook, which allows an artist or designer to easily take their work with them; we were impressed with this flexible theme.
Another aspect that we experienced at IFA was the consistent importance of human interaction. Technology is succinct and intelligent, but the interaction of humans both inside and outside of the digital sector, is really important. This was certainly recognised by the people behind these technology brands, as many of the stands featured an interactive element.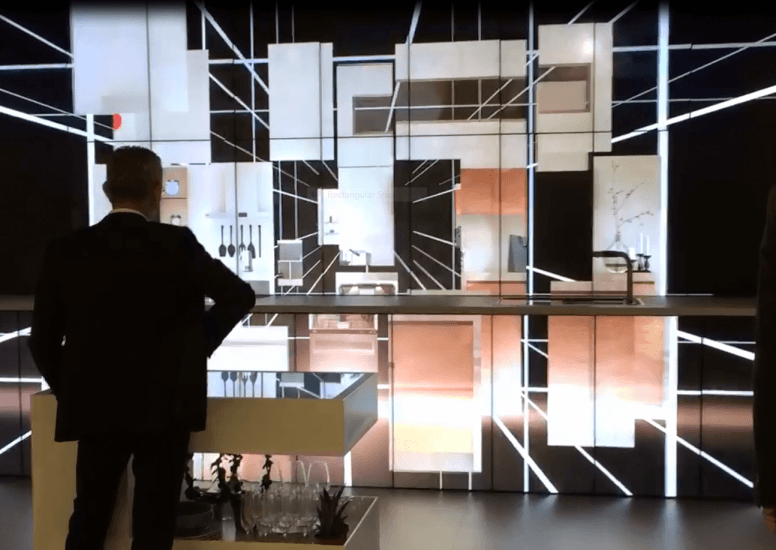 Virtual and augmented reality were big hits in the world of gaming and we loved the many audio strands, offering tests of the latest headphone technology. Stand-outs had to be Sony and Audio Technica whom offered a bar-like scenario which doubled as a headphone testing station (Sony) and a replica of a living room with vinyl players and personal headphones (AT). If audio and virtual glasses weren't your cup of tea, there were opportunities to mess around with fake glasses in a photo booth, have a personalised caricature drawing created or treat yourself to a cup of your favourite Nescafe Dolche Gusto blend in their cool new machines. In fact, Nescafe took the human interaction one step further by including stands for visitors to enjoy their coffee around which sparked conversation between strangers; reflective of their Instant Connections campaign in Berlin during 2015.
Following human interaction, the next big thing we saw throughout the show was technology's ability to blend human lifestyle with their products and their stands. The most important design factor taken from this year's show was the use of materials: light wood, copper and gold, natural plants or plant walls and concrete printed walls. It was clear to see that with the smart home and flexible living theme present throughout the show, many brands are hoping to successfully blend natural, outdoor vibes and materials with their technology and digital based products.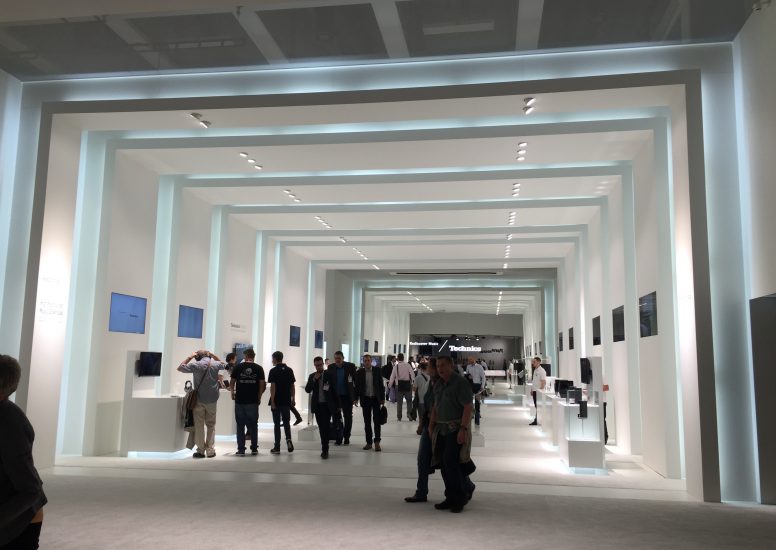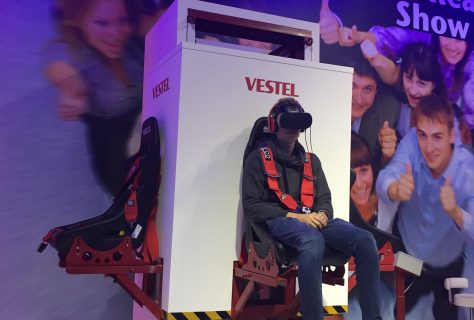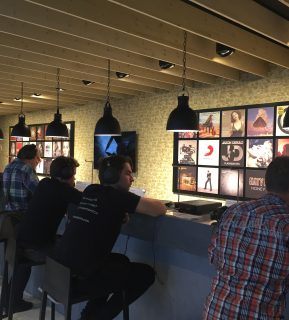 Here at D4R, we believe that the advances of technology should be incorporated into our work so visiting shows such as IFA Berlin is incredibly important. The blend of digital technology, human interaction and the latest design trends is here to stay and we're interested to see what comes next!
Keep an eye our blog to see more of the technology that inspired us at IFA!