Harrods is back! _
featuring NEW Christian Louboutin installations from Design4Retail
Harrods has reopened its doors to the streets of London once more.
Following on from Harrods' first phase of reopening which saw the high-end department store offer a personal shopping service to some of its most valued customers, on 15th June Harrods reopened its doors to the streets of London so that the public can once again enjoy luxury retail at its finest.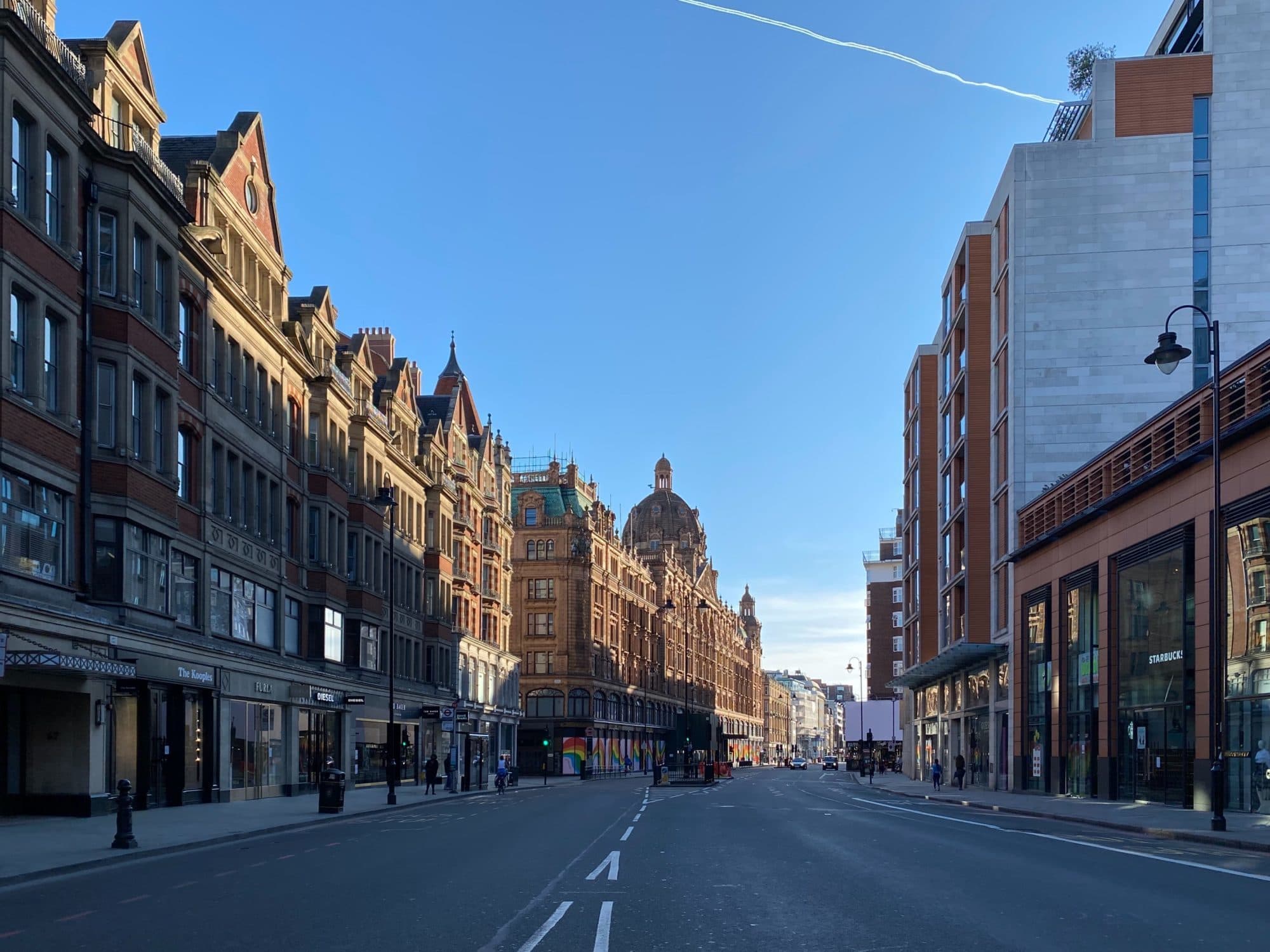 PUTTING THE SAFETY OF CUSTOMERS AND STAFF, FIRST
Returning to the high street more than three months after it was instructed to close its doors to the public as part of a series of social distancing measures imposed by the government to reduce the spread of COVID-19, we are interested to see how the in-store social distancing measures will impact the shopping journey, and how the measures will evolve, or indeed, devolve overtime.
If you do so choose to visit the renowned Knightsbridge department store, you should expect to see 'social distancing' graphics that aim to guide customers safely through the store, something of a one-way system with exclusive entry and exit doors, and 'enhanced cleaning programs' which include the liberal addition of intelligently placed hand sanitation facilities. Further measures include the installation of footfall monitoring technology to track and limit the number of shoppers visiting the store at any one time.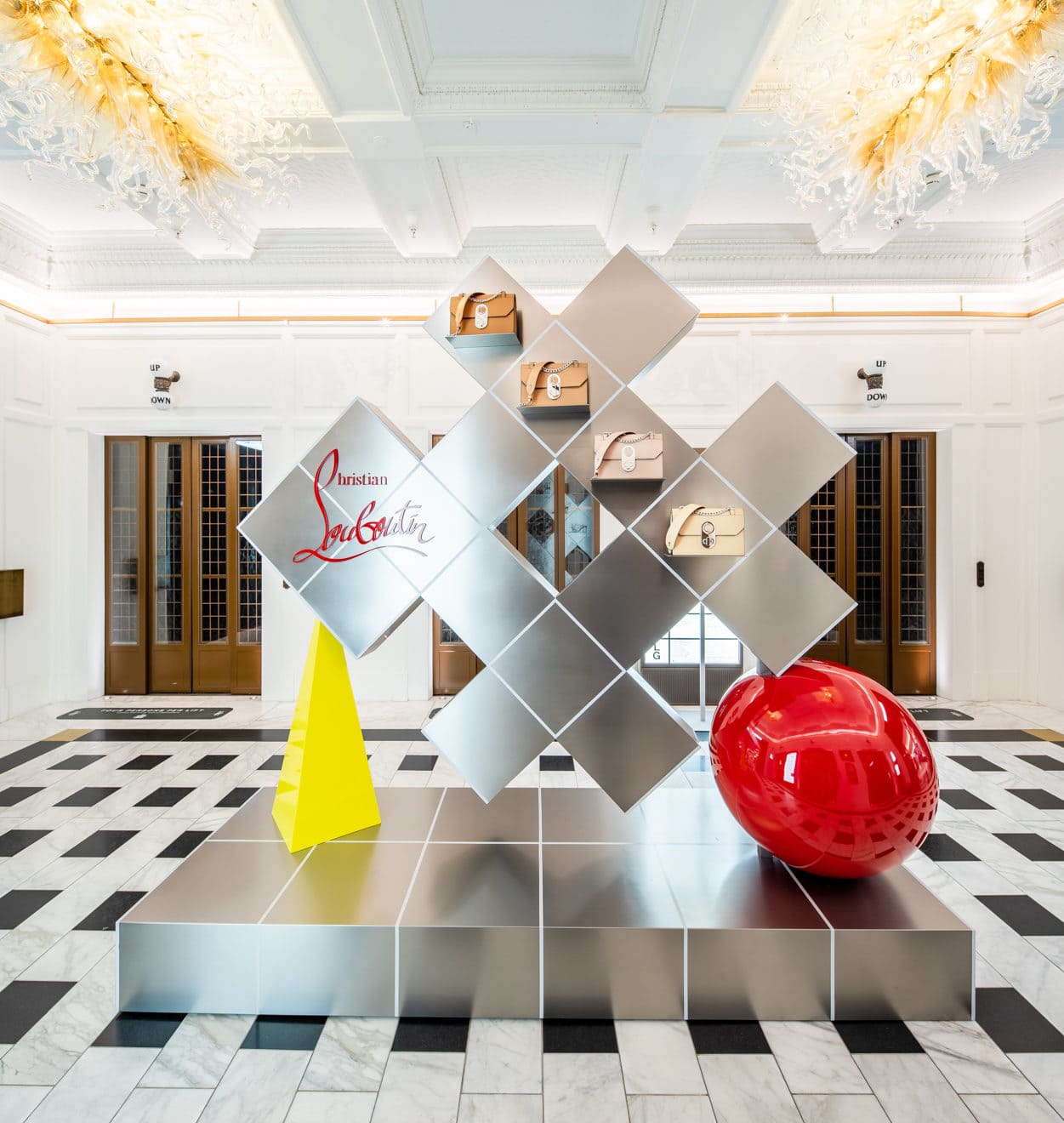 What's new in Harrods?
CHRISTIAN LOUBOUTIN POP-UPS
Continuing our collaboration over the last two years with the iconic luxury brand, Christian Louboutin, we are delighted to have implemented two striking pop-up fixtures in key locations within Harrods, ready for re-opening day.
These abstract pop-ups are finished in premium satin steel with clean white brand illumination and bold disruptive colour pops in the form of high gloss spherical and conical shaped icons.
The smaller of the two pop-ups is located on the first floor directly outside the inwards facing lifts – making it the first thing that many shoppers see en route to browsing womenswear. The larger Christian Louboutin pop-up can be found on the second floor, nestled among other luxury fashion brands selling men's apparel, footwear and accessories.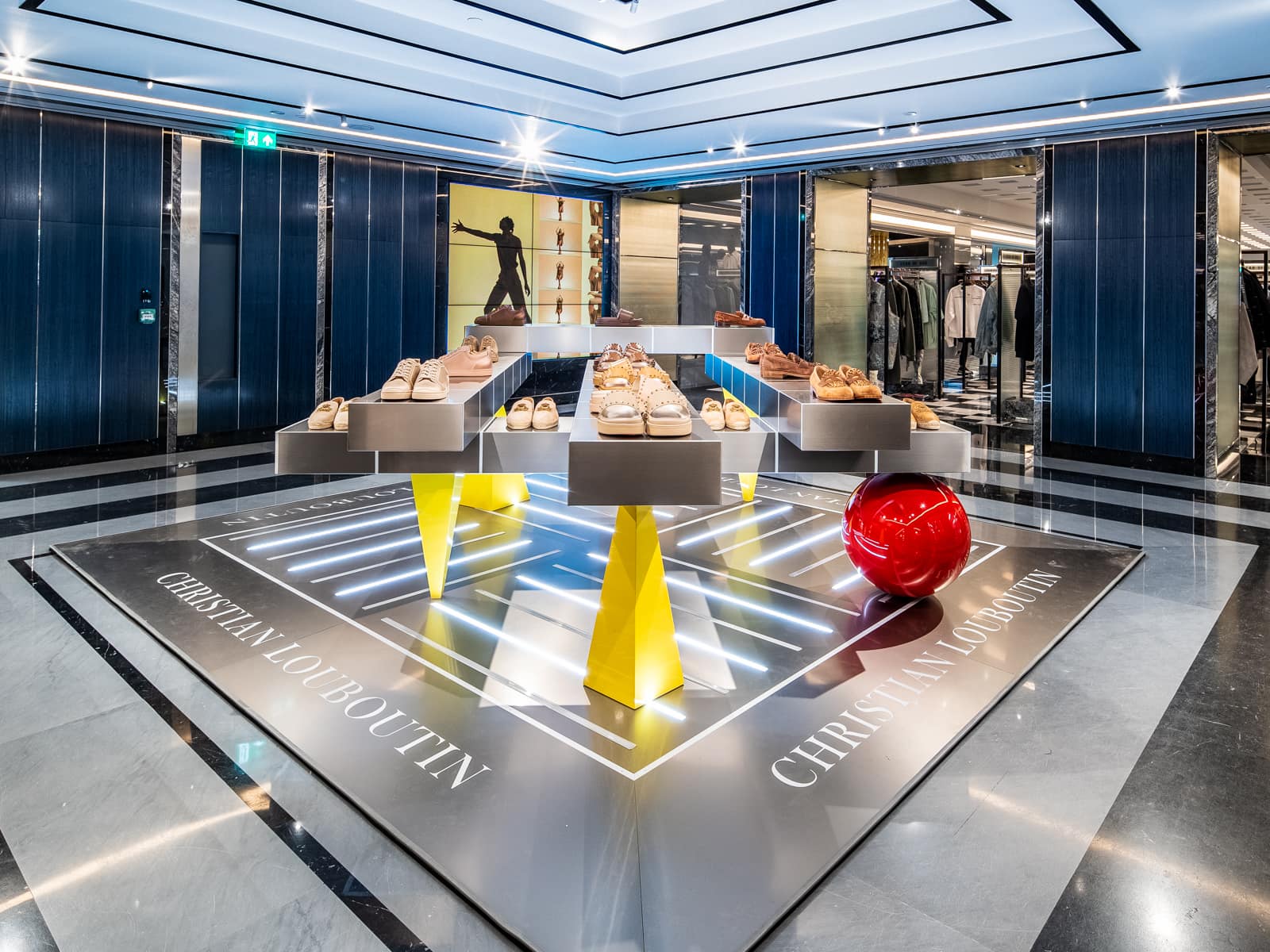 Exhibiting an eclectic mix, this pop-up uses Harrods' existing design and configuration of the area to its advantage – creating an environment which evokes something of a sci-fi interior – owed to its black-white-grey toned colour palette, strategically placed lighting and sharp lines. Nevertheless, the central display's conveyor-belt-like structure featuring traditional brown and beige footwear can be likened to an antecedent shoe factory. Otherwise militant in style, propping up the central display is a red sphere and yellow tetrahedron, demonstrating its appreciation for intelligent engineering and a high-quality build whilst offering a glimpse into the brand's eccentric personality that we often see in some of its collections. This juxtaposing pop-up of surrealism and cubism perfectly demonstrates that a brand can indeed be modern and fun whilst also acknowledging its connection to time-honoured traditions.
HARRODS' LUXURY HOME & FURNITURE DEPARTMENT
Earlier this year, Harrods completed the refurbishment of its homeware section, however, the closing of all non-essential retail meant that many are still to see Harrods' Luxury Home & Furniture section in its final form. As part of its efforts to bring the store up to date, the revamp of its homeware section aims to "deliver a smoother customer journey while giving products a stronger visual presence" and now comes complete with a fabric library, personalisation services and an in-house design studio, as well as interactive spaces that provide meaningful moments.
WESTFIELD OUTLET STORE
Word also has it that Harrods' is set to open its first ever outlet in July in a bid to sell its surplus Spring collections. Customers of this new two-story pop-up store located in Westfield White City should expect to see similar precautionary measures exercised in this outlet as they would in the revered Knightsbridge department store with the two-storey set-up providing adequate room for seamless social distancing.
We look forward to visiting this outlet store and returning to Harrods in the weeks to come to observe how the UK's most prestigious department store navigates the ever-evolving retail landscape and adjusts to a 'new normal'.
delivering a smoother customer journey