TOO FACED GLOBAL LAUNCH _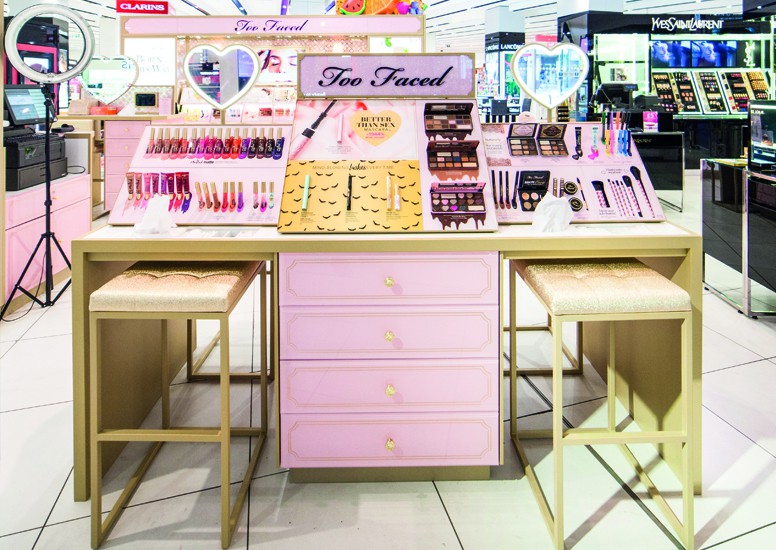 Responding to the brief to create a truly unique Too Faced environment that would welcome both existing and new shoppers, our concept is unashamedly pink, It's the girly boudoir, with the sumptuous dressing table every girl would love to own.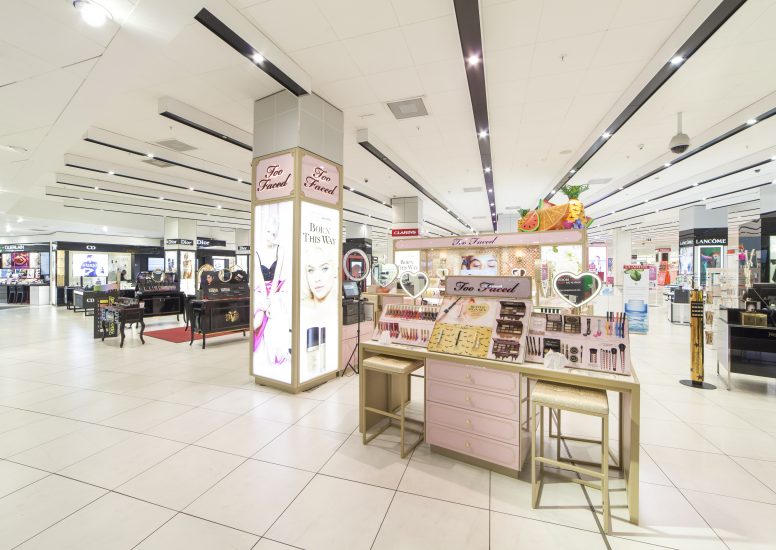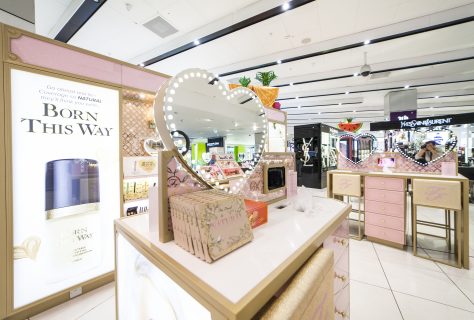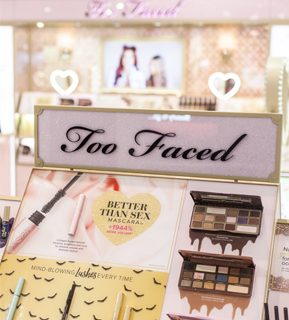 The concept is a juxtaposition of styles and textures, with a bit of, what the..? thrown in. Whilst the products and the packaging provide a cacophony of colour, the palette of the concept is very pink and gold with accents of black, which you'd think would create a calmer backdrop, but not quite! It's Parisian town house meets the exuberance of rococo, meets contemporary styling, meets California cool. Heart shaped mirrors and frame details are complemented by ornate gold drawer handles and bow adorned wall lights. Look again and you see a stylised French dressing table in rococo pink, embellished with gold coach-line detailing, yet the lines, materials and execution are all very contemporary. Throughout, there are unexpected details that delight and surprise, its playfully decadent, a little bit disruptive, very feminine, so Too Faced.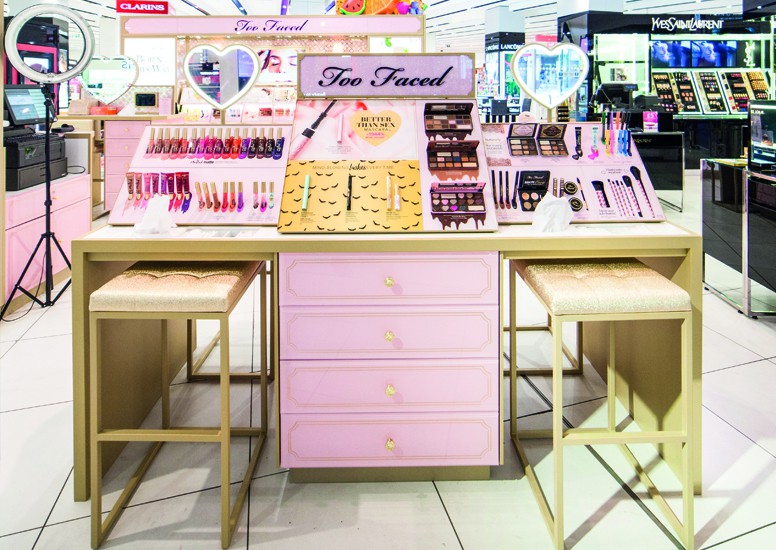 The concessions are a Too Faced playground, presenting their full product range via testers, giving customers the opportunity to try every product available. Too Faced's colourful collections are displayed against a baby pink canvas, framed in gold, with the brand's latest collections taking centre stage. An attention grabbing, branded glittery pink header announces their arrival, while inspirational photography shows customers some of the looks they can hope to achieve.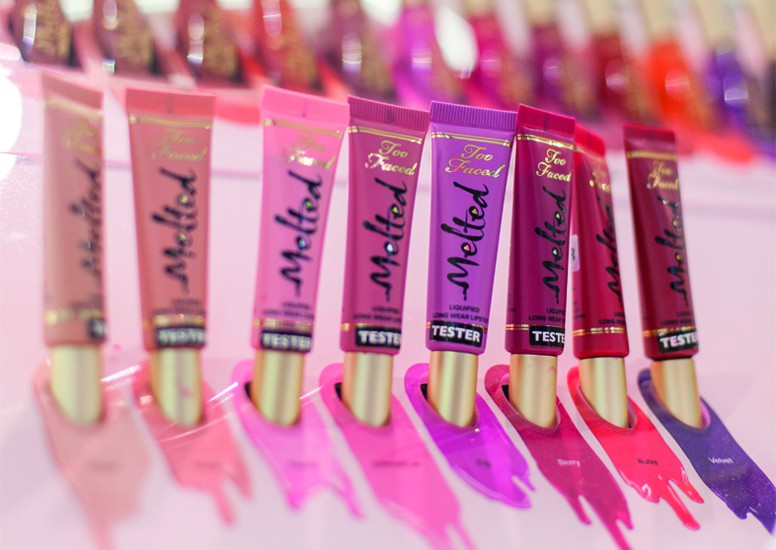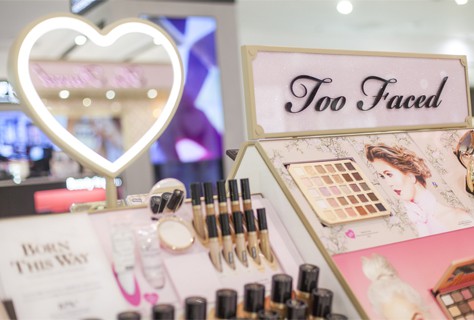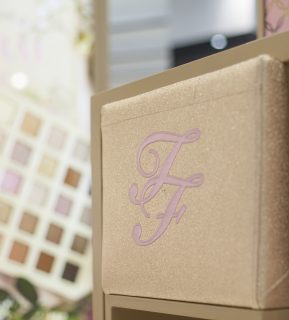 Alongside, products are displayed by category, making it easy for every customer to shop for their needs; whether they're looking for a new foundation, lip colour, mascara or eye-colour palette. For existing customers, products are quick to find, making replenishment easy; and for new customers the product presentation introduces them to the collections, with logical layout helping them to navigate across the categories.
Central to the concept are the makeup stations, which provide plenty of opportunity for customers to 'test and play' and get to know the products. Double sided and with a marbled top, they are also edged in gold and feature backlit heart shaped mirrors and an inset screen giving customers the option to do their own thing, or follow one of Too Faced's many video tutorials, as they sit comfortably on their bespoke, glittery gold stools, embellished with a TF monogram in the brand's signature pink.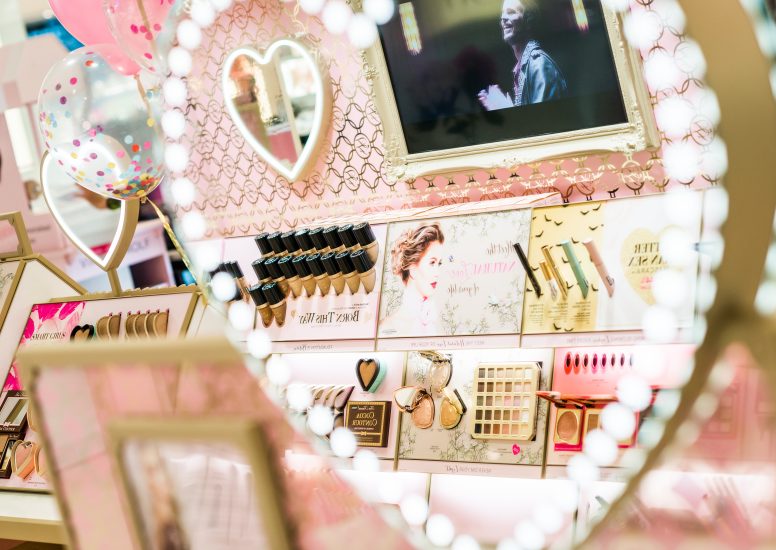 The back wall provides a beacon for the brand; signposted by the same pink header that is used at smaller scale on the merchandising unitary, but with a back-lit Too Faced logo. Set against a specially designed pink and gold decorative brand wall paper, the back wall also features a large screen playing video campaigns and makeup tutorials, delivering greater stand out for the brand in the beauty hall. Below the digital screens, the space is versatile, and dependent on the store and its customers, it can be used for different purposes.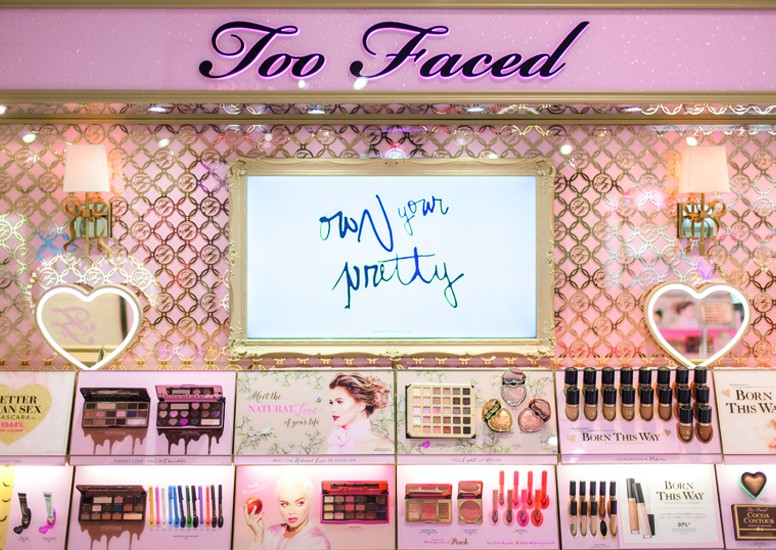 In Selfridges, Too Faced is located in the department store's 'Beauty Workshop'; here the back wall provides a relaxed space where the brand's beauty experts can give customers one-to-one tutorials and educate them about Too Faced's collections and new products, as well as giving them their desired look chosen from a menu of options; for a night out, for work, or an 'all-natural you'. In Debenhams, the back wall allows additional space to merchandise their full cosmetics range and highlight best-selling products, with shoppable product available in drawers behind each tester – so customers can self-serve, or be served by consultants, whichever their preference. On larger sites, large light boxes showcase their latest 'must have' products and related campaign imagery, enticing customers to come and try the products out for themselves.
Fundamentally the concept is both scalable and flexible, with a kit of parts that form a palette for the brand at retail. It provides a solution which allows each market to implement an iteration of the design based, not only on the cultural and individual customer preferences, but also the service levels required by each retailer and the available footprint. And with a set of guidelines, and a palette of materials readily available in each market, we have ensured that it can be implemented locally, whilst retaining the brand's equity.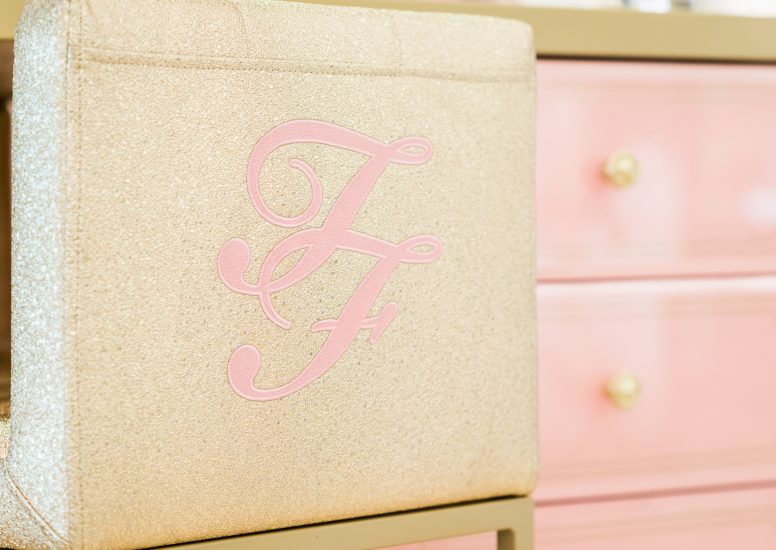 "Working with D4R has been a tremendous experience. Too Faced is a very unique brand and from the very beginning the D4R team was very open to hearing us out and enthusiastic about bringing our brand's true voice to life in a shop in shop environment. The team was very open to feedback and proposed creative solutions when faced with design challenges. Overall this has been a great journey and partnership. We feel now that D4R is an extension of our own team and we look forward to continuing our collaboration."
Global Visual Merchandising Manager, Too Faced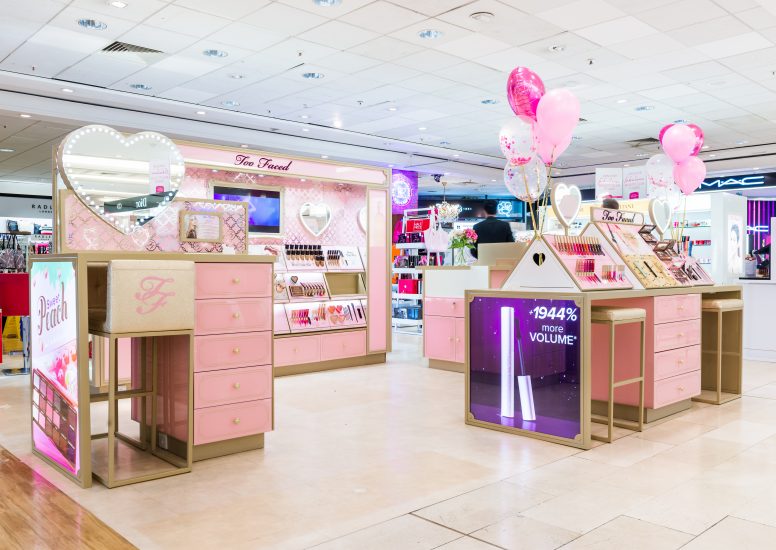 The first manifestations of the global retail concept have just launched, and can be found in Selfridges and Debenhams on Oxford Street and Debenhams Leicester, with further sites in Debenhams stores launching over the coming months.