Destination Retail _
New Format Retail #9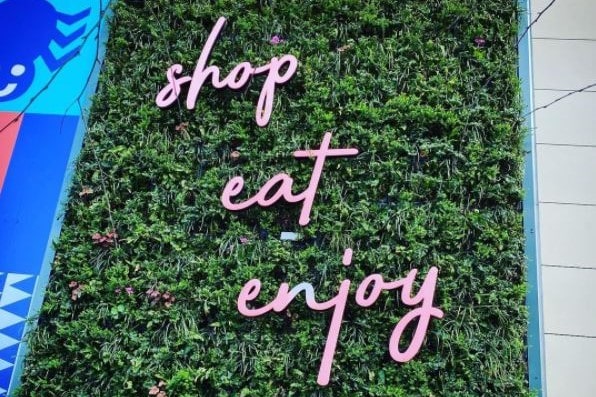 "Creating a fuller, more comprehensive shopping experience"
WHAT IS DESTINATION RETAIL?
Destination Retail is a notion that describes a place of retail that consumers go to, rather than simply stop by. Typically, a brand or retailer aiming to make its store a 'destination' will do more than just sell product – giving consumers more than one reason to visit (and stick around!). Many brands and retailers have successfully created stores that could be described as a retail destination via offering an enhanced retail experience, however, many others have found success by existing together alongside other brands and retailers in out-of-town retail parks.
In fact, in 2017 retail parks were predicted to outperform the highstreet by 2022 for their fuller, more comprehensive offering. And whilst these predictions certainly didn't take the unforeseen situation of Covid and national lockdowns into consideration, it seems that retail parks are in fact enjoying a better rate of recovery than the high street (The Economist).
EXAMPLE ONE – HOUSE OF VANS, SKATEPARK
An example of a brand who has itself created a retail destination for its customers is Vans and its House of Vans skatepark in London. The Vans owned and branded skatepark which consists of concrete bowls and ramps, sits under the arches below Waterloo Station and invites its tribe to experience the brand through its events, workshops, and skate sessions, among others.
EXAMPLE TWO – FOSSE PARK, EXPANSION
The new £168 million, 140,000 square foot Fosse Park expansion turned a shopping centre into a shopping park. Increasing store numbers by 40%, the development's aim was to "enhance the shopper experience and provide an even greater choice of shopping, dining and leisure activities for visitors". Moreover, its investment in what it calls "Public spaces and upgrade works" seamlessly links the old shopping facilities with the new, and creates an appealing place for consumers to spend their time.
EXAMPLE THREE – RUSHDEN LAKES, OUT-OF-TOWN RETAIL PARK
Rushden Lakes is just one of many new out-of-town shopping parks that provide a rich retail destination offering an assortment of shops, eateries and places of leisure to its visitors. Its vast retail offer, location, public facilities and a generous carparking policy attracts visitors from all around with many finding themselves spending a good part of a day attending to their consumer needs.
WHY IS DESTINATION RETAIL GAINING POPULARITY?
Consumer attitudes and behaviours, and the discussion surrounding 'essential' retail and 'non-essential' retail during the pandemic, has accelerated an understanding of the two main consumer profiles: (1) mission shoppers, and (2) those shopping for leisure. Mission shoppers are more likely to favour online shopping, whilst those shopping for leisure seek experience alongside their purchases.
Brands and retailers that have worked hard to create, or become part, of a retail destination are better placed to weather the storm of COVID as they better speak to the desire for a fuller, more comprehensive shopping experience among those shopping for leisure – thus attracting more custom than those failing to
offer more than a bricks-and-mortar location consisting only of trade and transaction.
TRANSIENT OR A NEW NORMAL FOR RETAIL?
For as long as Gen Z and Millennials stay socially and politically active, and brands can continue to influence change, we predict that moral commerce or cause-driven retail is a new normal for retail which will continue to take on new and exciting shapes.
In our latest insight report we explore a total of 10 new & increasingly popular store formats, and discuss whether we believe these retail formats to be transient or a new normal for retail.