DESIGNER INSIGHT: DESIGNS OF THE YEAR 2018 _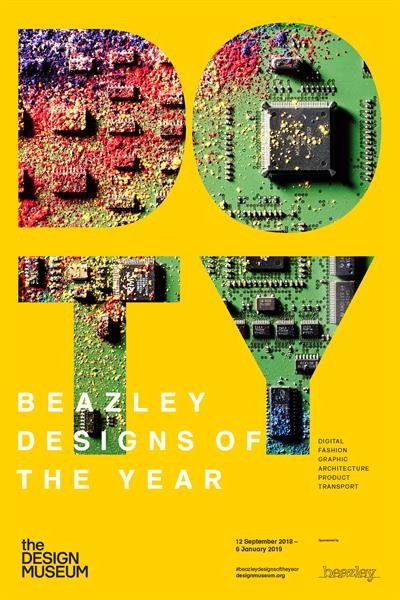 Every year since 2008 hundreds of design experts from around the world nominate the most innovative designs from the past 12 months, a shortlist selection of which are curated by the Design museum in to their 'Designs of the Year' exhibition. As a contrast to the museum's permanent collection the Design of the year exhibition can be treated as an 'of the moment' cross section of the current direction of the creative industry, and a clear indicator of the most pressing issues that affect our world each year. It bolsters the museum's position as a global observatory for creative disciplines, and demonstrates the all-encompassing nature of design.
It is possible to see certain themes among the nominations, drawing from design that promotes or delivers change, enables access, extends design practice or captures the spirit of the year, the nominees highlight environmental concerns and socio-political issues from shifting gender boundaries to rising nationalism. It is also a show about optimism, when we need it ever so much; there are solutions here to the challenges that we face globally.
This year's exhibition has a strong focus on socially, politically and environmentally conscious design; but also displays a welcome return to recognition of artefacts as valid expressions of design. In recent years the exhibition has not had a strong selection of physical designs- furniture, ceramics, fashion, product design- eschewing these straightforward expressions of beauty and usefulness for projects with a more 'worthy' aspiration. It is perhaps a sign of more positivity within the design community that projects that are created for their own beauty, or a celebration of materials or heritage are worthwhile of note without any deeper meaning or aspiration attached to them.
Identifying broad directions can be difficult with such a diverse palette to choose from, but the exhibition focused primarily on the following trends. Access looking to facilitating the meeting of basic needs (housing, medical aid, dignity) to all communities. Community bringing people together by making the most of ignored and derelict spaces, and the development of mentoring and partnerships with local groups. Future visions broadening our horizons by proffering ideas about how we will exist as societies and how everyday life could look going forward. Biomaterials addressing our need to reduce our reliance of plastic and oil derived products. A new normal looking at recognisable products and ways of life to reinterpret them and spark re-evaluation of their use and our interaction with them.
When it comes to innovative creative thinking, the quality of the output depends entirely on the quality of the input. Seeking out inspiration is one of the easiest and best ways to reengage a creative mind, and it is a core pillar of our design community at D4R to consistently search out new creative stimuli to fuel our work.