CHARLOTTE TILBURY, SEPHORA TAKEOVER GERMANY _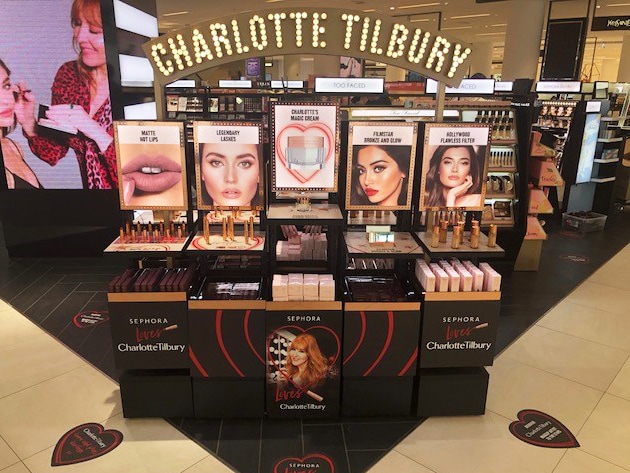 When it comes to on-trend cosmetics, Charlotte Tilbury have definitely taken the UK market by storm with their rose gold packaging and glamorous branding. However, this time, we help them to deliver promotional spaces for Sephora, Germany – the brand's first entrance to the German market.
The Brief
As Charlotte Tilbury's first introduction to a new consumer market in Germany, the brief was driven by brand storytelling.
Welcoming the brand into Sephora Germany was a little different to our previous projects for Charlotte Tilbury across the UK. Whilst promotional fixturing remained at the core of the brief, this time we were tasked with the curation of fixtures which were brand-led rather than focused around a particular campaign.
The Solution
We worked closely with the brand, utilising global design guidelines which we have become well-acquainted with over the past year. Hollywood bulb lighting, lustrous rose gold and sultry lifestyle artwork were at the core of our designs for the fixturing; including beauty bars and sleek end-cap unitary.
A collection of products featured in these promotional sites, allowing the blend of everything from legendary lashes to the brands magic cream to create a cosmetics story for Tilbury in Sephora Germany.
Adding to the excitement of the Tilbury / Sephora introduction, we introduced heart shaped floor stickers which lead customers from the entrance of the store right up to the stunning installations.
These installations were carried out across nine Sephora stores including: Aachen, Berlin, Bonn, Dusseldorf, Hamburg, Kassel, Munich, Overhausen and Stuttgart.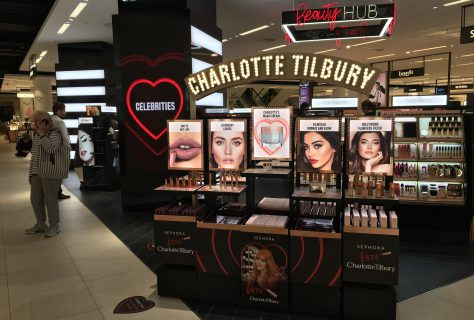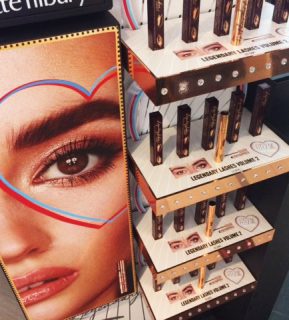 The Result
Blurring the lines between a British-born cosmetics brand with a highly-recognised beauty retail chain was a huge success. Tilbury herself commented that the introduction of her glamorous brand into Sephora was a 'meeting of the minds, two revolutionary beauty experts, brands of firsts coming together to create more makeup magic.'
Taking these promotional sites from design through to installation in nine stores was certainly a busy time for D4R, but an exciting project as part of our portfolio.
In a time where beauty retail is thriving with cosmetic playgrounds, skincare education and wellness trends, we're thrilled to be part of the dynamic and evolving industry.